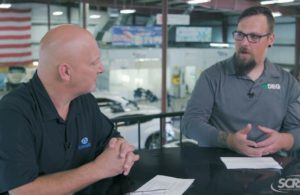 The Society of Collision Repair Specialists on Thursday released the first in what it called a new weekly video tip series for auto body shops.
The videos pair Collision Advice CEO Mike Anderson with Database Enhancement Gateway Administrator Danny Gredinberg. SCRS said they'll be released each Thursday.
"We've seen a tremendous amount of positive response to the DEG Estimating Tips that are released every Monday," SCRS Chairman Brett Bailey (A&B) said in a statement. "Our collective goal in working with Mike and Danny was to tap into their exceptional knowledge base and expand upon that idea of delivering very specific messages and information focused in on a singular topic at a time. Between SCRS, DEG and Collision Advice, there is a great deal of interaction with collision repair operators across the United States. The challenges that are expressed to us from those encounters are going to be the basis for topics we address and how the quick tips evolve."
The inaugural video offered perspective on second-color setup. It was shot in the Colorado-based Nylund's Collision Center, which Gredinberg said had encountered a Subaru whose trunk interior metal carried a different color than the exterior.
Anderson described how the three estimating services handle the labor to look up a second formula and mix a separate color. Audatex has a formula, while CCC and Mitchell call the labor something requiring a manual entry. Gredinberg said it's possible that yet "another setup" of spray equipment would be necessary beyond that, observing how interior parts can demand a shop prepare a matte clearcoat.
See the inaugural video here to learn more. Subscribe to the entire series and all other SCRS videos through the SCRScollision YouTube page.
Anderson's Collision Advice and Gredinberg's DEG have already collaborated on the addition of DEG inquiry examples to accompany the Collision Advice-CRASH Network "Who Pays for What?" reports on repair and refinish operations. (Help the industry by taking the latest free anonymous survey here.)
The duo also appeared together on a 2019 SCRS Repairer Driven Education course on how repairers could leverage vehicle owner's manuals and were among the participants in a free 2020 virtual RDE course on using the DEG and Blueprint Optimization Tool. The former can be viewed here. The latter and the other virtual RDE classes can be replayed online through Aug. 31, 2021.
"I am so excited about this ongoing project with SCRS and partnering with Danny from the DEG to provide quick tips that I am confident are going to help collision repair centers thrive and not just survive," Anderson said in a statement. "We are tying some of the 'Who Pays for What?' survey results in with critical responses to the DEG, and I can't wait to hear from repairers about the impact I believe this information is going to make. I always say this and I'm very sincere, if you don't belong to SCRS as a member, don't delay join today!"
More information:
"SCRS Quick Tips: Second Color Set-Up"
Society of Collision Repair Specialists YouTube channel, Jan. 7, 2021
Featured image: Collision Advice CEO Mike Anderson, left, appears with Database Enhancement Gateway Administrator Danny Gredinberg in the inaugural video in a new Society of Collision Repair Specialists tip series. (Provided by SCRS)
Share This: