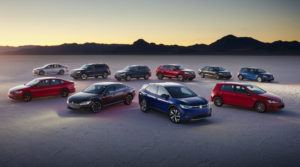 At least as far back as 2017, Volkswagen has banned collision repairers from mounting its vehicles using the pinchweld area.
Failure to respect this mandate from Volkswagen can compromise the vehicle's structure and be a costly lesson — as one Volkswagen-certified shop recently learned with a Touareg.
The incident described by Auto Damage Experts operations president David Smith during SCRS' virtual Repairer Driven Education series last fall highlighted the ban and the overall need to check and follow OEM repair procedures. The online course, "Order of Importance: Car, Client and then the Shop…and Why." and more than a dozen other video RDE classes will be available for replay through Aug. 31.
"Note: Volkswagen vehicles should never be affixed/mounted to body alignment equipment for structural repairs by 'Rocker Panel Pinch Weld Areas ' 'Pinch Weld Clamps' and chains must not be used as a primary means of mounting/holding any Volkswagen vehicles to body alignment equipment," Volkswagen has declared in a position statement since at least February 2017.
Asked if he often encountered pinchweld issues like the one he had discussed, Smith wrote Tuesday, "Unfortunately yes I do."
Volkswagen isn't the only OEM with such a restriction. Asked if the prior comment referred to VW or multiple automakers, Smith replied Tuesday, "VW, Audi and a few others. Whenever the manufacturer uses panel adhesive and spot welds there may be an issue."
Audi, Volkswagen's sister company, has since at least a February 2012 position statement declared, "Audi vehicles should never be affixed to a body alignment machine for structural body alignment by pinch weld clamps or chains as a primary means of mounting/holding the body to alignment machine."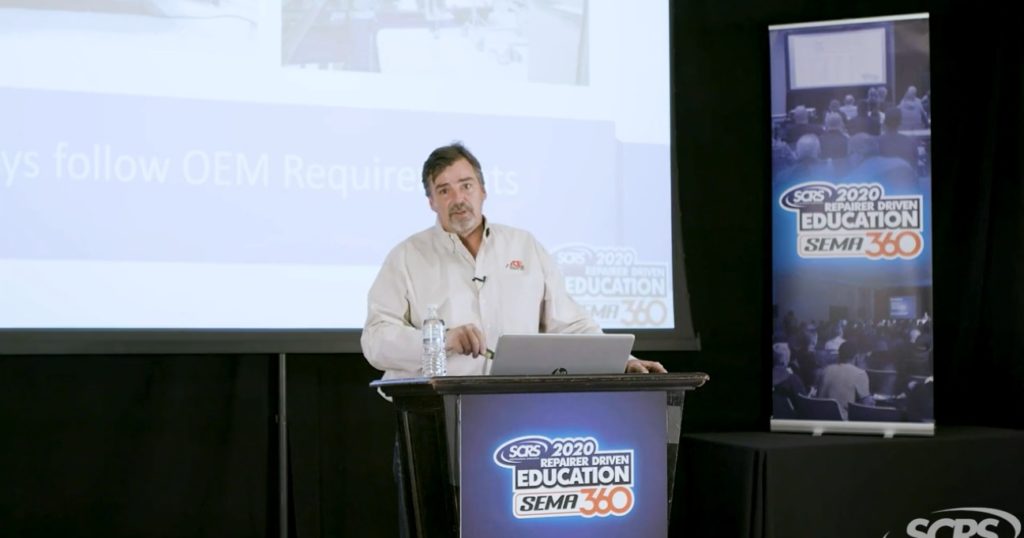 Smith during the webinar said that clamping to pinchwelds joined with adhesive and spot welds causes a shop to "crush the glue" and affect the vehicle's structural integrity.
The Touareg in question had been purchased in May 2020 and rear-ended after a week of use. The service manager brought the vehicle to the very body shop he had sponsored for Volkswagen certification.
"They didn't set this vehicle up properly," Smith said. The shop mounted the vehicle to a Car-O-Liner bench on the pinchwelds in violation of VW procedure and ultimately had to buy back the car.
"This shop took a shortcut, and it ended up costing them $40,000," he said.
Evidence included photographs of the mounting and a $27,000 repair estimate which included time to clean up the pinchwelds, according to Smith. He pointed out that an experienced estimator would have known pinchweld mounting was an incorrect repair.
The Volkswagen-certified body shop disregarded Volkswagen OEM repair procedures, Smith said. "There should be no tolerance for that," he said.
Smith said shops should let OEM procedures, not their experience, tell them what ought to be done on a vehicle. Draw upon experience to execute those OEM instructions, he said.
More information:
Volkswagen position statement: "UNIBODY ALIGNMENT AND REPAIR APPLICABLE TO ALL VOLKSWAGEN MODELS"
Volkswagen, February 2017
Volkswagen OEM repair procedures
"Order of Importance: Car, Client and then the Shop…and Why." (Replayable through Aug. 31, 2021)
Society of Collision Repair Specialists, 2020
SCRS Repairer Driven Education virtual courses (Replayable through Aug. 31, 2021)
Audi position statement: "Unibody Alignment and Repair"
Audi, Feb. 28, 2012
Images:
The 2021 Volkswagen lineup. (Provided by Volkswagen)
Auto Damage Experts operations president David Smith speaks during a 2020 virtual Society of Collision Repair Specialists Repairer Driven Education series course. (Screenshot from SCRS video)
Share This: