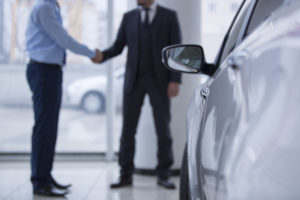 A new PropertyCasualty360 opinion piece by MDgo CEO Itay Bengad argues that OEM auto insurance threatens traditional carriers operating solo but also poses a brand and financial risk to insurers who partner with automakers.
Bengad notes that automakers "can sell a large portion of premiums due to their frontal engagement with the customer in a market that sells nearly 20 million private vehicles per year." This echoes an observation made by Former Tesla insurance head Alex Tsetsenekos during Reuters Events' Auto Insurance USA 2020.
Tsetsenekos estimated two major insurers currently were spending $1 billion each to lure customers. But Tesla spent $0 on marketing to sell customers its insurance, he said. People who like Teslas concluded, "'I'll try the insurance,'" he said, calling it a "natural connectivity."
One of his slides last year also observed that only 65 percent of a customer's premium actually went towards paying the true loss cost — i.e., doctor and collision repairer bills. Insurers spent 15 percent on loss adjustment costs and administrative costs and another 15 percent on marketing costs and commissions to agents. The insurer was left with a 5 percent margin to invest, save, pay other bills, or return to consumers in the form of lower premiums.
Start leveraging telematics, increasing vehicle automation, customer self-service, and direct-to-consumer marketing, and an insurer's margins could rise to 35 percent or higher, the presentation argued.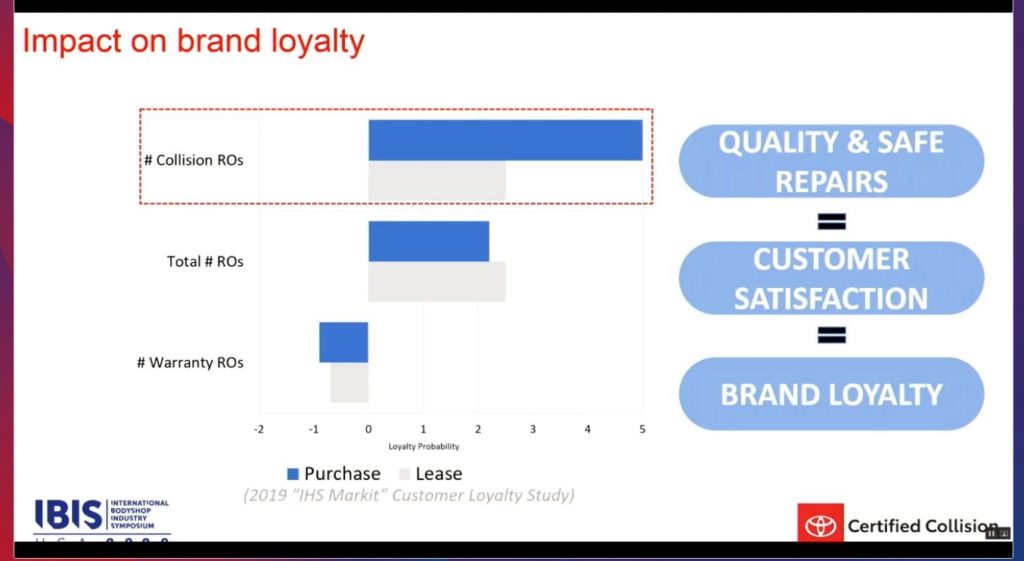 According to Bengad's Jan. 11 column, automakers could indeed be really good at some of these strategies.
"On the one hand, OEMs can exceed expectations regarding certain aspects of the auto insurance customer experience, such as underwriting, with a 'pay as you drive' model, and accident detection and management, gaining access to real-time alerts and treatment, to create a seamless customer experience," Bengad wrote.
His company sells accident detection and evaluation technology and works with both OEMs and insurers.
Bengad warned that insurers who decide to partner with OEMs on such services "will likely have to pick up the tab and bear the financial burden of the policies while losing the frontline relationship with their customers as these will be owned and managed by the OEMs." These insurers also could be reduced to mere "white label" subcontractors "by removing themselves from direct interactions with customers and potentially canceling out the impact of their brand."
Direct repair program facilities will appreciate the irony of another Bengad warning to the insurance industry: "(D)ue to the new OEM leverage in the market, OEMs could decide to switch auto insurance providers if their terms are not met, thereby potentially taking a huge chunk out of the auto-insurer business."
Bengad argues that automakers will squeeze their partner insurers by having them eat the cost of claims and services such as an "accident concierge model" — costs which he notes ultimately would help the automaker's brand, not the insurer's.
"Auto insurers, however, are completely removed from this interaction and are left paying for the towing services (owned by the OEMs) or vehicle damages (restored by the OEMs), potentially leading to key financial losses from extraordinary claims payouts, which technically auto insurers don't have direct responsibility for as they aren't an OEM," Bengad wrote. "The cost of these payouts could actually be higher if OEMs will require (which they are likely to) original vehicle replacement parts in return for full policy coverage. As a result, while standing behind OEMs, auto insurers don't have the same leverage to implement new tools and business models aimed at controlling or managing the customer experience, which could potentially lead to financial losses."
At the end of the day, the question appears to be how high a premium OEMs are willing to tolerate for customers when they get into the insurance business and whether that amount would still be profitable for carriers considering such a partnership.
If not, Bengad suggested it was still feasible for insurers to go it alone, possibly by using a combination of low premiums and "investments to level up their game."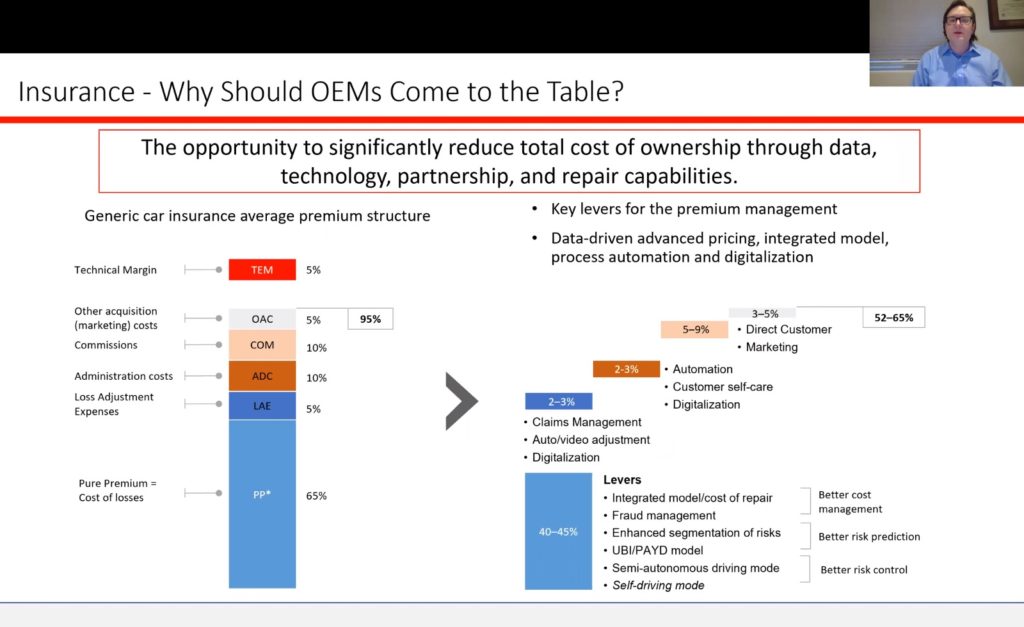 Some OEM-insurer partnerships might work out financially.
If a carrier already offers features like towing services and OEM parts riders, an automaker requiring those services might not be a big deal.
Even if a carrier is new to writing for OEM parts, the actual premium impact — or insurer's eaten cost — might be far more manageable than they expect. Auto Body Association of Texas board member Chad Kiffe told Texas lawmakers in 2019 how his testing found OEM parts riders at three carriers only raised premiums between $2.95-$14 for a late-model Lexus. The American Property Casualty Insurance Association's own numbers estimate that if aftermarket parts were banned nationwide, premiums would rise by around $20 a year.
Based on Tsetsenekos' presentation and Bengad's column, an OEM-partnered insurer might have the chance to slash their marketing bill and leverage valuable OEM technology like telematics. The ensuing savings might offset the carrier's higher loss costs and keep premiums at an acceptable level for the OEM and the insurer.
At least one automaker with an insurance brand has also suggested higher premiums could even be acceptable if necessary to cover the cost of a proper repair.
Toyota national manager of service and collision operations George Irving Jr. in April 2020 described the OEM's insurance vision to a virtual IBIS USA 2020. He said Toyota had learned that a collision repair order was the No. 1 factor in automaker brand loyalty.
Asked about Toyota's message when a customer notes cost is increasing, Irving said then this was "the nature of the business" and a reason to have good insurance and good insurer partners.
Costs will rise but "transactions" would fall, Irving said in an apparent reference to vehicle safety features reducing crash frequency. While he said Toyota planned to sell policies with "100 percent OE parts," he also said Toyota was working to bring out "value-line parts" when important and had been in talks with Toyota headquarters in Japan on part prices.
But at the end of the day, the point was to fix a vehicle correctly and getting it back on the road, according to Irving. He said he'd rather pay a little more to "get it right."
Finally, OEMs — who also have a cost of ownership concern — also might facilitate repairer efficiency, at least at certified shops. This might also help keep the insurers' claim costs down and loss ratios below 100.
Tesla, for example, is very clear in this regard. Certified Tesla shops must average 11 days keys-to-keys, and its body shops are only allowed a maximum of two parts orders. The first can be prepared using the initial estimate or photos, and the second only after the shop completes a full teardown, attempts to fix any cosmetic aluminum parts, and blueprints the repair. Tesla also intends the blueprinting to produce the one and only supplement.
More information:
"When OEM insurance hits the market, auto insurers are left to pick up the tab"
Itay Bengad (MDgo) in PropertyCasualty360, Jan. 11, 2021
Images:
This Toyota slide from IBIS USA 2020 shows results from a Toyota-IHS Markit August 2019 study into brand loyalty. (Toyota slide; screenshot from IBIS USA 2020 feed)
This slide from former Tesla insurance head Alex Tsetsenekos during the virtual Auto Insurance USA 2020 demonstrated how an automaker-offered insurance program could throw out much of the expenses driving up premium costs or offset any increased severity from vehicle technology. (Screenshot from Reuters Events' virtual Auto Insurance USA 2020)
Share This: