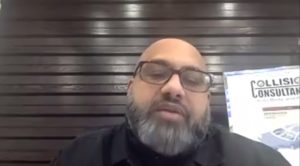 Advanced driver assistance systems calibrations present an example of what economics terms a "credence good," CIC Industry Relations Committee Co-Chairman Jonathan Chase observed Wednesday.
A credence good represents a black box to the consumer buying it. They can't see the fruits of the labor they've purchased.
A consumer doesn't know what quality looks like in a credence good, how much of it they need or what it should cost, Chase (National General) told the virtual Collision Industry Conference on Wednesday. It leaves a "sense of unease" despite one's desire to purchase that service, he said.
Chase indicated such factors contributed to the difficulties which can arise between insurers and repairers when an ADAS operation is involved. Uncertainty on whether the operation is even required is another question, he said.
Chase suggested looking to other industries' examples.  Plumbers have struggled with the concept, and that industry has taken steps to document what work they've completed, he said. The collision and insurance industries have already overcome the credence-good issue of alignments with strategies like compiling suspension photos and alignment specifications, he said.
Insurers struggle with ADAS calibration because "the work's invisible," Chase said. Unlike other body work, where the results are clear, "this you can't see."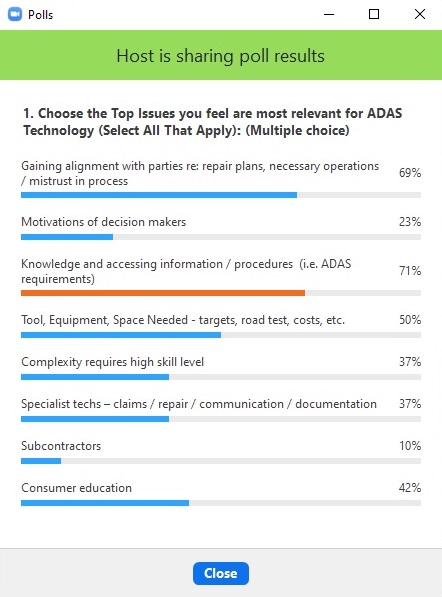 Chase and others participating in the Industry Relations Committee session Wednesday were exploring the topic of trust on ADAS. An informal CIC audience poll found 92 percent of respondents agreeing that "Trust Issues exist in the Collision Repair process that should be addressed." Another informal audience poll found 69 percent declaring "Gaining alignment with parties re: repair plans, necessary operations / mistrust in process" to be among the top issues related to ADAS.
According to a California repairer and fellow Industry Relations Committee speaker Wednesday, documentation helps smooth the process of ADAS calibration reimbursement.
Sam Zamir, manager of Collision Consultants, said he encountered a situation where his shop completed a calibration and submitted an invoice, only to find the insurer distrustful that the operation occurred or was needed.
Zamir said documenting with photos and a printout can come in "really handy."
He said he has repeatedly found that "good communication" and "good documentation" solve the problem. He advised engaging in conversations with an insurer and providing documentation before the work is even performed. Then do so again after the operation, "putting everybody at ease," Zamir said: There's justification for the work and proof it was done properly, he said.
Chase asked Zamir for an example of documentation which had been approved by an insurer.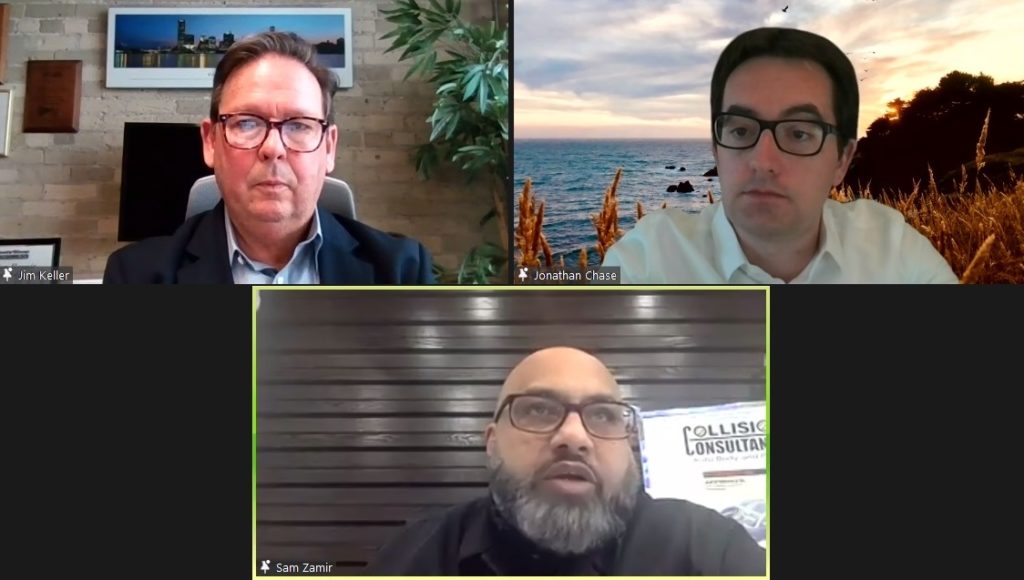 Zamir cited Porsche, a make his shop frequently repairs. Calibration of Porsche blind spot monitoring yields a screen confirming the completion of that process, he said. A screenshot or printout of that screen for the file was probably one of the "most tangible" pieces of documentation possible — along with the invoice that the shop had sublet and paid for that calibration, Zamir said.
Photos also work quite well, Zamir said.
Zamir also discussed the issue of a repairer's trust in the party performing the calibration — even when it was handled in-house. Documentation could be relevant here as well, according to Zamir.
According to Zamir, possible questions for the provider included: Was the work being done properly? Was the ground level? Was an aftermarket tool used as good as the OEM version?
He described how his shop had quit using one dealership for calibrations. Collision Consultants noticed the dealer was returning calibrated vehicles with no mention of the fuel tank, despite OEM repair procedures mandating it be full for that operation.
"They kind of brushed it off" as unimportant, and Collision Consultants ceased sending them sublet calibration work, Zamir said.
Zamir said he has found it helpful to document the process with photos. Proof might include a printout from a tool, he said. One might even document an annual Hunter inspection of an alignment machine, he proposed.
Tune in for the second day of the virtual Collision Industry Conference on Thursday. The event is an industry summit open to anyone with a stake in auto body work, including shops, insurers, OEMs, suppliers and others. It's a chance for all those sectors to educate each other and debate various issues arising in the industry. There's also an open mic for you to say whatever's on your mind.
The virtual event running 11 a.m. to 3 p.m. ET Thursday will take place live on Zoom and be free to everyone using a promo code available on the sponsors page here. Register for the event with that code here.
More information:
Virtual Collision Industry Conference Jan. 20-21 agenda
Collision Industry Conference website
CIC sponsor page (contains free virtual promo code to use during registration)
Images:
Sam Zamir, manager of Collision Consultants, speaks during a virtual Collision Industry Conference Industry Relations Committee session on Jan. 20, 2021. (Screenshot from virtual CIC)
Results of an informal audience poll during the virtual Collision Industry Conference on Jan. 20, 2021. (Screenshot from virtual CIC)
Clockwise from top left, Industry Relations Committee Co-Chairmen Jim Keller (1Collision Network) and Jonathan Chase (National General) and Collision Consultants manager Sam Zamir participate in a virtual Collision Industry Conference session on Jan. 20, 2021. (Screenshot from virtual CIC)
Share This: