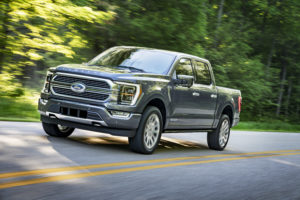 The latest "Who Pays for What?" survey found about half the body shops polled reporting that eight major insurers reimburse invoiced aluminum labor rates always or most of the time.
The percentages of shops seeing that consistency fell slightly from 2019, though it's unclear if these declines were within the margin of error. (The margin stood at 3.8 percent on questions answered by all 667 respondents given a 40,000-shop universe. The number of shops responding to the aluminum question was unspecified.)
Nationwide and USAA were the most responsive to reimbursing the work, with a respective 54 and 53.5 percent of shops reporting the aluminum rates were covered "always" or "most of the time." (Remember, at the end of the day, the shop is billing the customer, who in turn is reimbursed by the insurance.)
Farmers was the least likely to reimburse aluminum rates with that consistency, but still saw nearly half the shops (46.5 percent) reporting the carrier frequently or always paid those labor rates. Farmers also had the highest percentage of shops reporting reimbursement "sometimes."
The percentage of vehicles with aluminum elements and the prevalence of aluminum on those vehicles is likely to increase. If the insurer won't cover the bill, more and more policyholders might have to do so.

The Oct. 1-Oct. 31, 2020, "Who Pays?" polling found 82 percent of body shops had already performed aluminum work last year. A study by DuckerFrontier for the Aluminum Association estimated automakers will incorporate 514 pounds of aluminum into the average vehicle by 2026, a 12 percent increase from 2020.
By 2026, it's going to be nearly certain that a hood is aluminum, and close to even money that a liftgate or tailgate will be, DuckerFrontier reported in the study released last summer. There's about a 1-in-3 chance that any fender or door on a new-car dealership lot will be aluminum. DuckerFrontier also last summer estimated vehicles are displaying greater percentages of nonferrous chassis and crash management parts than a few years ago.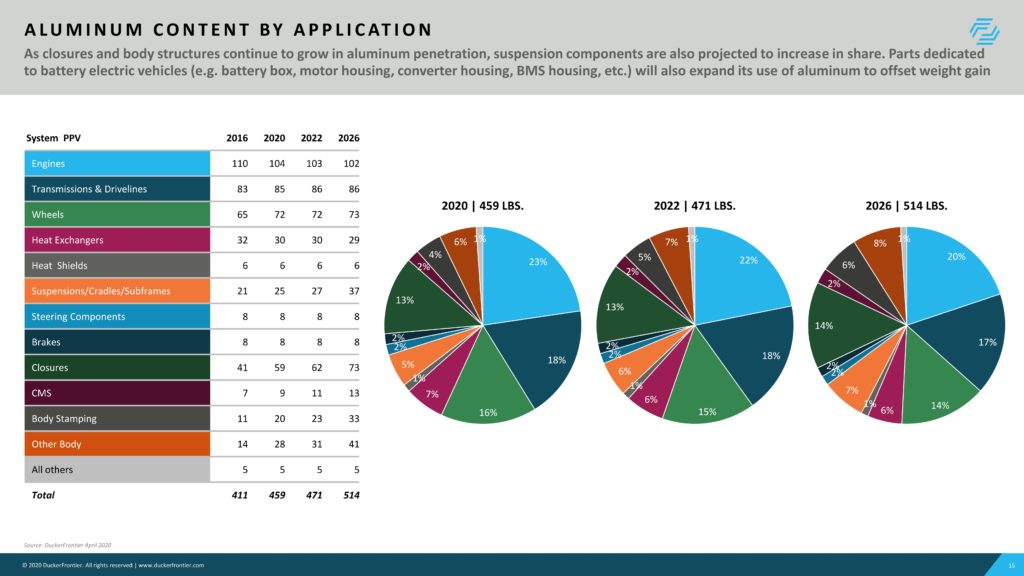 Leveling off
However, insurers and consumers appear to be catching a break on a couple of billing fronts as that aluminum penetration increases.
Data from the study suggests aluminum rates might have found equilibrium, at least among uncertified shops.
Shops performing aluminum work on vehicles without being certified by that OEM reported a median structural aluminum rate of $89 and a median nonstructural rate of $75. The 75th percentile for uncertified aluminum work stood at $120 and $100, respectively.
"The median rates have remained fairly stable over the past several years after a run-up between 2015-2017 from $83 to $90 for structural aluminum repairs and from $63 to $77 for non-structural aluminum repairs," survey authors Collision Advice and CRASH Network wrote.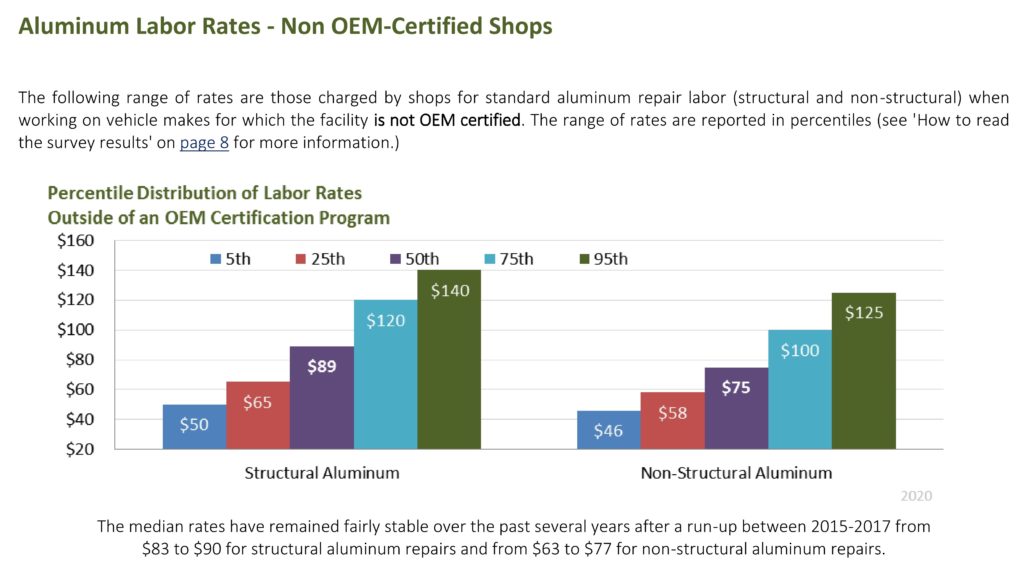 Forty-five percent of shops "report being certified by at least one OEM for aluminum repair," Collision Advice and Crash Network wrote. The most prevalent OEM among the certified shops was Ford, with 131 Ford-certified shops sharing aluminum rates. The second most common OEM was Infiniti, at 47 shops.
The median Ford-certified shop charged $95 for structural Ford aluminum work and $85 for nonstructural aluminum labor in 2020. That 50th percentile value represents the point at which 50 percent of the shops charge more and 50 percent charge less. The 75th percentile of Ford-certified shops charged $125 for structural work and $100 for nonstructural work — which means 25 percent of all the collision repairers still charged more than those guys.
Polling in 2018 found a median Ford structural aluminum rate of $90 and a nonstructural rate of $75 among Ford-certified shops. In 2016, the median Ford structural rate remained at $90 and the nonstructural rate $80.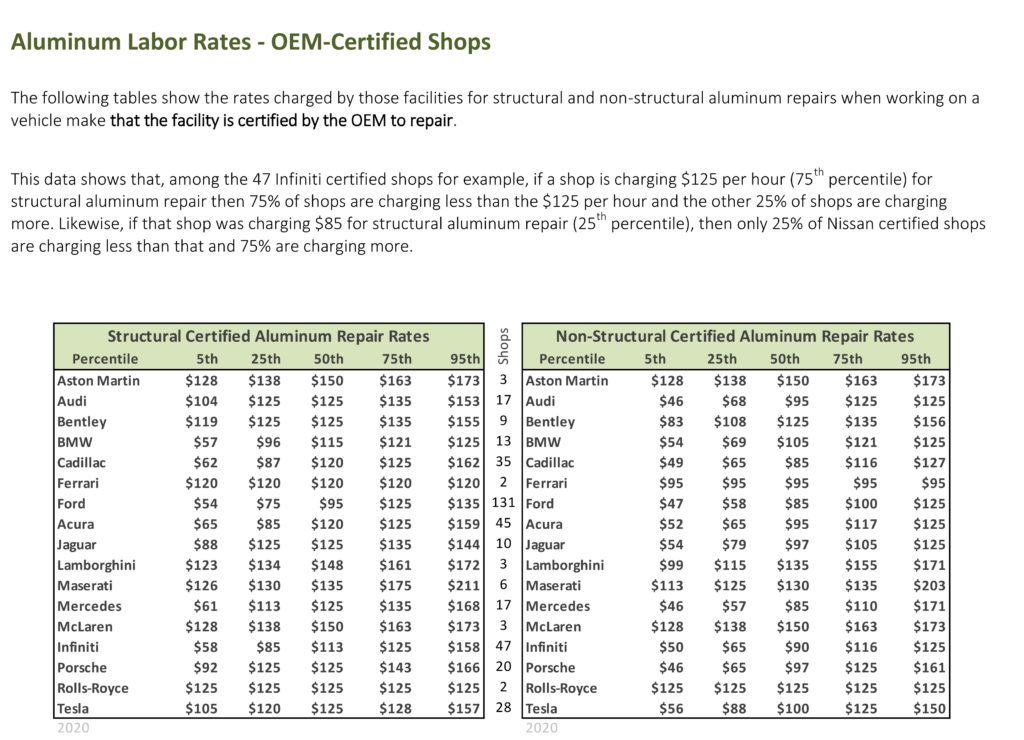 Another question asked all shops performing aluminum labor if they charged aluminum rates for structural work, removal and installation of nonstructural parts and refinishing.
"The percentage of shops charging a higher rate for refinishing aluminum, as well as replacing components on aluminum panels, has leveled off after four years of continuous decline," Collision Advice and CRASH Network wrote.
The percentage of shops charging aluminum rates for structural work is down from a peak of 93.9 percent in 2017 but still an overwhelming proportion and in that ballpark: 87.4 percent in both 2019 and 2020.
However, aluminum rates for refinishing and nonstructural R&I rates have diminished in popularity, with only about a fifth of shops charging them in 2019 and 2020. That's down from what was a peak of around 48 percent of shops charging aluminum refinish and nonstructural R&I rates in 2015.

But as Collision Advice and CRASH Network pointed out, the decline appears to have leveled off. It'll be interesting to see if the 2021 data will contribute the third data point to confirm the industry truly has settled into an 80-20 trend here.
Help the collision industry by taking the current "Who Pays for What?" survey by the end of the month and answering questions on topics like refinishing. All answers are kept confidential; data is published only in the aggregate.
More information:
Take the anonymous first-quarter "Who Pays?" survey
Images:
A 2021 Ford F-150 Limited is shown. (Provided by Ford)
The latest "Who Pays for What?" survey found about half the body shops polled reporting that eight major insurers reimburse invoiced aluminum labor rates always or most of the time. (Provided by Collision Advice, CRASH Network)
DuckerFrontier projects some common bodywork components are predicted to make significant shifts to aluminum between 2020 and 2026, and aluminum weight overall on vehicles is expected to grow. (Provided by DuckerFrontier via Aluminum Association)
An October 2020 "Who Pays for What?" survey found shops performing aluminum work on vehicles without being certified by that OEM reported a median structural aluminum rate of $89 and a median nonstructural rate of $75. (Provided by Collision Advice, CRASH Network)
Forty-five percent of shops "report being certified by at least one OEM for aluminum repair," Collision Advice and Crash Network wrote in the latest "Who Pays for What?" survey, which was conducted in October 2020. (Provided by Collision Advice, CRASH Network)
The latest "Who Pays for What?" survey found the percentage of shops charging aluminum refinishing and nonstructural R&I rates had leveled off around 20 percent. (Provided by Collision Advice, CRASH Network)
Share This: