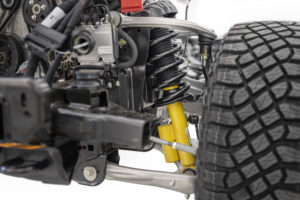 Aluminum growth in vehicles isn't just skin deep. DuckerFrontier this summer estimated vehicles are displaying greater percentages of nonferrous chassis and crash management parts than a few years ago.
On the whole, DuckerFrontier projected vehicles to grow from an estimated 459 pounds of aluminum today to 514 pounds in 2026, up 12 percent. It said the 459 pounds in 2020 had come in part due to greater penetration of some aluminum castings, extrusions and forgings for suspension and crash-management components.
In 2016, 5 percent of shock towers were made out of high-pressure die-cast aluminum. By this year, that proportion had reached 10 percent.
"Aluminum extrusions and forgings have also recorded growth from 2016, with an increase of 4 (pounds per vehicle) and 2 PPV respectively," DuckerFrontier wrote. "There has been a 10% increase of vehicles utilizing extrusions for (crash management system) applications in this time frame, a 7% increase in vehicles utilizing forged control arms as well as 2% growth of vehicles using forged steering knuckles."
DuckerFrontier predicted that aluminum castings would grow from an estimated 299 pounds per vehicle in 2020 to 316 pounds in 2026. Extrusions would grow from 45 pounds to 55 pounds, and forgings would rise from 8 pounds to 10 pounds.
"Platform parts continue to displace component parts (as aluminum)," DuckerFrontier wrote — and "platform parts" refers to basically the heart of collision repair.
They include all closures; the roof and fender; everything on the body-in-white and frame; chassis parts like the cradle, control arms and knuckles; and that up-and-comer the battery housing.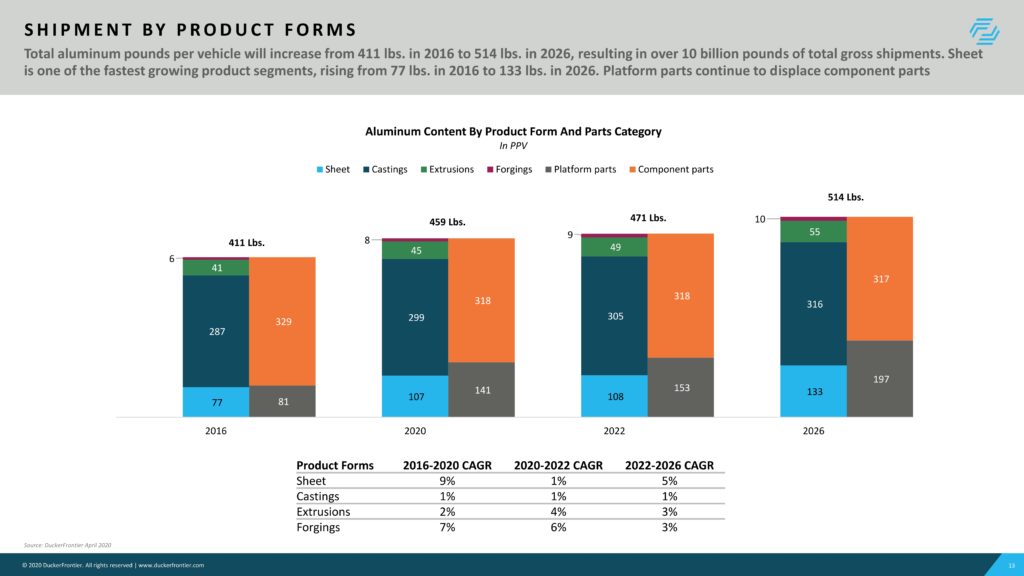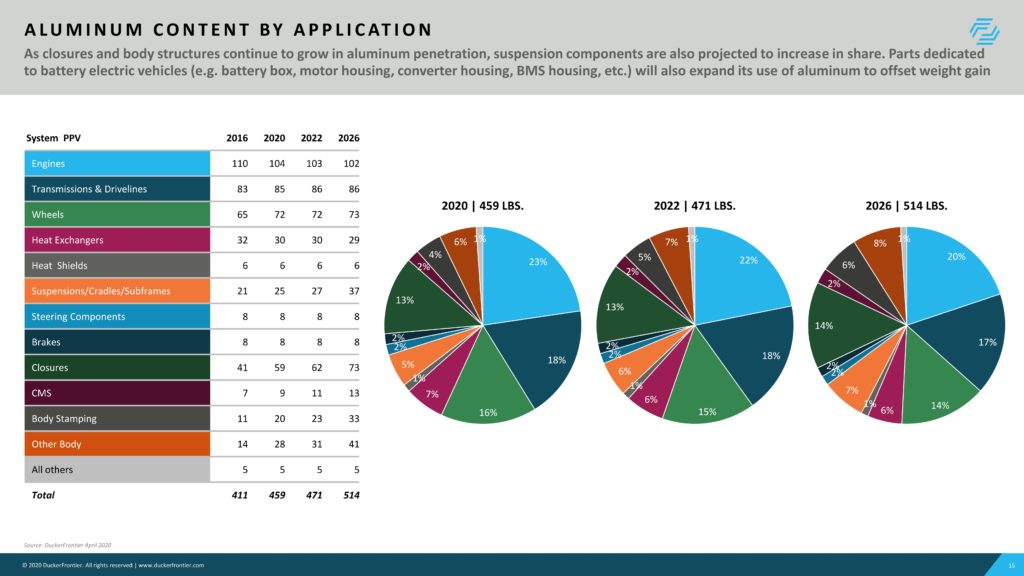 DuckerFrontier estimated that suspension, cradle and subframe parts would grow from 25 aluminum pounds per vehicle in 2020 to 37 pounds in 2026. Aluminum body stamping and "Other Body" would rise from 48 pounds combined to 71 pounds of aluminum in six years. Crash-management aluminum parts would make up 13 pounds of the average vehicle in 2026, up from 9 pounds today.
DuckerFrontier managing director Abey Abraham gave us a little extra color this week on one commonly R&I'd and R&R'd platform part: the bumper beam.
In 2017, DuckerFrontier estimated 33 percent of bumper reinforcement beams were aluminum in 2015. It predicted this penetration would grow to 54 percent by 2020.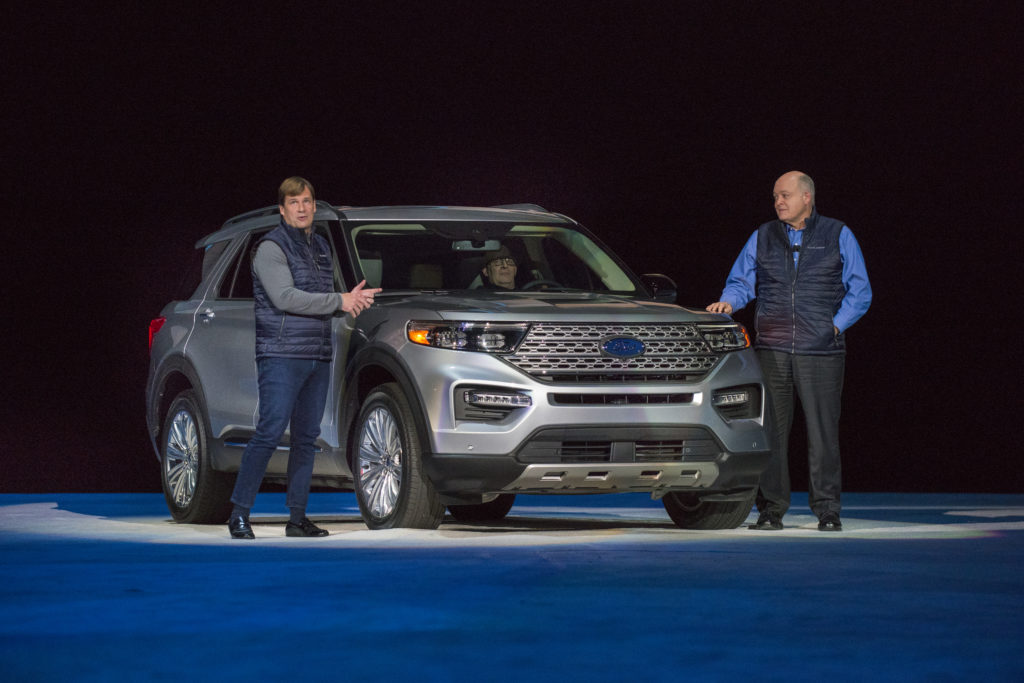 Abraham on Wednesday said the company now estimates about 43 percent of bumpers today to be aluminum. It predicts a 48 percent penetration rate by 2022 — jumping to 58 percent by 2026.
"In the prior study (2017 study), we had anticipated based on existing programs that had (aluminum) bumpers in 2015 that were forecasted to be in production in 2020,  along with replacement vehicle programs that were in-line to convert to aluminum by 2020 for a penetration of 54%," he explained in an email.
However, steel-framed body-on-frame vehicles grew faster than anticipated.
"The reality however was a stronger than expected push to full frame pickup trucks and larger full frame SUVs, both segments that are utilizing greater shares of advanced steels, especially true in the rear where bumper mounted hitches or bumpers with tow hitch's co-designed with the bumper," Abraham wrote. "The latest Ford Explorer did make the switch to aluminum for its front bumper, and retains steel in the rear. It's clear however that aluminum extrusions (mostly 6xxx and some 7xxx for JOEMs) are growing at a very good rate."
The DuckerFrontier study also offers some interesting perspective on what metallurgy repairers might encounter in electrified vehicles.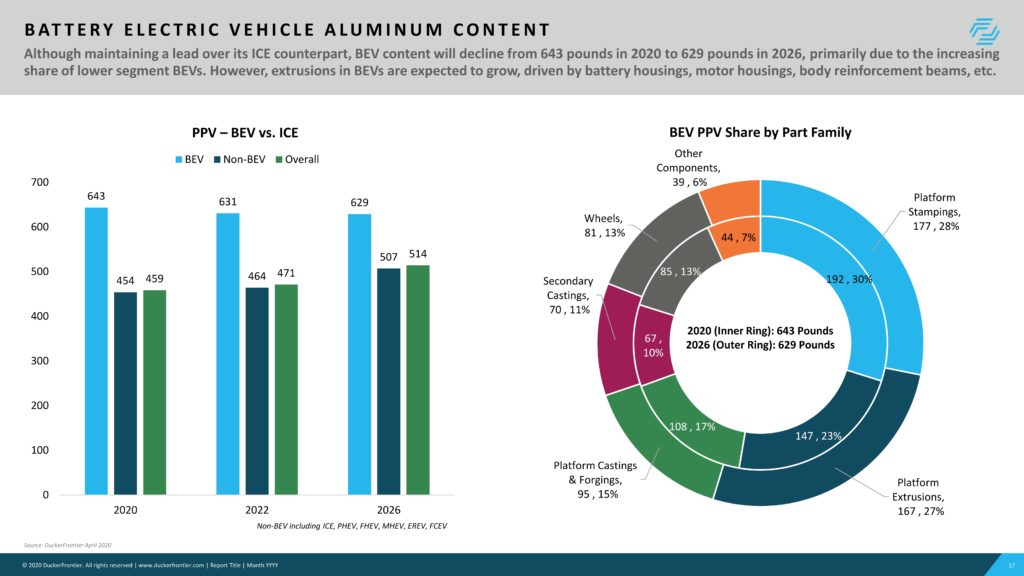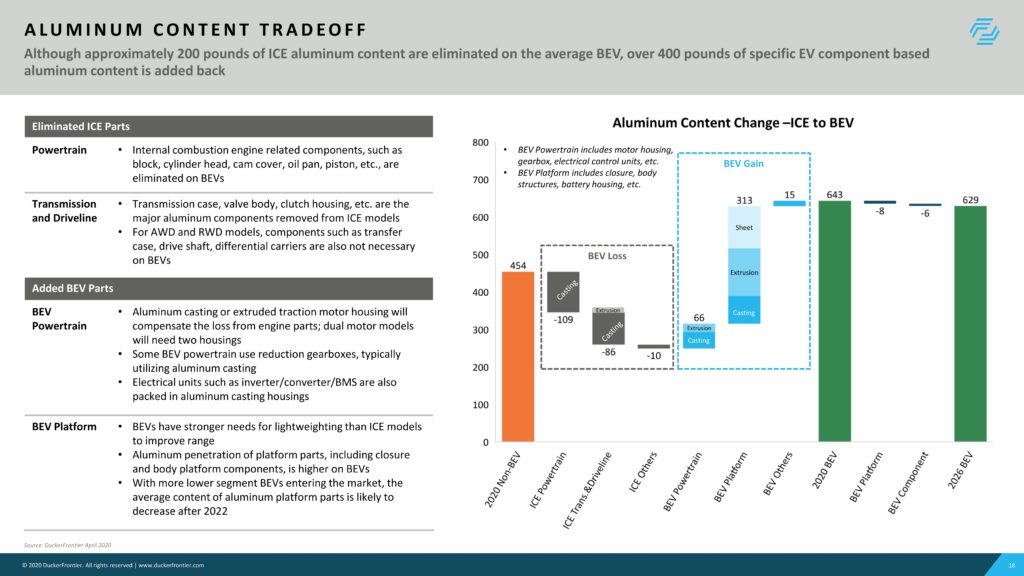 DuckerFrontier observes that engineers can dispense with a couple hundred pounds of aluminum powertrain — including the internal combustion engine block itself. However, they gain back 66 pounds of battery-electric powertrain parts like housings and reduction gearboxes using cast aluminum.
And get this: DuckerFrontier predicts an electric vehicle throws in another 313 pounds of aluminum "platform parts" not found on an ICE vehicle. This extends far beyond a potentially aluminum battery case itself.
OEMs need to cut the weight out of battery-powered vehicles to keep their range consumer-friendly. They'll do this in part by replacing an batch of steel parts with lighter aluminum versions, DuckerFrontier predicts.
"Aluminum penetration of platform parts, including closure and body platform components, is higher on BEVs," DuckerFrontier wrote.
That said, DuckerFrontier predicts that "With more lower segment BEVs entering the market, the average content of aluminum platform parts is likely to decrease after 2022."
It estimated that aluminum battery-electric content would fall from 643 pounds on average this year to 629 pounds of the metal in 2026.
"However, extrusions in BEVs are expected to grow, driven by battery housings, motor housings, body reinforcement beams, etc.," DuckerFrontier wrote.
"The aluminum industry is keeping its foot on the pedal, developing solutions aimed squarely at addressing automakers most pressing needs to offset mass given added content and weight from new features, additional safety needs, and the move to electrification," Abraham said in a statement Aug. 12. "Aluminum will record relentless year-over-year growth through 2030."
More information:
"Survey Reveals Aluminum Remains Fastest Growing Automotive Material, Emerging as a Preferred Metal for Electric Vehicles"
Aluminum Association, Aug. 12, 2020
"2020 NORTH AMERICA LIGHT VEHICLE ALUMINUM CONTENT AND OUTLOOK" summary
DuckerFrontier for the Aluminum Association, July 2020
Images:
Forged aluminum control arms on a 2021 Bronco chassis are shown. (Provided by Ford)
DuckerFrontier predicts aluminum sheet will grow — but so will cast, forged and extruded parts also commonly found as line items in collision repair. (Provided by DuckerFrontier via Aluminum Association)
DuckerFrontier projects some common bodywork components are predicted to make significant shifts to aluminum between 2020 and 2026, and aluminum weight overall on vehicles is expected to grow. (Provided by DuckerFrontier via Aluminum Association)
Left, then-Ford global markets President Jim Farley, and then-CEO Jim Hackett show off the 2020 Ford Explorer in 2019. DuckerFrontier managing director Abey Abraham noted in October 2020 that the next-generation Explorer added an aluminum front bumper reinforcement. (Provided by Ford)
DuckerFrontier predicts aluminum will play a significant role in battery vehicles. (Provided by DuckerFrontier via Aluminum Association)
Share This: