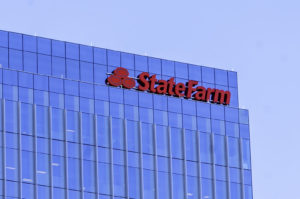 Despite alignment data, OEM instructions and a "notchy and heavy" vehicle feel, State Farm this summer refused to cover a new steering gear assembly on a late-model BMW, a California shop said.
"I had to have the customer sign a specific waiver from BMW North America acknowledging he is taking an unsafe vehicle," Pacific BMW body shop manager Andrew Batenhorst wrote in an email. The customer refused to pay out-of-pocket for the steering gear, prompting the shop to demand the motorist's signature on BMW's waiver.
The BMW waiver also calls for the insurance company's signature too, but "they refused," Batenhorst said of State Farm.
"I hope this is an eye opener for State Farm, as this really shows their true colors," he wrote in an email. "I wonder how many service departments face this problem every day, but because they are not well versed with insurance claims like body shops are, how many cars end up back on the road with an unsafe vehicle."
The 2017 BMW 2 Series M240i came to the Glendale, Calif.-based auto body shop after the vehicle struck a pothole and sustained suspension damage.
"In the event of accidents or driving conditions similar to accidents, shock-like loads can cause different types of damage to steering boxes," BMW states in OEM procedures provided by Batenhorst. "When a steering box is externally undamaged, it is sometimes only possible to identify damage with great difficulty and with great effort. However, damage of this nature poses an unacceptable risk to the vehicle because it can result in failure of the steering system.
"Because of the disproportionate amount of effort involved, it is generally not sensible to check thoroughly all the individual components of the steering box and as an alternative it is necessary to take into account other components which can be checked more easily."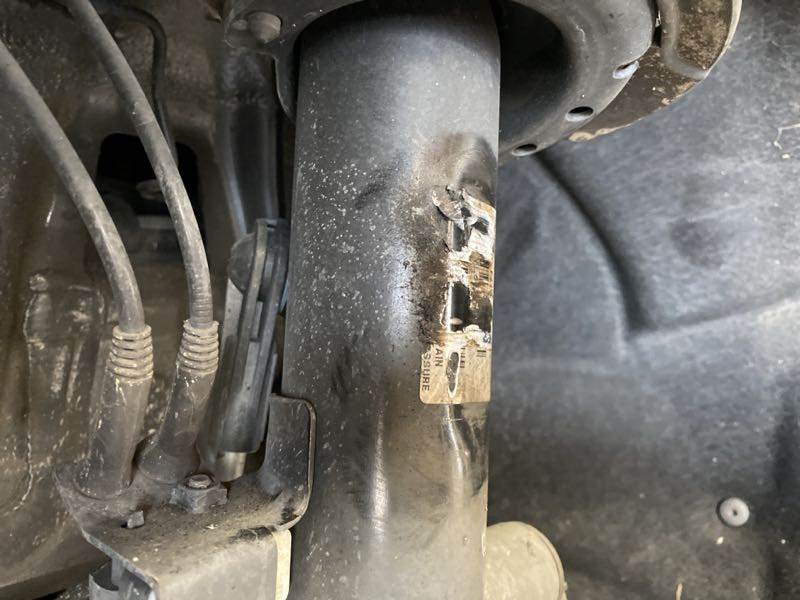 BMW demands a steering box replacement for any one of numerous conditions, including:
Unacceptable torque increase and jamming when the steering box is turned from lock to lock (without hydraulic/electrical assistance)
A. Visible or noticeable damage to the steering box
– Version with electric steering box (EPS): Examine in particular the control unit with all plug connections for damage and hairline cracks.
B. Unacceptable torque increase and jamming when the steering box is turned from lock to lock (without hydraulic/electrical assistance)
C. Fire damage
D. Damage, permanent deformation or fractures to:
– Wheel rims in the event of a negative result from the wheel alignment check
– Spring struts, steering stubs, wheel carrier
– Wishbones
– Struts or trailing links or anti-roll bar with this function
– Body-side screwing/attachment points for wheel guide/control components
– Front axle support
– Drop arm
– Track rods
– Steering box fixtures
– Steering column
A lopsided steering wheel, significant deviations of camber/track values and noises when indications for the damage/deformations listed here. (Minor formatting edits.)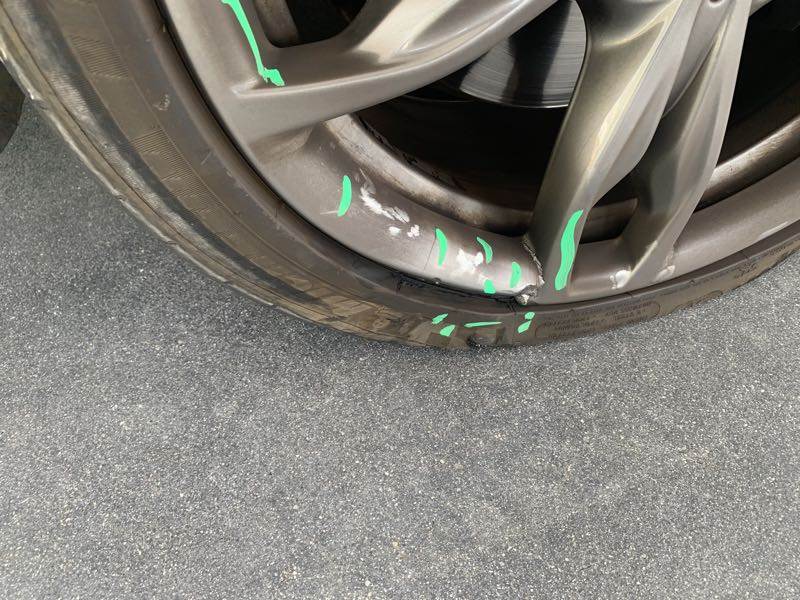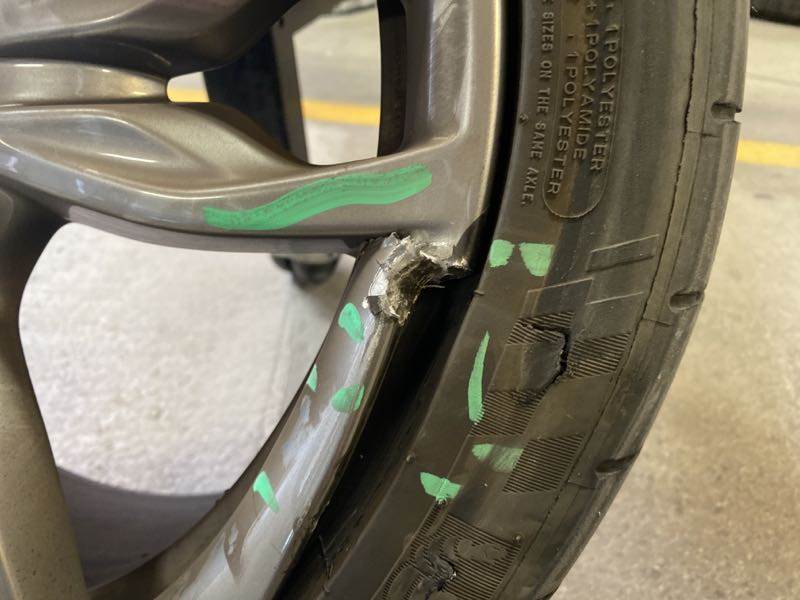 The damage was significant enough on its own that the shop replaced parts like the knuckle, strut, hub and wheel with State Farm's approval. A preliminary alignment check May 13 showed the front camber and thrust angle off spec.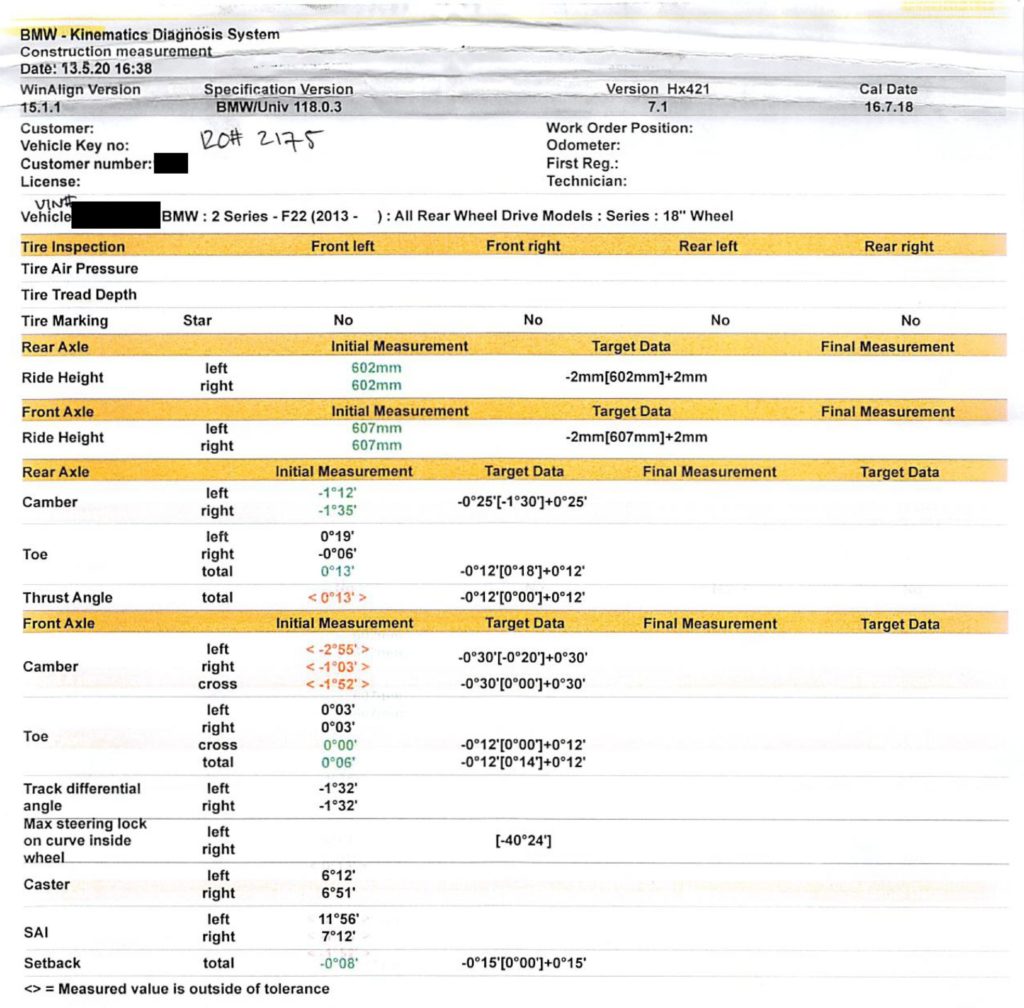 "We provided State Farm with alignment specs and copies of the repair instructions/steering gear bulletin, which they completely disregarded," Batenhorst wrote in an email. "They dragged the claim out for over a month in going back and forth with their CRASH unit while trying to decide to approve a steering gear.  CRASH spoke with our contacts in the BMW CCRC program, and despite the bulletin being very clear that the steering gear required replacement, State Farm said no.  I filed a complaint with the DOI, and they also did not help me."
After the repair, the toe and thrust angle alignment data continued to be off spec, according to Batenhorst.
"The steering felt notchy and heavy after replacing those parts and doing an alignment," he wrote. The shop proposed State Farm to send a rep out to feel for themselves, but the response was "'We're not doing that,'" Batenhorst said.
"State Farm stated because there is no visible external damage, they could not cover the replacement of the part, irregardless that the steering definitely has internal damage," Batenhorst wrote in an email. "We let State Farm know that the steering gear could potentially seize or fail and cause the customer to lose control of the vehicle.  State Farm told me that 'we'll cross that bridge if and when that happens'.  I asked what if the customer dies in that subsequent accident, and they repeated their previous comment."

Contacted for comment about Batenhorst's allegations, State Farm media relations specialist Sevag A. Sarkissian wrote in an email Tuesday: "Thank you for reaching out to State Farm about this individual claim (denial of Steering gear replacement BMW 2 Series). State Farm has nothing to share with Repairer Driven News."
As Batenhorst observed, the California Department of Insurance said it couldn't help. It referred him to the courts.
"While we have attempted to mediate this claim dispute and have thoroughly investigated the insurance company's claims process, we regret that we are unable to resolve this particular dispute," the CDI wrote in July. "State law does not provide the Department with the authority to determine how much should be paid on a claim. When two parties disagree on the appropriate amount of damages to be paid, the ultimate decision is left to a court of law. Only a court of law has the authority to weigh the evidence and the merits of each party's position and arrive at a formal binding decision."
Batenhorst in late July wrote that "BMW North America is looking into this case further."
Asked about this reported participation, BMW product and technology communications Alexander Schmuck on Monday wrote, "this is clearly a case between a Customer / the Collision Repair Center and State Farm. It would not be appropriate for BMW of North America to comment on this case directly.
"BMW Centers and Collision Centers can access all technical information from BMW of North America via internal BMW systems. This information is intended to provide the Collision Centers with guidance on repair decisions. Ultimately the decision on repairs is one that needs to be made by the Collision Repair Center and approved by the Insurance Company. In this case it appears that the collision center is replacing the steering gear based on BMW documentation and the insurance company is denying payment for the steering gear, because they do not believe it needs to be replaced even though our documentation recommends it. Has the collision repair center shared the documentation with the insurance company in an effort to justify their repair decision?
"If Collision Centers have questions related to this information provided by BMW NA they can reach out to regional BMW representatives for support."
More information:
Images:
The State Farm logo can be seen in Atlanta, Ga., in January 2020. (JHVEPhoto/iStock)
This 2017 BMW M240i needed multiple replacement parts, including a wheel and tire, after striking a pothole. (Provided by Pacific BMW)
A 2017 BMW M240i brought to Pacific BMW was found to have camber and thrust angle outside of spec following a pothole strike. (Provided by Pacific BMW; redactions by Repairer Driven News)
This 2017 BMW M240i needed multiple replacement parts after striking a pothole. (Provided by Pacific BMW)
After a customer customer refused to pay out-of-pocket for a steering gear required by BMW but denied by State Farm, the shop demanded the motorist's signature on a waiver provided by BMW. State Farm refused to sign the document, according to the shop. (Provided by Pacific BMW; redactions by Repairer Driven News)
Share This: