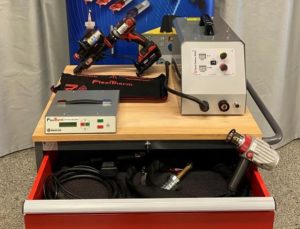 Undeterred by 2020's virtual format, the Society of Collision Repair Specialists announced it would continue its tradition of big-ticket SEMA Week raffles.
This year, the organization will give away more than $19,500 in equipment from partner Reliable Automotive Equipment. The collection includes a new X-pac Riveting System and X-press toolbox, a Wieländer+Schill WS60 workstation steel dent puller with AP95 airpuller, a Flexi Therm Multi-heating pad-System, a WS90 Vario Drill and a WPS 4000 Body Saw.
The giveaway will embrace the virtual nature of SCRS' 2020 Repairer Driven Education series, which runs Nov. 2-6 alongside the virtual SEMA360. To enter, attendees merely need to register for one of the courses and watch at least 90 percent of the session (the threshold for a certificate of completion). The more sessions you attend and complete, the more entries you'll get in the drawing. Official rules can be found here.
One of the courses — "Estimating Resources for Collision Repairers: Integrating the BOT and DEG Into Your Repair Plan Process," featuring Mike Anderson (Collision Advice), Danny Gredinberg (Database Enhancement Gateway), Barry Dorn (Dorn's Body and Paint) and Michael Bradshaw (K&M Collision) — is completely free and will be eligible for a raffle entry.
The class teaches shops how to use SCRS' new Blueprint Optimization Tool, which alerts shops to repair operations they might be doing but forgetting on estimates, and the free Database Enhancement Gateway service allowing shops to seek clarification on and suggest improvements for the three estimating systems.
"Learn the origins of both resources, and the real-world challenges they were designed to address, the results of real world application of the solutions in production environments, and tips and tricks to make the most out of both," the course description states. "Every owner, manager and repair planner will want to tune in to what will be an information-packed program highlighting solutions made for repairers, by repairers."
The rest of the nearly 20 courses are $75 each, with the exception of the $150 OEM Collision Repair Technology Summit headliner event (which also is eligible for a raffle entry). However, a repairer could just buy a full series pass for $375 and receive the entire lineup.
The classes will be available for infinite on-demand replays until Aug. 31, 2021, and registration from one location will extend to other employees there. For example, a shop owner could register for the series pass and make all classes available to all employees to watch as well at no extra cost. SCRS has suggested throwing a feed on in the break room. (The raffle eligibility, however, will be tied to the registration; 20 employees can watch the same course on their owner's account, but it's only worth one raffle ticket.)
"Our primary focus is on driving opportunities to gain from the experience of this year's program, and we are excited for businesses that commit to their participation in the educational programs during the week," SCRS Chairman Brett Bailey (A&B) said in a statement. "The more sessions watched, the more entries earned, and it's just one more great reason to be a part of SCRS' programs running in conjunction with SEMA360. While it's advantageous to watch as the sessions release, the beauty of this year's program is that you will be able to continue to access and reference the sessions all the way through August of 2021."
SCRS observed that the prize "provides a ton of resources for collision repair productivity" for the winning repairer.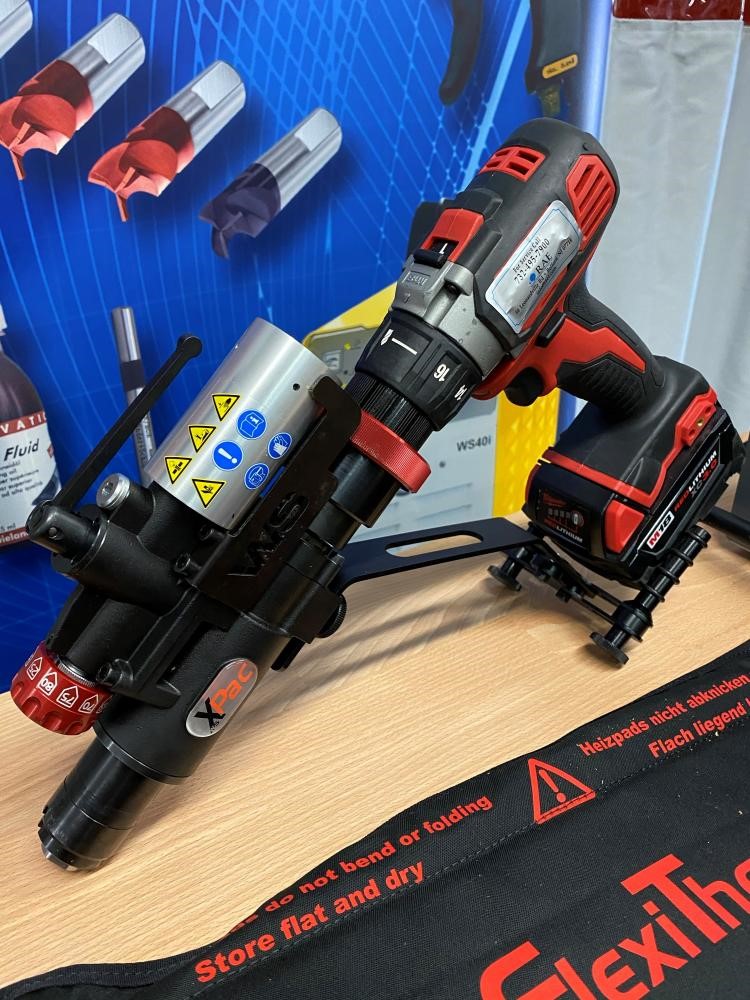 The X-pac rivet gun attaches to a cordless drill and delivers 9 tons of force to apply self-piercing and flow-form rivets. It made SCRS' 2019 "Kool Tools" list. And as for tearing a vehicle apart, the WPS 4000 Body Saw is meant to handle tough substrates, while the WS90 Vario Drill allows a shop to remove open spot welds.
SCRS said the Wieländer+Schill dent removal setup allowed a shop to set time and power parameters, and the Flexi-Therm heating pads permit quicker drying.
"I'm exceptionally proud of the way SCRS has been there for our industry, and it is an honor for all of us at RAE to be part of delivering back to an industry that has had a very challenging year," RAE President and SCRS board member David Gruskos said in a statement. "The work that SCRS does is important to everyone, and we are big believers in the way that education programs such as RDE lift the industry up and provide opportunity to the businesses within it. We personally can't wait to deliver this to the winning business, knowing that it will be a way to give back to a member of the collision repair industry that is actively working on enriching their knowledge and investing in the betterment of their business."
More information:
Virtual Repairer Driven Education webpage
Official SCRS and RAE giveaway rules
Images:
The Society of Collision Repair Specialists will in 2020 give away more than $19,500 in equipment from partner Reliable Automotive Equipment. The collection includes a new X-pac Riveting System and X-press toolbox, a Wieländer+Schill WS60 workstation steel dent puller with AP95 airpuller, a Flexi Therm Multi-heating pad-System, a WS90 Vario Drill and a WPS 4000 Body Saw. (Provided by SCRS)
SCRS and Reliable Automotive Equipment will raffle off a new X-pac Riveting System and X-press toolbox as part of the organization's 2020 SEMA Week giveaway prize. (Provided by SCRS)
Share This: