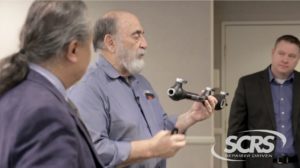 SCRS Chairman Kye Yeung and fellow Education Committee Co-Chair Toby Chess last month revealed their 2019 picks for "Kool Tools" shops and techs might consider buying.
Each year, the two men wander the booths of SEMA, buying gadgets and equipment they think might be a good addition to a shop or technician's toolbox. After testing the gear, they present the tools which make the cut annually at the January Society of Collision Repair Specialists open board meeting and Collision Industry Conference.
Chess (Kent Automotive) said they received additional help with the project this year from SCRS Treasurer Amber Alley (Barsotti's Body & Fender)
The lineup can be seen in their SCRS presentation slides here and in the CIC slides here. SCRS on Wednesday also offered buyers another way to check out the picks by releasing video of Chess and Yeung's board presentation on its SCRSCollision YouTube channel.
Here's a look at some of their picks and color from their CIC and SCRS presentations.
TruFlex sanders: Chess said they bend into either a convex or concave shape.
Evercoat Rage OPTEX body filler: Yeung (European Motor Car Works) said the filler includes a catalyst to change color when it's ready to sand. Chess said it also lasted longer than typical filler.
Uni-ram mobile 300 sanding vacuum: "This was a nice, moderately priced unit," Chess said. Yeung said the price point made the 300 attractive as a "Kool Tool."
Car-O-Liner PointX: Chess said he was "very skeptical" of the PointX at first and had thought it was a tram gauge. But it can self-level, determine datum and measure three-dimensionally with accuracy down to 1 mm using Car-O-Liner data, he said. While a repairer would need to subscribe to data, they don't need another Car-O-Liner to make it work, Toby said.
Chess said it wasn't a replacement for traditional measuring, but Yeung called it "kind of a neat little estimating tool." Car-O-Liner representative Kelly Roberts called it a blueprinting tool and said it was designed for a two-post lift but could measure under the hood as well.
Glue pulling kits: Yeung and Chess presented glue gun kits by KECO, Pro Spot, and Dent Fix. Chess said they could be used with aluminum and steel. Yeung said a technician had a issue with the pads staying bonded, but once you clean a https://www.dentfix.com/panel with alcohol and use a torch to dry the moisture, the bond is much stronger.
Montipower MBX Bristle Blaster: "This is not a new tool," Chess said. However, its stainless steel composition won't cause corrosion on an aluminum F-150 — unlike regular steel wool, he said.
Tekton tools: Chess said he saw the black oxide screwdrivers from Tekton at SEMA and thought they were cheap-looking. However, he learned that Tekton put the money into the quality of the tool — its steel is stronger — rather than chroming it.
He also highlighted a 30-/60-degree wrench, which improve its movement, and a ratchet with 90 teeth, which he said delivered a "very strong" swing.
Yeung said his reaction to Chess was that they were "'just tools, Toby,'" but Chess pointed out the low price. Yeung said they thought the tools would be great for an entry-level technician because of the price; Tekton even has an SCRS promo code to save 10 percent: SCRS-10.
Reliable Automotive Equipment battery-powered self-piercing rivet gun: SCRS board member Dave Guskos (RAE) said it was too new to be recognized by OEMs yet (the very similar XPress 800 satisfies some automaker certification requirements) but it delivered up to 16,000 pounds, is adjustable for every rivet, can go forward or reverse, and can't exceed whatever it'd been set at. Chess said its price point made it affordable for many shops.
Miller AC/DC Multimatic 220 welder: Chess said the beauty of the welder was its ability to allow welding without needing a transformer to prevent electromagnetic waves. Miller industrial district manager Casey Breeden said it was Miller's "first true" multiprocess welder able to handle aluminum TIG welding. It was a "big hit," he said.
Polyvance and Dent Fix plastic welders: The Polyvance 6080 GC and Dent Fix DF-EXN1G can generate their own nitrogen to remove oxygen from the area being welded, according to Chess.
Wallmek tools: The devices remove bearings and hubs without having to take the part off the car, Chess said. Yeung said they have a "huge catalog" and can be ordered for many specific vehicles tailored to the bearing and axle. "It works great," he said.
Astro 50SL MAX: Chess said the color matching light can be adjusted to adapt to the color on the car, and Yeung said it was about $1,000 cheaper than a similar device from 3M or SATA.
A Rack Adaptor: Jon Adams, a service manager for a Chevrolet dealership, developed it because of the next-generation 2019 Silverado and sister GMC Sierra, which he said had a "more robust" frame system with a thinner metal. (The Silverado's frame is 80 percent high-strength steel 2-5 mm thick). A traditional rack would dent the frames of the popular trucks without it, he said.
Despite advance warning of this issue, only a couple of companies made adapters, so he built his own suitable for all the racks on the market.
Yeung called the adaptor "really cool."
More information:
"SCRS Education Committee Presents – Kool Tools from 2018 SEMA Show & More"
Society of Collision Repair Specialists YouTube channel, Feb. 28, 2019
2019 "Kool Tools" presentation
Society of Collision Repair Specialists, Jan. 16, 2019
Featured image: Society of Collision Repair Specialists Education Committee Co-Chairman Toby Chess (Kent Automotive), center, talks about the Car-O-Liner PointX during the Jan. 16, 2019, "Kool Tools" presentation. SCRS Chairman Kye Yeung (European Motor Car Works) and Kelly Roberts of Car-O-Liner are at left and right, respectively. (Screenshot from SCRS YouTube video)
Share This: