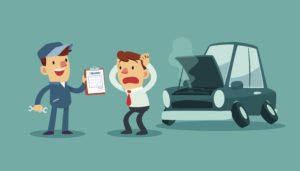 The Montana Retail Association chairwoman told lawmakers earlier this month that customers couldn't choose "lower-cost" repairs if a new bill requiring shops to follow OEM repair procedures passed.
An Allstate lobbyist also told the Montana Senate Highways and Transportation Committee on Feb. 14 that a customer should be allowed to get a cheaper fix than that permitted under repair procedures if they wanted.
MRA Chairwoman Sarah Swanson in opposing Senate Bill 251 said her organization felt consumers should have the right to dictate "how to fix their vehicles."
Senate Bill 251 was ultimately tabled by the committee in a 6-4 vote and is effectively dead for the session, according to a repairer. The bill would declare "(a)n automobile repair business or location shall conduct vehicle repairs in accordance with directives by the original equipment manufacturer necessary to restore the vehicle to its condition prior to needing repairs."
Allstate lobbyist Bruce Spencer recalled to the committee having damaged the bumper on his high-mileage 2008 pickup. His body shop said it'd be a $2,700 repair. He asked if the shop could just bend it out, and the repairer said yes and charged only $200 for the work.
He'd have had to file an insurance claim under the former scenario, Spencer said.
"This bill forces me to submit an insurance claim, and forces me to get a brand-new bumper," he said.
The existence of the claim would raise frequency, and the cost of the claim would raise insurer severity, he said.
Faced with a "simple repair … you have to do it the expensive way," he said of the bill.
SB 251 sponsor state Sen. Gordon Vance, R-Bozeman, said he didn't think the bill compelled Spencer to get the more expensive repair. "I don't see it in there," he said.
Spencer didn't provide enough details about his damage to ascertain whether the OEM's procedures permitted a simpler repair.
OEMs do compete on cost of ownership and will approve inexpensive repair alternatives, though though it's possible that the technology of the car will make previously acceptable repairs either performance-compromising or outright unsafe. At which point, the repair is prohibited to protect the customer or brand — and a body shop or consumer would be violating that directive at their peril.
For example, General Motors forbids certain repairs on bumper fascias because it could affect an advanced driver assistance system, but it permits other work on the part.
"With the safety of our customers at the center of everything we do, we are limiting repairs to Bumpers/Fascias with Advanced Driver Assistance Systems (ADAS) to topcoat refinish only," the OEM wrote in a June 2018 position statement. "Further, topcoat refinish material thickness of repaired ADAS Bumper Fascia systems must not exceed 13 mils in thickness. Any repairs such as gouges, tears or damage that requires the use of substrate repair material or reinforcement tapes must be avoided."
Taking a risk in court
Swanson, Spencer and even conventional wisdom might hold that shops should fix a car however the customer wants.
But the courts don't necessarily approve of repairers disregarding manufacturer procedures to please a customer, collision repair law experts said in 2017. After all, you're the professional, not the consumer.
For example, if customer brings in a bad aftermarket or recycled part and tells you to use it, "You're still liable cause you're supposed to know," P&L Consultants co-owner Larry Montanez, who serves as a collision repair expert witness, said on an August 2017 "Repair University Live."
In a May 2017 interview, attorney Erica Eversman (Vehicle Information Services) said this concept of being liable as the repair professional might even apply in a situation where a customer even agrees to sign a "hold harmless" for the outcome of the repair.
"It doesn't necessarily mean it will be effective," depending on state law and other variables, Eversman said.
For example, you can't sign a contract allowing someone to punch you to death, she said. "You can't agree to allow someone to harm you," she said.
There's also the possibility of a customer signing one and suing the shop anyway. If the shop compromised vehicle safety, Eversman said she could see a court saying, "'Time out.'"
While the current owner might be fine with the incorrect repair, the subsequent owner might not be — landing the shop in hot water.
That's what happened in the $31.5 million verdict against John Eagle Collision after a jury found a hail repair for the previous owner of the plaintiffs' Honda Fit violated OEM repair procedures and contributed to the severity of the Seebachans' crash. (The couple later settled with the shop for an undisclosed amount.)
The Seebachans had no idea the vehicle had received body work when they bought the Fit, as the CARFAX report only reflected upholstery work, according to their attorney Todd Tracy.
While a warranty would typically only apply to the vehicle owner at the time of the repair and not transfer to a subsequent owner, liability "is going to follow you everywhere," Eversman said on the "Repair University Live."
"You own it," Eversman said. "You touched the car. If it wasn't done right, it doesn't matter really who it hurts." She said this might vary based upon state law, but generally society wants a person injured through no fault of their own to be able to collect from the at-fault party.
This threat can exist even if the owner told you to fix the car incorrectly, according to Eversman. What if they give or sell the car to someone else who doesn't know?
"It is cradle to grave," Eversman said, agreeing with Vehicle Collision Experts CEO Mark Olson's analysis on the show.
Eversman said that unless some obscure state law out there said a shop must, there was no duty for a repairer to report information to CARFAX.
However, there's a potential argument that to limit liability, you should get the little old lady to sign something agreeing to notify anyone they give the car to about the incorrect work.
It might help "insulate you a bit," she speculated, but noted that other attorneys might say, "'Oh my God, are you nuts?'" — the document is proof the shop did the repair incorrectly.
In this vein, do you really want to limit your liability by filing a CARFAX report stating to the world that you did that incorrect body work on your customer's vehicle? Or would you rather limit it by a) just refusing the job or b) doing the job right?
Be heard: Montana legislator contact information can be found here and here.
More information:
NASTF OEM repair procedures portal
Featured image: A court might not agree that a shop can do an improper repair if the customer asks for it to save money — particularly if the vehicle's subsequent owner is the one suing you. (blocberry/iStock)
Share This: