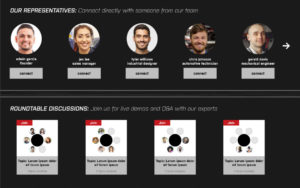 An organizer on Wednesday described a virtual SEMA360 poised to still deliver significant real-time interactivity between vendors and attendees — in some cases, in ways infeasible during a real-world SEMA Show.
"They're not just emailing one email box," SEMA events Vice President Tom Gattuso said of attendees' potential ability to reach vendors.
Gattuso said many vendors plan to make representatives available for the length of the typical 9-5 p.m. PT show day. "That's our recommendation," he said.
However, SEMA has discovered exhibitors intending to man their virtual booths beyond these hours Nov. 2-6, seeking to account for different time zones and international audiences, he said. (The virtual SEMA360 show floor will technically be open 24 hours SEMA Week, he said.)
Gattuso said international visitors have embraced this idea and are registering at a "nice level." He said SEMA might continue to offer a "digital companion" once it resumes in-person shows because of the "international appeal."
The exposure was "exciting for us," and could yield an "exponentially growing audience" in addition to the traditional in-person attendance at future real-world SEMAs, he said.
Vendor representatives-attendee interactions in the exhibitor's booth (SEMA calls them "manufacturer showcases") might take the form of a public text chat or videoconference, Gattuso said.
"You can definitely join conversations," he said.
This could also take the form of a scheduled public room, such as a session on "'ADAS best practices'" at a certain hour of the day, Gattuso said. A user can check if "empty chairs" are available — typically, a session might house a vendor representative and five participants — and decide to take part, he said.
A vendor and attendee also can split off into a private meeting room, which could be set up as a chat or a Zoom or Microsoft Teams meeting,
"It's important to have that one-on-one communication," Gattuso said. He said an attendee also could invite someone else known to be online at SEMA360 into a meeting, calling that feature "kinda neat." This could permit a pricing or order conversation between buyer and vendor representatives
Asked if the platforms would offer a full-blown retail e-commerce capability (for example, "buy it now" buttons), Gattuso said no. SEMA's focus was connecting a buyer and seller to "start the conversation."
"This really is a place where people can connect" and start the relationship that would yield orders later, according to Gattuso.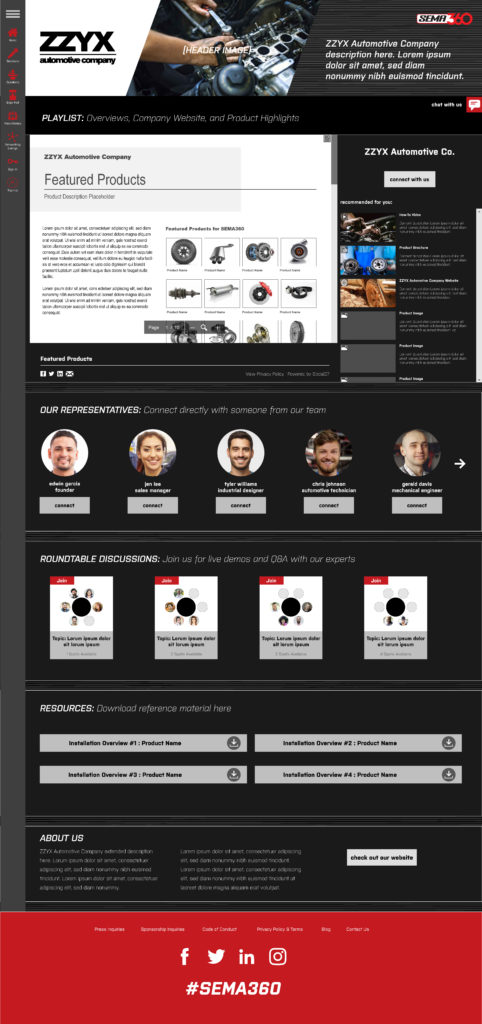 Gattuso said a virtual vendor booth could also involve features like videos, a website within the virtual space, and PDFs of documents like tool specifications or a parts brochure. Gattuso called the process of creating the booth "intuitive" for an exhibitor, and he said the platform offers how-to videos as well. However, SEMA will also assign the vendor a complimentary customer service liaison he said would literally help develop the showcase from start to finish.
Asked about exhibitor interest so far, Gattuso said, "We're doing good."
He said SEMA was looking to be in the "500-company range" during its inaugural virtual show, but it's "on pace right now" to exceed this. SEMA had "good momentum" from a buyer perspective, he said.
But "we're still a little early" to know the true number, Gattuso said. (The in-person SEMA Show supports registrations up until the bitter end, so this might not be too surprising.)
SEMA is targeting attendance of about 20,000-30,000 people, and thousands have already signed up, according to Gattuso.
"It's going really well," he said.
That said, the show is equipped to handle almost unlimited capacity, according to Gattuso. He said its servers will automatically upgrade themselves to handle more usage as needed.
Overall, "we really wanted to address four main areas of interest" with SEMA360, Gattuso said. Besides a vendor-buyer marketplace, these areas included education, a new product showcase — "that's gonna be a big feature to the platform," he observed — and a builder showcase.
SEMA will offer attendees more than 30 free education sessions (there's six or more scheduled each day) able to accommodate "unlimited" numbers of students, Gattuso said.
"While circumstances have refrained us from meeting in person this year, SEMA remains committed to helping our industry members succeed and prosper," SEMA senior manager of professional development Gary Vigil said in a statement Wednesday. "Each educational session in SEMA360 was carefully crafted to help attendees make smarter business decisions, and offers the exciting opportunity to hear stories and advice from a diverse collection of highly successful, entrepreneurial leaders."
The Society of Collision Repair Specialists will also still host its Repairer Driven Education series Nov. 2-6 alongside the virtual SEMA. Gattuso indicated I-CAR would offer courses too that week.
SEMA will help visitors connect with relevant content — and even other like-minded showgoers. It'll ask for attendees' interests based around 15-16 show sections and use this to recommend SEMA360 booths, educational sessions and attendees marking similar focuses, according to Gattuso, who called it a "robust way" to supplement the experience.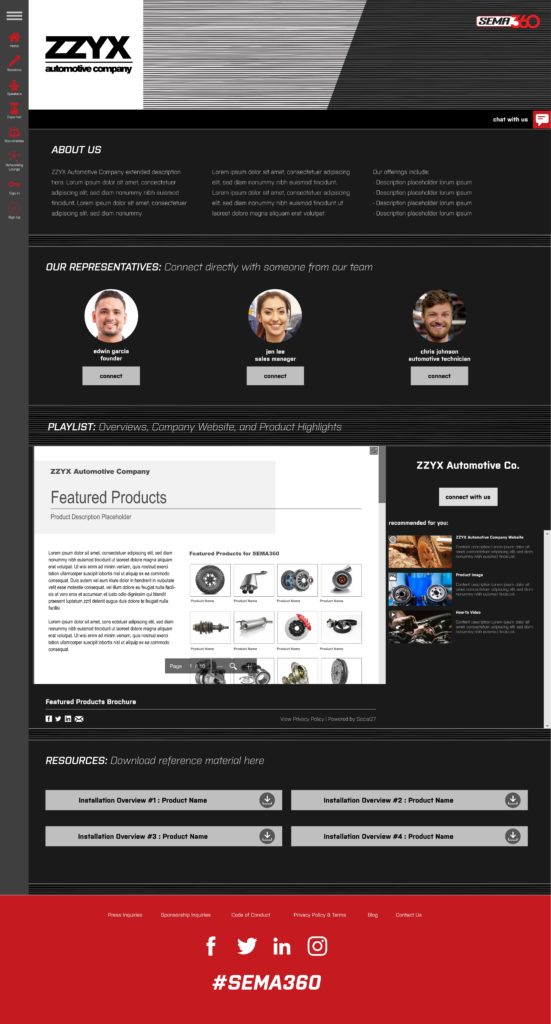 The attendee can initiate their own public or private conversations with other showgoers outside of the confines of a manufacturer's showcase, which Gattuso said could be "pretty cool."
In a statement Wednesday, Gattuso also observed the convenience of using SEMA360 as a portal to connect with companies rather than trying to find them yourself.
"Its analogous to using the internet to look up individual restaurants versus using a consolidated resource like Yelp or OpenTable," Gatusso said in a statement.
"… You'll be able to easily meet with manufacturers, see new products, view demonstrations, access a feature vehicle gallery, attend seminars and more. Truth is, it would take you months, even years, to find all this rich content and contact as many manufacturer representatives, vehicle builders and educators on your own."
Vendors can apply for SEMA360 at a member rate of $495 and a nonmember rate of $1,495. SEMA members just looking to attend will receive free admission to the show; nonmembers will be charged $25. Register as a "manufacturer" or "buyer" on www.SEMA360.com.
More information:
SCRS Repairer Driven Education
"SEMA360: Everything You Need, All In One Place—Online"
SEMA eNews, Sept. 17, 2020
"SEMA360 Educational Seminar Schedule Announced"
SEMA, Sept. 23, 2020
Featured images: A template of a 2020 SEMA360 manufacturer booth. (Provided by SEMA)
Share This: