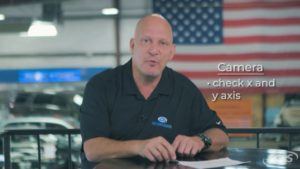 Collision Advice CEO Mike Anderson and AirPro technician training specialists Bobby Schnell this week warned of ADAS issues which don't throw a diagnostic trouble code. Rather, shops must check what Schnell called the "live data."
Anderson's comments came during Wednesday's episode of Society of Collision Repair Specialists' new weekly video tip series.
He recounted a recent Nissan and Infiniti class featuring hands-on calibration training.
The course included four 2020 Nissans and one 2020 Infiniti vehicle, all with damage to cameras or other advanced driver assistance systems technology, Anderson said.
Pre-repair scanning found three of the five vehicles registering DTCs due to the damage, according to Anderson. But as for the other two, "they had no DTCs," he said.
If you prescanned and only searched for DTCs, "you are making a mistake," Anderson said.
A repairer would have to verify that the camera's X-axis and Y-axis fell within the correct tolerances and scrutinize the horizontal and vertical specs of the radar with "a factory scan tool," Anderson said.
For Nissans and Infinitis, "you can't count on DTCs," he said. One must check that the values from the vehicle parts match those within the OEM repair procedures, he said.
Schnell also discussed the concern of technology failing to throw DTCs during Wednesday's virtual Collision Industry Conference Industry Relations Committee session.
Schnell first described situations where airbag systems carried faults but wouldn't throw a DTC or trigger a MIL light. He said he could provide "example after example."
Owners and aftermarket facilities installing technology within vehicles were a possible culprit, according to Schnell. A new radio might be wired to the airbag, he said. This would change the airbag's resistance value to the point that it wouldn't deploy in a crash — but no DTC or MIL light would exist to warn of this problem, he said.
AirPro was finding what it called "live data faults," he said.
Schnell also said that between 14-18 percent of vehicles have ADAS components that are out of tolerance but fail to register DTCs — the situation Anderson described.
"These are safety systems," he said.
Schnell explained that firing DTCs for changes in position would be counterproductive for a radar system whose elevation would naturally fluctuate as the vehicle owner loaded and unloaded the vehicle.
"That vehicle has got to move," he said.
But during a collision, the radar could be knocked to an incorrect position — and you'd have no way of knowing without checking the "live data," Schnell said.
More information:
"SCRS Quick Tips: ADAS Calibrations – You can't just count on DTCs!"
Society of Collision Repair Specialists YouTube channel, Jan. 21, 2021
Official Nissan OEM repair procedures website
Official Infiniti OEM repair procedures website
Featured image: Collision Advice CEO Mike Anderson appears on a Jan. 21, 2021, SCRS video tip. Anderson described how ADAS systems might be out of tolerance but not throw a DTC. (Screenshot from SCRS video)
Share This: