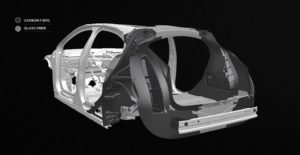 Jaguar Land Rover on Tuesday announced it had launched a four-year research project aimed at increasing electric vehicle usage and producing lighter vehicles through composites.
"The research will allow Jaguar Land Rover to develop lightweight vehicle and powertrain structures by replacing aluminium and steel with composites capable of handling the increased torque generated by high-performance batteries, while improving efficiency and reducing CO2 impact," the OEM wrote in a news release.
Jaguar Land Rover said it sought to cut weight by more than 76.16 pounds, increase stiffness by 30 percent, and upgrade vehicle crashworthiness with "through the strategic use of tailored composites, such as carbon fibre."
Graphics accompanying the news release depicted unibody bodies-in-white built with both carbon fiber- and glass fiber-reinforced polymer composites. The carbon fiber was prevalent in the back end of what appeared to be a crossover or SUV.
JLR said it expected to have prototype test vehicles ready by 2022.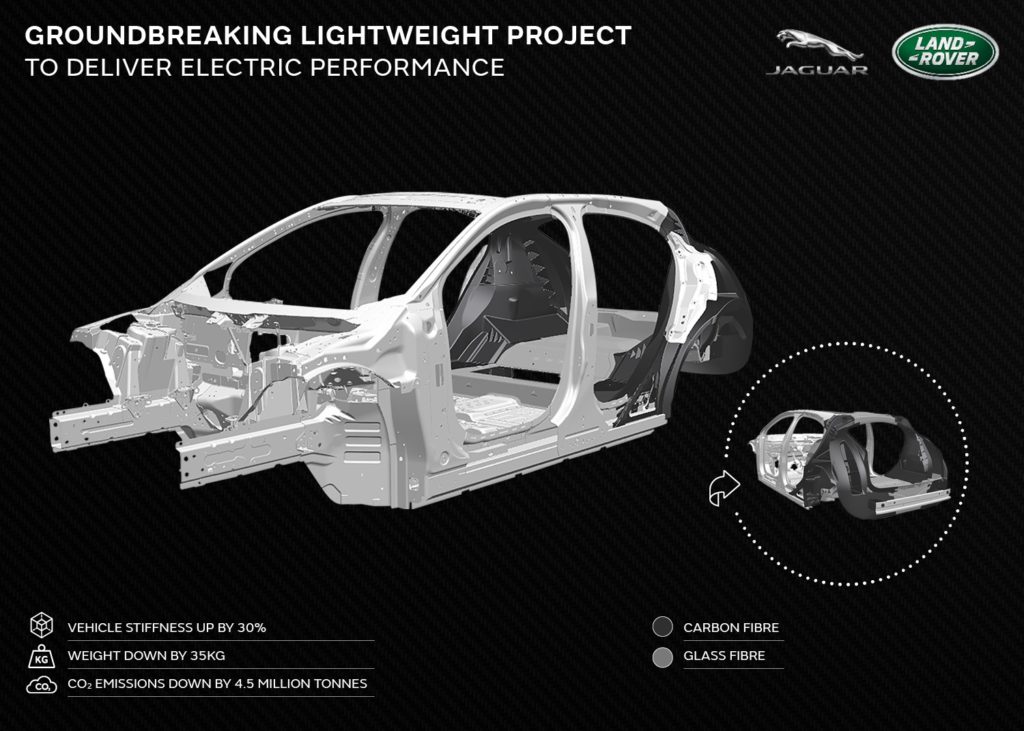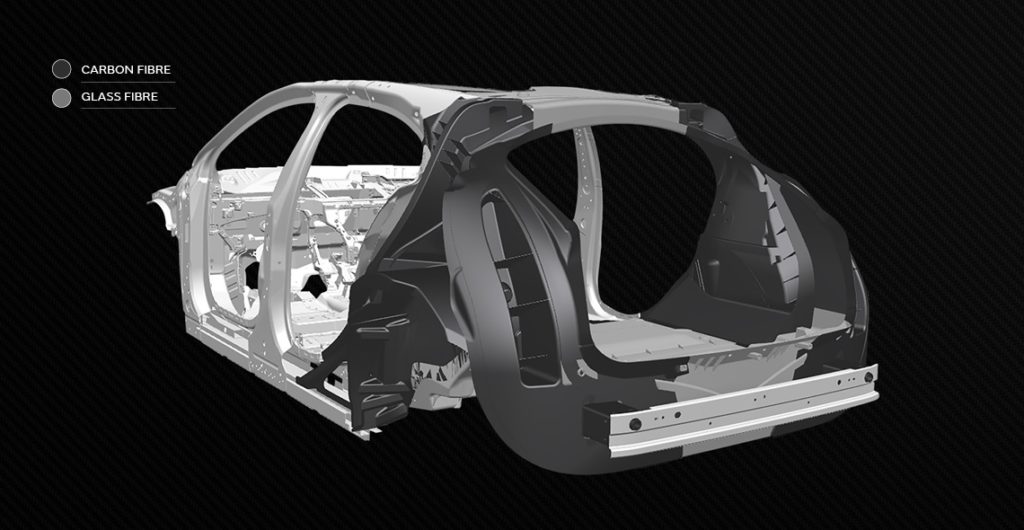 JLR said it wants to use its "Tucana project" cut 4.5 million tonnes (more than 4.96 million tons) of carbon dioxide emissions between 2023 and 2032.
"Tucana brings together a consortium of world-leading academic and industry partners with the aim of delivering stiffer and lighter vehicle structures, to boost the performance of electrified vehicles," JLR wrote in the news release. "Project Tucana will deliver this vision by developing world-leading cost effective, scalable carbon fibre composite solutions. In doing so the project will allow the true environmental credentials of electric vehicles to be realised by enabling wider adoption. Tucana will deliver this step-change by addressing structural performance at a design, material and volume manufacturing-level which is currently unmet across the industry."
All new Jaguar and Land Rover models today have at least one hybrid, plug-in hybrid or fully electric variant for sale, according to the OEM.
Jaguar Land Rover in 2017 promised that all new Jaguars and Land Rovers starting in 2020 "will be offered with an electrified/electric powertrain."
"The development of new lightweight body structures to complement the latest zero-emissions powertrains will be key as the electrification of our vehicle range continues," Jaguar Land Rover research manager Marcus Henry said in a statement. "This project will allow the true environmental credentials of electric vehicles to be realised by enabling wider adoption of the technology and will propel Jaguar Land Rover and the UK supply chain into a world-leading position in low-carbon technology."

More information:
"LIGHTER, FASTER, FURTHER: JAGUAR LAND ROVER'S GROUNDBREAKING ADVANCED COMPOSITES PROJECT"
Jaguar Land Rover, Jan. 26, 2021
Featured images: Jaguar Land Rover on Jan. 26, 2021, announced it had launched a four-year research project aimed at increasing electric vehicle usage and producing lighter vehicles through composites. It released these diagrams of a unibody with glass-fiber and carbon-fiber composites. (Provided by Jaguar Land Rover)
Share This: