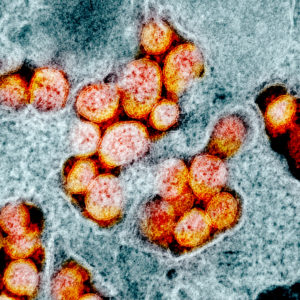 The Occupational Safety and Health Administration on Friday announced it had produced "stronger worker safety guidance" to prevent the spread of the COVID-19 coronavirus.
"More than 400,000 Americans have died from COVID-19 and millions of people are out of work as a result of this crisis. Employers and workers can help our nation fight and overcome this deadly pandemic by committing themselves to making their workplaces as safe as possible," labor secretary senior counselor M. Patricia Smith said in a statement Friday. "The recommendations in OSHA's updated guidance will help us defeat the virus, strengthen our economy and bring an end to the staggering human and economic toll that the coronavirus has taken on our nation."
OSHA said the move followed an order by Democratic President Joe Biden to produce what OSHA called "clear guidance" for employers. Biden on Jan. 21 had ordered the Department of Labor to produce "revised guidance to employers on workplace safety during the COVID-19 pandemic" within two weeks.
"OSHA is updating its guidance to reduce the risk of transmission of the coronavirus and improve worker protections so businesses can operate safely and employees can stay safe and working," occupational safety and health principal deputy assistant secretary Jim Frederick.
The document issued Friday "is not a standard or regulation, and it creates no new legal obligations," OSHA wrote in a news release.
Rather, it's supposed to educate companies how to keep employees safe under existing rules and employer obligations, the agency said. OSHA said it would update the document as needed.
"There is no OSHA standard specific to COVID-19; however, employers still are required under the General Duty Clause, Section 5(a)(1) of the OSH Act, to provide a safe and healthful workplace that is free from recognized hazards that can cause serious physical harm or death," OSHA explains in the new guidance.
Biden on Jan. 21 told the Department of Labor to "focus OSHA enforcement efforts related to COVID-19 on violations that put the largest number of workers at serious risk or are contrary to anti-retaliation principles." He also told the agency to examine if any enforcement "short-, medium-, and long-term changes" would "better protect workers and ensure equity in enforcement."
OSHA records indicate the agency has between April 20, 2020, and Jan. 31, 2021, registered 114 complaints about auto repair essential businesses (a broad segment which would include both mechanical and collision repair) at the federal level.
OSHA on Friday advised all other employers to establish a prevention program, calling it "the most effective way to reduce the spread of the virus." Friday's guidance explains what that might entail.
Many repairers likely instituted such a program last spring as the pandemic exploded in the U.S., but Friday's document might offer ideas for refining it. For example, some of the discussion in the new Friday guidance involves vaccines — a relatively new development.
Friday's guidance breaks down and organizes the concept of a COVID-19 prevention program into 16 formal steps OSHA says should be included.
"Employers should implement COVID-19 Prevention Programs in the workplace," OSHA wrote in the new guidance. "The most effective programs engage workers and their union or other representatives in the program's development, and include the following key elements: conducting a hazard assessment; identifying a combination of measures that limit the spread of COVID-19 in the workplace; adopting measures to ensure that workers who are infected or potentially infected are separated and sent home from the workplace; and implementing protections from retaliation for workers who raise COVID-19 related concerns."
It also stressed the importance of employee buy-in in the program.
"The most effective COVID-19 prevention programs engage workers and their representatives in the program's development and implementation at every step," OSHA wrote. (Emphasis OSHA's.)
Regarding vaccinations, OSHA wrote Friday that one step of a COVID-19 preparedness plan would include "Making a COVID-19 vaccine or vaccination series available at no cost to all eligible employees. Provide information and training on the benefits and safety of vaccinations."
Another vaccination element of a workplace COVID-19 program would involve "(n)ot distinguishing between workers who are vaccinated and those who are not," according to the agency.
"Workers who are vaccinated must continue to follow protective measures, such as wearing a face covering and remaining physically distant, because at this time, there is not evidence that COVID-19 vaccines prevent transmission of the virus from person-to-person," OSHA wrote. "The CDC explains that experts need to understand more about the protection that COVID-19 vaccines provide before deciding to change recommendations on steps everyone should take to slow the spread of the virus that causes COVID-19."
OSHA delivers a similar message to workers in the document. "It is important to wear a face covering and remain physically distant from co-workers and customers even if you have been vaccinated because it is not known at this time how vaccination affects transmissibility," the agency told employees.
Images:
"Protecting Workers: Guidance on Mitigating and Preventing the Spread of COVID-19 in the Workplace"
Occupational Safety and Health Administration, Jan. 29, 2021
"US Department of Labor issues stronger workplace guidance on coronavirus"
OSHA, Jan. 29, 2021
Centers for Disease Control COVID-19 webpage for workplaces and businesses
OSHA flyer on tips for protecting automotive service workers
Featured image: SARS-CoV-2 COVID-19 coronavirus particles are seen in this color-enhanced transmission electron micrograph image. (National Institute of Allergy and Infectious Diseases; https://creativecommons.org/licenses/by/2.0/legalcode)
Share This: