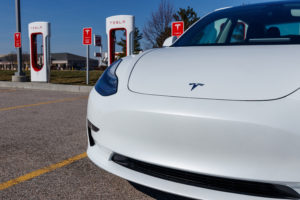 Tesla on Thursday alerted customers that it could perform minor collision repairs at the company's service centers, CNBC reported Friday.
The network said Tesla sent customers a message announcing "Collision Repair is Here."
"Fix minor dents, scuffs, scratches and more now at your local Tesla Service Center as an alternative option to a body shop," Tesla wrote, according to CNBC.
The full communique echoes information on Tesla's Body Shop Support webpage. Tesla wrote there:
Tesla Service Centers can perform a wide variety of collision repairs, specializing in parts replacement. Repairs include:
• Front and rear bumpers
• Hoods
• Liftgates
• Side mirror caps
• Doors
• Wheels
• All glass
• Suspension and axle damage (e.g. curb hits and potholes) (Minor formatting edits.)
Tesla said customers could set up a collision appointment in the Tesla app.
"You will be prompted to describe the repair and upload photos to help us quickly assess the damage," Tesla wrote. "If you are using insurance, please be sure to let us know your carrier and claim number."
The OEM said it will refer customers to its in-house body shops or a third-party Tesla Approved Body Shop (i.e., any of you Tesla-certified shops out there) if a service center can't handle the work.
Internet Archive records indicate Tesla's website has actually been pitching its ability to perform minor collision repairs at the company's service centers for at least a year. It expanded its message to the longer bullet-point list found Tuesday sometime between March 2020 and August 2020.
"Tesla Service Centers can perform collision repairs, from paint scuffs or scratches to minor dents in bolt-on body panels," Tesla merely described the service center capabilities in March 15, 2020, according to an Internet Archive capture. It delivered a similar message in February of that year. Both times, it drew a distinction between the minor service center repairs and "structural damage" work available at three Tesla-owned Body Repair Centers nationwide (two in California, one in Illinois).
By Aug. 21, 2020, Tesla described its service center body work using the expanded, bulleted message above. It also reported four structural company-owned Body Repair Centers. (the fourth was in Maryland). A similar message and shop locations could be found in Nov. 21, 2020, the last capture available on the Internet Archive.
The company has owned its own heavy- and minor-damage body shops since 2018. The only Internet Archive screen capture available in 2019 came from Jan. 17, and reported Tesla had nine "light collision repair" shops and two heavy-hit shops collectively spanning eight states.
It's possibly Tesla's discussion of collision work at service centers is merely references to "light collision" shops housed on the same property as service centers. Tesla has not yet replied to requests for clarity on this point. But the wording implies the light collision work at service centers is or would be available much more universally.
There also appear to be some new developments regarding Tesla's corporate-owned structural repair locations.
On Monday, Tesla's website indicated its in-house collision network had grown to nine locations, with new centers in California, Arizona, Colorado, Maryland and Nevada, compared to those mere four sites in three states just two months earlier.
The OEM also indicated it had tied its company-owned body shops to Tesla vehicles' abilities to detect crashes in what might be another new capability.
"To schedule an appointment at a Tesla Body Repair Center, login to the Tesla app and select 'Collision repair' from the Service Menu," Tesla stated Monday. "If your vehicle has detected a recent collision alert, you will be able to schedule at a Body Repair Center directly. Otherwise, contact each location directly at the email addresses above. Please include collision pictures, your insurance carrier and claim number in the body of the email requesting the appointment." (Emphasis ours.)
In November 2020, Tesla had merely instructed owners to contact those body shops directly, with no mention of telematics.
"To schedule an appointment at a Tesla Body Repair Center, contact each location directly — each site has their own contact information," Tesla wrote then. "Please include collision pictures, your insurance carrier and claim number in the body of the email requesting the appointment."
Service centers, cycle time, customer contact
Tesla Chief Financial Officer Zach Kirkhorn during a Thursday earnings call said Tesla plans to ramp up its overall service center capacity. He called onboarding costs associated with this expansion one of two major factors impacting the company's fourth-quarter gross margin. (Special thanks to Seeking Alpha, whose transcript helped us quickly identify relevant quotes and speakers.)
"What's most important here is that we've accelerated the growth in service capacity and will continue to drive capacity expansion as fast as possible," Kirkhorn said. He said Tesla was spending "heavily" on service capacity while seeking cost reductions.
Tesla automotive division President Jerome Guillen also Thursday described plans to improve service center speed.
An investor asked about the company's plan for improving the customer experience. They noted that Tesla's formerly strong reputation for customer service had given way to service centers being difficult to reach by phone and openings unavailable for weeks.
Guillen called "no service" the ideal and said Tesla sought to improve vehicle reliability and quality. He said service visit frequency had fallen by a third in the past two years, describing such a trend as "really the goal. No service."
He also suggested mobile service as another solution, calling it more than 40 percent of North American service work already.
"We're trying to push that to 50 percent this year," Guillen said. He also said 50 percent of service visits take less than two hours.
Service overall "continues to improve," Guillen said.
Guillen said customers could obtain an appointment for service in "less than 10 days" at 100 out of 140 North American service centers, promising to deliver this metric at all centers.
Tesla opened 11 North America service centers in December 2020, and it planned to open 46 the first half of this year, according to Guillen.
Tesla said it had 523 stores and service centers worldwide and an 823-unit service fleet as of the end of last year, up 21 percent and 11 percent respectively. The company lost $365 million in its "Services and other" operations last year.
As for service-related phone conversations, Tesla doesn't want to have them at all, according to Guillen.
"Our emphasis is on the app," he said. He said Tesla would like all communications to occur on the Tesla app.
"We're trying to move away from the phone," Guillen said. "The app is much better than the phone."
Guillen said the software can detect alerts from the vehicle and schedule a service request, collect pictures and payments, provide updates on vehicle service and produce a written record of all customer and service team communication. Tesla planned "even more features," including the ability to track a mobile service technician's proximity, he said.
More information:
"Tesla service now includes collision repairs, fulfilling Elon Musk's 2018 promise"
CNBC, Jan. 29, 2021
Tesla Body Shop Support website
Tesla Body Shop Support website captures on Internet Archive
Tesla fourth-quarter 2020 earnings call
Tesla, Jan. 27, 2021
Seeking Alpha Tesla fourth-quarter 2020 earnings call transcript
Seeking Alpha, Jan. 27, 2021
Featured image: A Tesla Supercharger is shown. (jetcityimage/iStock)
Share This: