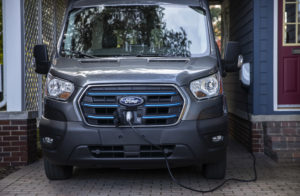 Ford on Thursday announced it would bump electric vehicle spending to $22 billion through 2025.
"We are accelerating all our plans – breaking constraints, increasing battery capacity, improving costs and getting more electric vehicles into our product cycle plan," Ford CEO Jim Farley said in a statement. "People are responding to what Ford is doing today, not someday."
Ford had previously pledged to spend only $11.5 billion in electric vehicle development by 2022.
Farley in an earnings call Thursday said the majority of the $22 billion spending would go to producing a wider portfolio of fully electric vehicles, including both fully in-house models and those developed with partners. He suggested that Ford might also be spending a further amount on producing batteries itself in-house or with a partner.
Farley on Thursday described Ford as "all in and will not cede ground to anyone" on connected electric vehicles on pickups, SUVs and vans.
Ford on an earnings call Thursday suggested an emphasis on courting commercial customers with electric Transits and electric F-150s. However, the OEM also indicated it would pursue mass-market consumers as well. It also said in a news release that Farley viewed electric vehicles as fundamental to the Lincoln make.
"The trend is clear," Farley said. Ten percent of vehicles sold in Europe in December 2020 were "pure electric," and customers — including in the U.S. — were more interested in electric models than before.
"We have no intention to cede ground to others in vehicle segments where Ford is the established leader," Farley said. He said there were "many more dedicated BEVs" in the works.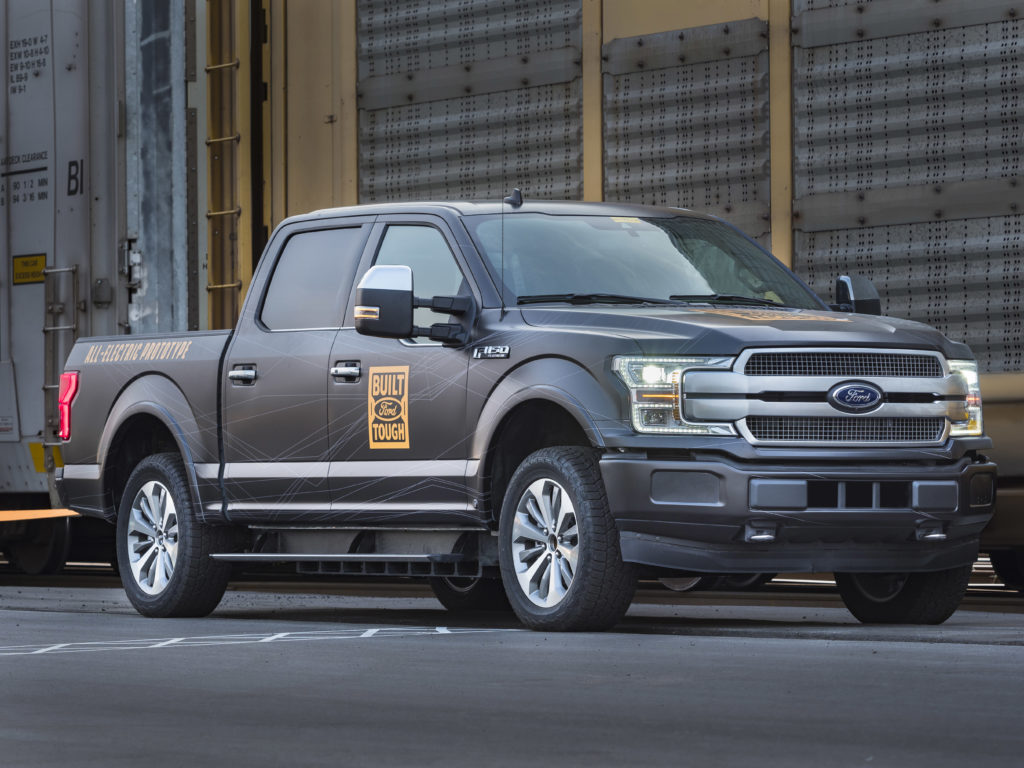 Ford was a leader in the commercial vehicle electric revolution, Farley said, with an electric van and electric pickup in the works. He called the Transit line a "critical pillar" of Ford's electrification.
In terms of sales volumes for electric vehicles, "we're going after the larger segments" — segments that "we lead in," Ford Chief Financial Officer John Lawler said.
Farley said Ford had two dedicated battery electric platforms.
"They will include high-volume passenger cars," he said. He said Ford would invest in its strongest segments.
"You can imagine what those nameplates are," Farley said.
"We will have a great lineup of commercial battery-electric vehicles," Farley also said — as well as the physical and digital service "to make that work," he said.
He said Ford had ambitions with the telematics and commercial services software Ford Commercial Solutions, which was growing "very fast."
Asked when an internal combustion engine becomes a liability, Farley called managing the transition "a really good question."
"The costs are coming down quickly," he said. But he also pointed to the value of a "digital experience," noting that this applied regardless of ICE or EV powertrain. The true question wasn't how many vehicles Ford sold Year 1, according to Farley. Instead, it was "how much better" the vehicle became after the launch "with the same customer."
Consumer interest
Farley said Ford thinks the Mach-E is the "first credible" mass-market competition for Tesla. He said the electric Mustang crossover had "really good demand" so far, and about 70 percent of its customers were "new to Ford" — they hadn't owned a Ford in at least 15 years. (He said competitors appeared to be the Porsche Boxster and 911 and Mercedes E-Class.) He said both the all-wheel-drive Mach-E and extended battery have proven more popular than the OEM expected.
According to Farley, 127,000 Ford electric vehicle purchasers would still be eligible for the government's full $7,500 EV tax credit. (The credit dollar value drops to $3,750, then $1,875, then $0 in the year after an OEM sells their 200,000th electric vehicle.)
The electric F-150 could also shine with consumers. A recent Cox Automotive survey of 155 pickup shoppers found 39 percent of them either open to the idea of an electric truck or reporting they'd only buy an electric one (4 percent).  The Nov. 25-Dec. 2, 2020, study tracked people likely to buy a pickup truck in the next two years, according to Cox.

Customers gravitated to the electric F-150 more than other electric pickups shown them without identification of the brand, "perhaps indicating familiarity is attractive," Cox wrote.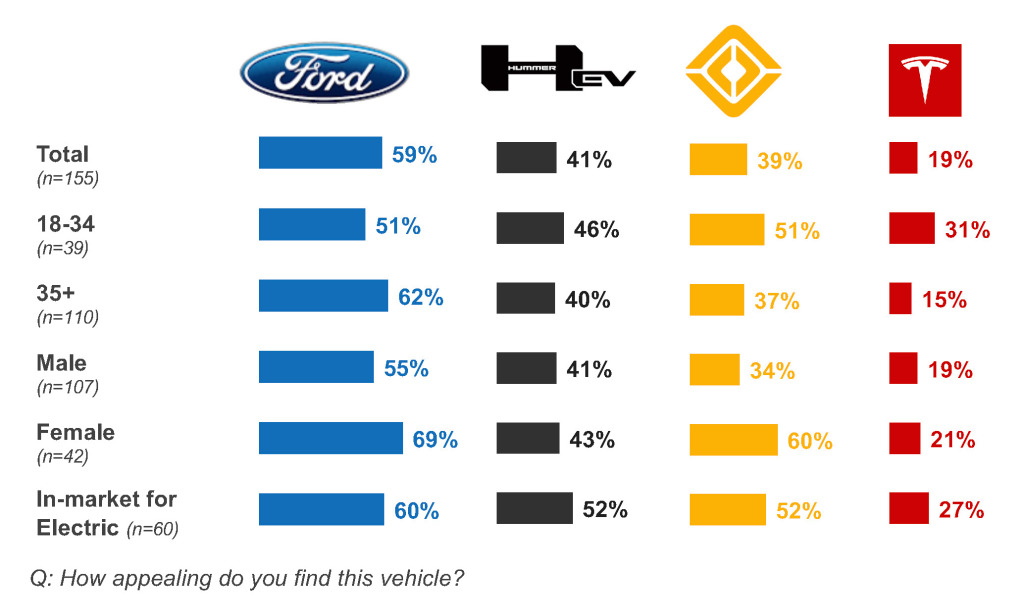 Once Cox revealed the various vehicles' brands and attributes, the electric F-150 still proved the most popular — and perhaps most notably so among the shoppers willing to consider an electric truck.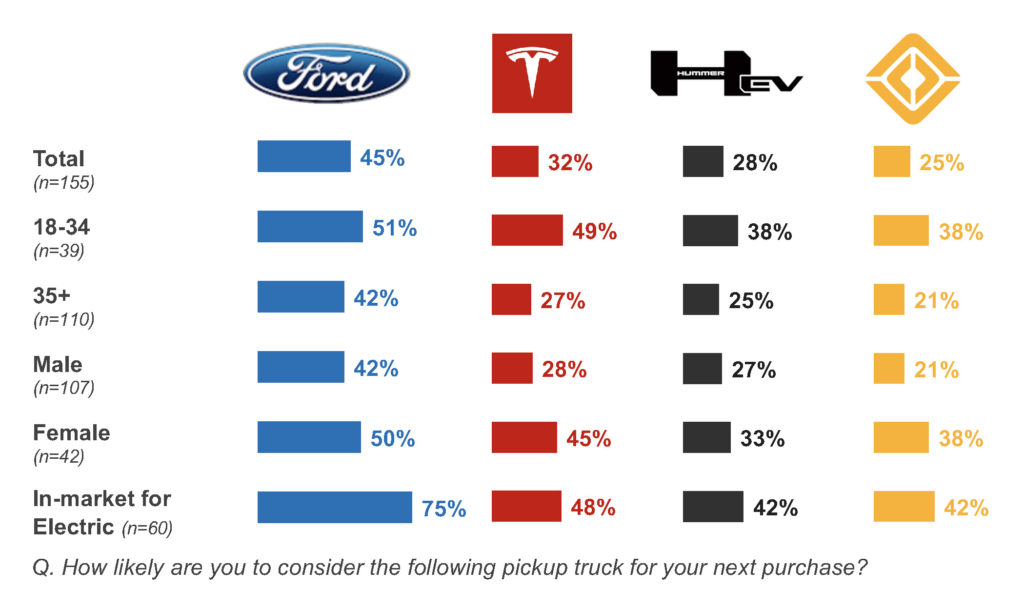 The most important attributes to potential EV pickup shoppers were price and driving performance, the same for those considering internal combustion engine trucks.
"Where our consideration groups diverge is how they view horsepower and technology. ICE buyers prioritize horsepower; shoppers interested in EVs care more about technology," Cox Automotive senior manager Vanessa Ton said in a statement.
(One wonders if the lack of interest in horsepower simply reflects familiarity with the quick acceleration possible in electric vehicles. The base-model Mach-E Select, which comes with a standard-range battery and rear-wheel drive, can go from 0-60 in 5.8 seconds. The all-wheel-drive version can do it in 5.2 seconds.)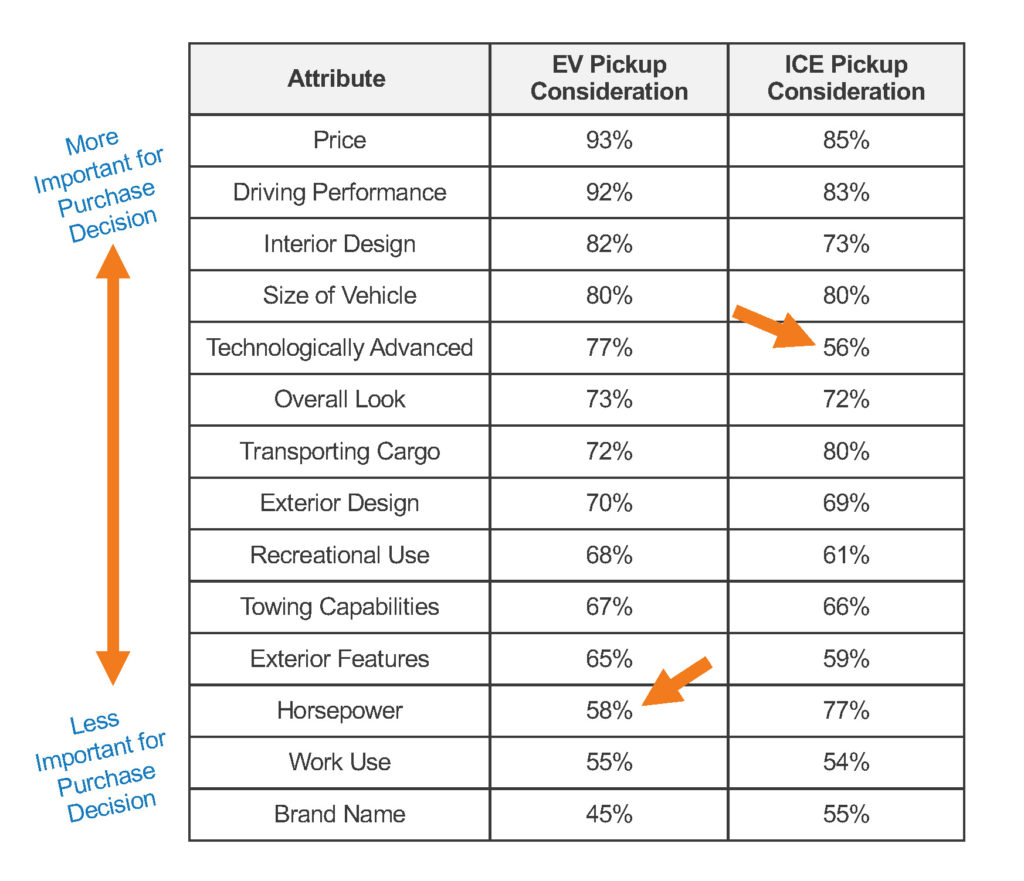 Other factors
An analyst asked if Ford expected cost-per-kilowatt-hour — a key metric for measuring the cost of a battery pack — to fall to the $55-$80 range in five years. They also asked if Ford could reach comparable profitability and returns between EVs and ICE vehicles by 2025.
Lawler said the OEM needed costs to do so. "That's gonna happen over time," Lawler said, and Ford was "pushing in that direction." Lawler did predict both powertrains would converge from a financial standpoint, but he called the Mustang Mach-E "profitable today."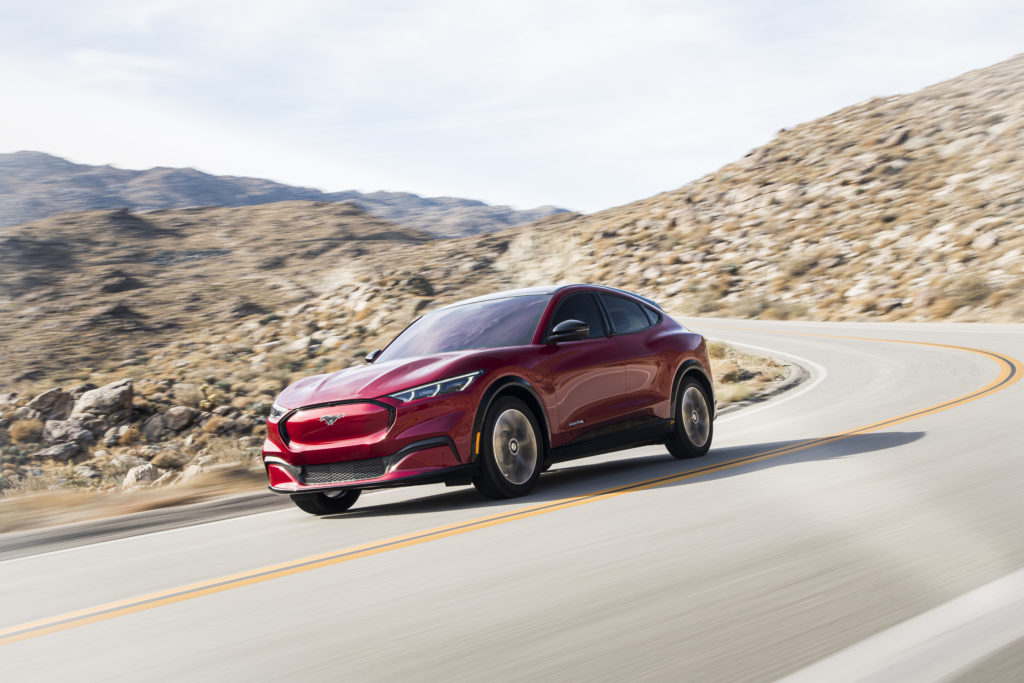 Asked about a potential shortage of battery cells fouling Ford's plans, Farley said, "We totally get the issue."
The OEM started out with a strategy of buying the best technology at the lowest cost back when an excess battery supply existed, according to Farley. Now, the company sought to be "much more aggressive" on electrification, and it couldn't afford to experience a shortage like it currently faced with semiconductors, he said.
Farley told investors Ford would have "more news" on vertical integrations by itself or in a joint venture sometime between now and this spring.
Right now, Ford was studying the issue and was placing "bets."
"We want to lock it up," he said. The OEM wanted the right technology and partners as well as flexibility for developments like solid-state batteries, which he called "not too far away."
More information:
"Ford Raises Planned Investment in EV, AV Leadership to $29 Billion; Further Advances Turnaround of Global Automotive Business in Q4"
Ford, Feb. 4, 2021
Ford fourth-quarter 2020 earnings call
Ford, Feb. 4, 2021
"Consumer Snapshot: Electric Pickup Trucks"
Cox Automotive, Jan. 22, 2021
Images:
The 2022 Ford E-Transit is shown. (Provided by Ford)
An all-electric Ford F-150 prototype towed more than 1.25 million pounds in a test. (Provided by Ford)
A recent Cox Automotive survey of 155 pickup shoppers found 39 percent of them either open to the idea of an electric truck or reporting they'd only buy an electric one (4 percent).  The Nov. 25-Dec. 2, 2020, study tracked people likely to buy a pickup truck in the next two years, according to Cox. (Provided by Cox Automotive)
A Cox Automotive study asked prospective pickup buyers what they thought about images of electric pickups — without revealing which model the trucks were. (Provided by Cox Automotive)
Results from a Cox Automotive survey of prospective pickup buyers after Cox revealed the various vehicles' brands and attributes found the electric F-150 the most popular. (Provided by Cox Automotive)
A recent Cox Automotive survey of 155 pickup shoppers found consumer demands relatively similar whether the customer was considering an electric vehicle or an internal combustion engine truck. (Provided by Cox Automotive)
Share This: