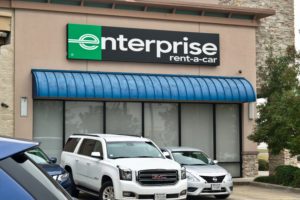 Enterprise said Thursday that length of rental in the pandemic year of 2020 was "relatively static" compared to 2019, up a mere 0.2 days to reach 12.7 days.
The metric provides a sense of how quickly the collision industry is fixing cars.
"While significant LOR increases were seen in multiple states, many states' drivable increases were offset by non-drivable decreases," Enterprise wrote in an analysis shared Thursday.
Louisiana saw the largest overall LOR increase, rising 1.1 days to 14.2 days. Colorado cut the most rental time with 0.9 days, followed by Washington, D.C., with 0.9 days — "albeit with a much lower overall volume compared to most other states," Enterprise wrote.
As you might remember, Louisiana experienced multiple instances of severe weather last year. NOLA.com reported that the state broke a record for the most storms making landfall with 2020's five, and Hurricane Laura posted the strongest wind speed for a Louisiana storm since 1856.
Driveable LOR
Consumers rented replacement vehicles for an average of 11 days while their own driveable but damaged vehicles were being repaired. This represented an 0.3-day increase over 2019.
Louisiana saw the largest length of rental increase related to driveable vehicle repairs, up 1.3 days. "AK, MS and SD were also up; each state increased by a full day," Enterprise wrote. "Nineteen states had a LOR increase of a half day to 9/10ths of a day."
Nondriveable LOR
However, nondriveable vehicle repairs resulted in replacement rental times spanning 19 days, down 0.1 days. Enterprise called America "basically flat" in this regard.
Hawaii shortened their nondriveable rental times by 2.4 days to 19.3 days, the largest decrease in the nation, and Washington, D.C., also shed two days of LOR. Colorado and New Mexico knocked off a day or more of rental time.
"Five states saw a decrease greater than a half-day (MD, MN, NC, OR, and SC), while 17 additional states saw their results drop between 1/10th and 4/10ths of a day," Enterprise wrote.
Louisiana, meanwhile, joined Connecticut and Wyoming with the largest nondriveable rental increases: up 0.8 days.
"While 2020's overall LOR was relatively static, the gap between drivable LOR being up and non-drivable LOR being down presents interesting opportunity for further discussion," Enterprise wrote. "What was COVID's impact? Was it, with claims counts being down, shops had added capacity to repair larger hits more efficiently? If that's the case, how does that account for longer drivable LOR in most of the country? What was the impact of late 1st quarter and early 2nd quarter when much of the country was locked down? We saw LOR spike at that time – does that skew the overall yearly results? How do larger, more severe crashes play into the results – especially with overall non-drivable LOR decreasing?"
A few days earlier, Enterprise also observed, "Length of Rental analysis comparing 2021 to 2020 may bring additional insights to understand how state, regional and national results have been impacted by the pandemic conditions, and whether or not these results are a new baseline going forward."
Fourth quarter
Enterprise offered its yearlong analysis shortly after releasing its fourth-quarter 2020 tallies on Jan. 21.
"Historically, LOR starts an upward trend in October that peaks in January," Enterprise wrote of the fourth quarter in general.
The fourth quarter of 2020's overall length of rental held steady at 13.1 days for vehicles other than total losses, unchanged from Q4 2019.
"Our data shows that delivery quote days as well as quotes per part in Q4 2020 were also identical to Q4 2019," PartsTrader's Chief Innovation Officer Greg Horn said in a statement. "This indicates a robust parts supply and delivery environment."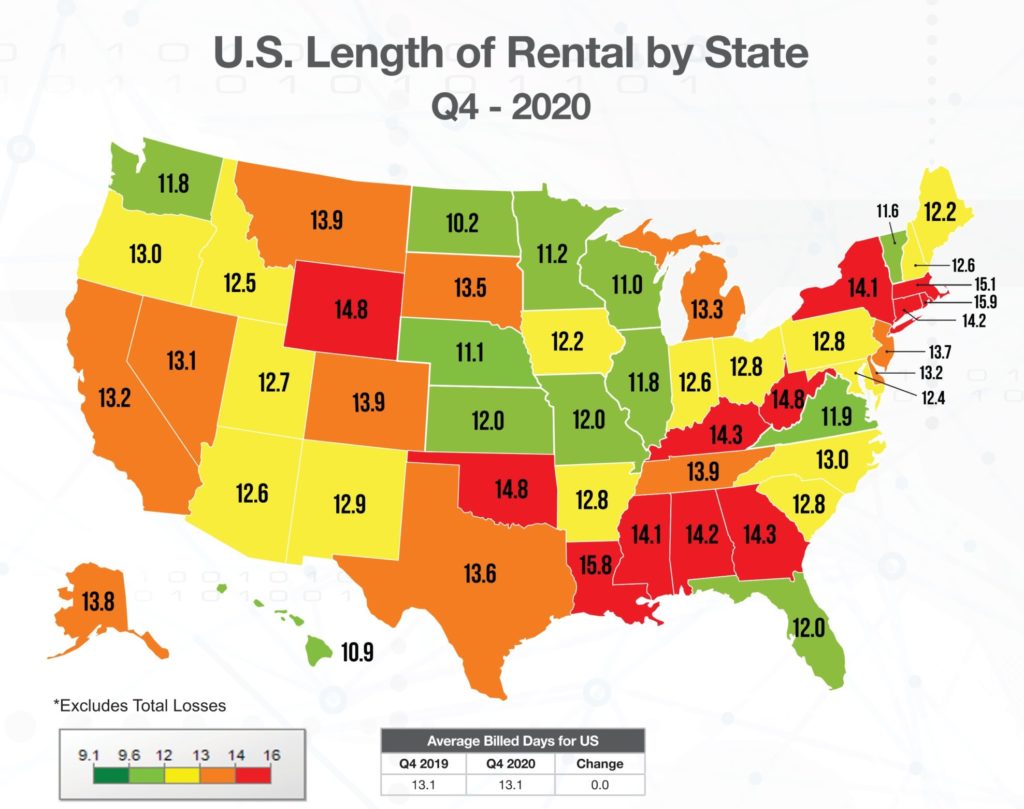 More information:
"U.S. Length of Rental – Q4 2020"
Enterprise, Jan. 21, 2021
Images:
An Enterprise Rent-a-Car location in Humble, Tex., is shown. (Brett_Hondow/iStock)
Enterprise reported these fourth-quarter lengths of rental encompassing all vehicles except total losses during the fourth quarter of 2020. (Provided by Enterprise)
Share This: