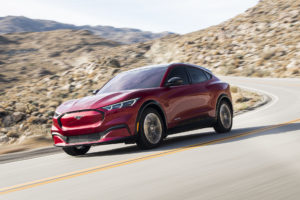 Ford senior engineer Gerry Bonanni recently gave collision repairers a sense of some of the steel they'd encounter on the fully electric 2021 Mustang Mach-E.
Bonanni's discussion of the new crossover's body came during a virtual OEM Collision Repair Technology Summit session SCRS released in November 2020. (Replay "2021 F-150 and Mustang Mach E Overview" and more than a dozen other virtual Repairer Driven Education courses online through Aug. 31 at rde.scrs.com.)
"Primarily, the body is composed of boron, DP and high-strength steels," Bonanni told shops.
Based on Ford's steel repairability matrix, such steels can carry repair restrictions, such as a ban on heat or even cold straightening. Boron and ultra-high-strength martensitic steels can't even be sectioned, Ford says in the general matrix. (Obviously, check the actual Mach-E OEM repair procedures for the most accurate and complete story on what you can and can't do to its metal. Bonanni said a great deal of information exists in Ford's new model training and new workshop manual.)
Bonanni singled out various parts.
The fender reinforcement tube is dual-phase 800 steel, while the front frame rails and fender apron assembly are DP 600, according to Bonnani. Fenders, the doors and hood are bolted and removable, he said. The roof panel reinforcements have DP 600 inserts, he said. (The roof itself can be upgraded to carry a special infrared coating and inner ultraviolet protection layer, Ford said in 2019.)
The body outer side panels are mild steel, as is the outer liftgate, according to Bonanni.
However, he said the rear frame rails are boron steel and "cannot be sectioned." Shops can only replace them at factory joints, he said.
It appears Ford will throw at least one other substrate into the Mach-E mix besides steel and glass. The OEM's Mach-E spec sheet describes the vehicle body as "Unitized mixed metal/composite."
The Mach-E OEM Summit presentation discussed technological elements of the body beyond its materials.
Headlights and tailights are LEDs, according to a slide, and Bonanni said the rear turn signals are sequential.
A slide also mentioned a "Welcome Mat," an apparent reference to a light projection on the ground. Bonnani and Ford service publications and training coordinator Rob Lien said this feature had previously only been available on Lincolns.
Bonanni said the side-view mirrors were heated.
Lien said the vehicle also can be opened with a smartphone thanks to Bluetooth antennas located around the vehicle exterior.
The vehicle's front trunk has a capacity of 4.8 cubic feet and features a drain plug, according to Bonanni.
a lot of information avaialbe in new model training and new workshop manual
There aren't actually door handles. According to Ford, one pushes a button on the vehicle, and the doors pop open.
More information:
"2021 F-150 and Mustang Mach E Overview" (Replayable through Aug. 31, 2021)
Society of Collision Repair Specialists, November 2020
Virtual Repairer Driven Education sessions (Replayable through Aug. 31, 2021)
Featured image: A 2021 Ford Mustang Mach-E is shown. (Provided by Ford)
Share This: