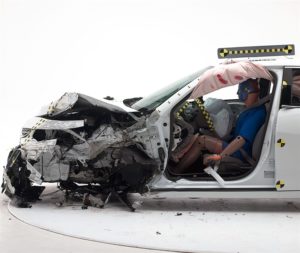 Mitchell said it has encountered double-digit percentage increases in airbag deployments and glass labor hours over the past few years.
Auto physical damage claims performance director Ryan Mandell cited these statistics during a Dec. 16, 2020, prediction that severity and auto glass would be among five trends to watch in 2021.
Severity and airbags
Mandell told readers not to think of severity in terms of part costs "although that may be a significant by-product. Instead, the increase in severity is related to factors including lightweight construction and the interconnectedness of vehicle systems—such as Advanced Driver Assistance Systems (ADAS), air bag components, suspension, steering parts and various other electronic mechanisms."
According to Mandell, when an electrical system triggers during an accident, it's more likely the vehicle will be "non-operational" and thereby increase repair costs. Nondriveable estimates increased 5.63 percent between 2018 and 2020, according to Mandell.
"I think there is a philosophy out there where shops/insurers will deem a newer model year vehicle to be non-drivable due to the area of impact and the likelihood of an ADAS component being affected," he elaborated in an email. "For instance, a mild hit to the left rear corner on a 2019 BMW 7 Series might be deemed as non-drive because of the presence of the radar sensor behind the corners of the bumper.  While a MIL (Malfunction Indicator Lamp) may not illuminate on the dash, there could very well be an issue with the radar sensor that could prevent it from functioning properly.  If a driver relies on this system then they could potentially be in danger of they continue to drive the vehicle."
Mandell also noted that reduced traffic congestion could be more likely to produce more intense crashes than "the small 'fender benders' that take place during rush hour." It's been hypothesized that this scenario arose with more Americans staying home during the 2020 COVD-19 pandemic.
Airbag deployments also rose 22 percent between 2018 and 2020.
"Recent model year vehicles are equipped with more airbags which thereby increases the likelihood of a deployment," Mandell elaborated in an email. "For example, the current generation of the Chevy Malibu is equipped with 10 airbags, whereas the previous generation was equipped with 6."
We asked if the statistic reflected a natural retirement of non-airbag vehicles from the U.S. fleet. Frontal airbags became mandatory in 1998-99. The average vehicle on the road is nearly 12 years old, per IHS Markit data. Mandell said no.
"And while every year we definitely see more older, non-airbag vehicles reach end of (life), I think this impact is probably pretty negligible because it is highly likely that those vehicles would be deemed a total loss when involved in an accident," he wrote. "The data presented in the article is based only on repairable data."
Auto glass
Mandell wrote that "glass" labor hours had spiked 27 percent since 2018.  "Once considered a niche segment of the collision repair industry, glass is rapidly becoming a core component of proper, safe vehicle repair," Mandell wrote.
We asked Mandell earlier this month if the increase in glass hours reflected glass-only claims from the auto glass industry's providers or true collision repair estimates that contained glass labor amid the various operations.
Mandell said it would be the latter.
"In regard to the glass hours, the labor hours are only calculated using our estimating data which the glass sublet vendors don't utilize," he wrote in an email Feb. 9. "I think what we are seeing is that glass is playing a more critical role in the overall safety and crash-worthiness of a vehicle.  This relates especially to the windshield and the role of forward facing cameras which often require calibration even if the windshield was not impacted during the accident."
Mandell mentioned such calibration demands as another reason why glass would be a trend to watch for 2021. He also pointed to head-up displays, which project vehicle information onto the windshield itself.
He cited data from a July 2020 report on MarketsandMarkets.com predicting that the global HUD market would expand at a compound annual growth rate of 31.3 percent in five years. The study estimated that what was an $866 million HUD industry in 2020 would reach $3.372 billion by 2025.
"North America is estimated to be the largest automotive HUD market for passenger cars," a report description states. "It is expected to remain the most dominant market for automotive HUD during the forecast period. The passenger car HUD market in North America and Europe is driven by the increasing adoption of HUDs in the new vehicle models sold in these regions. In 2017, there were more than 25 passenger car models and variants in the US with a standard or optional HUD, up from 10 models a decade ago."
Three more trends to watch
The airbag and glass entries leapt out at us the most. But Mandell also advised watching for three other trends: Personal vehicles rather than shared vehicles, more electric vehicles, and more diagnostics.
"It's not out of the realm of possibility to expect a near universal application of diagnostics in collision repair by this time next year," Mandell wrote.
More information:
"Five Automotive Trends to Watch in 2021"
Mitchell, Dec. 16, 2021
Images:
The current generation of the Chevrolet Malibu, which includes this 2016 model, has 10 airbags, according to Mitchell. (Provided by Insurance Institute for Highway Safety)
A report on MarketsandMarkets estimates the automotive head-up display market would be a $3.372 billion industry by 2025. (chombosan/iStock)
Share This: