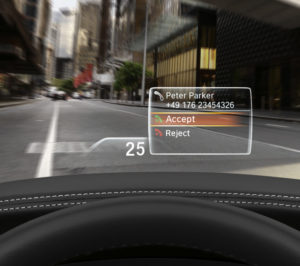 BMW last week described issues which could arise if auto body shops substituted incorrect parts on its vehicles.
The wrong windshield could throw off advanced driver assistance systems by distorting a camera's view of the road, BMW North America collision program manager Jonathan Inzano warned a Feb. 11 VeriFacts Guild 21 call.
He called it "really crucial" to use the glass designed for the vehicle.
Incorrect glass could also distort or block the head-up displays which are appearing in BMWs "quite a bit now," Inzano said.
"Almost every model available here in the US has HUD as an option at minimum, or is standard," Inzano wrote in an email Wednesday.
A vehicle HUD projects information such as vehicle speed onto the windshield, permitting the driver to keep their eyes on the road.
According to Inzano, the feature requires a special type of windshield. He presented a diagram showing how the outer and inner glass panes of one unspecified BMW HUD windshield were bonded to a plastic film.
"Unlike in the standard windscreen, this plastic film is not parallel but is tapered over the entire area of the windscreen," a slide stated.
The plastic film tapered from 1 millimeter to 0.8 mm, and the windshield itself tapers from 4.7 mm to 4.5 mm, according to the slide.
Using the wrong glass could lead to a "double vision" of the display.
The glass might also fail to produce the HUD image at all if it's missing an "invisible reflective layer," according to Inzano. "You wouldn't see anything," he said.
Inzano drew attention to another subtle BMW engineering element, one he called a "really crucial step" for shops.
BMW can require shops to install electromagnetic compatibility screws, which allow continuity between panels for grounding purposes, according to Inzano. He called them necessary when the bonding material on a rivet-bond joint separates the grounding from the panel.
If a shop doesn't replace these correctly, it can produce a problem with vehicle electrical components, Inzano said. A slide said using the screws "Ensures the operational reliability and safety of the electronic components."
Inzano called installing the screws a "really important step. Don't miss this one."
Shops should order the EMC screws BMW specifies, according to Inzano. "Another type of screw may rust," he said. This can compromise continuity too, he said.
The presentation slide said the BMW repair procedures for the screws could include steps like drilling 4.2 mm holes and applying a certain type of sealing material.
Inzano also demonstrated how BMW might require precision in other consumables.
One of his slides showed seven individual adhesives which might at some point or another be required during a repair. (Another dramatic slide showed how an unapproved adhesive could dramatically affect the crash behavior of an engine carrier.)
Another slide listed 10 unique blind rivets BMW might instruct a shop to use. Their diameters ranged between 4 and 6.5 mm, and their individual clamping ranges fell between 2.2-4.7 mm and 10.8-12.8 mm. The slide also showed two distinct types of BMW punch rivets.
All 12 of the fasteners had individual part numbers, as did all seven of the adhesives.
We'd also direct shops to our earlier coverage of the pressure sensors that can be found in BMW doors. According to Inzano, their existence requires specific clips to be used in the doors, or else airbag timing might be compromised. Read more about that here.
The next Guild21 call is scheduled for 2 p.m. ET on March 11.
More information:
Featured image: A head-up display on a BMW 7 Series is shown in this 2015 BMW image. (Provided by BMW)
Share This: