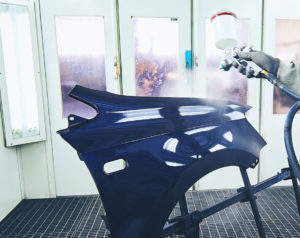 Editor's note: As a collision repairer spraying coatings, you're by default regulated under the "6H" rule. But you might be eligible for an exemption. A new Environmental Protection Agency tool will help shops easily figure out if they qualify, according to North Carolina Department of Environmental Quality small business ombudsman Tony Pendola. According to Pendola, it's as simple as just answering three questions online.
By Tony Pendola
Autobody shops now have a powerful new tool to help them determine their compliance requirements under an Environmental Protection Agency air quality rule. The regulation navigation tool – known as the Reg Nav Tool – provides autobody shops with a quick and easy screening tool that helps determine if they can petition for an exemption under the "Autobody Rule."
Nationwide, every auto body shop or collision repair facility that spray applies coatings to a motor vehicle or mobile equipment is automatically subject to EPA National Emission Standards for Hazardous Air Pollutants (NESHAP) rule 40 CFR Part 63 Subpart HHHHHH. This rule is often referred to as "the autobody rule" or simply "6H."
Most rules have an applicability section. However, 6H is the only air quality rule that pre-determines that an entire industry sector is subject to a rule. Consequently, autobody shops must petition the federal, state and/or local government to become exempted from the rule.
Due to liability concerns, some original equipment manufacturers are requiring compliance with ALL rules before a shop can be certified to work on their vehicles. This results in significant concern in the industry with 6H compliance. However, the Reg Nav tool shows who could potentially be granted an exemption.
For example, when the rule was first passed, many paints contained the target hazardous air pollutants (HAPs). California had passed rules prior to 6H that prohibited certain HAPs from automotive paints. As a result, paint manufacturers had to supply custom paints to California shops. After 6H was implemented, it encouraged the manufacturers to make paints that could be used anywhere in the country. For more than 10 years, most manufacturers have reduced the target HAPs below allowable thresholds.
The Reg Nav Tool asks as many as three questions to determine if an autobody shop owner can petition for an exemption. Three very important definitions are shown at the beginning. If a shop (1) does not spray apply coatings to motor vehicles or mobile equipment matching those definitions; or (2) sprays exclusively out of 3-ounce or smaller cups, such as mobile repair and refinishing operations or graphic artists, then an exemption petition is not needed, as the shop is already exempt.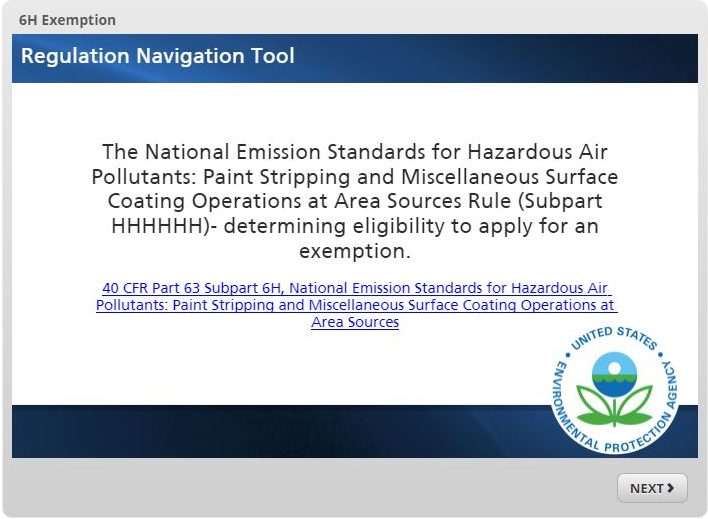 The only initial information needed is which paint lines you are spraying.
The first question asks whether the paint lines contain the target HAPs above certain thresholds. The target HAPs are cadmium, chromium, lead, manganese and nickel. If the paints used are target HAP-free, then you can petition for an exemption.
If the paints are not target HAP-free, the tool asks a second question about switching to target HAP-free coatings and provides a link to the major paint manufacturers' lists, which often include alternative formulas.
The final question asks about the composition of the paint. This is important because many pearlescent paints will have target HAPs above the threshold levels; however, the paint must be evaluated as sprayed, not as supplied. Since pearls are such a small paint component after toner and reducer are added, it is likely that the pearlescent paint will be below the thresholds.
Upon successful completion of the tool's brief questionnaire, the user will be taken to a sample Petition for Exemption form as well as a document detailing to whom it should be addressed based on EPA delegation status. If your state or local program has not received delegation to administer this rule, contact the appropriate EPA regional office for assistance. Technical assistance also is be available from each state's Small Business Environmental Assistance Program (SBEAP).
One critical reminder: if you use any amount of paint stripper containing any amount of methylene chloride, then you are still subject to the stripping portions of the rule even if you are exempted from the spraying portion.
There are a few technicalities to the Reg Nav Tool. First, the software used to create the Reg Nav Tool does not allow it to have a back button, which means that an owner would need to refresh his browser to start over. The tool also will not operate unless your browser is set to allow pop-ups.
The 6H rule is a complex, national rule that affects autobody shops. To help owners understand the requirements, the North Carolina small business ombudsman is creating a learning management system that teaches all of the 6H rule's requirements. While the goal of 6H was to reduce emissions of certain target HAPs, its best management practices help reduce other emissions, reduce paint usage and save money.
The Reg Nav Tool can be found at: https://nationalsbeap.org/content/collision-repair-and-auto-body-shops.
Tony Pendola is the North Carolina Department of Environmental Quality small business ombudsman and serves on the National Steering Committee for the network of Small Business Environmental Assistance Providers.
More information:
Environmental Protection Agency 6H Regulation Navigation Tool
Subpart HHHHHH "Paint Stripping and Miscellaneous Surface Coating Operations at Area Sources" rule
EPA "Collision Repair Campaign to Reduce Air Toxics" webpage
National Small Business Environmental Assistance Program "Collision Repair and Auto Body Shops" webpage
Images:
Any body shop which sprays paint on vehicles is likely subject to the "6H" emissions regulation. (6okean/iStock)
An image from the new Environmental Protection Agency "Reg Nav Tool" allowing body shops to easily see if they qualify for a "6H" exemption. (Screenshot from EPA.gov Reg Nav Tool website)
Share This: