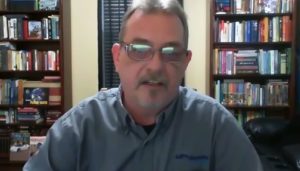 "Clearing the Confusion" developers have given the Collision Industry Conference "their blessing" to reproduce and use the SAE generic nomenclature for various advanced driver assistance systems, a CIC committee co-chair said last month.
This final bit of housekeeping, announced Jan. 21 by Emerging Technologies Co-Chairman Chuck Olsen, wraps up an initiative to include the terminology within an official free CIC glossary for the industry.
Eighty-eight percent of the CIC audience endorsed doing so in July 2020 CIC polling — a "strong vote," according to Olsen (AirPro).
This overwhelming show of support from a summit of collision repairers, insurers, information providers, and suppliers provides momentum towards a high-profile national effort to foster clarity and understanding of ADAS systems.
An explosion of OEM-specific ADAS brand names had threatened to turn the various features into a Tower of Babel for consumers — and likely repairers and insurers as well.
SAE International, the standards organization for vehicle engineers; J.D. Power; Consumer Reports; AAA; and the National Safety Council had collaborated on a series of generic terms as a solution to this issue.
The effort adopted one single phrase and definition to describe each ADAS feature — compared to the barrage of competing OEM brand names which could exist in the marketplace. The worst offender was autobraking, which a 2019 AAA study found was described using 40 separate terms across 34 OEMs.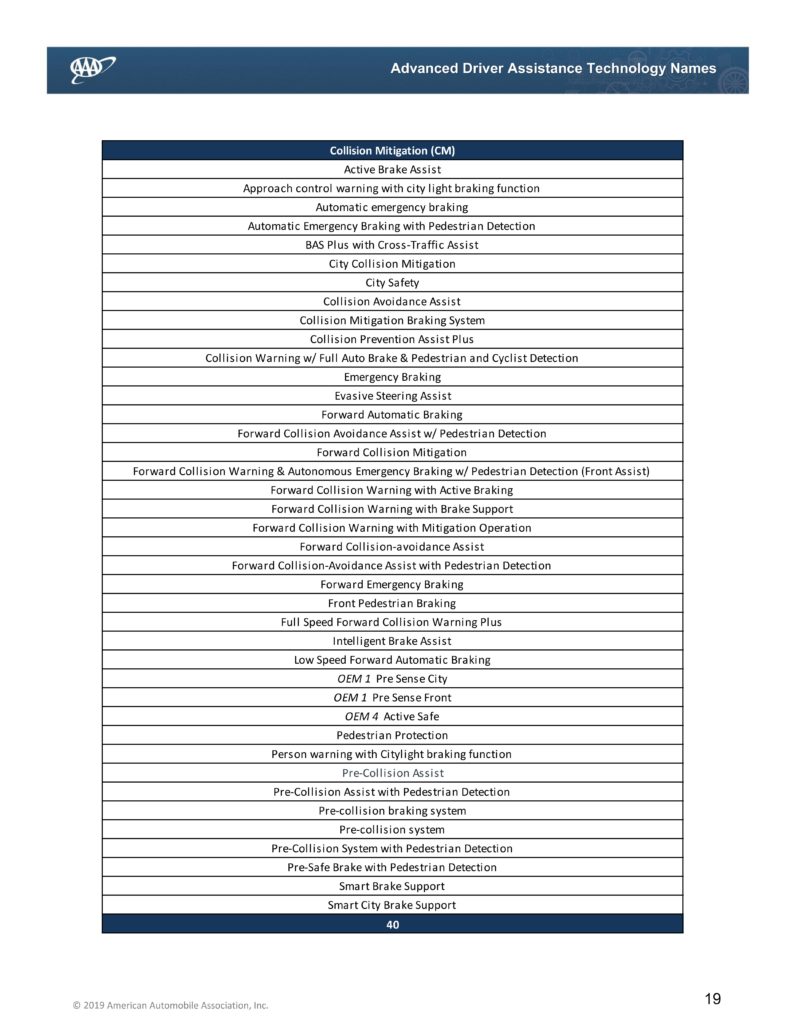 SAE officially endorsed the terms in May 2020 and said it would incorporate them into its official J-3063 technical standard.
For example, the generic term for autobraking was set as "automatic emergency braking," defined as "Detects potential collisions with a vehicle ahead, provides forward collision warning, and automatically brakes to avoid a collision or lessen the severity of impact. Some systems also detect pedestrians or other objects."
"These recommendations are not meant to replace automaker proprietary system or package names, but rather help identify key functions within those packages and provide clarity to consumers," SAE technical program manager Keith Wilson said in a statement in May 2020. "As safety technologies advance and as new systems are developed, we plan to work with stakeholders to refine the naming outline to keep the public and industry informed."
Olsen made a similar point Jan. 21. (See his presentation slides.) OEM brand names aren't going away because of these generic terms, and automakers have been involved in the effort to develop them, he said. This set of terms instead offers repairers a "common understanding" of what the features do instead of having to learn numerous separate brand names, he said.
Olsen said "we have their blessing" to use the terms within the official free CIC wiki and their "appreciation" for keeping consistency among different automotive repair verticals.
"They're very appreciative of that," he said.
More information:
"CIC Wiki‐Glossary Updates" slides (also Equipment and Tool Institutes presentation slides)
Collision Industry Conference, Jan. 21, 2021
"SAE International Endorses Joint Effort by AAA, Consumer Reports, J.D. Power and the National Safety Council for Common Naming of Advanced Driver Assistance Systems"
SAE, May 12, 2020
Images:
Emerging Technologies Co-Chairman Chuck Olsen (AirPro) during the Jan. 21, 2021, virtual Collision Industry Conference said the "Clearing the Confusion" collaboration had give the CIC approval to use its generic advanced driver assistance system terms. (Screenshot from virtual CIC)
AAA's study of 34 vehicle brands found autobraking had the most unique names of any ADAS feature, at 40. (Provided by AAA)
Share This: