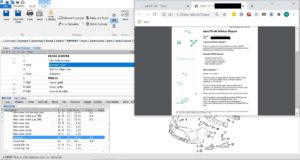 Remote scanning service and calibration sublet provider asTech announced Wednesday it had purchased adasThink, a software platform which alerts shops to calibration operations required on a vehicle.
Terms of the deal were not disclosed. AdasThink President Nick Dominato will join Repairify, the conglomerate which does business under the name asTech.
"Repairify is thrilled to welcome Nick Dominato from adasThink, who will be joining the Repairify team. asTech has always remained committed to providing customers with accurate diagnostic services," Repairify President Cris Hollingsworth said in a statement. "The addition of adasThink to asTech's capabilities offers our customers meaningful information about the condition of a vehicle's safety systems to ensure the vehicle is repaired to OEM specifications."
The Canadan startup AdasThink burst onto the U.S. scene last year. In October 2020, it released a sobering report revealing that 85 out of 100 estimates it studied lacked necessary advanced driver assistance calibrations. Its technology also won the 2020 SEMA "Best New Product" in the collision repair category.
AdasThink's software imports estimates submitted by body shops and reviews the VIN number and the individual line items. It then reports any calibrations dictated by this combination.
A video demo in adasThink's virtual SEMA360 2020 "booth" showed the software noticing an estimate contains a rear bumper repair on a 2019 Hyundai Elantra Preferred.
AdasThink informs the user that a "calibration or operation is required for the Blind Spot when the Rear bumper is repaired" and offers a link to ALLDATA's edition of the OEM procedures for shops who have a subscription.  (The usual caveats: The shop still bears the ultimate responsibility for researching the repair, and aggregators don't always sync up with official OEM repair procedure websites.)
The transaction was the tenth for asTech, which is owned by the private equity firm Kinderhook Industries.
"adasThink is a strategic acquisition that allows asTech to augment its service offering with identification of advanced vehicle systems that do not display a diagnostic trouble code. While these systems do not display diagnostic trouble codes, calibrations are necessary to ensure that vehicles are functioning as designed by the manufacturer," Kinderhook managing director Paul Cifelli said in a statement. AdasThink was Kinderhook's 101st "automotive-related" deal.
AdasThink earlier this year released a white paper discussing its earlier research and also mentioning findings from another study. It described a beta that collected 186 estimates from body shops, all for vehicles 2013 or newer.
"We found a total of 107 ADAS calibration across 186 estimates," adasThink wrote. (Emphasis adasThink's.) "Or, a 57% estimate-to-calibration ratio."
"A caveat is in order. Our beta wasn't necessarily representative of the average car parc. But based on
our data, the industry should be seeing an explosion in ADAS calibrations. Unfortunately, that's not at all
what's happening, because body shops are missing most of them."
The average vehicle in a body shop likely falls within that 2013-present range. CCC "Crash Course" data indicates the average repairable vehicle in 2019 was just 5.94 years old. The average vehicle totaled by insurers had reached 9.6 years of life.
More information:
asTech, Feb. 24, 2021
"adasThink Report: 88% of ADAS calibrations missed by body shops"
adasThink, Oct. 26, 2020
Featured image: SEMA on Nov. 2, 2020, crowned adasThink the 2020 Best New Product winner in the collision repair and refinish category for its software of the same name. (Screenshot provided by SEMA; redacted by Repairer Driven News)
Share This: