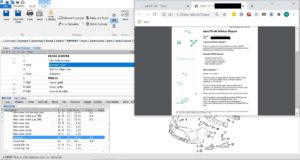 SEMA on Monday crowned adasThink the Best New Product in the collision repair and refinish category.
The software beat out more than 100 other new products featured within the virtual SEMA360 collision repair and refinish category. The show "floor" itself on Monday contained nearly 50 collision repair and refinish vendors for auto body professionals to peruse virtually.
adasThink, developed by the company of the same name, reviews a body shop's estimate and what appears to be ALLDATA OEM procedures for advanced driver assistance systems calibrations triggered by the sheet's repair operations.
A video demo in adasThink's virtual SEMA360 "booth" shows the software noticing an estimate contains a rear bumper repair on a 2019 Hyundai Elantra Preferred.
It alerts the user that a "calibration or operation is required for the Blind Spot when the Rear bumper is repaired" and offers a link to ALLDATA's edition of the OEM procedures for shops who have a subscription. (The usual caveats: The shop still bears the ultimate responsibility for researching the repair, and aggregators don't always sync up with the official OEM repair procedure websites.)
"adasThink is a revolutionary new software that can automatically identify required ADAS calibrations using just a body (shop's) estimate, advanced text recognition, and adasThink's database of OEM build data and repair procedures," a product description on SEMA's media website states.
An image provided by SEMA also demonstrates adasThink alerting a user to that "a calibration or operation is required for the Front Radar when the Front bumper is replaced" on a 2018 Toyota Corolla LE.
adasThink is also noteworthy for a recent study of 100 estimates that found 85 lacked one or more required ADAS calibrations.
"Of the 15 estimates that did include an ADAS calibration, 9 of those 15 estimates included a replacement operation of the ADAS sensor itself – a virtually impossible-to-miss ADAS calibration," adasThink wrote last week. But some Canadian body shops and appraisers even missed that "complete giveaway," according to adasThink.
Other collision industry products honored
SEMA also honored two Best New Product runners-up in the collision category.
CollisionRepairTools.com (which redirects to the Robaina Direct website) placed for a FAN™ 220 MIG / MAG / Brazing welder by Fronius.
"Made in Austria, this (FAN 220) welder is the best in class 110v / 220v MIG / MAG / Brazing optional TIG welding unit. Ideal for body shops, certified collision repair centers, classic car restoration facilities and general fabrication," a description on SEMA's media site states. "It provide you the available to weld with at little as 110v with a ultra low 12 amp fuse delay. Weld anywhere !"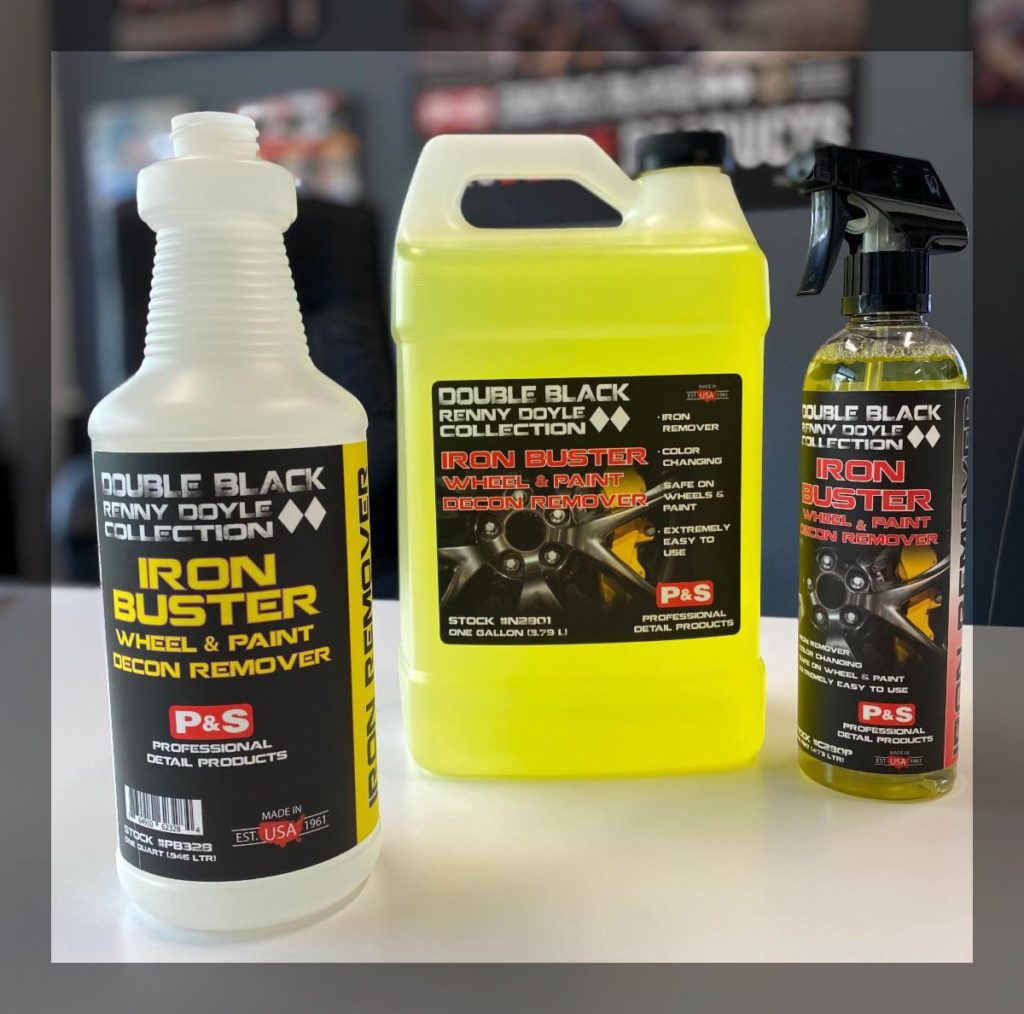 P&S Detail Products also placed for its Iron Buster Wheel Decon cleaner.
"Iron Buster Wheel & Paint Decon Remover is a color changing, fast acting, pH balanced cleaner formulated to safely dissolve ferrous particulate from wheel and painted surfaces, it safely and effectively removes embedded iron particulate along with other contaminants from wheels and painted surfaces," the description on SEMA's media site states.
SEMA Launch Pad winner could reduce crashes
And in other SEMA honors relevant to collision repair, FrontLane founder Roland Hence on Monday won the 2020 SEMA Launch Pad entrepreneur challenge for a product aimed at preventing rear-ending. He beat out at least 80 other competitors.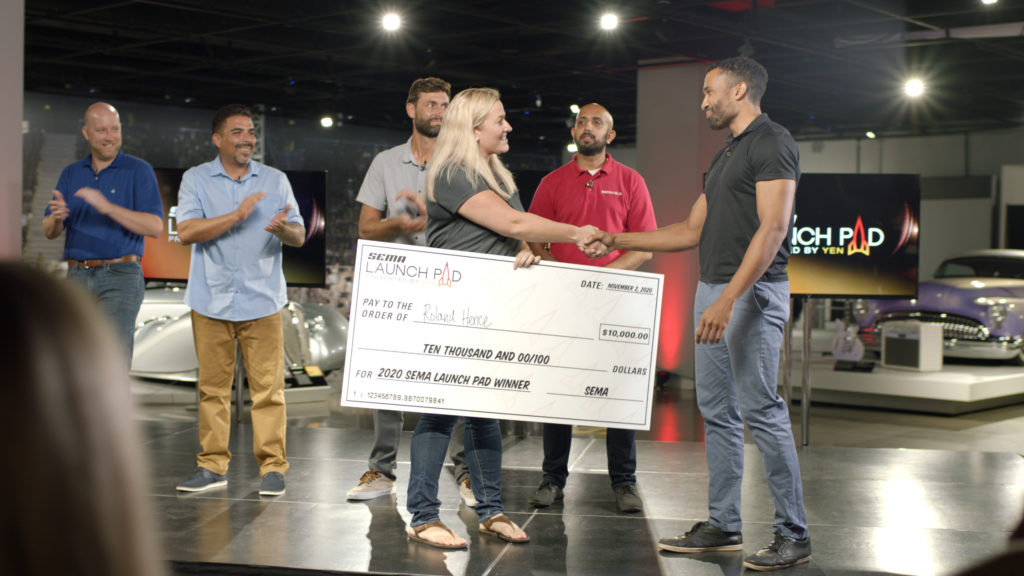 "As an entrepreneur, you dream about this moment. I am incredibly proud of my team and grateful to SEMA for the platform to showcase our hard work and life-saving product," Hence said in a statement. "I hope that with this incredible result we can take a meaningful step toward reducing rear-end crashes."
Hence will receive a prize package of more than $10,000 for his "Impulse" emergency brake light. The battery-powered and wireless device "reduces rear-end collisions by pulsing eight ultra-bright LEDs under extreme braking situations to alert the following driver up to 50% quicker," SEMA wrote Tuesday.
According to a SEMA news release, any passenger vehicle with a standard back windshield can accommodate the Impulse. The company also sells a "Tailbone" version for commercial trucks, and the Impulse seems like it could be a hit with private passenger vehicle fleets.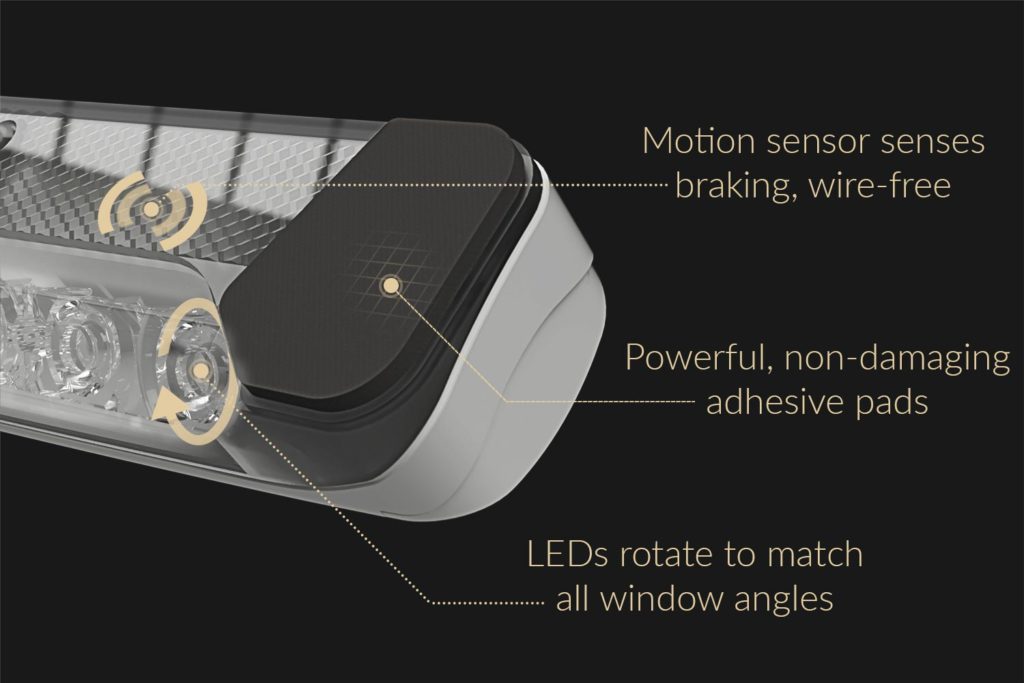 More information:
"SEMA BEST NEW PRODUCTS NAMED, FEATURED IN SEMA360"
SEMA, Nov. 2, 2020
CollisionRepairTools.com (redirects to the Robaina Direct website)
"ROLAND HENCE NAMED WINNER OF 2020 SEMA LAUNCH PAD"
SEMA, Nov. 3, 2020
Images:
SEMA on Nov. 2, 2020, crowned adasThink the 2020 Best New Product winner in the collision repair and refinish category for its software of the same name. (Screenshot provided by SEMA; redacted by Repairer Driven News)
P&S Detail Products was a SEMA 2020 Best New Products runner-up in the collision category for its Iron Buster Wheel Decon cleaner. (Provided by SEMA)
FrontLane founder Roland Hence on Nov. 2, 2020, won the 2020 SEMA Launch Pad entrepreneur challenge for his Impulse product aimed at preventing rear-ending. He beat out at least 80 other competitors. (Provided by SEMA)
Share This: