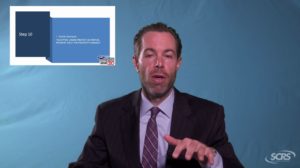 A new batch of online courses covering everything from millennial workers to lawsuits over short-pay claims can be found today on the Society of Collision Repair Specialists' virtual Repairer Driven Education website.
The four new classes, which feature teachers from AirPro; Buckley Wynne & Parese; Nylund's Collision Center; PR Media Coach; and Sherwin-Williams, join nine others which were already available. SCRS anticipates releasing the rest of the 18-session lineup — including the OEM Collision Repair Technology Summit headliner event — in stages this week. Register here.
All classes remain online after they launch and will be replayable through Aug. 31, 2021. So don't worry if you're too busy to make it to the website today.
Courses generally cost $75. A session on the DEG and BOT is free, and OEM Summit admission runs $150. A full-series pass good for all 17 regular classes and the OEM Summit is available for $375.
Each session completed (up to 90 percent or more) before 5 p.m. ET Friday will grant the registrant another raffle ticket for SCRS and Reliable Automotive Equipment's giveaway of more than $19,500 in collision equipment.
Here's a list of the most recent classes to appear on the website and excerpts from their course descriptions. We also added links to some associated Repairer Driven News coverage when available.
"Scanning and Diagnostics: Get Educated and be Prepared, in Order to Get Paid," featuring Aaron Clark and Eric Newell, AirPro.
"The challenge of being compensated fairly to perform vehicle diagnostics, calibrations, and programming becomes more and more common without proper documentation of manufacturer procedures or requirements. This session will tackle the issue by helping repair facilities educate themselves to find all the resources and specific information pertaining to the vehicle diagnostic or calibration requirements."
"Marketing in 2020: Will People Find You? What Will They See?" featuring Eric Reamer, Niche PR & Media; and Robert Grieve, Nylund's Collision Center.
"You will learn exactly how to jump the line in Google search results by answering – specifically – the questions that your prospects are asking every day. And once they find you – how to seal the deal by appealing to what matters most to them."
From RDN: See our coverage here.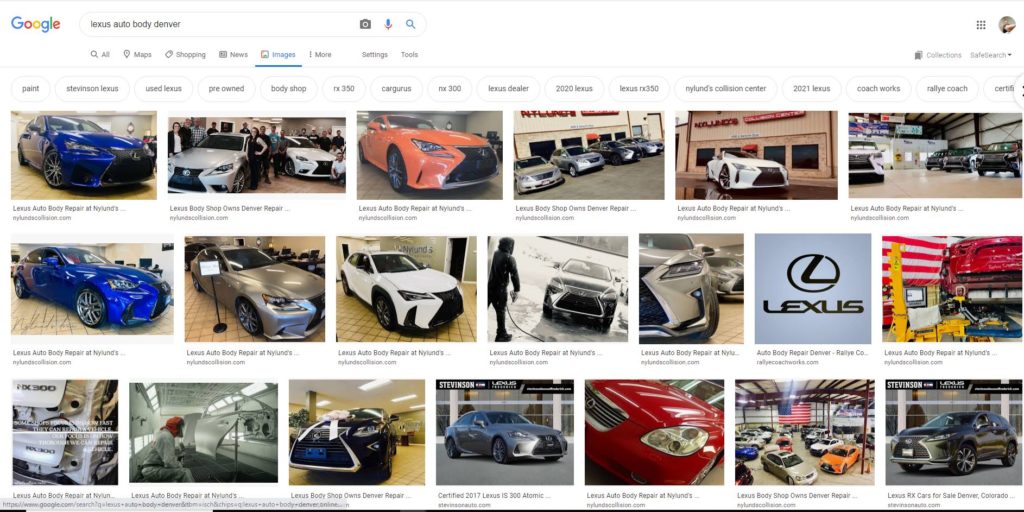 "Litigating and Winning Short Pay Claims," featuring John Parese, Buckley, Wynne & Parese.
"We will review prerequisites for engaging in litigation, and best practices to facilitate a more profitable and transparent business."
From RDN: See our coverage here.
"The Millennial Generation: What You Don't Know CAN Hurt You," featuring Michael Lanza, Sherwin-Williams.
"With every new generation that enters the automotive repair industry, a new set of motivations, expectations, work habits and values become present to employers."
More information:
SCRS Repairer Driven Education series website
Images:
Buckley Wynne & Parese partner John Parese presents "Litigating and Winning Short Pay Claims" during the Society of Collision Repair Specialists' virtual Repairer Driven Education 2020. (Screenshot from SCRS video)
Images from Nylund's Collision Center dominate a Google image search for "Lexus auto body Denver." (Screenshot from www.google.com)
Share This: