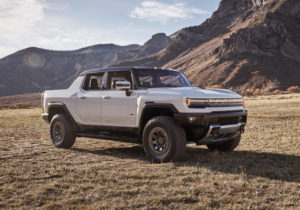 Auto body shops can prepare for the future of collision repair — and better understand the vehicles of today — next month at a 2020 OEM Collision Repair Technology Summit featuring four major OEMs and a leading auto body materials analysis firm.
The Society of Collision Repair Specialists on Monday announced the latest edition of its popular Repairer Driven Education event would feature experts from Audi, Ford, General Motors, Subaru and DuckerFrontier. Like the other RDE courses and SEMA itself, this year's OEM Summit will be held virtually.
SCRS will release the OEM summit sessions online at 10 a.m. ET on Nov. 5 and make them and all other RDE courses available for replay through Aug. 31, 2021. Unlike the traditional OEM Summit (and RDE lineup), your entire staff can "attend" the 2020 event without having to travel to Las Vegas. Registration is $150, or pay $375 for the full series pass, which grants access to the OEM Summit and more than a dozen $75 virtual courses.
The 2020 OEM Summit will feature the following sessions:
GM: 'Global perspective on electrification, safety systems, emerging trends and collision repair'
"Join GM subject matter experts as they elaborate on the global strategy surrounding electrification of vehicles in the mass market, ADAS and safety systems, emerging trends within new vehicle platforms and the future of collision repair," a course description states.
General Motors collision manager John Eck will moderate a panel including GM Global Aftersales Mechanical Engineering (GAME) director Jennifer Goforth, GM global aftersales diagnostics and electrical engineering director John Willis; Nathaniel Skutt of GM body structure advanced serviceability of design engineering and GM collision program manager Christopher Blackmore.
General Motors last week revealed the 2022 GMC HUMMER EV Edition 1, a completely electric version of the iconic vehicle it said would represent the debut of its completely new Ultium battery architecture.
The previous day, the company announced $2 billion in investments to prepare its Spring Hill Manufacturing site for fully electric vehicles. It also said it would invest $4 million into two factories "related to additional production of the Cruise AV (autonomous vehicle) test vehicle at Orion Assembly."
Over on the ADAS front, GM has announced plans to expand its hands-off, eyes-on Super Cruise highway driving technology beyond the Cadillac brand, starting with the Chevrolet Bolt EUV in 2021. It said 22 vehicle in the company's portfolio would offer the tech by 2023.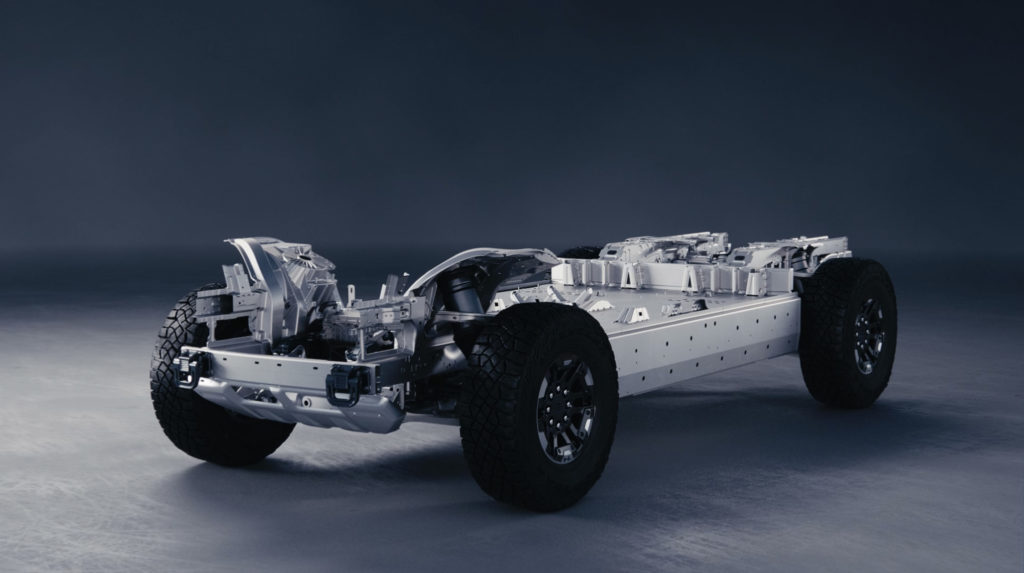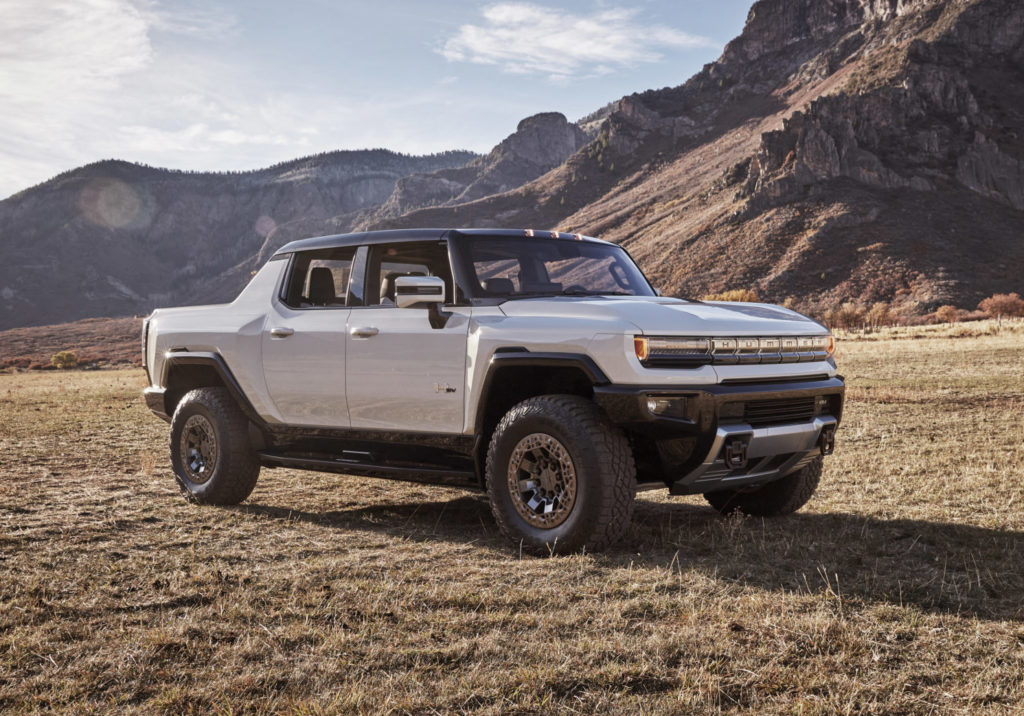 Ford: '2021 F-150 and Mustang Mach E Overview'
"This presentation will provide a full rundown of the features for both the new 2021 F-150 and new 2021 Mustang Mach E, as well as vehicle specifications and damageability review," a course description states. "EV and technology insights for the F-150 and Mach E will also be discussed."
Gerry Bonanni, Ford paint and body repair senior engineer, will host the session, which will also feature electric vehicle and technology details shared by Ford service publications and training commodity lead Rob Lien.
Both the 2021 F-150 and Mustang Mach-E go on sale before the end of the year.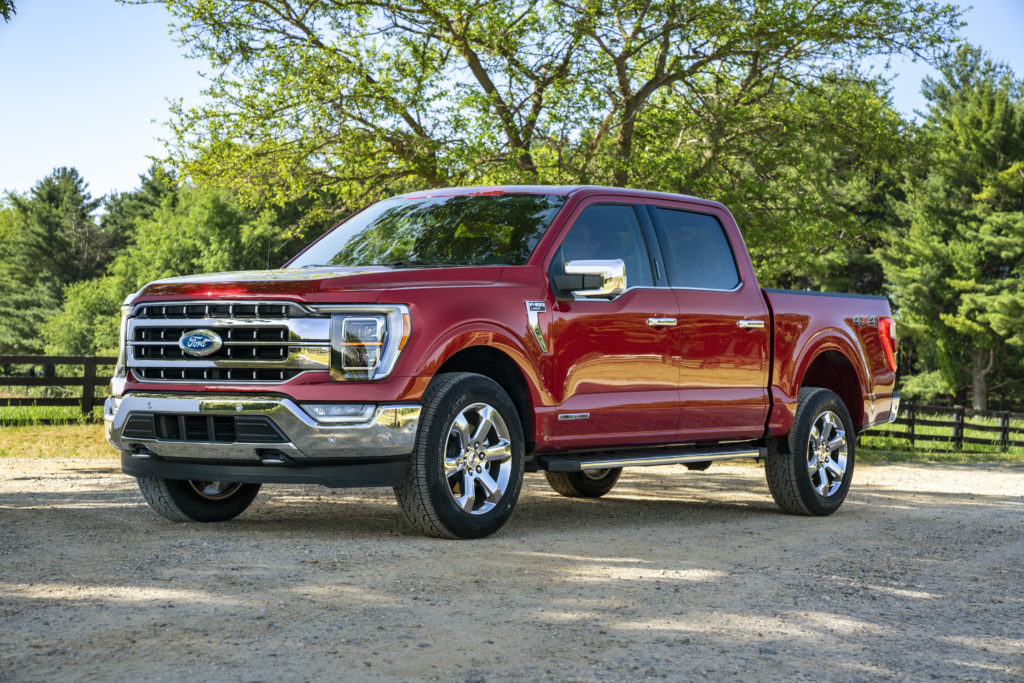 Ford on this summer announced the next-generation 2021 Ford F-150 would carry "a fully boxed high-strength steel frame with a high-strength, military-grade, aluminum alloy body." It'll also offer a hybrid version of the truck including a battery mounted between the frame rails and the option to turn the gas or hybrid model into a generator. A completely electric F-150 is expected within two years.
The 2021 Mustang Mach-E is a fully electric SUV the automaker wants to post 0-60 mph speeds beating or matching Porsches. The extended-range version with rear-wheel drive targets 300 miles of range on a single charge.
The vehicle also will receive over-the-air technology upgrades — including the chance to unlock an optional, Super Cruise-competitor Active Drive Assist system that would permit "hands-free driving on more than 100,000 miles of divided highways in all 50 states and Canada."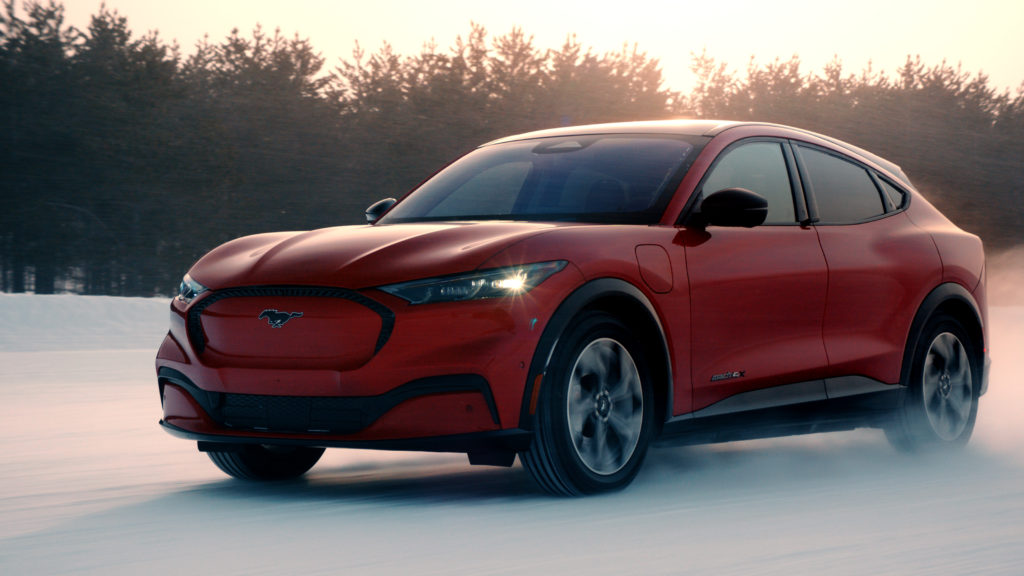 Audi: 'A new era of electric is here'
"A new era of electric is here, and Audi has a clear vision for the future,' SCRS wrote. "Their commitment to electrification is robust and comprehensive, starting with a goal that one third of the new U.S. model lineup will be electrified by 2025." The OEM also plans 20 fully electric models globally by 2025.
Audi is already on its way to that goal with the launch of the completely electric, steel-and-aluminum 2019 e-Tron last year.
This was followed by an e-tron Sportback and S versions of both models. A Q4 product line containing the Q4 e-tron and Q4 e-tron Sportbacks Audi calls "important cornerstones of the electric strategy" starts production in 2021. The OEM also will be building an e-tron Gran Turismo by the end of the year.
And as of September, Audi also offered plug-in hybrid versions of the A6, A7, A8, Q5 and Q7 and planned to sell plug-in hybrid A3s, Q3s and Q8s soon.
As with any electrified vehicle, the models might introduce new safety and repair considerations for a body shop.
SCRS said Audi collision, equipment and electric vehicle aftersales service manager Mark Allen "will take our audience through an overview of Audi electric vehicle technology, and its impact on the collision repair ecosystem."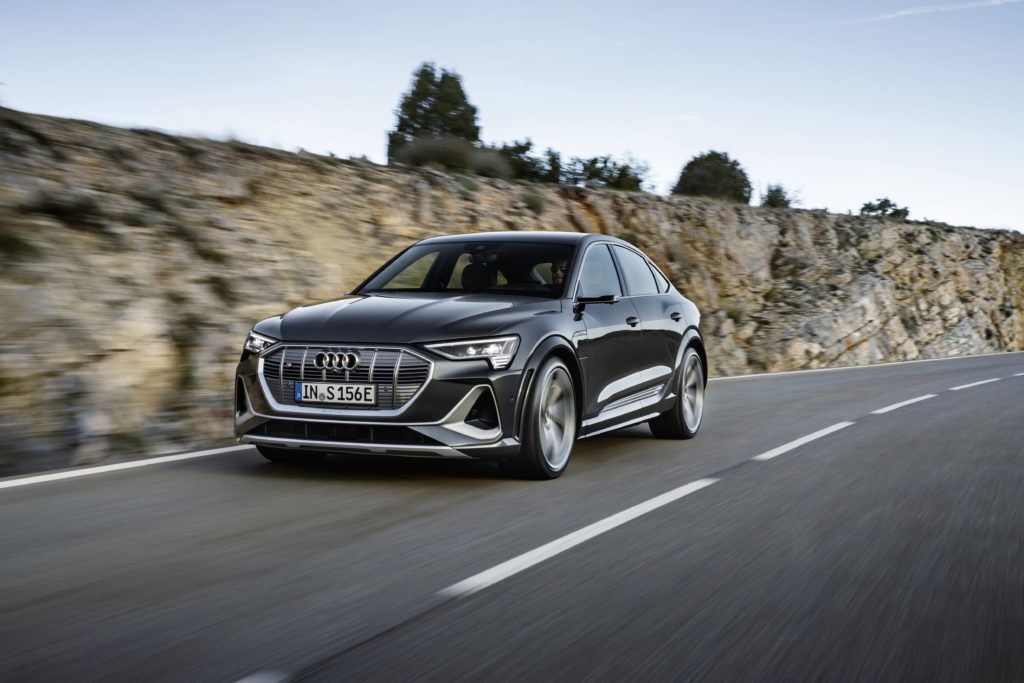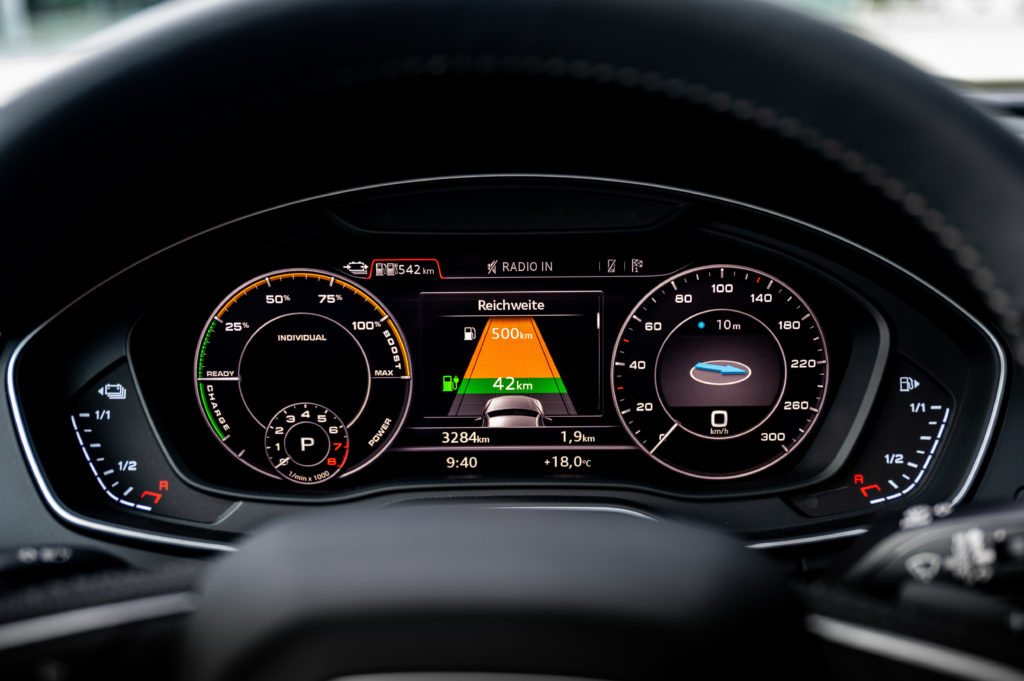 Subaru: 'Required Repair Procedures and the "Why?" Behind Detailed Inspections'
Subaru demands body shops conduct extensive safety inspections following a collision, a term it formally defined earlier this year.
"Subaru defines a collision as damage that exceeds minor outer body panel cosmetic distortion," the OEM wrote in a March position statement related to scanning.
During the OEM Summit, Subaru collision certification manager Devin Wilcox "will speak to the required quality repair procedures and why such detailed inspections are needed post-collision as well as the need for pre and post scanning," according to a course description. "This presentation will be focused on the 'why' Subaru's repair procedures are published in such detail."
Despite the recent attention the inspection instructions have drawn, Subaru national wholesale parts manager John Lancaster said this spring the inspections had "been in there (repair procedures) 20 years."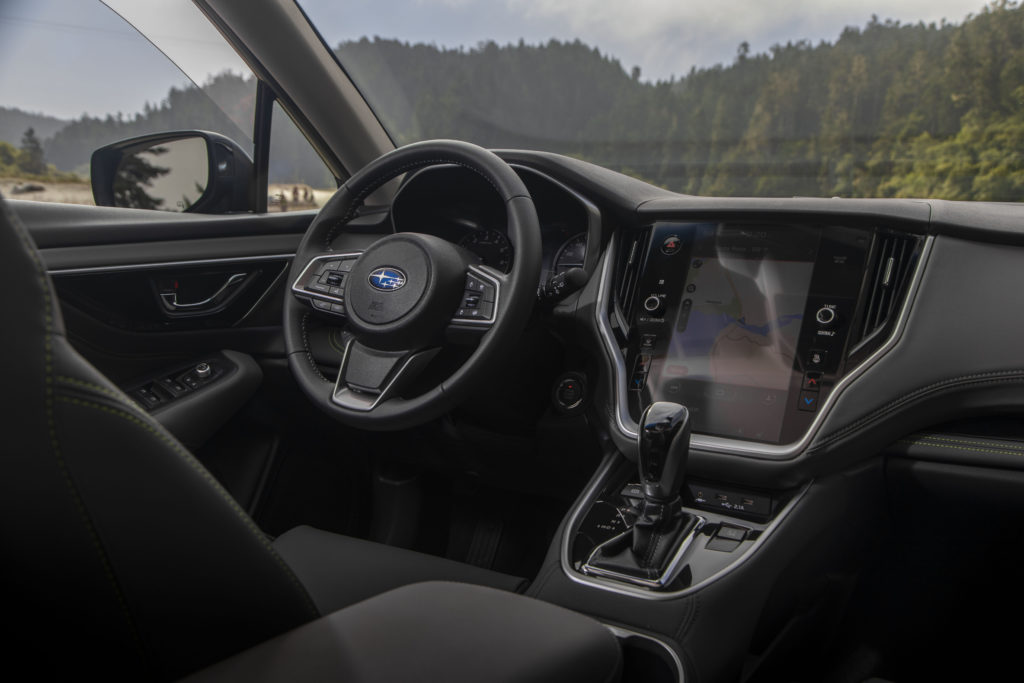 The position statement language was meant to help the situation, he said at the time.
"As a part of Subaru's key brand messaging, safety is one of three pillars in the ownership experience," Monday's OEM Summit course description stated.
"The Subaru owner expects this, not just of their vehicles, but also of the repair center.
"It is because of this need, the Subaru Certified Collision Network prides itself on high-quality repairs on every vehicle that enters their repair centers to ensure the standard of safety Subaru owners have come to expect."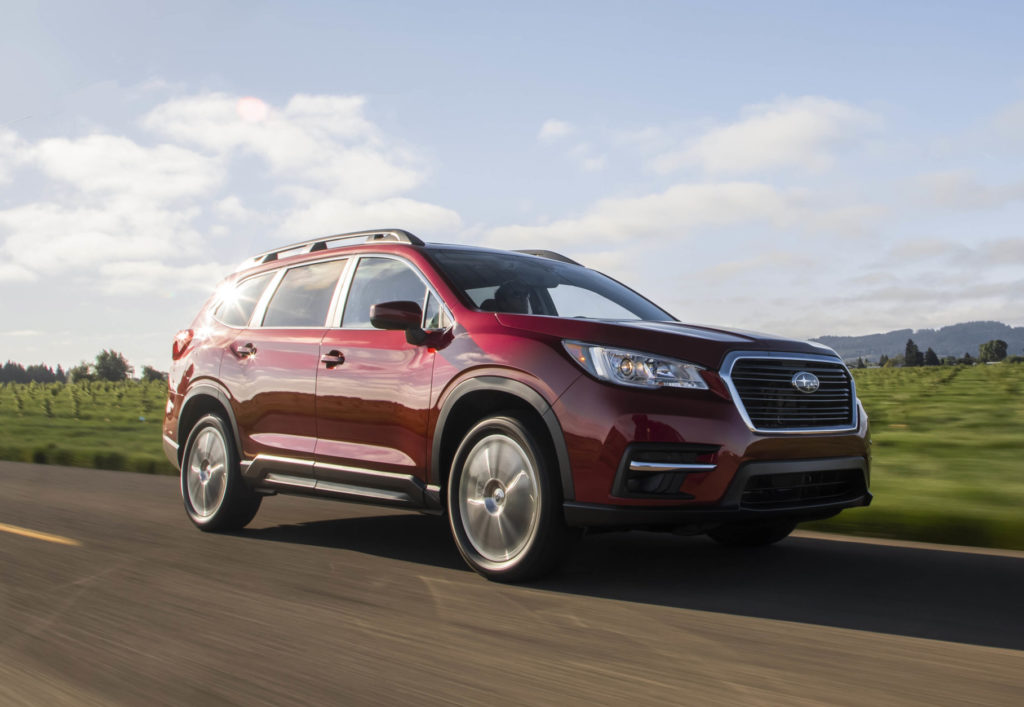 DuckerFrontier: 'A look at Aluminum, Materials and the Changing Landscape of Automotive Design in North America'
Finally, DuckerFrontier's OEM Summit presentation will teach repairers about the materials that lightweighting and protecting such OEMs' vehicles.
DuckerFrontier managing principal Scott Ulnick and automotive and materials managing director Abey Abraham will "provide updates on materials and insights that will have an impact on collisions and subsequent repairs," according to the course description. "The program will also touch on implications from automaker specific moves, such as Tesla's switch to the large single piece structural castings in the body-in-white."
By 2026, it's going to be nearly certain that a hood is aluminum, and close to 50-50 that a liftgate or tailgate will be, according to a new DuckerFrontier analysis released this summer. There's about a 1-in-3 chance that any fender or door on a new-car dealership lot will be aluminum.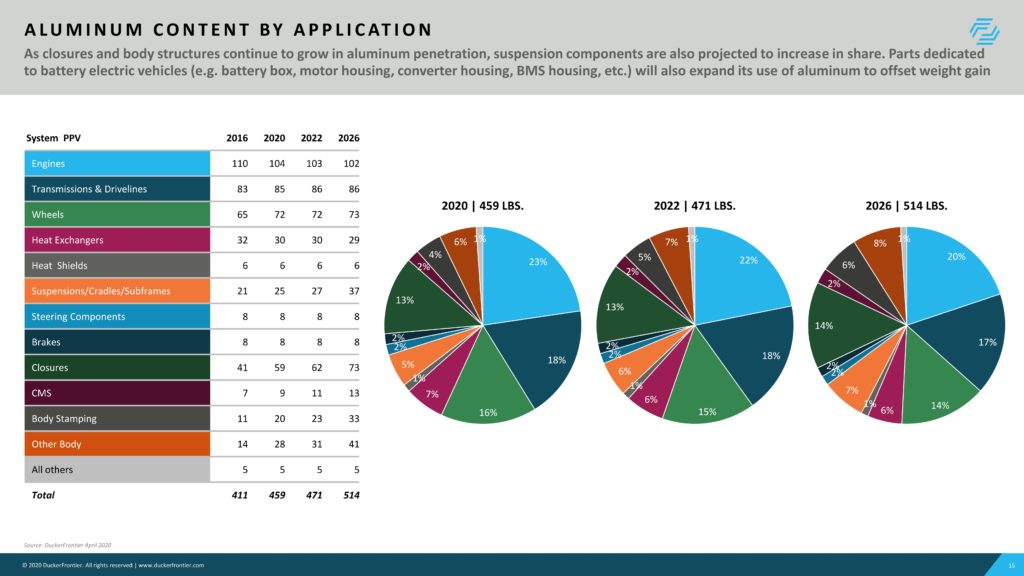 DuckerFrontier also estimated this summer that suspension, cradle and subframe parts would grow from 25 aluminum pounds per vehicle in 2020 to 37 pounds in 2026. Aluminum body stamping and "Other Body" would rise from 48 pounds combined to 71 pounds of aluminum in six years. Crash-management aluminum parts would make up 13 pounds of the average vehicle in 2026, up from 9 pounds today.
Abraham recently told us the company now estimates about 43 percent of bumpers today to be aluminum — jumping to 58 percent by 2026.
Register for the OEM Summit and other Repairer Driven Education sessions on http://rde.scrs.com. "To learn more about SCRS' education series at SEMA360, and to interact with select speakers, visit our showcase booth at www.sema360.com," SCRS wrote Monday.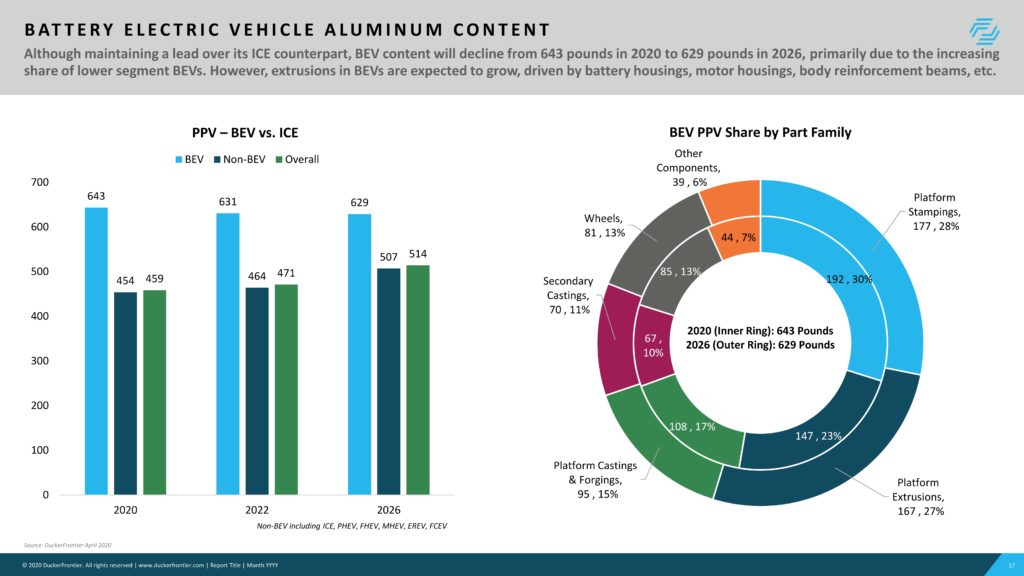 Correction: An earlier version of this article specified an incorrect target date for Audi's goal of 20 electric models globally. The OEM plans 20 fully electric models by 2025. The article has since been corrected to reflect this.
More information:
"SCRS Releases OEM Collision Repair Technology Summit Lineup"
Society of Collision Repair Specialists, Oct. 26, 2020
Society of Collision Repair Specialists virtual Repairer Driven Education website
NASTF portal of links to official OEM repair procedures
Images:
The 2022 GMC HUMMER EV will debut GM's Ultium electric vehicle platform. (Copyright General Motors)
A 2021 Ford F-150 Lariat with a "Rapid Red Metallic Tinted Clearcoat" paint job is shown. (Provided by Ford)
The 2021 Ford Mustang Mach-E is shown. (Provided by Ford)
A fully electric Audi e-tron S Sportback is shown. (Provided by Audi)
The dashboard of a plug-in hybrid Audi Q5 TFSI e is shown. (Provided by Audi)
A 2020 Subaru Outback dash is shown. (Provided by Subaru)
A 2020 Subaru Ascent Limited is shown. (Provided by Subaru)
DuckerFrontier projects some common bodywork components are predicted to make significant shifts to aluminum between 2020 and 2026, and aluminum weight overall on vehicles is expected to grow. (Provided by DuckerFrontier via Aluminum Association)
DuckerFrontier predicts aluminum will play a significant role in battery vehicles. (Provided by DuckerFrontier via Aluminum Association)
Share This: