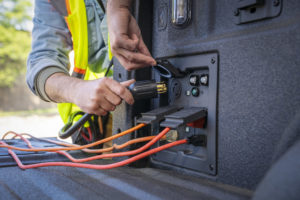 Six years ago, the aluminum on the 2015 Ford F-150 was likely the truck's biggest technological news for collision repairers.
But repairing and equipping for mixed-material designs is now a fact of life for any shop desiring to remain relevant, and the biggest technological considerations for repairers on the aluminum next-generation 2021 F-150 might lie in its electronics.
"We see it as our duty to deliver not just what our customers want and need, but what they might have never thought possible," F-150 chief engineer Craig Schmatz said in a statement Thursday as Ford revealed the truck. "The F-150 will be tougher than ever, and with fully connected over-the-air updates, it opens up a much wider range of potential enhancements – from system upgrades to feature offerings."
Hybrid version
Perhaps the most significant: Ford will offer the option of a 3.5-liter V-6 hybrid powertrain known as "PowerBoost," projected to deliver 700 miles on a single tank and including a battery mounted between the frame rails. (Ford also said Wednesday it would have a completely electric F-150 within two years.)
"PowerBoost combines Ford's proven EcoBoost engine and 10-speed SelectShift® automatic transmission with a 35-kilowatt (47-horsepower) electric motor integrated into the transmission, as well as software calibrated specially for truck use, including drive modes like tow/haul mode to help customers better manage towing heavy trailers."
The hybrid configuration will use a lithium-ion battery — which means repair considerations could be different from the nickel-metal hydride batteries you might have seen on older Priuses. Lithium-ion batteries can be smaller and lighter than Ni-MH. However, lithium-ion also carries a greater fire risk to a shop, according to Coordinating Committee for Automotive Repair safety content author Bob McGinn. Other safety concerns and operational considerations might arise for repairers handling partially or completely electrified powertrains.
According to Ford, the system includes a liquid-cooled 1.5-kiloWatt-hour battery.
"It is mounted between the frame rails below the load floor with a unique vibration isolation system, leaving passenger space and cargo area uncompromised," Ford wrote.
Ford said the hybrid F-150 could handle "sustained battery usage at extreme outside temperatures or under heavy loads."
Ford said either a gas or hybrid F-150 powertrain can be upgraded to serve as a generator.
"Pro Power Onboard is available with a 2.0-kilowatt output on optional gas engines, while PowerBoost-equipped F-150 comes standard with 2.4 kilowatts of output or an optional 7.2 kilowatts of output. Power is accessible through in-cabin outlets and up to four cargo bed-mounted 120-volt 20-amp outlets, with a 240-volt 30-amp outlet on the 7.2-kilowatt version," Ford wrote. "The system even provides power on the move to charge tool batteries in between jobs."
Ford said 7.2 kilowatts would be enough to run a mobile metal shop constituting of an angle grinder, plasma cutter, TiG welder, chop saw, air compressor and work light for 32 hours in 86-degree weather if you had a full tank and no air conditioner running.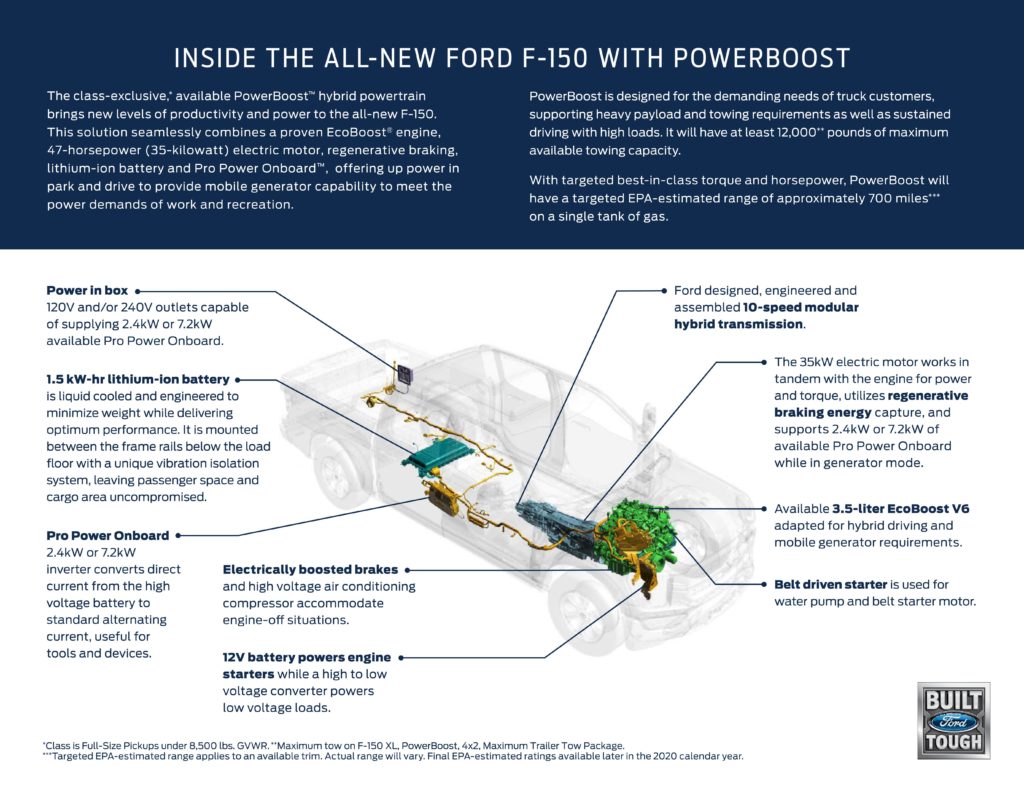 ADAS
The 2021 F-150 will carry standard Co-Pilot360, which includes features like automatic high beams (and "auto on/off headlamps") and autobraking with pedestrian detection.
But owners also can upgrade to add Active Drive Assist, which permits users to take their hands off the wheel and let the truck drive itself on more than 100,000 miles of divided highways in the U.S. and Canada. The human still is responsible for watching the road and taking over if necessary, and the truck will monitor the driver to make sure they're paying attention.
Like other more advanced Level 2 systems (the car can control itself both along the X- and Y-axis, but the human still retains responsibility), Active Drive Assist would seem to put an even heightened responsibility on the collision repairer to fix the vehicle properly using OEM procedures. As humans outsource more of the driving task to their vehicles, it'll be imperative that those vehicles work as the OEM and human trust it will.
"Its advanced driver-facing camera tracks head position and driver eye gaze to enable hands-free driving when available. It allows owners on certain sections of pre-mapped, divided highways to drive with their hands off the steering wheel – if they continue to pay attention to the road ahead – granting them an additional level of comfort during long drives," Ford wrote.
An owner would buy the Active Drive Assist prep kit for the hardware behind the technology up-front. Then they'll have to pay separately to activate the system when "the software to enable functionality, expected in the third quarter of the 2021 calendar year, will be delivered by over-the-air update or dealer visit."
Other options include intersection autobraking ("Intersection Assist") for oncoming traffic threats while the F-150 is turning left and autoparking ("Active Park Assist 2.0") in both parallel and regular spaces, and features related to managing a trailer.
"The all-new F-150 is the only light-duty full-size pickup to offer available Trailer Reverse Guidance and Pro Trailer Backup Assist," Ford wrote. "Trailer Reverse Guidance, made popular on Super Duty, uses the truck's high-resolution cameras to provide multiple views along with helpful graphics that tell drivers which way to turn the steering wheel while backing up. Pro Trailer Backup Assist, which makes backing up a trailer as easy as turning a dial, continues on F-150."
Connectivity
It's also worth noting that Ford makes connectivity standard on the F-150 — including over-the-air updates.
The OEM can add, subtract and refine features throughout the life of the vehicle if it wishes; it'll be interesting to see if this will be accompanied by repair procedure changes.
"The all-new F-150 is North America's first full-size pickup with standard over-the-air updates, helping customers' trucks stay at the forefront of purposeful technology," Ford wrote. "These updates are bumper-to-bumper, and can include all-new functions and additional features throughout the life of the truck. They can support preventative maintenance, reduce repair trips, provide improved performance and ultimately result in more vehicle up-time. The majority of updates will be completed in under two minutes and can be performed at times customers choose, so they won't have to put their lives on hold."
Users also can use the SYNC 4 system, which Ford says has "twice the computing power of the previous-generation system" to connect their phones with the vehicle.
Ford also offers 911 Assist free, which "automatically alerts emergency responders in the event of an accident" as well as the FordPass app "that allows Ford drivers to start or unlock their vehicle from a distance, as well as control new truck-focused features like Zone Lighting, Trailer Theft Alert, Trailer Light Check and Pro Power Onboard."
This is the kind of technology Ford can use to recommend its certified network, including after detecting a crash.
More information:
"BUILT FOR GETTING THINGS DONE, FORD REVEALS THE TOUGHEST, MOST PRODUCTIVE F-150 EVER AND MOST POWERFUL IN ITS CLASS"
Ford, June 25, 2020
Images:
The hybrid 2021 Ford F-150 includes a 7.2-kiloWatt generator option that can even accommodate a 240-volt device. (Provided by Ford)
Ford will offer the option of a 3.5-liter V-6 hybrid powertrain known as "PowerBoost" on the 2021 F-150. (Provided by Ford)
The interior of a 2021 Ford F-150 Limited is shown. (Provided by Ford)
Share This: