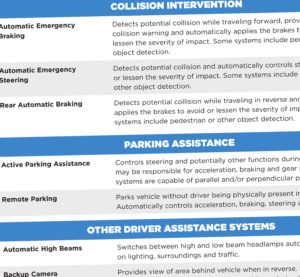 AAA, J.D. Power, Consumer Reports and the National Safety Council on Wednesday urged automakers to embrace their jointly developed list of 19 standardized names for advanced driver assistance systems.
If successful, the effort could make life easier for collision repairers as well as the consumers the four entities hope to assist.
According to the joint news release, 93 percent of new vehicles offer at least one piece of ADAS. However, consumers and body shops might be unfamiliar with what the technology actually does given the number of different names on the market.
AAA reported in January that its study of 34 vehicle brands found autobraking had the most unique names on the market of any ADAS feature, at 40. Adaptive cruise control and the ability to have a 360-degree view around the vehicle tied for second at 20. Lane-keeping and blind-spot warnings placed third at 19 different OEM names for each.
"Further complicating the issue, regulatory bodies and automotive standards organizations such as NHTSA and SAE have used multiple unique names such as collision imminent braking and forward collision mitigation systems to describe automatic emergency braking," AAA wrote in a report.
AAA warned that certain brand names could lead consumers to think their vehicle has powers it doesn't. The Insurance Institute for Highway Safety reported a similar finding in June.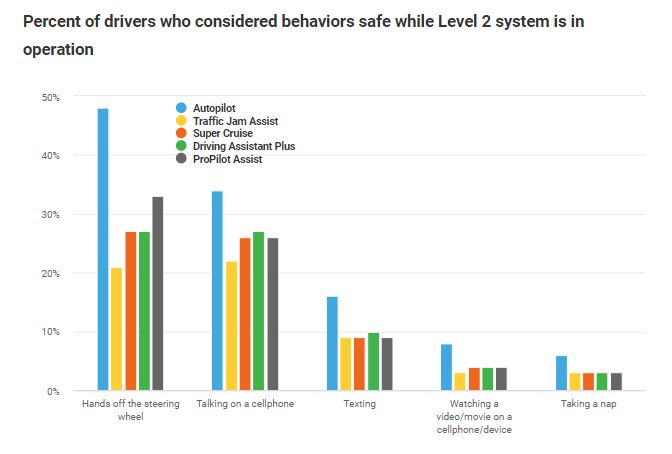 "Previous AAA research found that 40 percent of Americans expect partially automated driving systems with names like Autopilot, ProPILOT or Pilot Assist, to have the ability to drive the car by itself," AAA wrote in January. "This research highlights the need for standardization of terms and definitions for ADAS features."
The proposals released Wednesday would call that sort of thing "Active Driving Assistance" instead.
AAA, J.D. Power, Consumer Reports and the NSC said Wednesday that OEMs could still brand the technology however they wanted. The businesses and organization just wanted them to use the generic terms as well in communications to customers.
"It is believed that, by adopting common terminology across systems, consumers will have a better understanding that this technology is intended to assist and not replace an engaged driver," the quartet wrote. "These terms are not meant to replace automotive manufacturers' proprietary system or package names; rather, they are meant to achieve clearer and consistent information on window stickers, owner's manuals and other marketing materials on generic system components."
Adding that standardized terminology in repair manuals as well as owner-facing documents could be particularly helpful in researching OEM procedures for a formal collision repair plan. It's inefficient if a shop has to look up what the heck an OEM calls a particular system to run a search for precautions and calibration instructions in the repair procedures. It'd be a lot easier on an estimator or tech to memorize 19 terms in five categories once rather than keep track of the scores of names AAA uncovered back in January.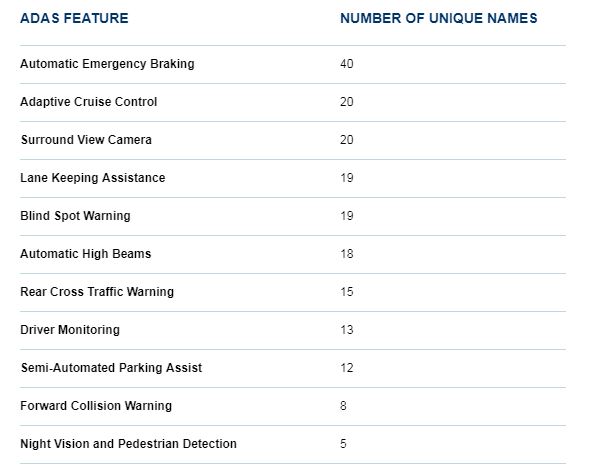 Standardized terms might also help consumers, insurers and repairers more easily understand each other when discussing a particular repair or recalibration.
We reached out to the Association of Global Automakers and Alliance of Automobile Manufacturers earlier Wednesday afternoon to get their views on the new proposal. Global Automakers hasn't yet responded. The Auto Alliance said in a statement:
A key part of road safety is making sure drivers and vehicle owners are aware of their vehicles features. That's part of why automakers provide an operator's manual with every vehicle describing the auto's safety and convenience features, so drivers can understand how features may differ from vehicle to vehicle.  We believe it's critical that drivers look at the operator's manual information, and contact their automaker if they have questions about how their autos function. 
The organization also noted the safety benefits of advances in automotive technology.
Asked for comment on the move and the possibility of regulating standardization, the National Highway Transportation Safety Administration said in a statement Thursday:
It is encouraging that stakeholders are working to better inform the public about currently available Advanced Driver Assistance Systems (ADAS). Today's advanced driver assistance technologies require drivers to remain fully attentive and engaged in the driving task. These safety innovations are the precursors to self-driving vehicles. Increased familiarity with ADAS will promote interest, trust and acceptance among consumers.
Confusion and litigation
Finally, consumers who understand their vehicles could help keep shops and OEMs out of the hot seat.
Confusion over the function of an ADAS system allegedly produced a crash that wound up getting a body shop and OEM sued last year.
The South Jordan, Utah, Police Department cited plaintiff Heather Lommatzsch for failure to keep proper lookout after her 2016 Model S on Autopilot plowed into a truck at 60 mph in May 2018. Police said Lommatzsch admitted looking at her phone and Tesla data showed she had her hands off the wheel.
Nevertheless, Lommatzsch sued Tesla, arguing its sales force told her the vehicle would stop on its own and she only needed to touch the wheel once in a while while in Autopilot. She claimed Tesla should have communicated Autopilot's limitations better. Tesla has denied the allegations.
But Lommatzsch also initially sued Service King, which she said "provided service to the Tesla Model S and had replaced a sensor on the Tesla Model S."
She ended the case against the body shop this year, with both sides in July agreeing to pay their own costs in a joint motion for dismissal with prejudice.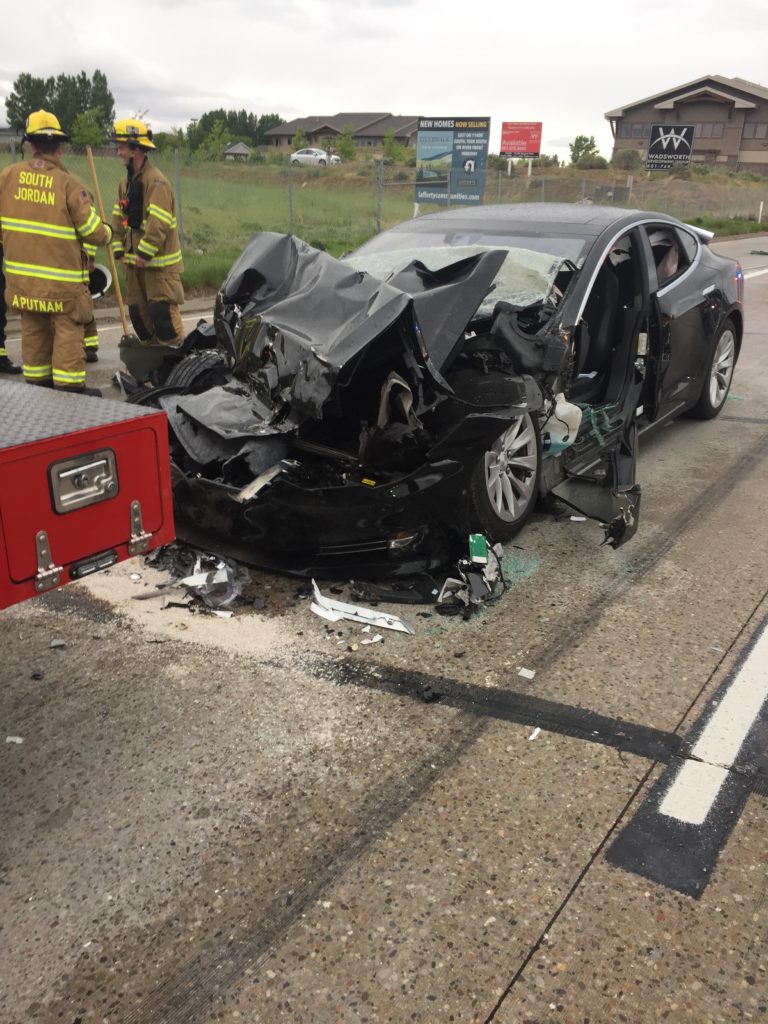 Obviously, the Lommatzsch case involves alleged statements about the system's functionality rather than its name, but you get the idea.
Consumers misinterpreting the name or function of a Level 1 or Level 2 ADAS system and crashing could pursue litigation against a former repairer of the vehicle as well as an OEM. The attorneys argue the shop's work kept the system from avoiding the crash anyway.
Whether such an allegation has any merit is irrelevant. The shop still has to expend time, energy and money dealing with the case. That's not a place any business owner or garagekeeper's insurer wants to be.
Proposed list of ADAS terms and categories
Here's the list of ADAS terms and definitions from J.D. Power, AAA, the NSC and Consumer Reports:
Driving control assistance
Adaptive Cruise Control: Assists with acceleration and/or braking to maintain a prescribed distance between it and a vehicle in front. Some systems can come to a stop and continue.
Active Driving Assistance: Assists with vehicle acceleration, braking and steering. Some systems are limited to specific driving conditions. Driver is responsible for primary task of driving.
Lane Keeping: Assistance Assists with steering to maintain vehicle within driving lane.
Collision warnings
Blind Spot Warning: Detects vehicles to rear in adjacent lanes while driving and alerts the driver to their presence.
Forward Collision Warning: Detects impending collision while traveling forward and alerts driver. Some systems include pedestrian or other object detection.
Lane Departure Warning: Monitors vehicle's position within driving lane and alerts driver as the vehicle approaches or crosses lane markers.
Parking Obstruction Warning: Detects obstructions near vehicle during parking maneuvers.
Rear Cross Traffic Warning: Detects vehicles approaching from the side and rear of vehicle while traveling in reverse and alerts driver.
Collision intervention
Automatic Emergency Braking: Detects potential collision while traveling forward, provides forward collision warning and automatically applies the brakes to avoid or lessen the severity of impact. Some systems include pedestrian or other object detection.
Automatic Emergency Steering: Detects potential collision and automatically controls steering to avoid or lessen the severity of impact. Some systems include pedestrian or other object detection.
Rear Automatic Braking: Detects potential collision while traveling in reverse and automatically applies the brakes to avoid or lessen the severity of impact. Some systems include pedestrian or other object detection.
Parking assistance
Active Parking Assistance: Controls steering and potentially other functions during parking. Driver may be responsible for acceleration, braking and gear position. Some systems are capable of parallel and/or perpendicular parking.
Remote Parking: Parks vehicle without driver being physically present inside the vehicle. Automatically controls acceleration, braking, steering and shifting.
Other driver assistance systems
Automatic High Beams: Switches between high and low beam headlamps automatically based on lighting, surroundings and traffic.
Backup Camera: Provides view of area behind vehicle when in reverse. Could include trailer assistance, a system that assists drivers during backing maneuvers with a trailer attached.
Driver Monitoring: Monitors drivers to determine if they are actively engaged in the task of driving. Some systems monitor driver's eye movement and head position.
Head-Up Display: Projects image of vehicle data and/or navigational info into the driver's forward line of sight.
Night Vision: Aids driver vision at night by projecting enhanced images on instrument cluster or head-up display.
Surround-View Camera: Uses cameras located around vehicle to present view of surroundings.
Research by the Insurance Institute for Highway Safety found some drivers misunderstand the capabilities of the more advanced ADAS systems on the market, findings with possible ramifications for collision repairers. The biggest confusion seemed to surround the term "Autopilot." (Provided by the Insurance Institute for Highway Safety)
AAA's study of 34 vehicle brands found autobraking had the most unique names of any ADAS feature, at 40. (Provided by AAA)
The South Jordan, Utah, Police Department cited plaintiff Heather Lommatzsch for failure to keep proper lookout after her 2016 Model S on Autopilot plowed into a truck at 60 mph in May 2018. (Provided by South Jordan Police Department)
Share This: