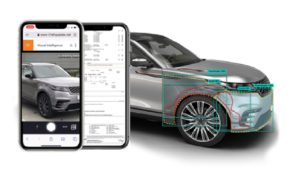 Solera on Monday announced the rollout of the artificial intelligence photo estimating system Qapter to body shops in Europe and North America.
The Audatex parent company said shops could adopt the automated technology "in less than 30 days." It allowed "non-skilled damage appraisers" to obtain an estimate in less than 3 minutes by feeding photos into the software.
"Solera's approach to pre-integrate AI in Qapter meant we were able to start a pilot in just 4 weeks," Jörg de Groot, business process manager of the European auto body repair chain Schadenet, said in a statement Monday. "This allowed us to spend time training the team and getting ourselves used to this new way of working."
"It's all about the platform," Solera strategy Vice President Driaan Du Toit said regarding the speed of establishing the technology at a shop. The integration into Solera software meant the capability was "basically there" for existing users, he said in an interview Feb. 22. The body shop must simply train and upskill staff, he said.
A recent update upgraded the old Audatex ADXE platform with Qapter, Du Toit explained. "Audatex is Qapter," he said."… It's not separate."
Solera said Monday the Qapter Intelligent Estimating option would arrive for users with a "simple upgrade path."
"Solera's product approach to AI and Machine Learning makes it possible for repair shops to introduce photo-based estimating as a simple release upgrade," Solera Chief Technology Officer Evan Davies said in a statement. "The solution is ready to produce accurate estimates for light to medium damage cases, allowing estimators to concentrate on more complex cases."
"Solera's unique approach that combines data science and Repair Science™ detects damaged parts and recommends repair operations and times based on scientific research," Solera wrote in a news release.
The technology could help multi-shop operators determine which of their locations was best equipped to handle a particular vehicle, according to Solera.
"With Qapter we are ensuring the complex cases are allocated as early as possible, in the claims process, to the right repair team," Schadenet director Leontine Sitters said in a statement. "Which ultimately saves us valuable time and cost and improves customer satisfaction."
Solera in November and December 2020 polled a combined 500 "enterprise bodyshops and OEM dealer networks" and 500 insurers worldwide on concepts such as digitization and artificial intelligence.
"Bodyshops and OEM dealers would expect to see the highest return on AI in the next 12 months through increased employee efficiency (13%) and improved profitability (12%)," Solera wrote in additional polling data shared with Repairer Driven News.
Twenty percent of shops and dealerships felt they'd pursue high returns with AI "at either the remote estimating or repair authorization & invoicing stage." North American shops and dealers had the highest interest in using AI for remote estimating, with 24 percent of facilities agreeing with this response.
Forty-one percent of auto body shops and OEM dealerships called cost their top barrier to automation, Solera said in announcing the polling results Feb. 2.
The repairers and dealers felt legacy IT systems, an unknown return on investment and time to market represented challenges to using AI, Solera said. However, only 35 percent of respondents saw each of those factors as concerns, according to Solera.
Du Toit said he felt collision repair and insurance industry interest in AI "pretty similar across the workforce." Both wanted accuracy, speedy cycle time and few supplements, he said.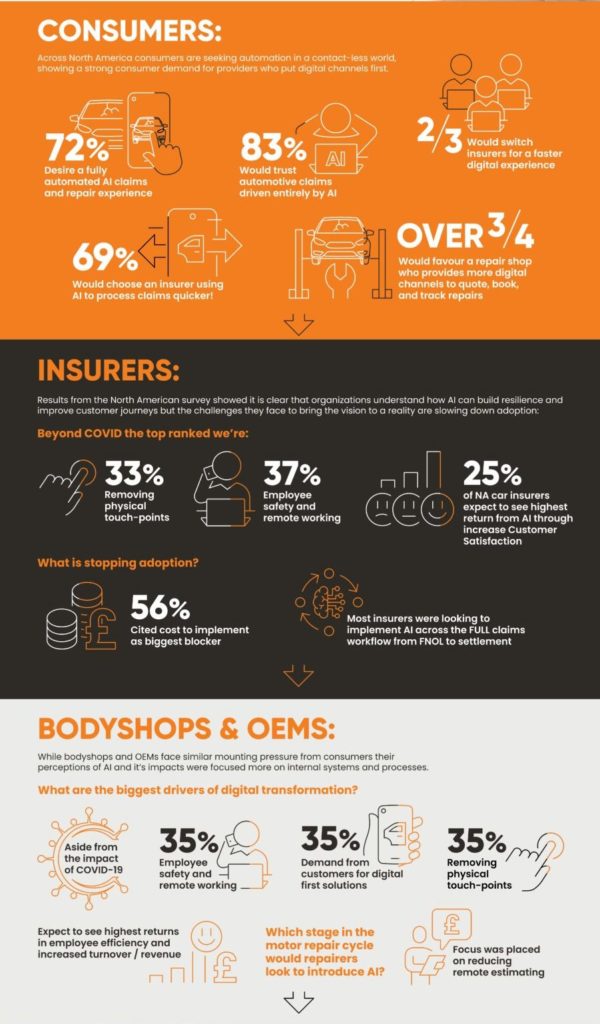 Customer demand for the tech appears to exist. Solera's November-December 2020 polling also surveyed 1,500 "tech-savvy" customers worldwide. It found 78 percent would favor a body shop "that provides more digital channels to quote, book, and track repairs," the information provider wrote Feb. 2. Seventy-three percent of customers "would choose an insurer using AI to process claims quicker," and 67 percent would switch to a rival insurer if it provided "a faster digital experience."
"We've reached a point where leading companies are placing top priority on adapting and integrating cutting edge technology to differentiate and optimize customer experience. Those that don't, will face competitive challenges," Davies said in a statement Feb. 2. "This survey simply underscores what Solera has known to be true for some time; automated processes have the power to increase customer satisfaction and even customer retention."
Shops and dealerships worldwide cited customer demand as a major reason for increasing digitization in general.
The COVID-19 pandemic represented the No. 1 reason why shops and dealerships said they wished to go digital (55 percent), according to additional research Solera shared.
37 percent of shops and dealers were interested in the option for employee safety and remote work, and 37 percent pointed to customer demand.
Nearly that proportion — 36 percent — expressed "the desire to modernize the workflow," according to Solera.
Insurers and AI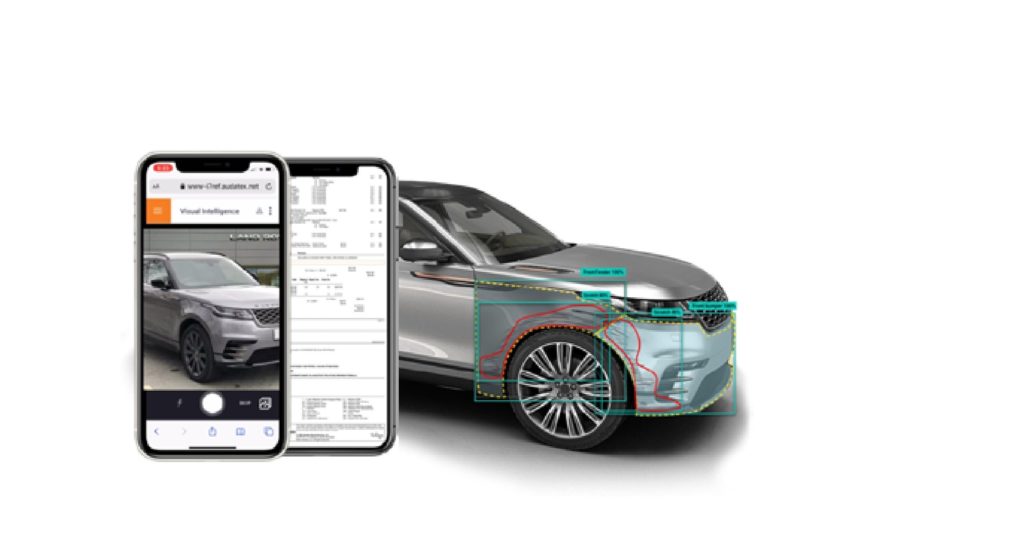 The AI Qapter photo estimating technology is also available for insurers and can be integrated "very, very quickly," Du Toit said. He said Solera has implemented it in as little as four weeks, but insurers and MSOs tend to view integration as a 3- to 6-month process.
"Car insurers globally would look to implement AI in the auto claims workflow at the fraud prevention stage (22%), the full claims workflow (17%) and cash settlement (17%) to best achieve high returns," Solera wrote in additional polling data provided. For North American insurers, AI in the full claims workflow was "ranked top," at 23 percent.
Solera in a Feb. 2 news release said polling revealed "large insurers must overcome distinct obstacles compared to other market participants." Like body shops and dealers, insurers saw cost as their top barrier, with 52 percent of carriers providing this answer.
But the Solera poll found 62 percent of large insurers also viewed time to market as a major challenge. "Everyone is rushing to get it done," Du Toit said.
Solera said scalability and upskilling the workforce were each also viewed as significant challenges by 52 percent of the insurers.
We asked: Wouldn't such technology be infinitely scalable following the initial implementation period?
Du Toit said it depended on one's technology provider. For a company like Solera, "scalability is not a challenge."
Du Toit said upskilling insurer personnel for AI would involve teaching employees a new claims workflow. Under traditional claims, an adjuster would know what to check and prepare the estimate themselves.
"He would be more part of the process," Du Toit said.
But under an AI photo estimating system, the adjuster is simply handed a prepared sheet, according to Du Toit. Rather than write an estimate, "they're gonna review it," he said.
Collision industry best practices call for 100 percent disassembly, measuring and scanning vehicles when developing an estimate.
Without these steps, it's a near certainty that the initial estimate will be insufficient. CCC's 2020 "Crash Course" found a supplement rate of 82.3 percent among vehicles handled by direct repair program facilities during the year ending Sept. 30, 2019. The average supplement came in at 14.5 percent of the total repair cost.
Mitchell also reported in 2018 that its research found human-prepared photo estimates resulted in supplements averaging more than 50 percent of the price of the initial photo estimate. In-person estimates only yielded supplements above 30 percent of the initial sheet. However, Mitchell also noted that the supplement amounts wound up being fairly similar, for photo estimates typically weren't used on higher-dollar claims.
We asked Du Toit about the notion of "automotive claims driven entirely by Artificial Intelligence," something Solera said its polling found would be trusted by 76 percent of consumers. At some point, we observed, the vehicle will have to be disassembled, and damage not visible to the AI would be inevitable. Was the idea that the fully automated software would be able to automatically approve the ensuing supplements from body shops?
"I think everyone understands it's a journey," Du Toit said. Creating a line-by-line estimate based upon photos is a new capability and represented the first step in the process, according to Du Toit. This probably had the ability to address damage of up to $2,500 in severity — a range he said represented a "very large portion" of claims.
The average repairable estimate in 2019 came in at $3,225, according to CCC. Among DRP shops, 39.4 percent of repairs during the year ending Sept. 30, 2019, cost $2,000 or less. Another 20.7 percent were between $2,00.01 and $3,000, CCC said.
The idea would be to rapidly reach the point where an AI estimate proved "accurate enough" to automate the approval and settlement process of these claims, Du Toit said.
Solera's polling found "72% of respondents citing confidence in an automated claims and repair journey."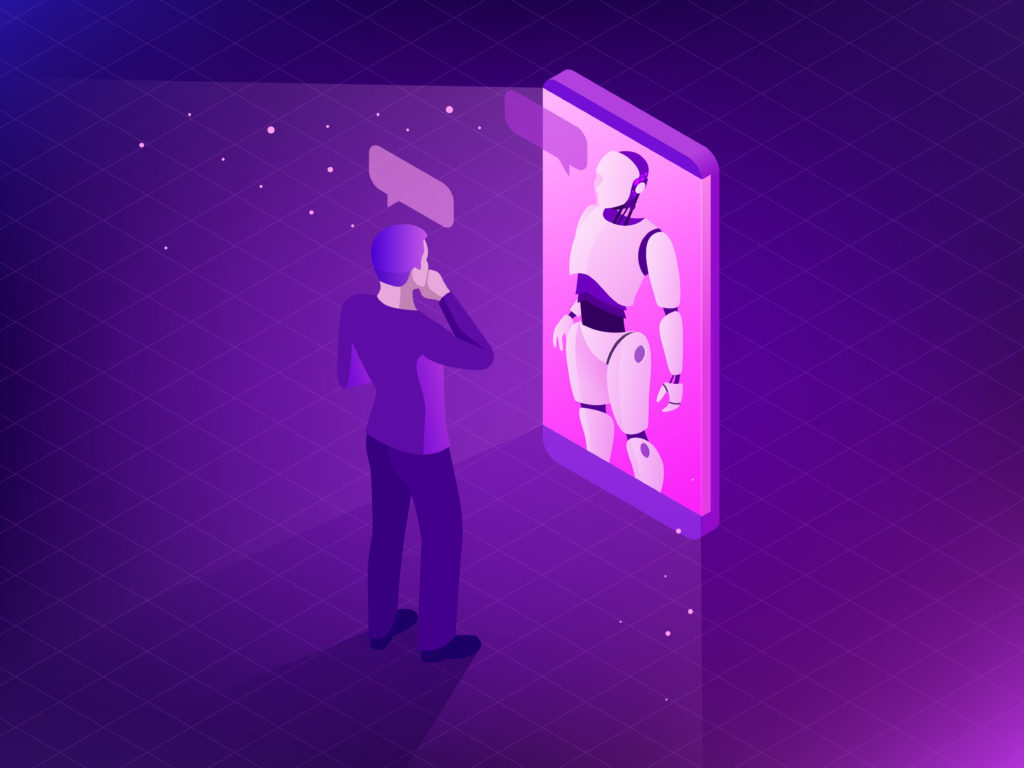 Solera's next phase of AI estimating would involve machine learning to predict unseen damage using machine learning, according to Du Toit. The computer would draw from lessons tied to Solera's vast library of claims and photos tied to specific estimates, he said.
"Once again, that is a journey that we would need to go on," he said.
For now, the focus was to implement Qapter and use photographs to create automated line-by-line estimates ready for insurer staff review, according to Du Toit.
"Everyone understands that's where the journey is at this point," Du Toit said.
He said insurers want to reach the point where "there's no human touch," and Solera believed this would be possible "very soon" for lower-severity claims.
Du Toit said the AI also has the ability to predict total losses. He said it drew this conclusion based upon the damage detected off of the photos and the customer's answers to certain questions at the first notice of loss, a combination "which is more accurate." It also could go deeper than a traditional direct repair program referral system, choosing which shops to recommend based on not just KPI performance but also their qualifications to handle the damage detected, such as OEM certifications.
"It's much more scientific," Du Toit said.
Correction: An earlier version of this report contained a misspelling of Solera strategy Vice President Driaan Du Toit's name. The article has since been corrected.
More information:
"Solera Survey Reveals 72% of Consumers Desire A Fully-Automated AI Claims and Repair Experience"
Solera, Feb. 2, 2021
"SOLERA ROLLS OUT ITS STATE-OF-THE-ART INTELLIGENT ESTIMATING SOLUTION TO 25,000 BODYSHOPS"
Solera, March 1, 2021
Images:
A graphic from a Solera white paper on the company's artificial intelligence photo estimating system Qapter. (Provided by Solera)
Qapter surveyed 1,500 "tech-savvy" customers, 500 insurers and a combined 500 dealerships and body shops in November and December 2020. Some results are shown here. (Provided by Solera)
Audatex parent company Solera in February 2020 announced a study of "tech-savvy" customers found an overwhelming proportion would trust an automated claims experience. (OstapenkoOlena/iStock)
Share This: