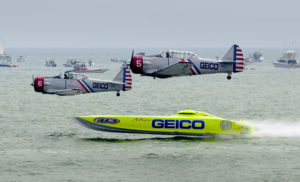 Berkshire Hathaway on Saturday said GEICO's collision claim frequencies dropped by an amount in the "twenty-three to twenty-four percent range," with property damage claims down even more.
GEICO's plummeting frequency during the COVID-19 pandemic year helped the insurer end the year at more than double its 2019 profitability, despite having cut customers a break on premium costs. Pre-tax underwriting earnings at the nation's No. 2 auto insurer rose to nearly $3.43 billion last year, compared to nearly $1.51 billion in 2019.
An exact tally for GEICO property damage auto claims was unavailable in parent company Berkshire Hathaway's Feb. 27 annual report. Berkshire Hathaway simply described GEICO's "property damage, bodily injury and personal injury protection" frequency as having dropped by a "twenty-eight to thirty percent range."
For a little broader context, CCC estimated that repairable vehicle claims fell 21.3 percent in 2020. Totals fell 15.2 percent, and claims overall were down 20.1 percent, the information provider said Tuesday.
GEICO said its average property damage and collision severity rose by an proportion in the "eight to ten percent range."
Overall, GEICO's claim costs and loss adjustment expenses fell $2.9 billion, a 10.1 percent decline from 2019.
The company's earned premiums also fell $479 million in 2020, but it ended the year with a larger customer base — and it spent a lower percentage of those premiums covering policyholder and third-party claims than in 2019.
"The GEICO Giveback program provided for a 15% premium credit to all voluntary auto and motorcycle policies renewing between April 8, 2020 and October 7, 2020, as well as to any new policies written during the same period," GEICO wrote. "The GEICO Giveback program reduced premiums written in 2020 by approximately $2.9 billion. Premiums earned decreased 1.3% in 2020 compared to 2019, which included reductions of approximately $2.5 billion attributable to the GEICO Giveback program."
GEICO earned more than $35.09 billion in premiums and paid out just shy of $26.02 billion in claims and loss adjustment expenses in 2020, a 7.2 percentage-point decrease in the company's loss ratio compared to 2019. Essentially, GEICO paid out 74.1 cents of every premium dollar covering claims and loss adjustment expenses in 2020.
The insurer spent another $5.647 billion of premium revenue on underwriting expenses, up more than $500 million from 2019.
"Underwriting expenses in 2020 increased $518 million (10.1%) compared to 2019, reflecting higher employee-related, advertising and technology costs partly offset by lower premium taxes," Berkshire Hathaway wrote. "GEICO's expense ratio in 2020 (underwriting expenses to premiums earned) was 16.1%, an increase of 1.6 percentage points compared to 2019. The expense ratio increase was primarily attributable to the decline in earned premiums from the GEICO Giveback program."
Ultimately, GEICO was able to keep 9.8 cents of every premium dollar with its overall 90.2 combined ratio.
More information:
Berkshire Hathaway 2020 annual report
Berkshire Hathaway, Feb. 27, 2020
Featured image: The GEICO logo is seen on the "Geico Skytypers" and the "Miss Geico" speedboat in Atlantic City, N.J., in 2015. (Aneese/iStock)
Share This: