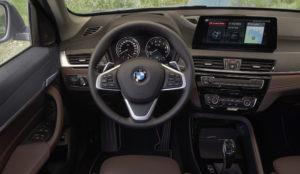 BMW North America collision program manager Jonathan Inzano concurred Thursday that the OEM wants auto body shops to scan vehicles before and after a collision repair.
Inzano was responding to a VeriFacts Guild 21 webinar request that he confirm the contents of a service bulletin BMW released two years ago. Was it true, he was asked, that all vehicles equipped with an OBD-II port needed a pre-repair and post-repair scan?
"It does outline that, yes, that before and after the repair, there needs to be the pre- and the post-scan," Inzano confirmed.
BMW Service Bulletin SIB 41 05 19, issued Sept. 27, 2019, applies to "All vehicles equipped with On board diagnostics II (OBD II)."
In it, BMW declares "a preliminary complete vehicle diagnostic test must be performed before beginning repairs on a vehicle which was involved in a collision. A post-repair complete vehicle diagnostic test must also be carried out following repairs, to ensure complete and proper functionality."
The full bulletin (and many others) are available along with all BWM OEM repair procedures on the automaker's official service information website www.bmwtechinfo.com.
Noting that "this is probably common knowledge already," Inzano likened failing to scan to going to a doctor and not having one's vital signs collected.
"You don't know what's wrong, right?" he said.
Scanning was both "just necessary" but also an "efficiency measure" — it allowed issues to be caught up front rather than generating a backlog in the production.
Post-repair scanning was necessary to ensure everything had been addressed and no faults existed, he said.
BMW vehicles can incorporate numerous control modules, sensors and cameras that assist in various functions within the vehicle.  During a collision, these systems can sustain damage in ways that are not visually evident.
Some issues will activate a dashboard light, but "others won't," Inzano said. You can't be sure without scanning the vehicle, he said.
Some issues might arise when driving, and "that could be a thing too," he said.
Neither Inzano nor the bulletin discussed what BMW requires on vehicles predating the OBD-II port.
Asked if BMW had a stance on aftermarket scan tools, Inzano said it hadn't instituted any requirement but every body shop needed to conduct due diligence and use the proper tooling.
Any scanner able to connect to an OBD-II port should be able to read a BMW — but not all would do it adequately, according to Inzano.
"I have found that some scanners don't access all modules fully or are not able to give you full descriptions of the issue," he said. "So that could become a problem if they don't have the BMW scanning tool."
If this were the case, BMW usually recommended sending the vehicle to the dealer for a check with a BMW scan tool.
He also said some aftermarket scan tools might also lack information for the newest vehicles.
"It's due diligence," Inzano said. Ensure you're doing it right so if the shop were ever questioned about a repair or process, "there's no loopholes; there nothing that you can say I didn't do properly," he said.
The next Guild21 call is scheduled for 2 p.m. ET on April 8.
More information:
BMW Service Bulletin 41 05 19: "PRELIMINARY DIAGNOSTICS FOR COLLISION REPAIRS"
BMW, Sept. 27, 2019
Featured image: A 2020 BMW X1 dashboard is shown. (Provided by BMW)
Share This: