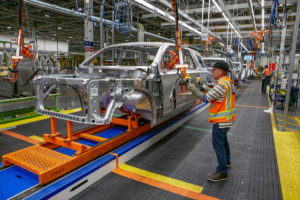 General Motors' T1 SUVs are very similar from a collision repair perspective to the T1 light-duty trucks introduced a few years ago, the OEM observed recently.
Nathaniel Skutt of GM body structure advanced serviceability of design engineering described the vehicles' repairability during a virtual OEM Collision Repairer Technology Summit session released in November 2020. The GM video and more than a dozen other Society of Collision Repair Specialists' virtual Repairer Driven Education courses are available for replay through Aug. 31.
The current-generation, 2019-present Chevrolet Silverado and GMC Sierra represent GM's T1 trucks. The current-gen 2021-present Chevrolet Suburban and Tahoe, GMC Yukon and Cadillac Escalade comprise the OEM's T1 SUVs.
Skutt during the virtual course highlighted features including aluminum doors, a frame able to support the independent rear suspension on the SUV and nonstructural fenders.
He said GM allows a complete front module replacement on the T1 SUVs, which he said fostered an efficient and safe repair.
GM also offers a "very detailed" repair manual, Skutt said. He describing the existence of procedures for "almost every part" a shop would replace on the new SUVs — as opposed to the "limited amount" of procedures available in the manuals for their prior generation.
"I think the technicians will find it very, very informative and very useful information" permitting an easy repair, Skutt said.
Skutt urged repairers to "really, thoroughly" review OEM procedures. Should there be a question or concern, "let us know," he said. GM can address or improve it, he said.
General Motors collision manager John Eck observed that the OEM received "great feedback" about the front end redesign and made references to items like bolt-on fenders and a radiator support kit.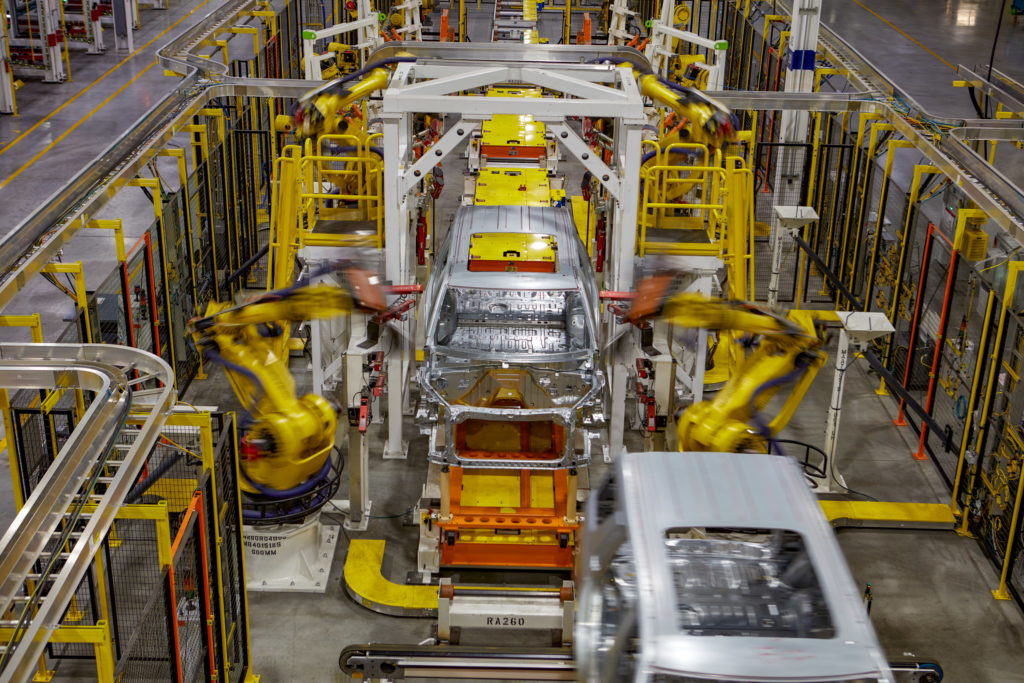 Eck also mentioned the shift away from welding to joining methods like bolting, structural adhesive and rivet bonding on the front of the vehicles.
Skutt said the previous generation featured more components and greater integration, but General Motors opted for "more refined" front structure for the T1 models.
A front-end module can be removed and installed as a "complete new piece" without much fixture usage, Skutt said.
He said the repair technique used structural adhesive since the vehicles have "a ton" of it. As for structural rivets, he said they can "perform just as well" as spot welds.
"It makes a clean repair, and it makes a safe repair," Skutt said.
According to Skutt, repairs to the back end of the SUVs should also be familiar to body shops who've worked on the T1 trucks.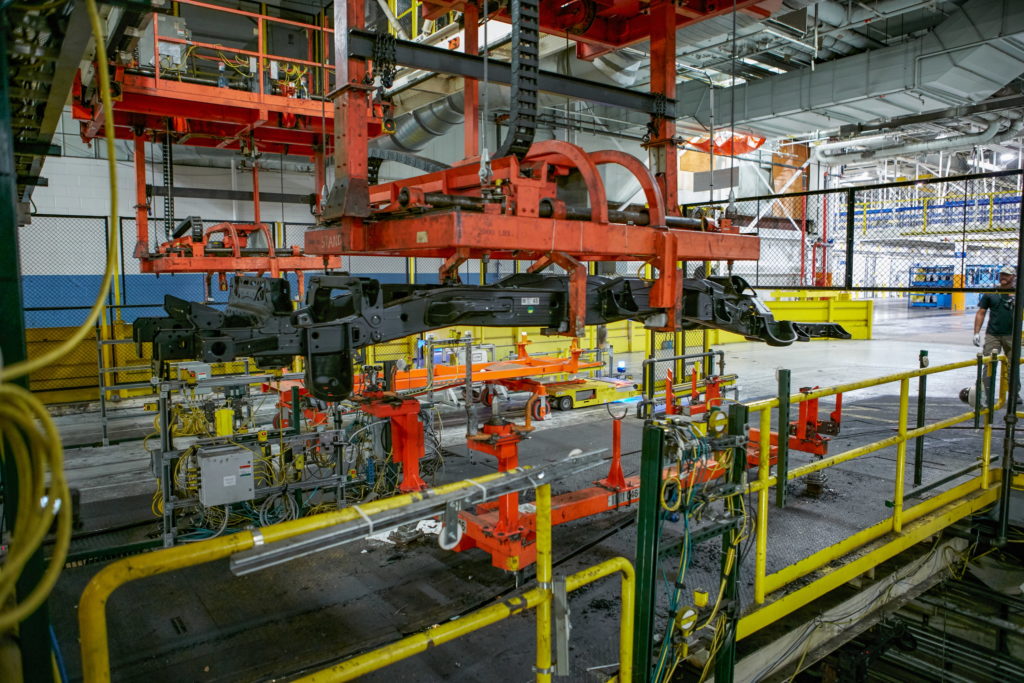 "We created a rear frame section at a factory seam," Skutt said of the T1 trucks, and it's the "same-style repair" for the SUV.
Eck joked that hopefully, he would no longer be taking calls from repairers who cut the truck in the wrong spot and realize "they've just ruined a vehicle, or at least the frame of it."
While calling attention to structural and reparability similarities, the virtual course educated repairers not to assume T1 electronic systems were identical.
GM global aftersales diagnostics and electrical engineering director John Willis said during the fall presentation that only the T1 SUVs contained GM's Vehicle Intelligence Platform electronic architecture. The VIP setup — capable of processing five times the data of the old platform — would reach the trucks eventually, he said then.
Willis also said that similar structural repairs, such as those on the T1 trucks and SUVs, don't necessarily mean advanced driver assistance systems and calibration will be handled the same way.
"Vehicle by vehicle can be very different," Willis said. Models that look the same externally and internally might not be so similar "once you start peeling back the trim," he said.
The General Motors presentation, the rest of the virtual OEM Collision Repair Technology Summit and the more than a dozen regular virtual Repairer Driven Education courses can be accessed at rde.scrs.com. As noted above, all the virtual courses are replayable through Aug. 31, 2021.
More information:
"Global perspective on electrification, safety systems, emerging trends and collision repair" featuring General Motors (replayable through Aug. 31, 2021)
Society of Collision Repair Specialists, November 2020
General Motors OEM repair procedures
SCRS virtual OEM Collision Repair Technology Summit
SCRS virtual Repairer Driven Education
Images:
The 2021 Chevrolet Tahoe and Chevrolet Suburban will feature an "integrated front end assembly." (Copyright General Motors)
A 1 million-square-foot body shop at the General Motors Arlington, Texas, factory is tasked with building the 2021 Chevrolet Tahoe and Suburban. (Copyright General Motors)
The frame for a 2021 Chevrolet Tahoe is seen at GM's Arlington Assembly plant. (Copyright General Motors)
Share This: