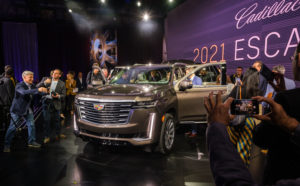 Though she didn't provide details about the body, Cadillac spokeswoman Tara Kuhnen on Friday said the next-generation 2021 Escalade's frame was modular, which "enables enhanced serviceability."
"In addition to front sections, the rear frame section is also serviceable in this generation of SUV frames," she wrote in an email.
She said the structure's construction includes "77 % high strength steel"
"The frame design was perfectly balanced for durability, safety and crashworthiness performance and stiffness enabling a smooth quiet ride," she wrote.
Kuhnen provided these other details:
• The frame is comprised of traditional cold formed stampings as well as both roll formed and hydroformed components to provide optimal closed sections.
• Conventional stamping processes (forming, drawing, wiping, trimming, piercing, extruding etc) have for years been making intricate components with tight tolerances.
• Both roll forming and hydroforming allow for the creation of an optimized, clean and simple design in structural components.  The roll forming  process forms extremely high strength steels with precision and repeatability.
• Hydroforming is a tried and true process which was pioneered by GM starting in 1999. The process uses highly pressurized fluid to shape the frame components. GM has used this technology ever since for better precision, dimensional stability and mass efficiency. (Minor formatting edits.)
Kuhen said she believed the Escalade's frame was similar to those found in the next-generation 2021 Chevrolet Tahoe and Suburban (which are made in the same plant as the Escalade will be) and the next-generation 2019-present Chevrolet Silverado.
The current-generation Escalade's frame was "fully boxed" and "composed of more than 75 percent high-strength steel," based on a product description of the 2018 model.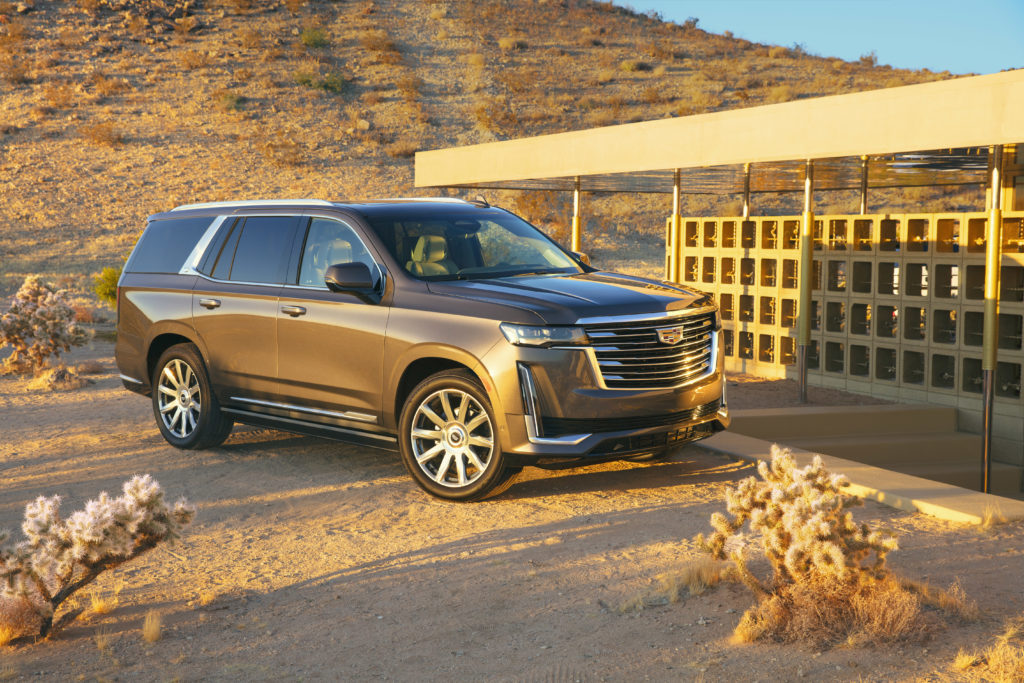 Suspension
The frame will be accompanied by a new architecture and an independent rear suspension, according to a Cadillac news release Tuesday.
"Escalade's new architecture enables a unique series of wins for drivers and passengers," Cadillac global product programs Vice President Tim Herrick said in a statement. "We greatly increased passenger space, expanded cargo carrying capability – and at the same time delivered significant enhancements to both ride quality and handling performance."
The new multilink rear suspension includes "three lateral arms, a large longitudinal arm, coil springs and a robust stabilizer bar," Cadillac wrote Tuesday.
Customers' rides will also be improved by the return of Cadillac's "signature Magnetic Ride Control, the world's fastest reacting suspension technology." The OEM said the system "uses sensors to continually 'read' the road and alter the damping rate of the shocks almost instantly. It reacts much faster than computer-controlled shock absorbers to reduce vertical body motion, body roll and vibrations that can often resonate in a large SUV."
Escalade buyers can also opt to add on an "Air Ride Active Suspension," which lets the SUV automatically lower its own ride height for better aerodynamics on a highway.
"(A) driver-selectable setting lowers the suspension 2 inches (51 mm) to aid passenger entry and exit when the vehicle is parked," Cadillac wrote. "Drivers can also raise the body for additional ground clearance when driving off-road."
The Air Suspension also continuously adjusts all four wheels' loads and heights as you drive.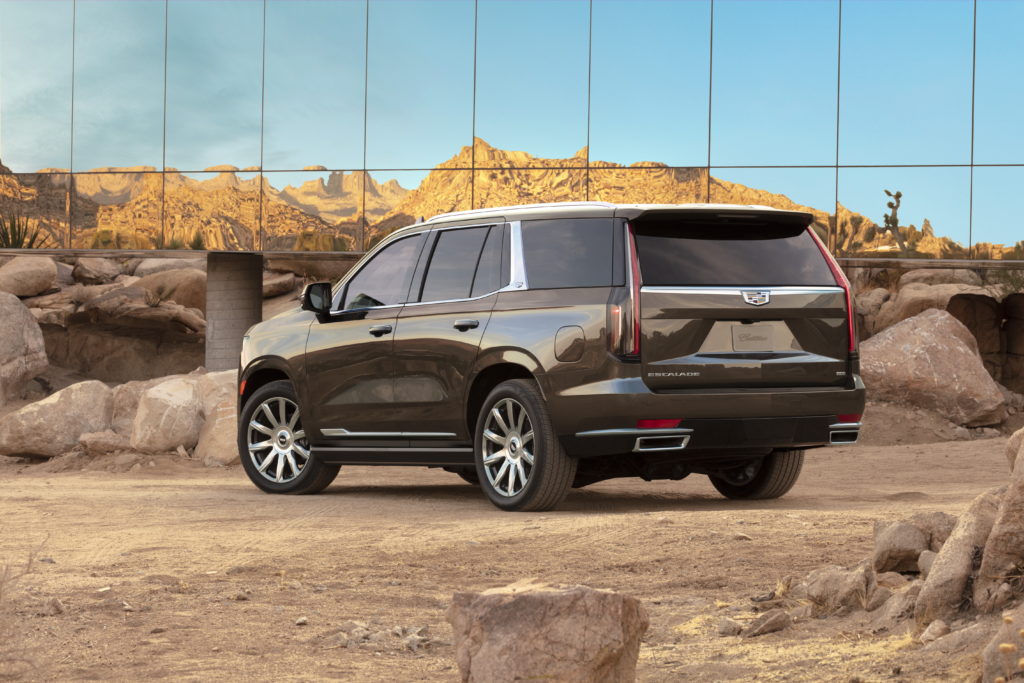 Other stuff:
Other items possibly of interest to the collision industry:
• We also know a little about the headlights: "Escalade maintains Cadillac's signature vertical lighting element, but the new interpretation adds a sleek, horizontal headlamp to reinforce a broad, confident stance. The tall, vertical, rear light signature continues but adds deep three-dimensional layers and finishes with detailed etching."
• A Sport trim with a black mesh grille will be available. Cadillac said its Luxury and Premium Luxury trims "showcase a bright Galvano finish," and the Platinum Escalade includes "unique interior and exterior details."
• There's a big curved OLED display area on the dash which includes a 16.9-inch infotainment screen, a 14.2-inch display behind the steering wheel and a 7.2-inch touch panel.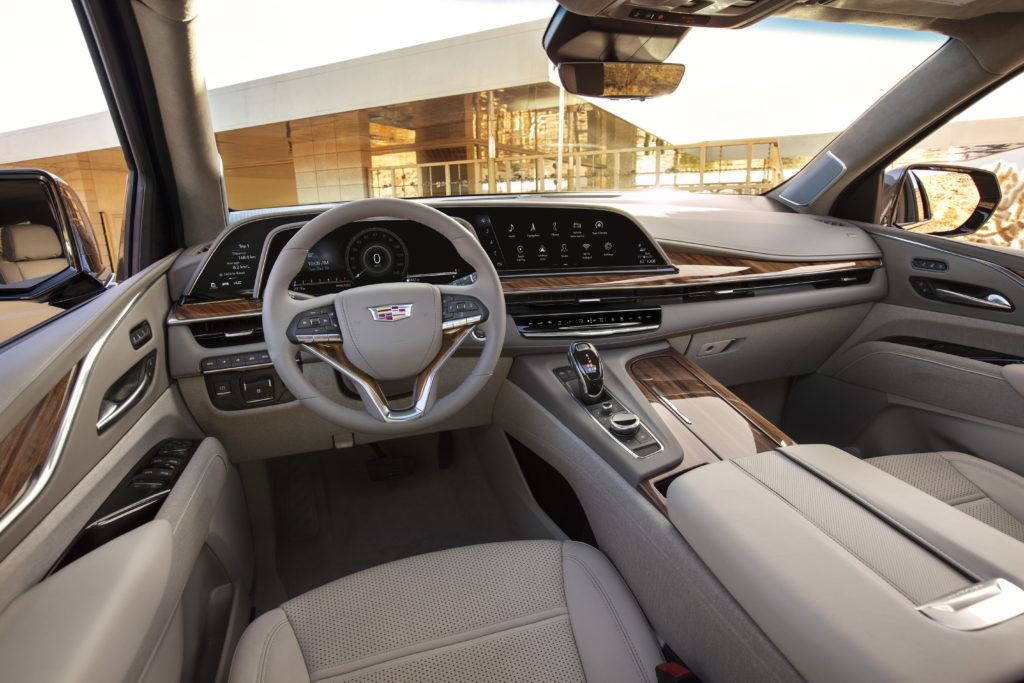 • A "Soft-close doors" feature can close doors slowly with electric motors once the door passes a certain point.
• A panoramic sunroof comes standard on all but the base Luxury trim.
• It's possible to get an infrared Night Vision and an Augmented Reality Navigation view of the road on the center display.
• The standard AKG audio system includes 19 speakers, a subwoofer and a 14-channel amplifier. The available AKG Studio Reference setup has 36 speakers and three amplifiers.
• And as Cadillac reported earlier, the hands-free-but-eyes-on, partially self-driving Super Cruise system is available.
"Escalade has always made a bold statement that says you've arrived," Cadillac exterior design manager Therese Pinazzo said in a statement. "We have updated that statement for a new era, adding layers of sophistication. The goal was to create a new Escalade that is unmistakable at a glance, and then rewards you with greater details on the second or even third read."
More information:
"2021 Cadillac Escalade Elevates the Extraordinary"
Cadillac, Feb. 4, 2020
Images:
The 2021 Cadillac Escalade is unveiled on Feb. 4, 2020. (Steve Fecht for Cadillac)
The 2021 Cadillac Escalade is shown. (Provided by Cadillac)
The 2021 Cadillac Escalade has 38 inches diagonal worth of OLED screen space. (Provided by Cadillac)
Share This: