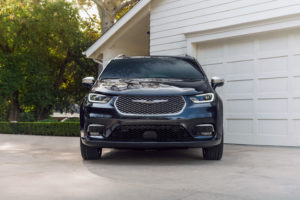 Chrysler on Thursday announced a refreshed 2021 Pacifica made safer by advanced driver assistance systems and stronger A- and B-pillars and quieter from noise, vibration and harshness upgrades like acoustic glass.
The OEM also described a redesigned Pacifica front end which includes standard LED headlights. It also offers owners an all-wheel drive variant.
Collision repairers ought to be looking up OEM procedures fresh online for every vehicle they receive, and a refresh like this makes this best practice even more crucial. A shop which handles a lot of Pacificas is likely to be fixing something on the 2021 model differently than they did on the 2017-20 editions.
Body changes
According to Chrysler, the new front-end design "features a bold, deeply sculpted face and sophisticated styling that does more with less to celebrate the entire width of the rear."
It uses a "more 'heroic' 3D diamond-style grille" featuring "Gloss Black" textures and surrounded by "Bright Chrome." It said the smaller lower grille uses the 3D diamond configuration and incorporates Gloss Black too.
The back of the minivan "is further dressed up with exterior trim features, including a lower tail end Bright Chrome valance molding."
FCA said its new standard LED headlights offer "more aggressive, linear design" and put out more light.
"LED headlamps provide exceptional lighting with a balanced beam of light that minimizes glare on oncoming traffic while doubling the light output directly in front of the vehicle to provide additional driver comfort," FCA wrote. "The LED headlamps help to better view objects with improved down road and spread illumination. Side lighting offers a broader range of light and improves visibility while cornering, and is activated by either steering wheel angle input or turn signal activations when the headlamps are on."
LED fog lights and daytime running lights also come standard.
"Larger and more deeply sculpted LED fog lamp bezels add visual energy and complement the sportiness of the overall design," the other wrote. "Fog lamp bezels are also touched with the painted black texture of the grille and also outlined with L-shaped chrome details."
FCA said it also added a new standard rear LED taillight which spans the entire back of the Pacifica and sits in a "High Gloss Black" housing containing a Chrysler emblem.
"The taillamp is cleanly and precisely integrated with the backup camera and aerodynamic functions in the single, simple housing," the OEM wrote.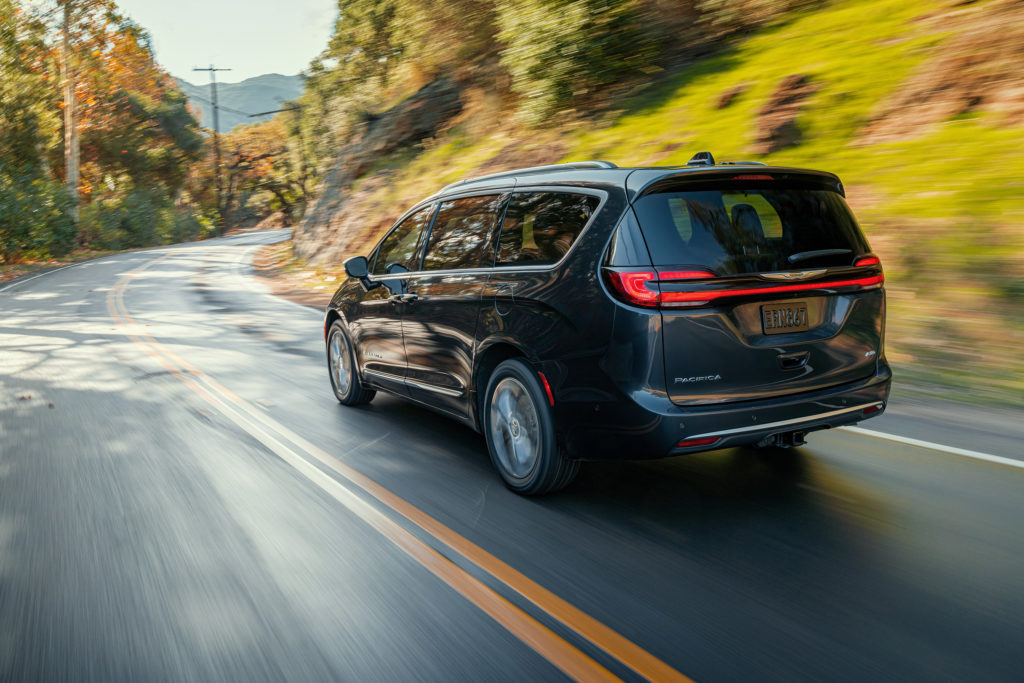 And if those weren't enough changes to keep straight, the S Appearance package FCA says appears on a third of Pacificas returns and adds "new exterior Anodized Ink finishes on the grille surrounds and badging, and a new 'Foreshadow' finish on the wheels."
The OEM also gives painters a new color to work with: "Fathom Blue."
"The new hue beautifully travels between light and dark color tones, celebrating the sculptural qualities of the refreshed exterior," FCA wrote.
Beneath the new exterior lies what FCA says is a "Stronger metal body structure" on the A- and B-pillars.
According to FCA, the minivan should perform better on the Insurance Institute for Highway Safety passenger-side small-overlap test.
Current-generation Pacificas built after August 2016 (FCA improved the structure) earn a "good" on the 40 mph IIHS driver-side small-overlap test but only rate an "acceptable" when crashed that way on the passenger-side.
Other notable exterior changes include auto-folding Limited and Pinnacle trim side-view mirrors and six new wheel designs.
NVH: Glass, seals, roof bows
Another major exterior change will be felt by both the body and glass repair industries. FCA said it would upgrade both its windshield and sliding door windows on all models, using acoustic glass for the former and thicker glass for the latter. Shops who pursue aftermarket glass will have to ensure it's truly "like kind and quality" to the improved OEM versions.
"Aftermarket glass manufacturers may represent their products as Original Equipment Equivalent, or OEE. No supplier is authorized to utilize FCA US LLC tooling, test equipment or Intellectual Property in the development or production of aftermarket glass," FCA wrote in a Nov. 20, 2019,  position statement. (Emphasis FCA's.) "Aftermarket windshields and moldings are often made with materials that do not adhere to FCA US LLC performance standards."
All plug-in hybrid Pacificas and the Limited and Pinnacle trims of the gas version also will receive acoustic front side glass.
Collision repairers will also encounter "upgraded roof bow stiffness" and "improved body sealing," according to FCA. The OEM also said it added "better fitments and door and glass seals for all price classes, further reducing in-cabin noise."
FCA said it should be 6-8 percent easier to understand what someone is saying thanks to its upgrades.
Again, check those OEM repair procedures. Errors on some of these factors could lead to bring-backs over a noisier ride, and the roof bow upgrade sounds like it could be structural consideration. (We've reached out to FCA to see what exactly it did to the bows; continue to check Repairer Driven News for updates.)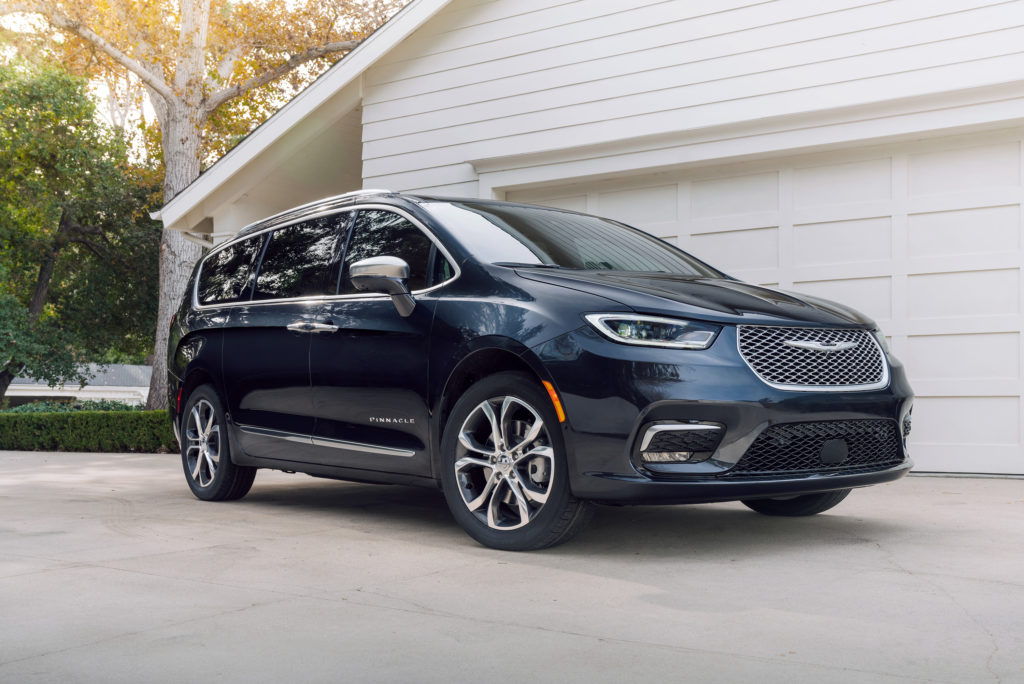 ADAS and AWD
FCA dumped a bunch of ADAS into the 2021 Pacifica standard, writing at one point:
New LED lights and Pedestrian Automatic Emergency Braking (PAEB) – both offered for the first time in the class as standard equipment – join Blind-spot Monitoring, Rear Cross Path detection, Rear Park Assist, Adaptive Cruise Control with Full Stop, electronic stability control (ESC), Forward Collision Warning with Full Stop, Lane Departure Warning, eight airbags and more as standard safety features.
On the 2020 model, it had asked owners to buy a package to get some of these features.
All-wheel drive –which arguably could also be called ADAS — is also offered as an option, as noted above. If the customer springs for it, repairers will encounter a rear sway bar and self-sealing tires standard.
The all-wheel drive uses a variety of inputs to determine when to activate, including detecting that it's cold out, the windshield wipers are live, "Rough road conditions/grades," electronic stability control in use, slipping front wheels, heavy acceleration and abrupt steering or throttle behavior.
More information:
"Chrysler Pacifica Reaches New Pinnacle, Offering All-wheel-drive Capability, Utility-vehicle-inspired Updates and the Most Standard Safety Features in the Industry"
FCA, Feb. 6, 2020
Featured images: The refreshed 2021 Chrysler Pacifica is shown in its Pinnacle trim. (Provided by FCA)
Share This: