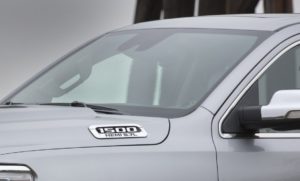 FCA confirmed that comments about aftermarket automotive glass in a recent position statement would also apply to the Tier 1 suppliers it relies on for OEM parts.
"Aftermarket glass manufacturers may represent their products as Original Equipment Equivalent, or OEE," FCA wrote in a Nov. 20 position statement. (Emphasis FCA's.) "No supplier is authorized to utilize FCA US LLC tooling, test equipment or Intellectual Property in the development or production of aftermarket glass. Aftermarket windshields and moldings are often made with materials that do not adhere to FCA US LLC performance standards."
This statement shouldn't come as a surprise regarding glass from a party with zero ties to the automaker. But confusion might exist regarding Tier 1 firms.
We asked the automaker to clarify this paragraph would apply to the Tier 1 manufacturers FCA contracts to provide it with official OEM glass.
"Yes, that is correct," Mopar media relations manager Dan Reid wrote in an email on Thursday. "No supplier is authorized to utilize FCA US LLC tooling, test equipment or Intellectual Property in the development or production of aftermarket glass."
Essentially, the Tier 1s can't just turn around and run off their own competing line of replacement glass for FCA vehicles if doing so involves any of FCA's intellectual property. They have to find another way to make the products.
DENSO described a similar issue at a July Collision Industry Conference in regards to the question of why it doesn't just sell the OEM parts it makes in its own packaging.
CCC also has confirmed that under its definitions for retailers, Tier 1 suppliers' aftermarket components "ARE NOT OPT OEM PARTS." (Emphasis CCC's.) Contractually, they can't characterize them as such within the software.
It noted that "Some insurers and parts distributors may utilize insurer designations to distinguish these parts from other aftermarket parts."
However, from CCC's perspective, there's only two ways to do so.
"The competing product line is NOT made for the vehicle manufacturers and is categorized with the 'Non OEM' / 'Aftermarket' part type," CCC wrote.
It observed that such components "typically do not come in OEM branded packaging and may have visible differences if the part contains OEM logos or other OEM Intellectual Property."
CCC also warned that such parts could run afoul of state laws if not certified.
"These manufacturers may not have received certification from CAPA," CCC wrote. "… Note: some states do not permit use of certain aftermarket parts unless certified by a recognized industry certification organization like CAPA or NSF."
A CIC Parts subcommittee led by SSF Imported Auto Parts director of business development Ken Weiss took a similar line at the November Collision Industry Conference.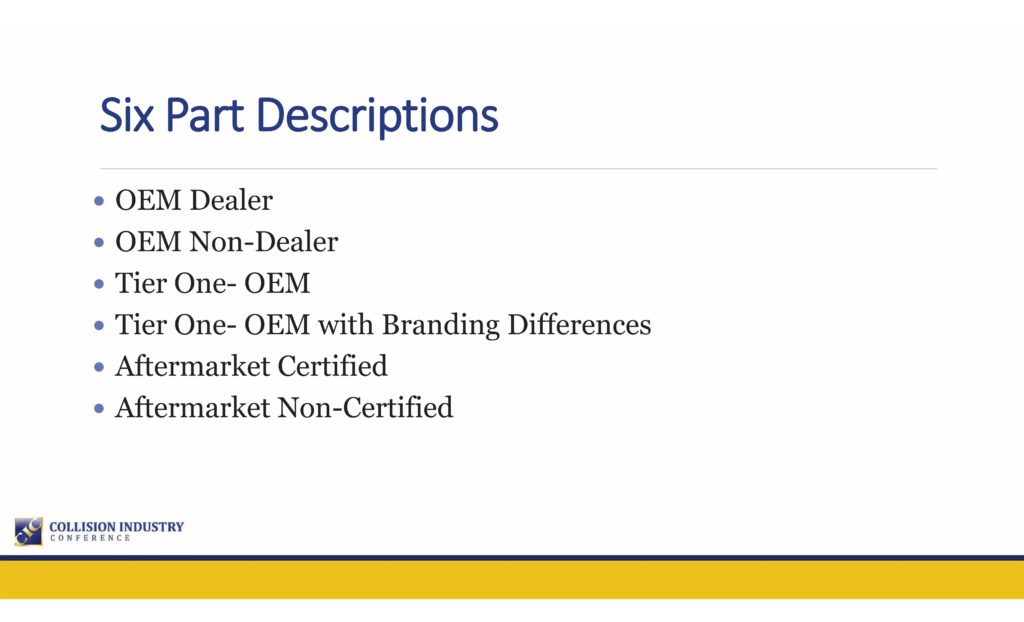 Weiss' Working Group I has proposed new parts be divided into six part categories, broadly classified along the lines of OEM, Tier 1-built parts identical to the OEM's, and aftermarket.
The group had considered but rejected a seventh category: "Aftermarket Tier One," defining it as a part a Tier One supplier to an OEM makes that might not be identical to the OEM, perhaps "reverse-engineered."
"We can't find any designation that would differentiate this part from any other aftermarket," Weiss said during the Nov. 5 Collision Industry Conference. Hence, the working group cut the term, he said.
More information:
"Authentic Mopar Glass Replacement" position statement
FCA, Nov. 20, 2019
FCA Tech Authority OEM repair procedure site
Images:
Automotive glass on a 2019 Ram 1500 Limited is shown. (Provided by FCA)
Collision Industry Conference Parts and Materials Committee Working Group I drew representatives of "Shops, Suppliers, Insurers & Info Providers," according to a slide presented to the CIC Nov. 5. That working group generated six part descriptions focused on business-to-business communications. (Provided by CIC)
Share This: