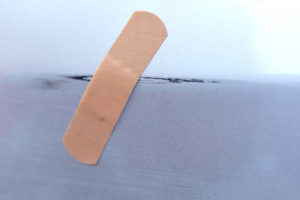 CCC has instructed suppliers not to classify blemished parts as any of the other six parts types permitted in its system, including "Optional OEM."
They just don't fit any of the categories, and placing them into one would only "create uncertainty around what the specified part for repair" was, CCC explained in an industry communique.
CCC has contractually obligated suppliers to classify any part into one of six categories:
OEM: "OEM parts are manufactured by or for the vehicle's Original Equipment Manufacturer (OEM) according to OEM's specifications for U.S. distribution.  OEM parts are available at OE/Vehicle dealerships or the specified supplier."
Optional OEM: "New OEM part manufactured by or for the OEM according to the OEM's specifications for U.S. distribution and available from the vendor specified on the estimate at vendor's discounted list price. Parts are delivered to repair shop in the original OEM manufacturer packaging and/or labeling."
Aftermarket: "New part offered as an alternative to the OEM replacement part including but not limited to: New part not manufactured by or for the OEM; new part not manufactured for OEM but produced by same manufacturer that also produces OEM parts; or new part manufactured by or for the OEM for distribution outside of the United States."
Reconditioned: "Reconditioned OEM part."
Remanufactured: "Remanufactured OEM part."
Recycled: "Used OEM part."
"For nearly a year, CCC has been with engaging suppliers, insurers, and repairers, discussing part-type descriptions, OPT OEM labels, and how this information may be presented on printed estimates," CCC wrote. "The conversations have proven extremely helpful in understanding the unique perspectives of each group and in building understanding around the issues and opportunities related to OPT OE parts."
CCC described blemished parts as "new parts that may be damaged or blemished" and said none of these categories were appropriate.
"New parts are not expected to have damage and there isn't currently a way to convey what is wrong with these parts, whether they can be used, additional labor or material cost needed if used, etc.," CCC wrote.
They can't count as recycled, for "Recycled parts are used OEM parts removed from salvage vehicles that have ARA grading standards to describe damage," CCC writes.
And a remanufactured or reconditioned part would have fixed the damage, according to CCC. "Remanufactured or Reconditioned parts are expected to be in 'like new' condition with damage that may factor into the repair cost, cycle time, or whether part could be used," the information provider wrote.
Speaking of such components, CCC also stressed in the document that used, remanufactured or reconditioned parts ""ARE NOT OPT OEM PARTS." (Emphasis CCC's.)
Asked about body shops wanting to prepare an estimate using blemished parts bought elsewhere, CCC Vice President of Market Solutions Mark Fincher said a manual entry option is available for estimators to represent items like that.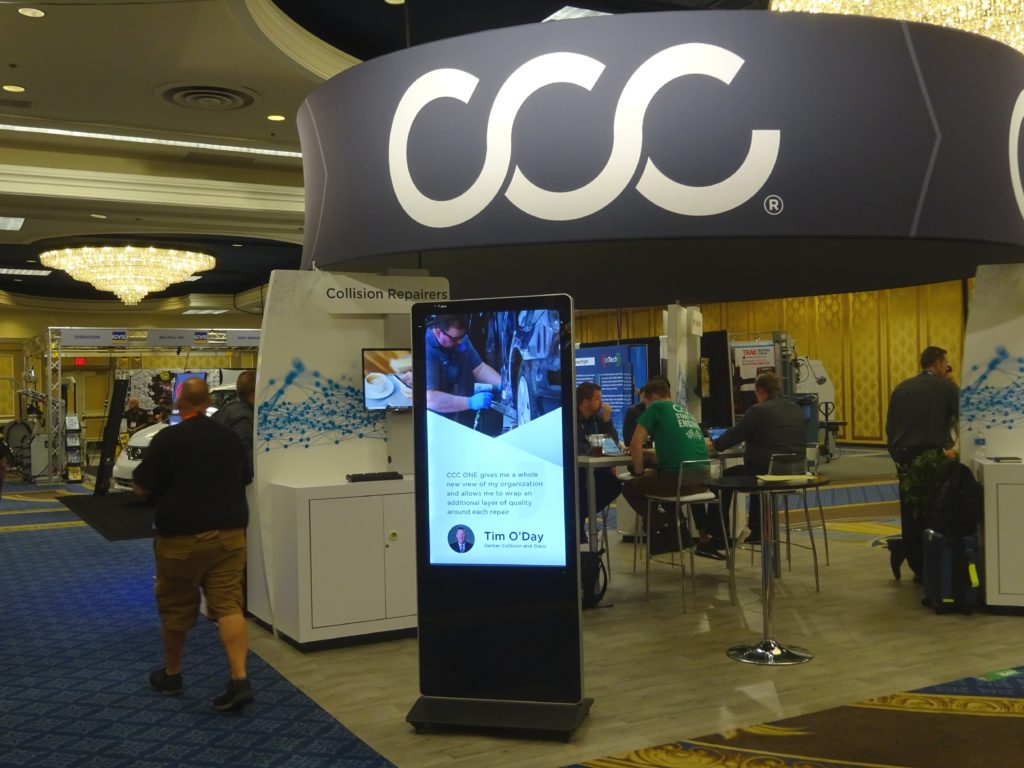 Tier 1 aftermarket
CCC also confirmed that Tier 1 suppliers' aftermarket components which compete with the parts they made for the OEM "ARE NOT OPT OEM PARTS" either. (Emphasis CCC's.)
It noted that "Some insurers and parts distributors may utilize insurer designations to distinguish these parts from other aftermarket parts."
However, from CCC's perspective, there's only two ways to do so.
"The competing product line is NOT made for the vehicle manufacturers and is categorized with the 'Non OEM' / 'Aftermarket' part type," CCC wrote.
It observed that such components "typically do not come in OEM branded packaging and may have visible differences if the part contains OEM logos or other OEM Intellectual Property."
CCC also warned that such parts could run afoul of state laws if not certified.
"These manufacturers may not have received certification from CAPA," CCC wrote. "… Note: some states do not permit use of certain aftermarket parts unless certified by a recognized industry certification organization like CAPA or NSF."
CCC's view of such parts seems to be in sync with that of a CIC Parts subcommittee led by SSF Imported Auto Parts director of business development Ken Weiss.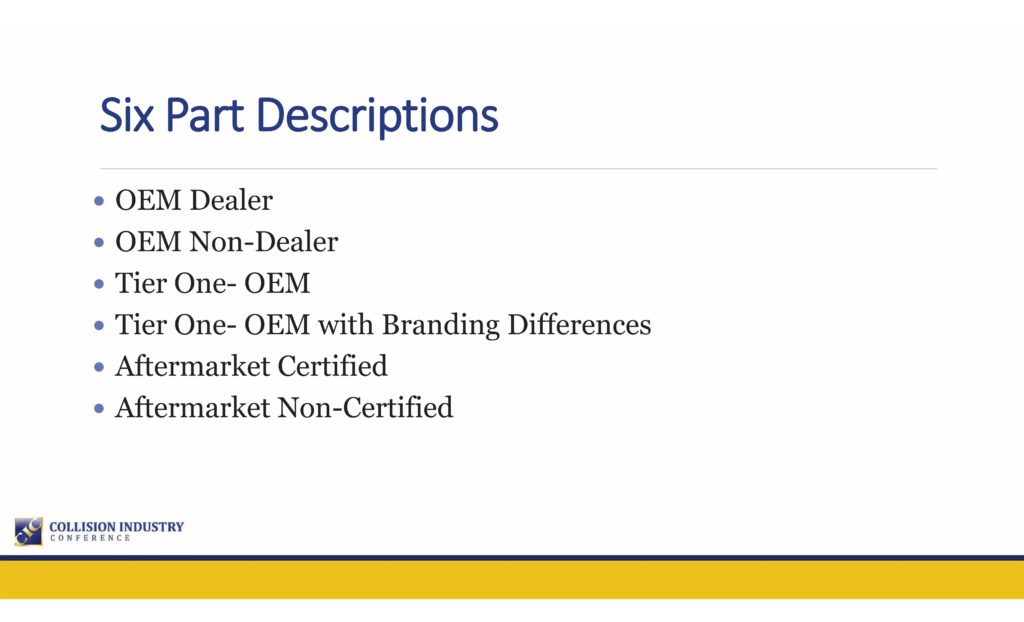 Weiss' Working Group I has proposed new parts be divided into six part categories, broadly classified along the lines of OEM, Tier 1-built parts identical to the OEM's, and aftermarket.
The group had considered but rejected a seventh category: "Aftermarket Tier One," defining it as a part a Tier One supplier to an OEM makes that might not be identical to the OEM, perhaps "reverse-engineered."
"We can't find any designation that would differentiate this part from any other aftermarket," Weiss said during the Nov. 5 Collision Industry Conference. Hence, the working group cut the term, he said.
The group's two aftermarket categories include:
Aftermarket Certified: "An aftermarket manufacturer's part certified by a separate entity other than the manufacturer, such as by CAPA or NSF. It's sold in aftermarket packaging by a third-party supplier and carries a third-party warranty."
Aftermarket Non-Certified: "An aftermarket manufacturer's part lacking certification from a separate entity. It's sold in aftermarket packaging by a third-party supplier and carries a third-party warranty."
CCC's position also seems to work under a proposal by Society of Collision Repair Specialists Executive Director Aaron Schulenburg's competing Working Group II. That subcommittee advocates splitting all new parts into just two broad buckets: OEM and non-OEM.
To be OEM, a part must be a "New part in the Vehicle Manufacturers' (also referred to as OEM) authorized and official packaging, manufactured directly by the OEM or their approved, contracted supplier, distributed exclusively through the original equipment manufacturer's official, authorized distribution network in the market specified by the OEM, warranted, updated, and supported exclusively by the OEM."
Everything else was "Non-OEM."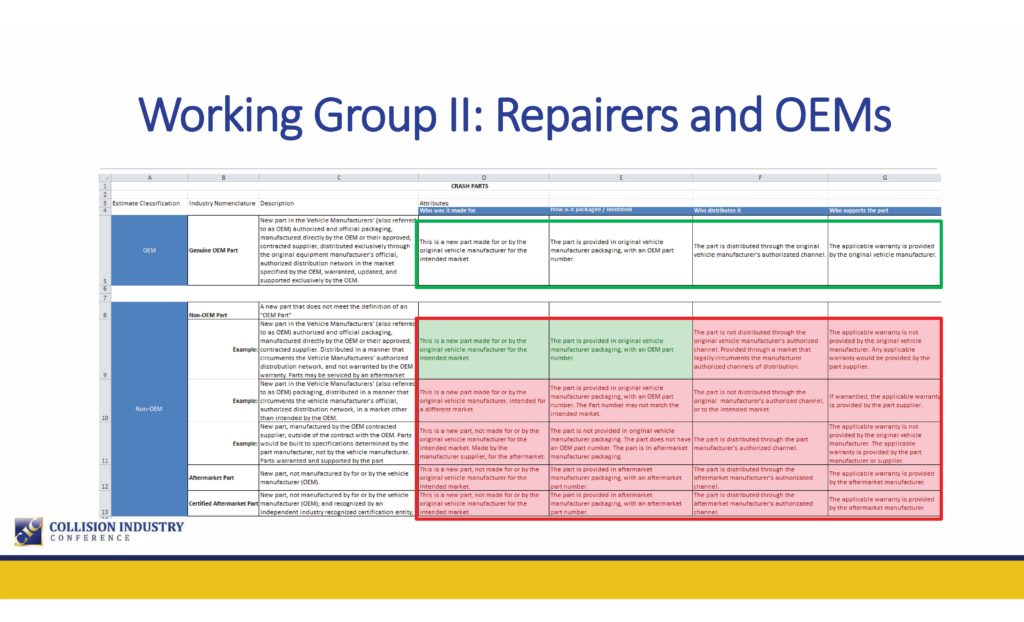 More information:
How to configure what you want 'Optional OEM' parts to be called on CCC estimates
CCC, Nov. 27, 2019
"Parts & Material Committee Update" slides
Collision Industry Conference, Nov. 5, 2019
Images:
New blemished parts for now don't fit into any of CCC's six parts categories and shouldn't be sold in CCC under any of those designations, according to the information provider. (lzf/iStock)
The CCC booth at SEMA 2019 is shown. (John Huetter/Repairer Driven News)
Collision Industry Conference Parts and Materials Committee Working Group I drew representatives of "Shops, Suppliers, Insurers & Info Providers," according to a slide presented to the CIC Nov. 5. That working group generated six part descriptions focused on business-to-business communications. (Provided by CIC)
Collision Industry Conference Parts and Materials Committee Working Group II drew shops and OEMs and generated two broad part categories focused on business-to-consumer communications. (Provided by CIC)
Share This: