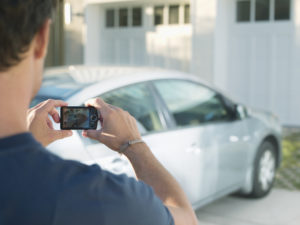 New CCC data suggests a rise in photo estimating and virtual appraisal methods has come at the expense of service center and insurer staff appraisals.
A chart in Susanna Gotsch's December "CCC Trends" indicates nearly 15 percent of repairable claim appraisals were handled with photo or virtual estimating through the end of the third quarter. That's up from what CCC earlier had calculated as just 0.6 percent in 2016 and from around a tenth of appraisals last year.
CCC's data indicates appraisals generated via Open Shop, independent appraisers and DRP shops has held fairly steady compared to the service centers and insurer staff numbers.
"Analysis of the auto claims processed by CCC on behalf of its insurance and collision repair customers reveals the percent of appraisals generated at a shop on behalf of an insurance company was 47 percent for the first nine months of 2019, after peaking at 49.7 percent" in a prior year, Gotsch, a director and industry analyst, wrote in the latest "Trends" report.
DRP arrangements produced 39 percent of these appraisals in the first nine months of 2019, "down from 40 percent in 2016 and 2017 as more carriers expand their method of inspection options for customers to methods like photo/virtual estimating," according to Gotsch.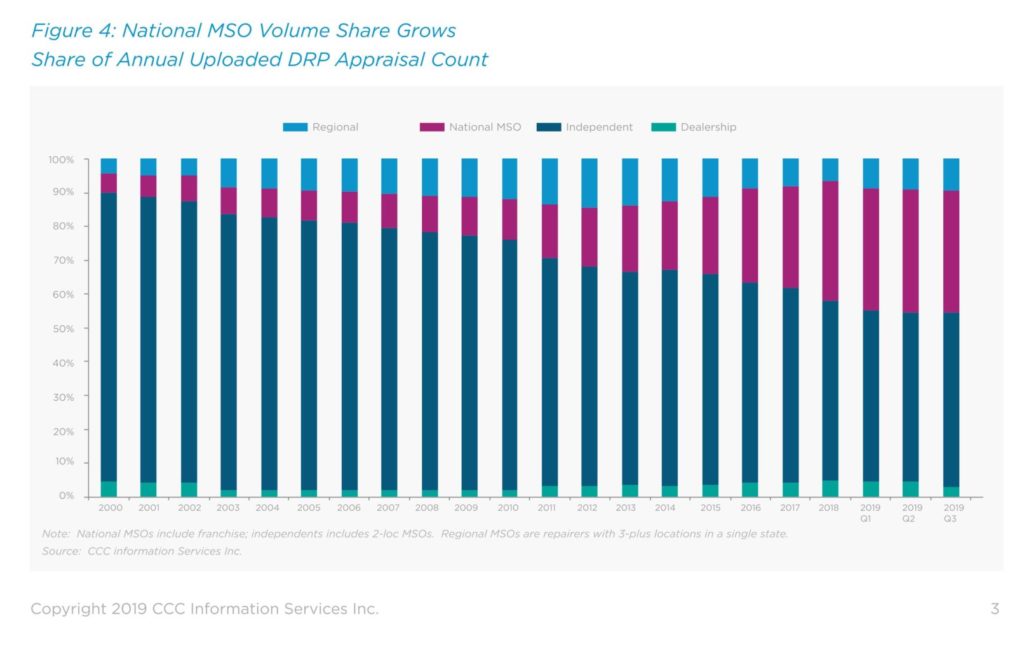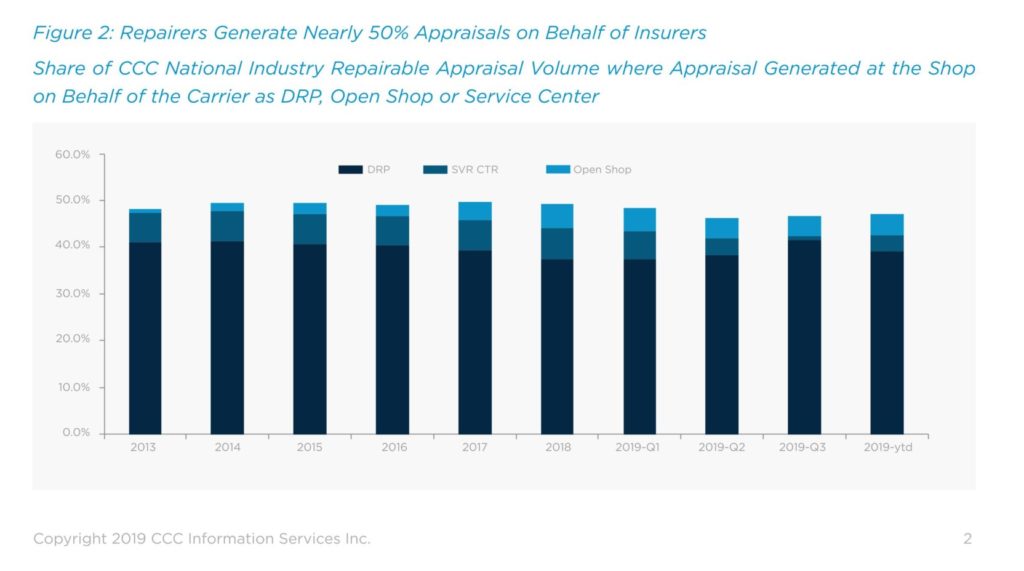 State concerns
Too heavy a reliance on photo or virtual estimating might backfire if an insurer cuts too far back on their staff or can't treat customers properly. At least two states have raised issues with photo estimating results upon consumers: Vermont's insurance regulator issued a bulletin last week, and Oregon's insurance agency has proposed a similar one.
The Vermont Division of Insurance on Dec. 4 warned insurers that they must promptly inspect a vehicle in person if requested by a claimant.
Bulletin No. 206, signed by Department of Financial Regulation Commissioner Michael Pieciak, also holds that insurers can't deduct certain costs from a total loss at all without an in-person inspection of the vehicle.
Vermont Regulation 1-1979-2 Section 8 states "Such costs as, but not limited to, reconditioning and tune up shall not be deducted by insurer, unless such deductions are justified and detailed as a result of actual inspection by licensed adjuster or appraiser."
Pieciak wrote in the document dated Wednesday his agency defined "actual inspection" as an actual human being next to the actual car.
"It is the Department's position that the words 'actual inspection' require an in-person inspection by an adjuster or appraiser rather than the use of virtual evidence such as photographs or videos," Pieciak wrote in the bulletin.
Pieciak said that an increase in photo or video estimating by Vermont insurers has been accompanied by "a rise in consumer complaints alleging that the virtual adjustment process has unreasonably delayed the settlement of vehicle damage claims or resulted in inadequate settlement offers."
The Oregon Division of Financial Regulation, which oversees insurance in that state, last month wrapped up taking public comment on a similar bulletin.
"Consumers have reported that some insurers are providing misleading information and limiting the availability of in-person adjusters," the draft states. "Some insurers have stated that claim payments would be substantially delayed unless a virtual claim adjustment system is used. In some instances, once an individual initiates a claim via a virtual claim adjustment system, insurers have refused a subsequent request for an in-person adjuster.
"Consumers have reported that some insurers are failing to conduct reasonable investigations when a loss occurs and are systematically making initial claim settlement offers that are significantly lower than the actual cost of repair. In some instances, insurers are failing to adequately respond when the consumer presents evidence that the initial offer was inadequate or refusing to send a human adjuster in a timely manner when an in person investigation is needed."
More information:
"COLLISION REPAIR INDUSTRY EXPERIENCES GROWTH, CHANGE"
CCC, Dec. 9, 2019
Vermont Insurance Bulletin No. 206: "Virtual Adjustment of Vehicle Partial And Total Loss Claims"
Vermont Department of Financial Regulation, Dec. 4, 2019
"OREGON DIVISION OF FINANCIAL REGULATION BULLETIN DFR 10/21/2019 –"
Oregon Department of Consumer and Business Services/Oregon Division of Financial Regulation, Oct. 21, 2019
"Industry Trends with Susanna Gotsch – December 2019"
CCC YouTube channel, Dec. 9, 2019
Images:
Photo/virtual estimating's share of repairable appraisals in CCC has increased over 2018, based on data through the third quarter of 2019. (Chris Ryan/iStock)
CCC data through the end of the third quarter of 2019 suggests a rise in photo estimating and virtual appraisal methods has come at the expense of service center and insurer staff repairable appraisal volume. (Provided by CCC)
CCC data through the end of the third quarter of 2019 suggests the percentage of repairable appraisals handled by shops on behalf of insurers has held fairly steady. (Provided by CCC)
Share This: