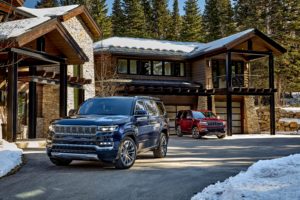 Jeep on Thursday announced the return of the Wagoneer and Grand Wagoneer, describing body-on-frame vehicles with a mix of materials including steel, aluminum and composites.
"Substantial emphasis was placed on designing an all-new body-on-frame structure that uses high-strength steel to bolster vehicle performance, safety, reliability and reduce overall weight," Jeep wrote Thursday in a news release accompanying the unveiling of the two 2022 models. "The result is a body structure that is both strong and lightweight, balanced yet functional. Premium manners are enhanced with approximately 6,500 welds in the body alone. The use of lightweight, high-strength aluminum closures, including the hood, doors and composite liftgate, helps reduce weight and boost fuel economy."
Jeep said the body of the 2022 Wagoneer and Grand Wagoneer "leverages the attributes of high-strength steel to help direct crash energy away from the cabin." It singled out "high-strength steel" front tire blockers on the frame which shove the wheels laterally — and away from occupants — during a crash.
More active crash safety features include eight airbags, including driver and passenger knee airbags, and standard active head restraints.
Jeep described the frame as an "high-strength steel" design which "uses advanced materials and engineering to be lightweight yet stiff and durable."
Shops also will find frame "side rails that are tall and fully boxed" and crossmembers "double sheer welded to the inside and outside of the frame for improved durability and roll stiffness."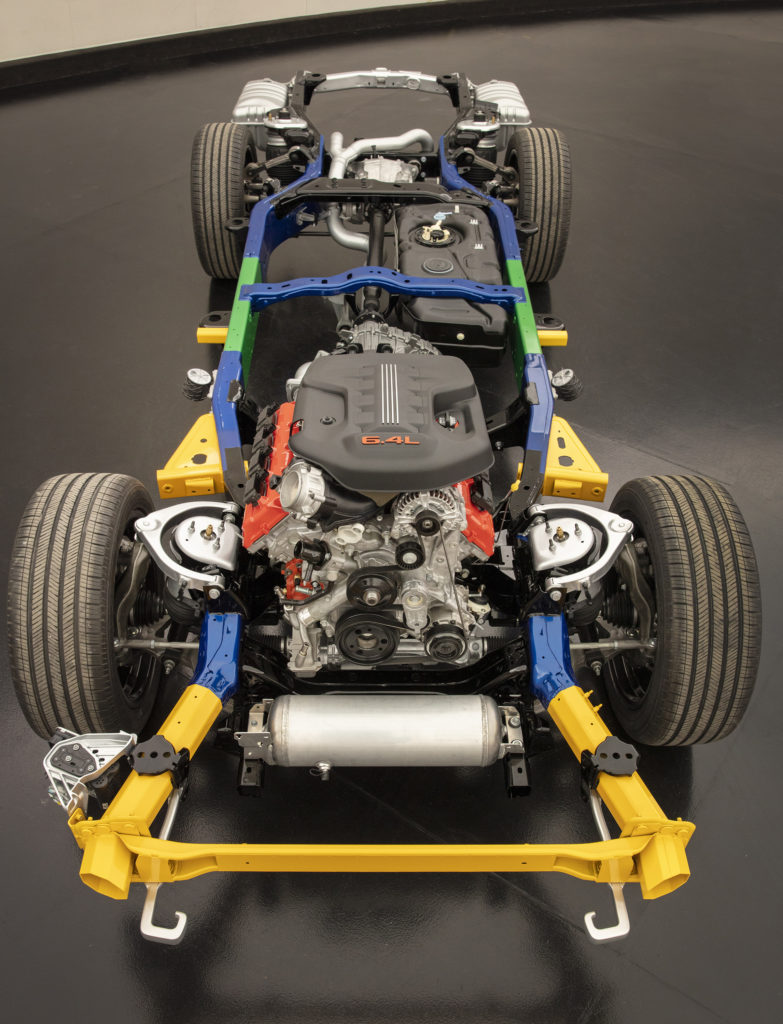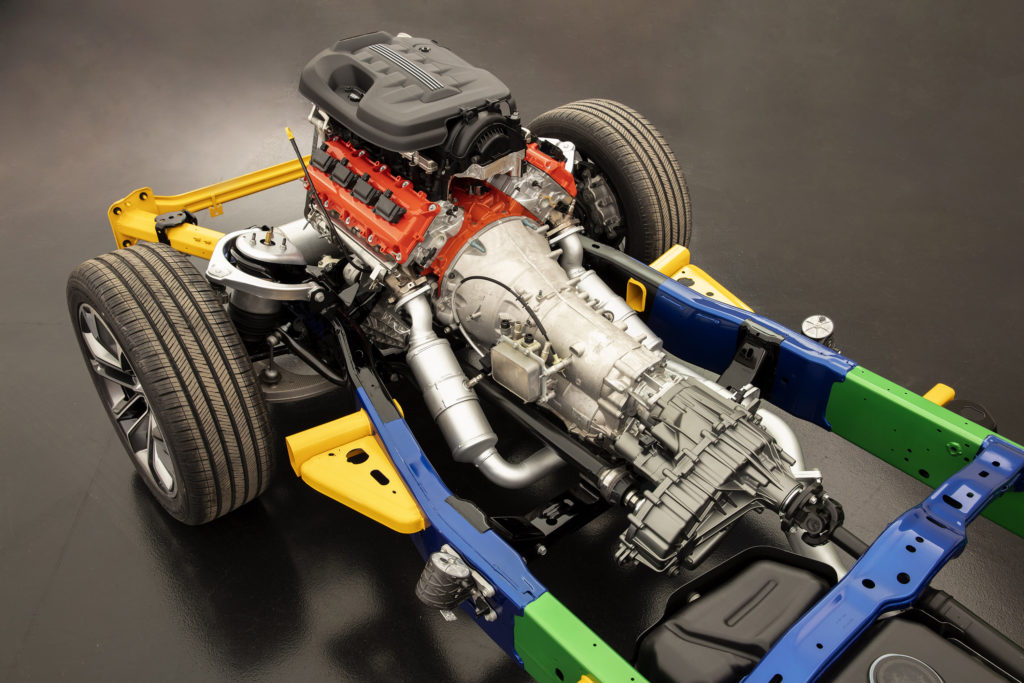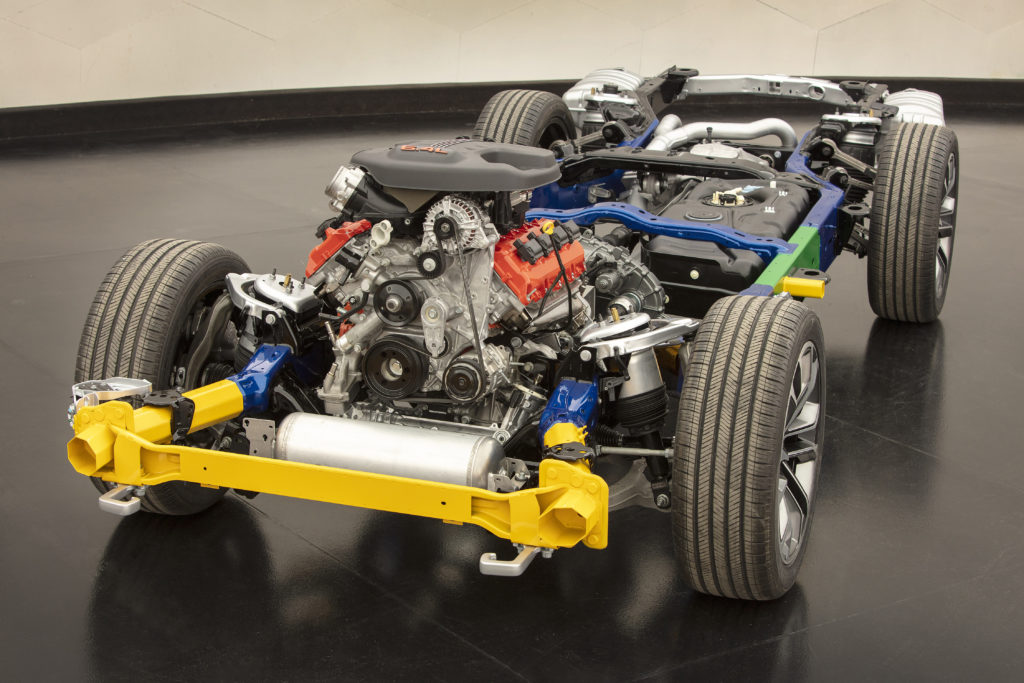 Jeep said Wagoneers have four "four steel skid plates that protect the front axle, transfer case, fuel tank and rear stabilizer bushing (with Advanced All-Terrain Group)." It didn't specify what, if any, skid plates could be found on the Grand Wagoneer.
Jeep also went mixed-material for the suspension — to the point of using a composite there as well.
The front independent double-wishbone suspension carries both aluminum lower control arms and "lightweight composite upper control arms," Jeep said. The OEM described the suspension as steel.
The front suspension includes a front stabilizer bar behind the front tires, "further enhancing roll stiffness." The rear suspension is multilink and also has the ability to automatically level itself based on the load.
An air suspension is optional on the Wagoneer and standard on the Grand Wagoneer, Jeep said. (The OEM said the Wagoneer was meant to compete in the large SUV class, and the Grand Wagoneer seeks to be a premium model.) If present, that air suspension will also automatically lower the Jeep 0.6 inches when the SUV reaches 35 mph as an aerodynamics measure.
Jeep also plans to give occupants a smoother ride with a new "active/electronic-tuned" mass module the OEM says can absorb more movement when either Jeep is idling. "This feature offers enhanced levels of comfort, versatility and performance," Jeep wrote.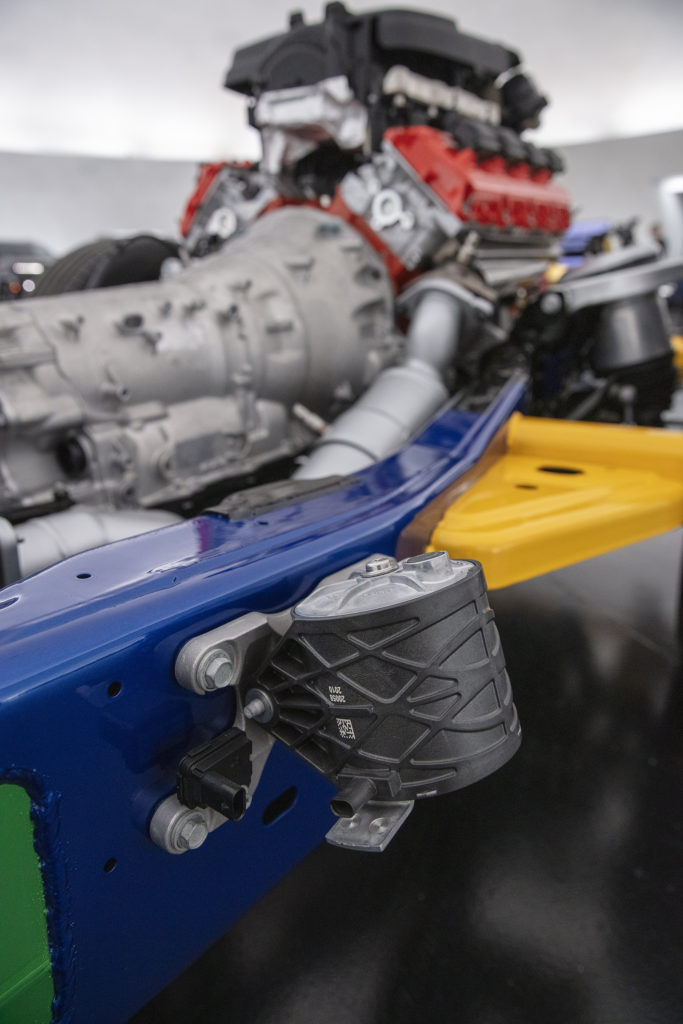 The OEM also added what it called an enhanced active noise cancellation system and deployed door seals and an acoustic windshield and set of front door windows for passive noise, vibration and harshness reduction.
Moving further out on the exterior, Jeep said both models' grilles contain an active shutter system, allowing the vehicle to automatically shut off airflow and improve aerodynamics if cooling is unnecessary.
The Grand Wagoneer will also come standard with "paint-over-chrome laser-etched grille rings, similar to a knurled finish seen on fine watches." Series III Grand Wagoneer grilles will offer "raised aluminum badging with two-piece copperchino-accented letters," and the Grand Wagoneer Obsidian will feature a "Black Oynx grille and badging."
Among the other body features of note:
A standard front air dam will automatically drop itself 3.5 inches as either Jeep model reaches 35 mph.
The Wagoneer will carry a standard side step. The Grand Wagoneer will come standard with fender flares and power side steps.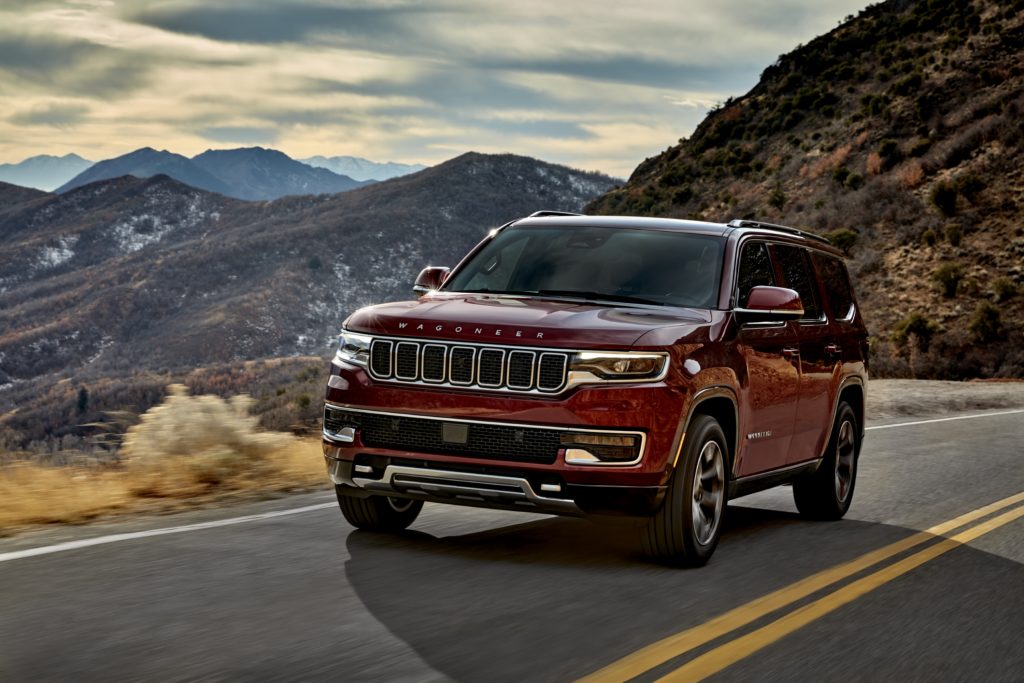 Paint colors for either model include Baltic Gray, Bright White, Diamond Black, Luxury White, River Rock Blue, Silver Zynith and Velvet Red. Customers can also buy a Grand Wagoneer in Ember Red, Midnight Sky Blue and Rocky Mountain Green. The Grand Wagoneer also comes with a two-tone paint job featuring a black accent roof, while the Grand Wagoneer Obsidian adds Gloss Black side-view mirrors and body color wheel and door flares.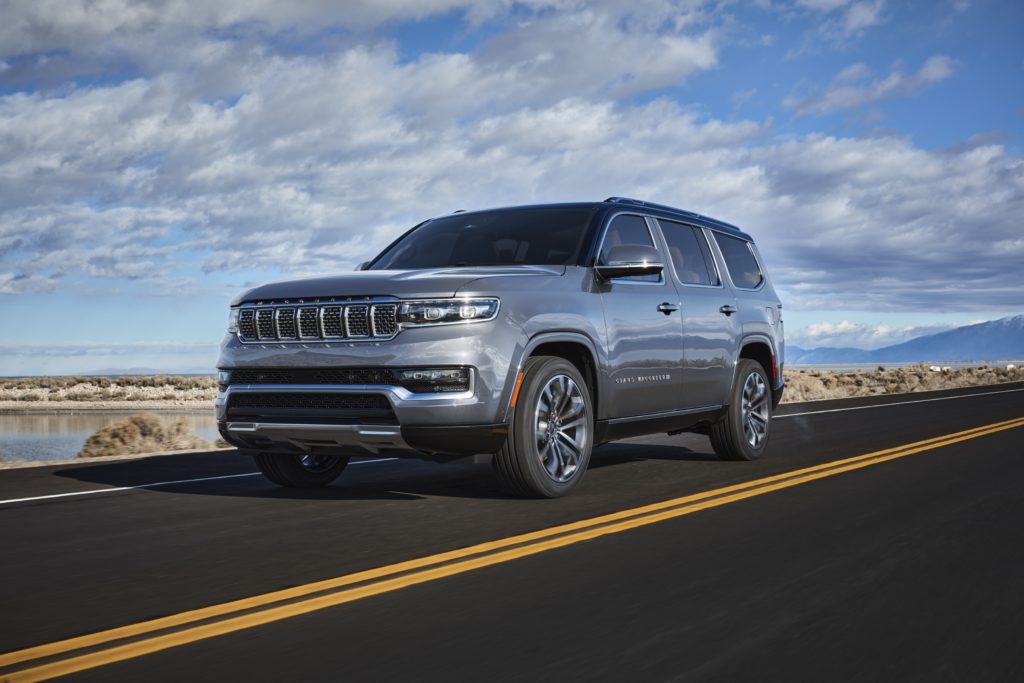 Jeep said Mopar will offer more than 75 "factory-engineered, quality-tested parts and accessories" for the Wagoneers and Grand Wagoneers. "Unlike any other aftermarket offerings, Mopar performance parts and accessories are backed by a full factory warranty. Mopar products are created in close conjunction with the Jeep brand, engineering and product design-office teams for development, testing and validation. Strict standards and factory-exclusive data — information not available to the aftermarket — are used to seamlessly integrate Mopar parts and accessories in order to deliver proper fit, finish and quality right down to the color, grain, and appearance of each product."
The vehicles will go on sale in the second half of this year.
More information:
"All-new 2022 Wagoneer and Grand Wagoneer: A Premium American Icon Is Reborn as the New Standard of Sophistication, Authenticity and Modern Mobility"
Jeep, March 11, 2021
Images:
The frame of the 2022 Jeep Wagoneer and 2022 Jeep Grand Wagoneer is shown. It includes high-strength steel. (Provided by Jeep)
The frame of the 2022 Jeep Wagoneer and 2022 Jeep Grand Wagoneer is shown. It includes high-strength steel front tire blockers on the frame which shove the wheels laterally — and away from occupants — during a crash.  (Provided by Jeep)
The 2022 Jeep Wagoneer and Grand Wagoneer include what Jeep called "active/electronic tuned mass modules" that absorb movement. (Provided by Jeep)
The 2022 Jeep Grand Wagoneer grille is shown. (Provided by Jeep)
The 2022 Jeep Grand Wagoneer Series III has a two-tone paint job including a black accent roof. (Provided by Jeep)
The 2022 Jeep Wagoneer Series II is shown. (Provided by Jeep)
Share This: