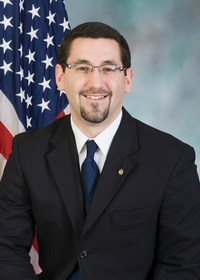 The sponsor of a Pennsylvania bill capping daily rates at $40 for any "towing storage facility" said he's no longer seeking the legislation.
"Rep. Ortitay asked that I tell you that the bill is no longer being pursued," Tracy Polovick, a spokeswoman for sponsoring Rep. Jason Ortitay, R-Cecil Township, wrote in an email Tuesday in response to a Repairer Driven News inquiry on House Bill 880. She said Ortitay didn't specify a reason for his change of heart.
Another representative for Ortitay offered a similar assessment later that day. She didn't know the reason either, but mentioned that "outside concerns" had arisen about the bill.
HB 880 would have added language to the 2012 Towing and Towing Storage Facility Standards Act stating:
A towing storage facility may not charge more than $40 per 24-hour period of total daily storage fees for a noncommercial vehicle and the charges shall not accrue beyond three months. The total daily storage fees for a noncommercial vehicle shall be conspicuously posted at the towing storage facility.
The 2012 towing law defined "Towing storage facility" as a "location where a motor vehicle has been towed as a result of a motor vehicle accident and is securely stored pursuant to an agreement with the tow truck operator who has towed the vehicle."
HB 880 also says the facility needs to notify the owner of the vehicle's location.
Ortitay, R-Cecil Township, had originally told fellow lawmakers he was seeking to curb "predatory towing practices."
"Recently, a constituent of mine incurred massive storage fees at a towing storage facility, but they were not aware of where their vehicle was being stored until after thousands of dollars in fees had already been accrued," Ortitay wrote March 10. "My bill would remedy this by placing a good-faith notice requirement on a storage facility to notify a vehicle's owner of the vehicle's location.  This could be fulfilled simply by mailing a letter to the owner. Additionally, this bill would place a $40 per day maximum on the storage fees.  As a point of reference, parking in Center City Philadelphia is $37 per day."
The measure had drawn four other sponsors, split evenly between Republicans and Democrats. It was sent to the House Transportation Committee March 12.
Pennsylvania Collision Trade Guild director Steven Behrndt (Crawford's Auto Center) on Monday argued House Bill 880 would be applied to auto body shop storage as well and described it as an industry concern.
Behnrndt argued that "towing storage facility" under the bill would include any location where a vehicle sets, including auto body shops. "It doesn't matter where it falls," he said.
He felt the legislation would be attractive to insurers amid what he called a trend of cycle times dragged out by photo estimating. Cars sit "week after week after week" without sufficient claims personnel to evaluate them in person, he said.
Behrndt also challenged the $40 cap as insufficient for certain areas of the state. He said his Downington, Pa.-based collision repair business has charged $60 a day for storage for the past three years, and "it's time it goes up anyhow."
Be heard: Pennsylvania lawmaker contact information can be found here.
Featured image: Pennsylvania state Rep. Jason Ortitay, R-Cecil Township, is shown. (Provided by Pennsylvania Legislature)
Share This: