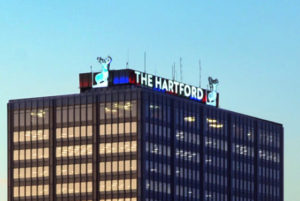 The Hartford board of directors on Tuesday unanimously voted against Chubb's offer to buy the rival carrier for more than $23 billion in cash and stock.
Hartford directors felt that it wasn't worth going any further with Chubb's cold-call offer of $65 per share for the Top 20 auto insurer.
"The Hartford today announced that its board of directors, after consultation with its financial and legal advisors, has unanimously rejected Chubb Limited's March 11, 2021, unsolicited proposal to acquire The Hartford and determined that entering into discussions regarding a strategic transaction would not be in the best interests of the company and its shareholders," the Hartford wrote in a Tuesday news release. "The board reaffirmed its commitment and resolve in the continued execution of The Hartford's strategic business plan."
The Hartford's 2020 10-K reported it had more than 357.5 million shares outstanding as of Feb. 18, which means the Chubb offer would represent a roughly $23.2 billion acquisition. Chubb said it would pay shareholders a mix of stock and cash.
The Hartford ranked No. 20 in private passenger auto insurance market share in 2019, according to the National Association of Insurance Commissioners. Preliminary NAIC 2020 data places the Hartford at No. 19 and found more than $1.91 billion in earned private passenger auto premiums. The Hartford's 10-K reports nearly $2.06 billion.
"The Company is in the process of transforming its automobile and homeowners products to regain competitive advantage with the state-by-state rollout of a new automobile product beginning in March of 2021," the Hartford wrote in the 10-K.
Chubb's North American business posted $822 million in net earned private passenger auto premiums.
Body shops polled by CRASH Network viewed Chubb as one of the nation's Top 3 for customer service and repair quality in 2020, giving it an "A" in the outlet's "Report Card." The Hartford ranked below the B- national average with a C+.
Chubb does not appear to have issued any comment on the Hartford's decision to reject its terms.
More information:
"The Hartford Board Of Directors Unanimously Rejects Unsolicited Proposal From Chubb"
The Hartford, March 23, 2021
Featured image: The Hartford's corporate headquarters are shown. (Provided by the Hartford)
Share This: