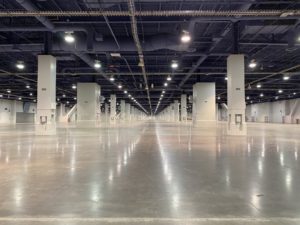 SEMA last month announced a floorplan overhaul which dedicates the entire South Hall Upper space to the Collision Repair and Refinish and Tools and Equipment branches of the show.
The move of the two categories from the Las Vegas Convention Center's North Hall offers those industries more space for new exhibitors and permits vendors to expand their individual booth sizes, SEMA events Vice President Tom Gattuso said Thursday.
"Absolutely, we removed the growth restrictions that had been in place during the past few years and exhibitors now have the opportunity to expand their booths – something that many exhibitors have been requesting," Gattuso wrote in an email. "Exhibitors will be able to expand into a larger space and develop truly unique booths in South Hall, where there is a 25-foot ceiling, virtually unlimited load capacity, and state-of-the-art convention services. South Hall is traditionally known for housing some of the most exciting and creative exhibits at the Show, and we cannot wait to see what these new sections bring to the space."
The Society of Collision Repair Specialists, which has a heavy SEMA presence due to its Repairer Driven Education Series and OEM Collision Repair Technology Summit, said Wednesday it toured the new site in March and "left with an excitement of what is to come."
"The announcement that the Collision Repair and Refinish section – combined with Tools & Equipment – is moving to the Upper South Hall is obviously a big change; but after inspecting it, we see it as a huge positive for our section of the Show," SCRS Executive Director Aaron Schulenburg wrote in an email.
"Collision had really reached capacity within North Hall, with many vendors expanding across the street into Westgate exhibit space, and even overflowing into other Show areas. The move to Upper South is going to allow all those companies to unify under one roof, and provide what we believe will be a sense of focus on the show section for the collision repair attendee base. Additionally, it will provide opportunity for expansion. Existing exhibitors had been on booth size restrictions for the past several shows, unable to expand their presence despite a desire from many to do so; the new hall will accommodate that growth. It will also allow new exhibitors to come in and exhibit with their collision repair, refinish, tools and equipment peers, rather than having a concern that they don't have the seniority to be centralized with other similarly appointed businesses.
"In walking the Show floor, we took note that the Upper South Hall is much larger than some may realize. The hall is larger in stature than the entire North Hall." Schulenburg  also called the ceiling height similar to the North Hall, "easily accommodating any height exhibit members of our industry are accustomed to having at the show."

South Hall Lower — directly below the collision industry's new SEMA home — will continue to contain Wheels & Accessories and the Global Tire Expo.  Gattuso said rooms near the South Hall would be used for both collision and tire industry education sessions, and the Upper South Hall allowed SEMA "to pair education and networking functions with the exhibits and create a lot more of a connection for people."
Schulenburg also touted the "immediate proximity" of South Hall upper to the education classrooms.
"Navigating between exhibits and education will be the easiest it has ever been, making for an improved experience for attendees, and giving them more opportunity to spend time on the Show floor between classes," he wrote.
SCRS also pointed out that the repairers who want to commute to the convention center using the Las Vegas Monorail will benefit from a stop right next to the South Hall.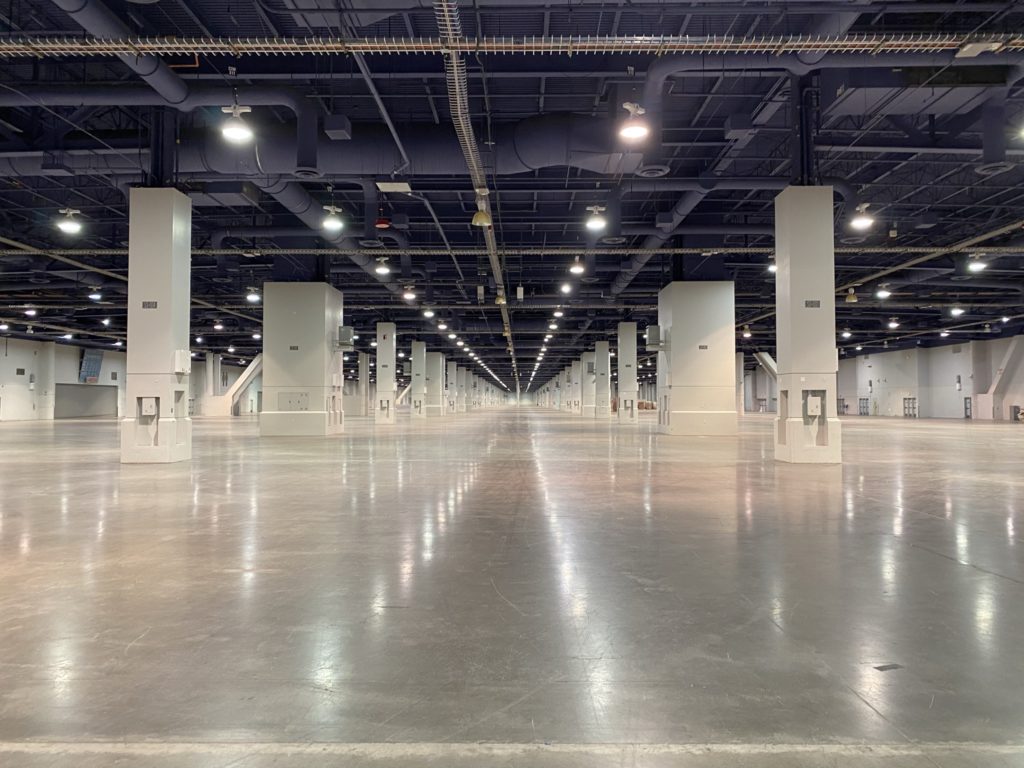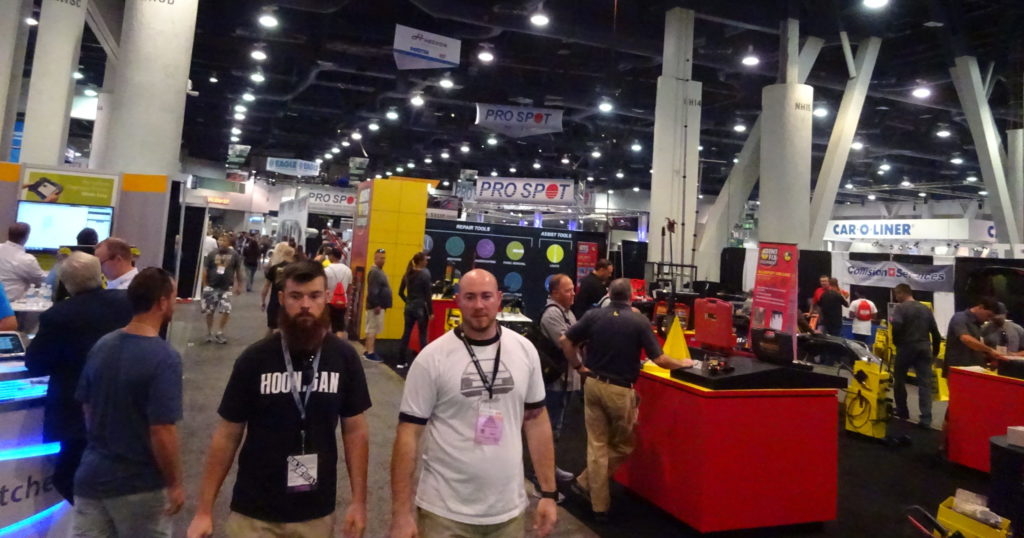 The reshuffling for the in-person SEMA 2021 on Nov. 2-5 follows the convention center's January addition of a 1.4 million-square-foot West Hall.
"It's been more than a decade since any significant changes were made to the layout of the Show, but we're always looking for ways to improve navigation of the SEMA Show floor, ease congestion throughout the event, create more synergy between adjacent sections, and offer new features that will enhance the overall attendee experience," Gattuso wrote. "We were able to offer some creative solutions over the years, but the expansion of the Las Vegas Convention Center really opens up the possibilities. It's the perfect opportunity to introduce exciting new features and plans that we otherwise wouldn't be able to do.
"When it comes to South Hall, there is a tremendous upside to having Collision Repair & Refinish adjacent to Tools and Equipment, as well as in being in close proximity to the Wheel & Accessories and Global Tire Expo. Buyers in these market segments will be able to navigate the event much more efficiently and meet with more relevant exhibitors. Also, there are meeting rooms adjacent to South Hall that will be used for education programming in the Collision and Tire industries. This, too, will make it more efficient than ever for buyers to attend relevant seminars and visit with exhibitors."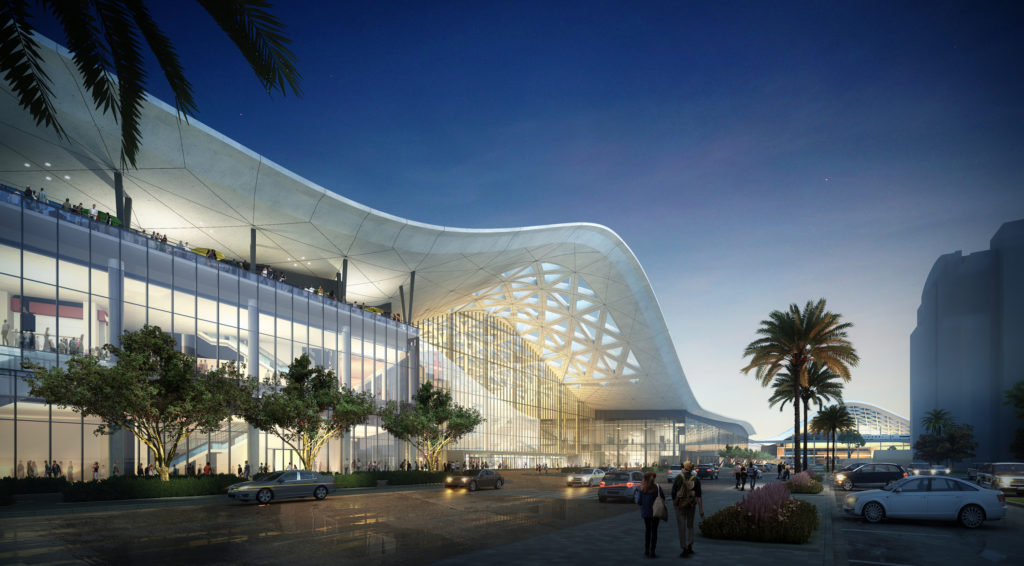 The new West Hall will house at least two of the four show segments previously found in the South Hall Upper: Trucks, SUVs & Off-Road and Powersports & Utility Vehicles. It will also contain Restyling & Car Care Accessories, which previously could be found next to the Collision Repair section in the North Hall.
Asked why Restyling wasn't kept near the Collision segment given auto body shops' detailing needs, Gattuso said the Boring Company high-speed tunnel onsite would zip SEMA attendees from the South Hall to the West Hall in a minute, compared to what might have been a 15-minute walk in the past.
"Many market segments cross over to one another, and the Collision Repair & Refinish section is well positioned to benefit from the sections in both Upper and Lower South Hall," Gattuso wrote. " With Restyling & Car Care in the new West Hall, attendees from the Collision Repair & Refinish area will be able to quickly and easily travel between the South and West Halls using the new underground tunnel built by Elon Musk's Boring Company."
Other changes include the relocation of the Business Services wing of the show from the South Hall Upper to the North Hall. The New Product Showcase, which used to live in South Hall Upper as well, remains a wild card.
"The New Products Showcase is the top destination for industry buyers and the media," Gattuso wrote. "With that level of importance, we are going to be very deliberate with where it is located. As we complete our exhibit space application process, we will analyze the floor plan and traffic-pattern, and we will place the New Products Showcase in an area where it will produce maximum benefit. The goal is to generate a high level of attention to the products and exhibitors, and to shine a light on the innovation and progression of our industry. As specifics evolve about the New Products Showcase — as well as about other aspects of the 2021 SEMA Show — we will announce details on our website and in our publications. We encourage you to keep an eye out because we have some new and exciting things planned for this year's SEMA Show."

SEMA said nearly 1,000 exhibitors had already confirmed plans to attend SEMA 2021, and the show is taking reservations for space now. SEMA will issue full refunds if the show ends up cancelled again.
"The industry is eager to reconnect," SEMA CEO Chris Kersting said in a statement March 18. "The return to an in-person SEMA Show gives resellers a chance to engage with an amazing gathering of suppliers, new products, stunning vehicle builds and networking opportunities. We are excited to provide our industry with a world-class marketplace that will help them grow and expand their businesses."
SEMA said in a March 18 news release that visitors would find an "optimized" SEMA floorplan which "offers room for new features and enhancements for an improved overall attendee experience.
"… The realignment is one element of a comprehensive plan to enhance the entire attendee experience, connecting exhibitors with buyers throughout the four-day event with engaging and interactive features and activities. Details on additional resources, including a new online component that focuses on manufacturers, new products, feature vehicles, and educational resources, will be announced as they are finalized in the coming weeks."
More information:
"SEMA Show Organizers Announce Plans for New West Hall"
SEMA, March 18, 2021
Register for a 2021 SEMA booth
Images:
The Collision Repair & Refinish and Tools & Equipment sections of SEMA 2021 will be housed in South Hall Upper. (Barry Dorn/Society of Collision Repair Specialists)
From left, the 2019 SEMA and 2021 SEMA floorplans are shown. (Provided by SEMA)
The North Hall of SEMA 2017 is shown. The North Hall had housed the Collision Repair & Refinish and Tools & Equipment sections, but SEMA 2021 will see them moved to South Hall Upper. (John Huetter/Repairer Driven News)
The new Las Vegas Convention Center West Hall is shown. (Provided by SEMA)
The 2021 SEMA floorplans are shown. (Provided by SEMA)
Share This: