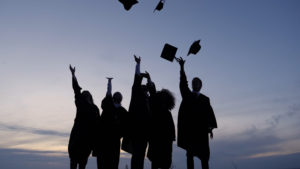 An ASE Education Foundation review and overhaul of vo-tech accreditation requirements has largely preserved the thresholds collision education programs need to qualify for recognition.
The ASE Education Foundation said it solicited input from parties "including secondary and post-secondary instructors, state Dept. of Education, working technicians and representatives from Gerber, Caliber Collision, Service King, 3M, Car-O-Liner, Axalta, Sherwin Williams, Chief Automotive, and I-CAR" to develop the revised format released Jan. 1.
Collision programs' educational offerings will continue to receive accreditation in the same four categories: Non-Structural, Structural, Painting/Refinishing and Mechanical/Electrical. All programs must still continue to offer sufficient Damage Analysis, Estimating and Customer Service education, and the Structural and Non-Structural programs will continue to require a welding course of study.
The ASE Education Foundation said it made "Minor changes to the number of priority tasks in each area" and "Edits, additions, and deletions" for "task lists, tool lists, and equipment lists." But it will still require students to have the same number of hours in each area and demand the same qualifications of instructors.
All tasks required to be taught by the schools to receive the various ASE accreditations are considered "High Priority" and assigned either a HP-I or HP-G designation. The school must teach 95 percent of the HP-I skills and 90 percent of HP-G skills.
With the exception of the Damage Analysis, Estimating and Customer Service section, the revision produced more "High Priority" tasks and demanded more of those tasks be taught. However, as noted above, students must put in 46 hours worth of approved Damage Analysis, Estimating and Customer Service time, just as they did under the old standards.
A comparison of the 2018 standards and the new 2021 collision repair accreditation requirements can be seen here. Schools can seek accreditation using either set of standards through June 30. Effective July 1, campuses can only apply under the new requirements.
The new accreditation rules come amid what the organization described in January as a nation that's shedding collision repair vo-tech programs.
Seidner's Collision Centers development and training director Gene Lopez had advocated for a simplified set of requirements during past Collision Industry Conferences, arguing that most shops would be ecstatic with a technician versed in just four skills: Removing and replacing a bolted-on component, detailing, entry-level prepping of a vehicle for paint, and fixing a small dent.
A Collision Repair Education Foundation and I-CAR industry study released in 2019 found the industry only needed graduates to have less than 10 tasks.
"Survey respondents indicated which tasks they would expect a technical school program graduate to be able to perform with very little supervision," states an executive summary of the survey, which drew responses from more than 675 collision companies. "Respondents chose an average of 9.3 tasks, similar to selections made in 2016 (9.2 tasks).
"The top four requested tasks remained the same, as they have since 1995. Electrical Repairs is still the least expected entry-level skill."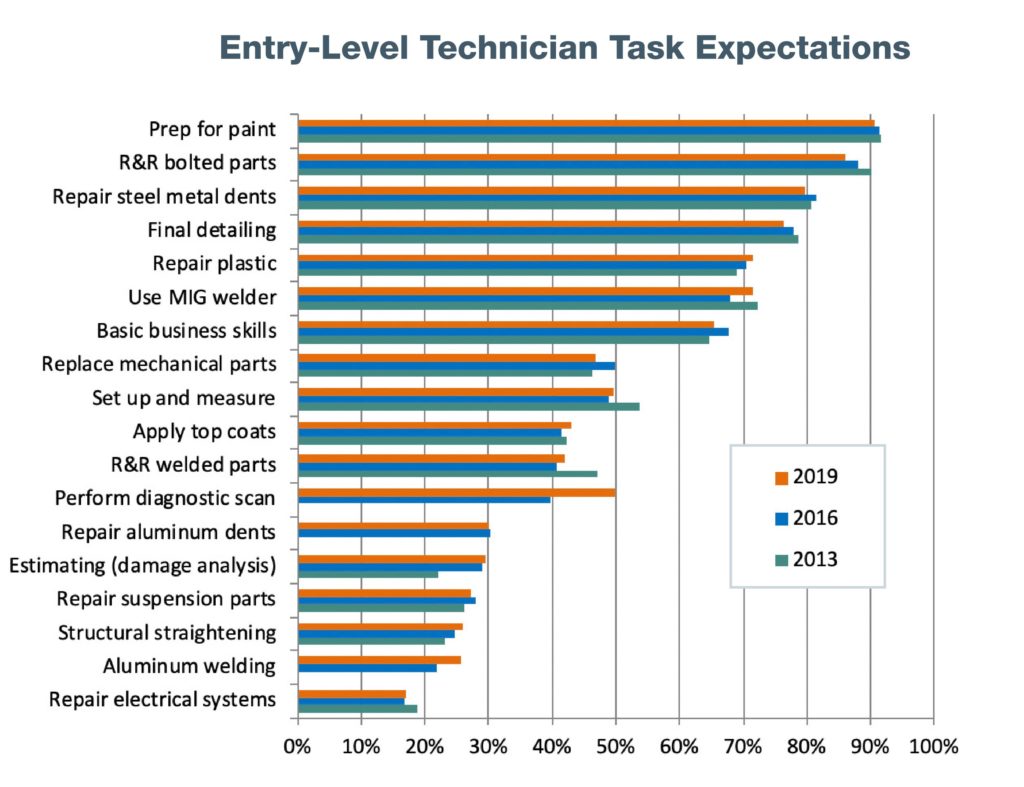 Lopez pushed for a simplified accreditation requirement again during the Jan. 21 virtual CIC.
"The hurdle is too high to become accredited," Lopez said of San Gabriel Valley, Calif.-area schools on whose advisory boards he sits. The nearly 400 tasks previously required for ASE Education Foundation accreditation demanded a "full-on" body shop, he said.
Accreditation in all six categories offered for collision vo-tech historically meant completing 347 out of 377 tasks under the ASE Foundation's 95 percent/90 percent rules. The new accreditation would increase the list of potential tasks to 390 skills and require 357 of them be learned.
However, that's "MASTER" level accreditation. As noted above, schools can be accredited for just some of these programs, which can bring the task list down to less than 200 skill options and requirements for some accreditation options. (Mechanical/Damage and Painting/Damage).
"It's up to the program," ASE Education Foundation Vice President George Arrants told the January CIC. Nothing required a school to teach every subject that could be accredited, merely the ones relevant to the local community, he said. Arrants also said the task list provided "flexibility" to add or remove specific skills.
He also argued that offering too small a list of requirements wouldn't provide enough breadth to support a full collision program. "They'll just undo the program," he said of a school.
Arrants stressed that the task list was developed by the industry itself. In this case, the revision committee involved a "fresh group" of panelists which included many newcomers to the process and made for a sort of "clean slate."
Arrants also noted that trade schools used to play the ASE Education Foundation and I-CAR off against each other, declaring that the campus had selected one program and didn't need the other. Today, the two groups work more closely together.
During a open mic session of the January CIC, Lopez called the cost of accreditation an issue for many schools, including those not being reaccredited. He said more schools could be accredited — and then qualify for funding and grants only available to such schools — if the task list permitted a lower tool, equipment and material outlay, "say $100,000."
The chat at the virtual CIC also addressed the question of the threshold for accreditation.
I-CAR technical products, programs and services Vice President Jeff Peevy wrote: "Do we want students to be exposed to a lot of different things or be really good at the key tasks needed."
Tradiebot Industries industry and customer engagement global director Beth Rutter, who has been working with Enterprise on a collision education pilot program, replied: "That is the ongoing debate Jeff. The task list came from a wide range of industry shop owners, managers and industry experts like Mike Anderson. Over and over again collision shops tell us that they want students educated – not basically – but professionally."
Peevy later wrote: "I think the questions are, 'what is it we ultimately want a student to be able to do in their career?' or 'what is it shops need them to do well when they first start their careers?' I have struggled with these questions for years."
More information:
ASE Education Foundation 2021 collision repair standards compared with 2018 standards
ASE Education Foundation, January 2021
ASE Education Foundation 2021 collision standards
ASE Education Foundation 2021 collision tools and equipment

ASE Education Foundation 2021 collision task lists
ASE Education Foundation 2018 collision standards
Images:
What skills should a collision vo-tech program graduate be expected to have? The topic arose during the virtual Jan. 21, 2021, Collision Industry Conference. (Funkey Factory/iStock)
The basic skills demanded of an entry-level technician remain fairly consistent, according to a Collision Repair Education Foundation and I-CAR study. (Provided by CREF)
Share This: