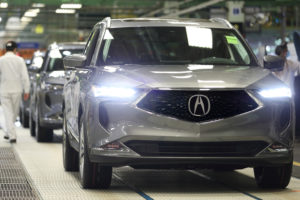 Acura's next-generation 2022 MDX expands the aluminum content on the popular SUV, according to a January Body Repair News which also highlights some repair considerations associated with the nonferrous parts.
The prior-generation 2014 MDX came with an aluminum hood and front and rear reinforcement beams. The current-gen MDX, which went on sale in February, keeps those parts aluminum and adds fenders, die-cast front damper housings, and a radiator support also crafted from the element.
Acura in a Jan. 12 news release noted that the 2022 MDX was the first to exclusively use Honda's East Liberty, Ohio new 5,000-ton press "which allows for sharper sculpting of the hood and body panels while forming steel and increased amounts of aluminum."
Acura in the Body Repair News said a shop would need to ward off galvanic corrosion related to the aluminum fender by installing insulation clips alongside each fender bolt. As for the die-cast aluminum housing, Acura said it must be "replaced only as an assembly." It's attached using adhesive and self-piercing rivets, the OEM said.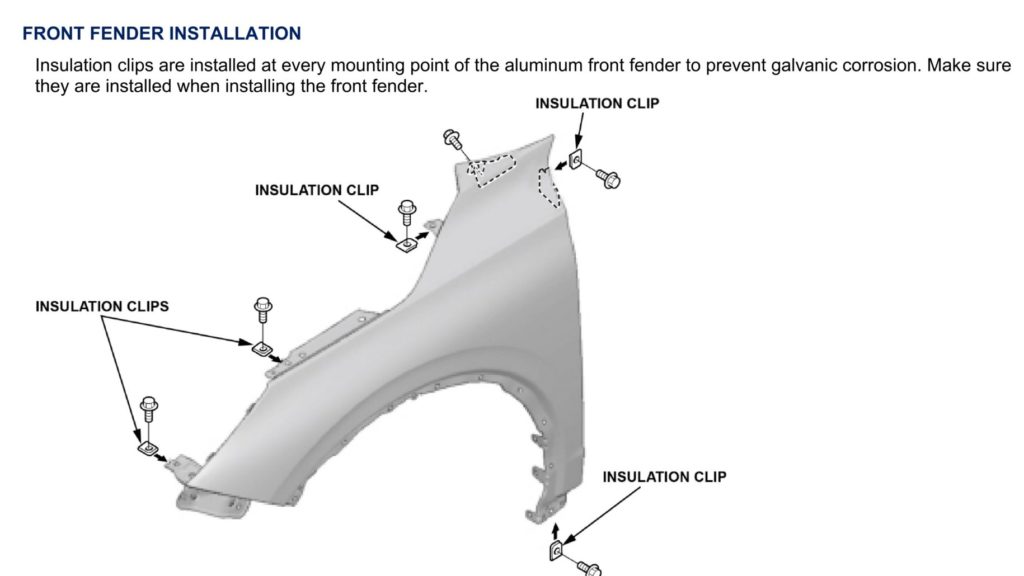 "The mating surface between the front damper housing and the steel front wheelhouse are coated with high-performance adhesive (HPA) and fastened with self-piercing rivets (SPRs)," Acura wrote. "The SPR will be preset in the replacement damper housing."
Acura in December 2020 said the cast aluminum housing was "45-percent stiffer overall for better noise isolation."
The 2022 MDX also carries a significant concentration of higher-strength steels, just as its predecessor did. Perhaps the most significant of these remains the 1,500-megapascal "door rings," large single-piece structures encompassing the A- and B-pillars, hinge pillar and front halves of the roof and frame rails.
These still cannot be repaired; they must be replaced as a single unit, Acura said in January.
"Complete replacement is required; no repairs are allowed," Acura wrote in the Body Repair News. "Installation requires prewelding and application of adhesives in some positions before installation. Refer to the outer stiffener ring replacement procedure for more information."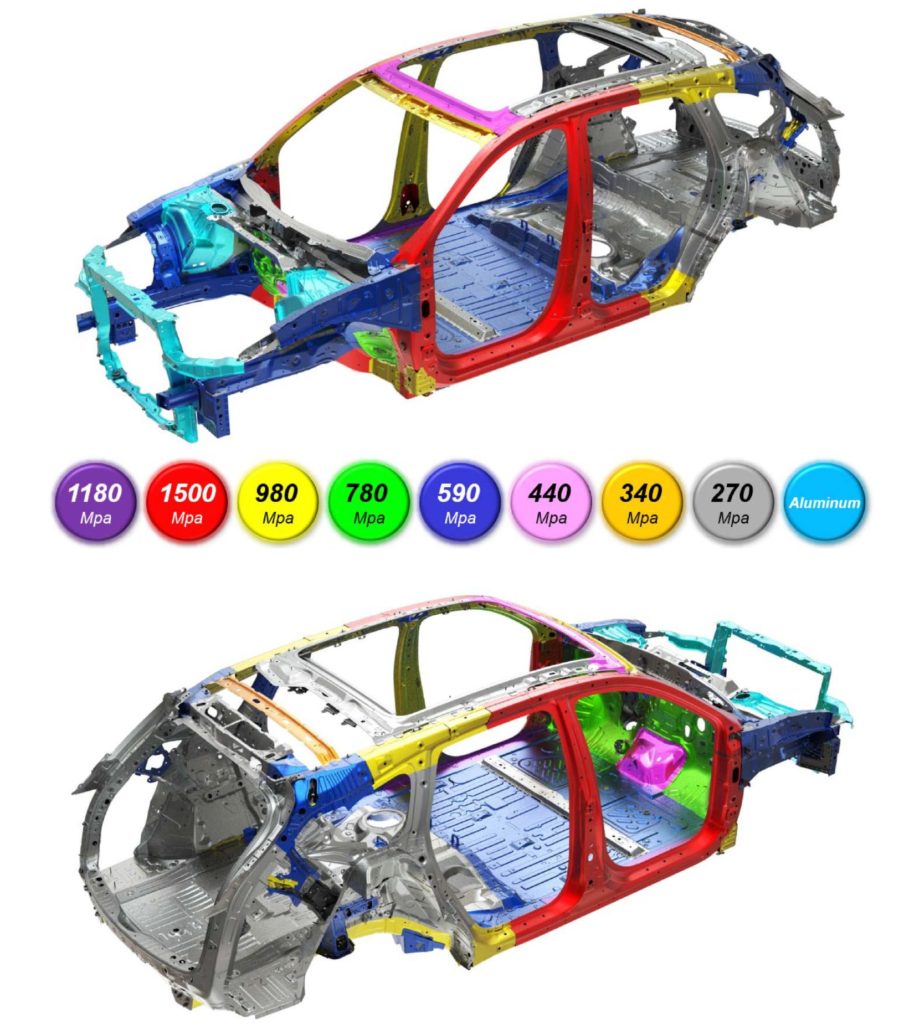 The door rings are associated with 980 MPa steel components finishing out the roof and frame rails — including the rear frame rails. 1,180 MPa steel structures also can be found extending for at least part of the sill.
More 980 MPa components serve as crossmembers for the 590 MPa floor and as the front roof bow.
Such components and the 780 MPa steel found in areas like the kickout panel all typically carry Honda bans on repairs — including cold straightening. Butt welding and sectioning also are generally forbidden, and other restrictions tend to apply as well. Restrictions might exist for lower-strength steels as well; Honda just gets stricter about things once the metal exceeds 590 MPa in strength.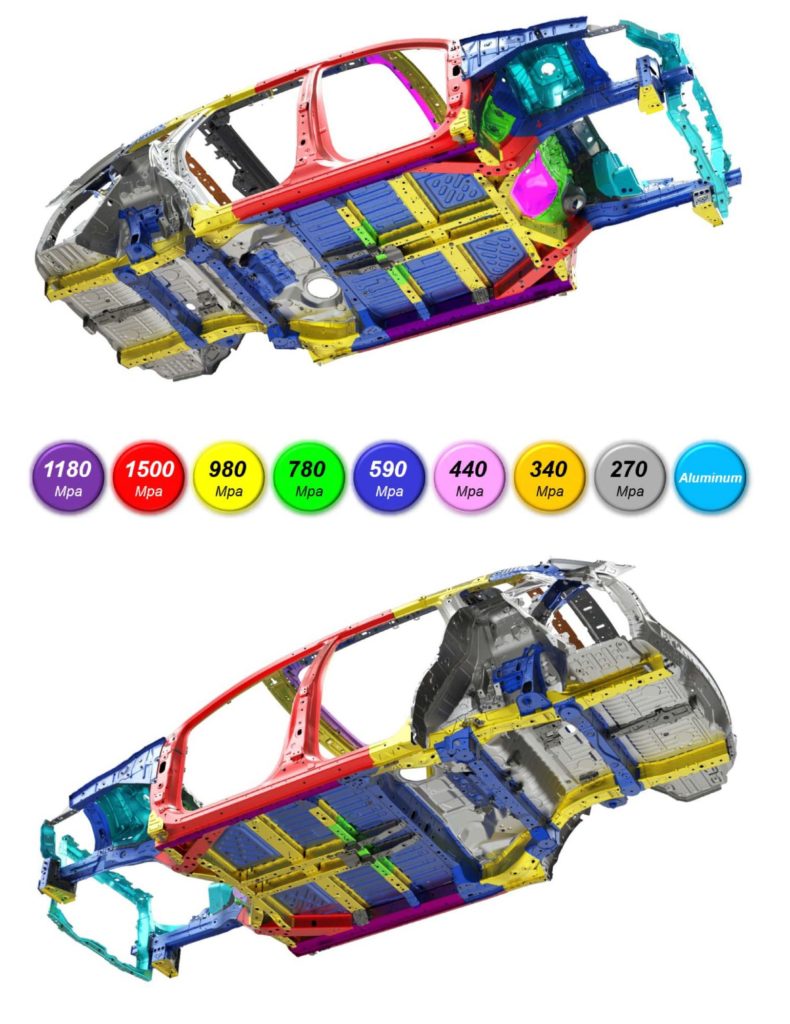 It's imperative to check the OEM repair procedures to avoid compromising the steel's integrity — heat can affect higher-strength steel — or the way it's intended to behave in a crash.
A few years ago, Honda memorably demonstrated why it's important to follow repair procedures by replicating a real-world incorrect repair on a 2014 MDX and subjecting the SUV to the IIHS small-overlap crash test. While an occupant could exit a normal, unaltered MDX after such a 40 mph crash, the door of the incorrectly-repaired MDX buckled and couldn't be opened. The impact also triggered other damage on the botched MDX, leading to a greater loss of structural integrity.
Acura in a December 2020 news release said the 2022 MDX carried "improved collision safety performance" — something you'll need to preserve.
"The 2022 MDX also features the latest generation of Acura's Advanced Compatibility Engineering™ (ACE™) body structure, with enhanced occupant and pedestrian collision protection capabilities," Acura wrote in the December release. "The new body structure improves overlap with smaller and lower-riding vehicles for improved collision compatibility, and features better absorption and distribution of crash loads around the passenger cabin. Side impact performance, assessed using the Insurance Institute for Highway Safety's side impact protocol, is further improved with a 34-percent reduction in cabin intrusion thanks to a redesigned ultra-high-strength side door ring and center roof pillar.
"The frontal area of the new MDX has been specifically designed with pedestrian safety in mind, with a deformable hood, hinge and upper fender combining with new lower and upper leg protection in the front fascia."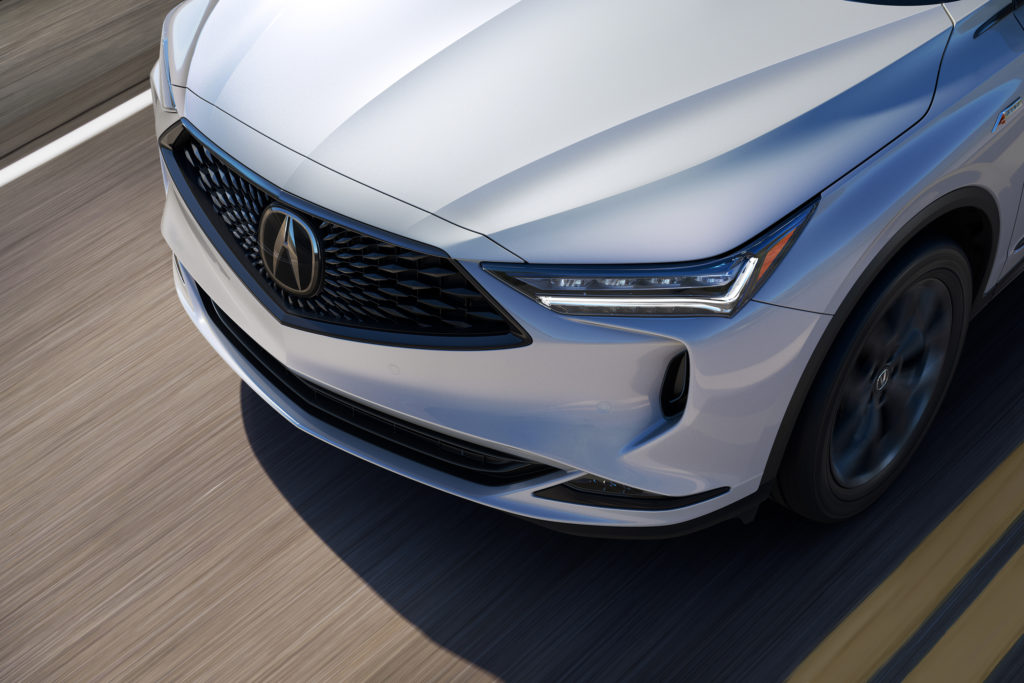 Acura touched on other structural elements of the 2022 MDX in the Body Repair News and its press releases for the MDX.
The SUV comes standard with a panoramic moonroof. Acura in the Body Repair News called the panel itself a "6-piece, tailor-welded" structure intended to provide "optimized weight and rigidity. In addition, the panoramic roof glass openings are roll-hemmed." It said repairers would replace it with a "combination of welding and use of adhesives and mechanical fasteners."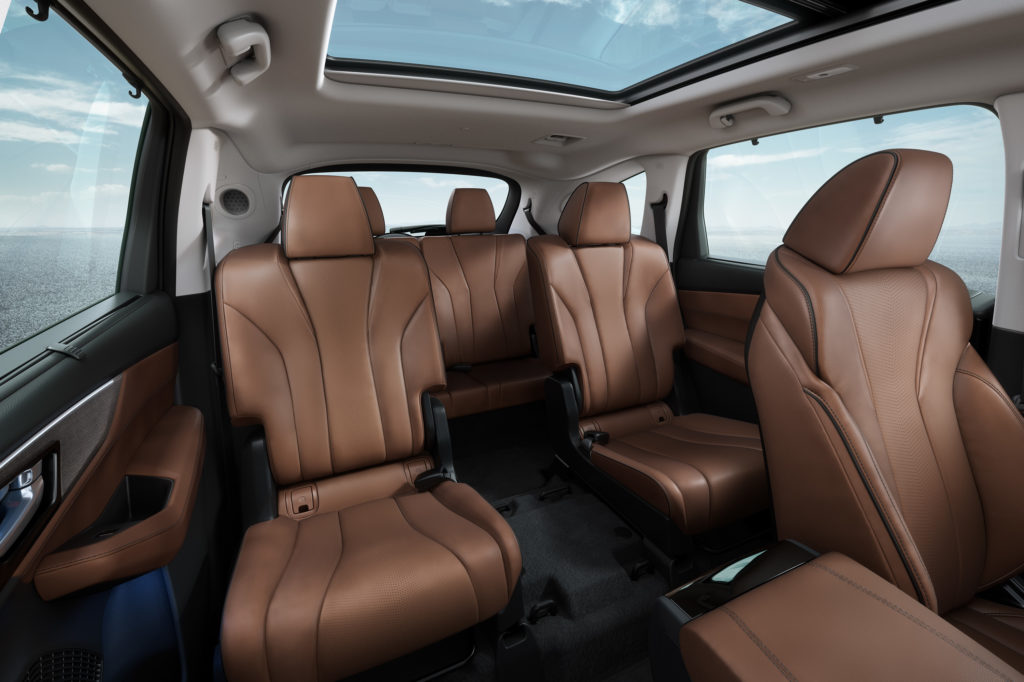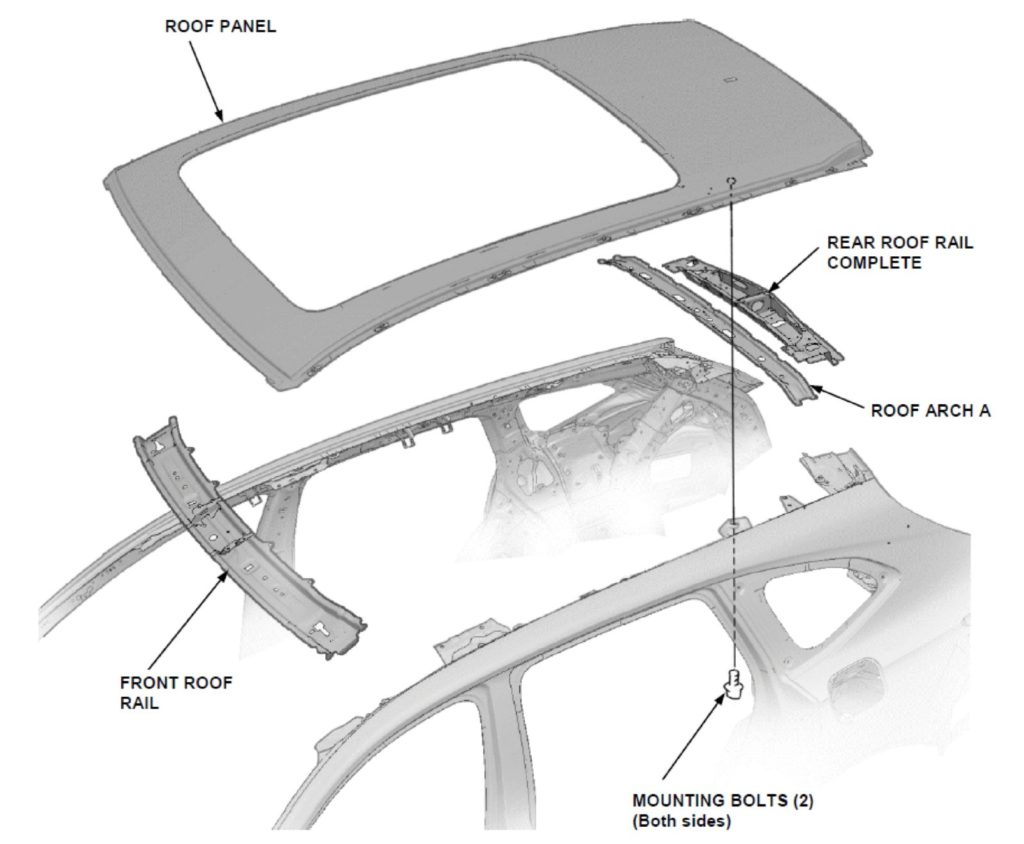 On the whole, Acura said repairers should expect a lot of adhesive on the MDX.
"Impact-resistant structural adhesive is used extensively throughout this vehicle," the OEM wrote in the Body Repair News. "Acura recommends using 3M 7333 or a commercially available equivalent adhesive."
Acura in the January news release called the 2022 MDX body "stiffer in every measure, created using a high-accuracy body weld process and new high-performance adhesive, and foundational to enabling MDX's finely tuned ride and handling qualities, as well as a quiet and more comfortable cabin."
In December 2020, it said the new front "rigid-mounted subframe" allowed a "7-percent increase in lateral torsion for better handling" and replaced a "floating-type subframe."
"The rear body uses a new dual-balanced load path for the rear damper mounting points, contributing to a 41-percent improvement in stiffness for better noise isolation, and 80-percent torsion improvement that benefits handling," Acura wrote.
The suspension itself includes the MDX's "first-ever double-wishbone front suspension, combined with an all-new multilink rear suspension for incredibly precise road holding while maintaining the smooth ride that is a key MDX highlight."
More information:
"2022 MDX Model Series: New Body Repair Information"
Acura Body Repair News, January 2021
"2022 Acura MDX Debuts as New Brand Flagship"
Acura, Dec. 8, 2020
"Production of All-New 2022 MDX Begins in Ohio, Creating New Flagship of the Acura Brand"
Acura, Jan. 12, 2021
Honda/Acura steel repairability matrix
Images:
The 2022 Acura MDX was the first to exclusively use Honda's East Liberty, Ohio new 5,000-ton press "which allows for sharper sculpting of the hood and body panels while forming steel and increased amounts of aluminum," Acura said in January 2021. (Provided by Acura)
The 2022 Acura MDX has aluminum fenders. The OEM said it needs to be installed with insulation clips to prevent galvanic corrosion. (Provided by Acura)
The 2022 Acura MDX includes multiple higher-strength steels and adds more aluminum than the outgoing generation of the SUV. (Provided by Acura)
The 2022 Acura MDX has an aluminum hood and aluminum fenders. (Provided by Acura)
The 2022 Acura MDX panoramic moonroof is shown. (Provided by Acura)
The 2022 Acura MDX comes standard with a panoramic moonroof. Acura in a January 2021 Body Repair News called the panel itself a "6-piece, tailor-welded" structure intended to provide "optimized weight and rigidity. In addition, the panoramic roof glass openings are roll-hemmed." (Provided by Acura)
Share This: