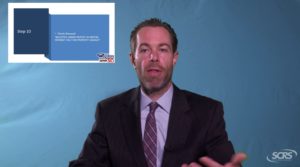 A Connecticut attorney last fall offered auto body shops some perspective on filing short-pay lawsuits in small-claims court.
The discussion by Buckley Wynne & Parese partner John Parese in "Litigating and Winning Short Pay Claims" applies to shops using assignment of benefits agreements to obtain money an insurer still owes their customer for the repair. (Parese's course and more than a dozen other virtual SCRS Repairer Driven Education courses remain replayable through Aug. 31, 2021.)
(Note: Parese's comments and this article are for informational purposes and not intended as legal advice. Consult with qualified counsel licensed in your jurisdiction before taking any action. Parese also works out of Connecticut, and so some of this might not apply to your particular state.)
Customers are the ones who actually owe body shops; first-party or third-party insurers in turn owe and reimburse the customers. A shop owner has "no independent right" against an insurer, according to Parese.
But when an insurer refuses to reimburse part of the repair bill, a shop and customer might enter into an assignment of benefits. This lets the shop "step in the shoes of your customer in order to advocate the claim," according to Parese.
This could include going to court. Parese discussed other venues for litigation, but the bulk of his advice in the Repairer Driven Education session applied to filing these AOB short-pay lawsuits in small-claims court with the help of legal counsel.
Parese said he files a straightforward complaint. Most courts won't want to get bogged down in concepts like the history of labor rate suppression or the 1963 Consent Decree, he said.
Simplicity is better, according to Parese. "You're a bill collector," he said: You're filing a lawsuit to be paid for work performed.
Proper documentation
If the repairer lacks the proper repair forms and authorization, "you're dead in the water," Parese said. He said he won't even take a short-pay case if the shop doesn't have a proper, signed contract and invoice with the customer.
"You gotta have your paperwork right," he said.
Parese said a shop and customer should have a contract, a "legally binding agreement." The repairer should consult with state statutes and regulations about what must be in that document.
Parese said he also prefers for shops to obtain customer consent to charge storage fees, so "everything's transparent."
"You can never go wrong with transparency," Parese said. Demonstrating this transparency in court will always be the right move as well, he said.
As far as a final invoice, it should state the shop's charge, the amount paid, and the amount left owed. "It really should be that simple," Parese said.
He described prior experiences with shops which involved juggling multiple documents, such as a third supplement, to work out a total. "Forget that," he said.
Parese also advised shops against working off the insurer's estimate. "Get away from that," he said.
Parese said shops should also ensure they've completed all work and billed for it correctly.
Lawsuits mean "extreme scrutiny," Parese said. If you did "anything shady," such as charged for work unperformed or took cash on the side, you can't go to court, he said.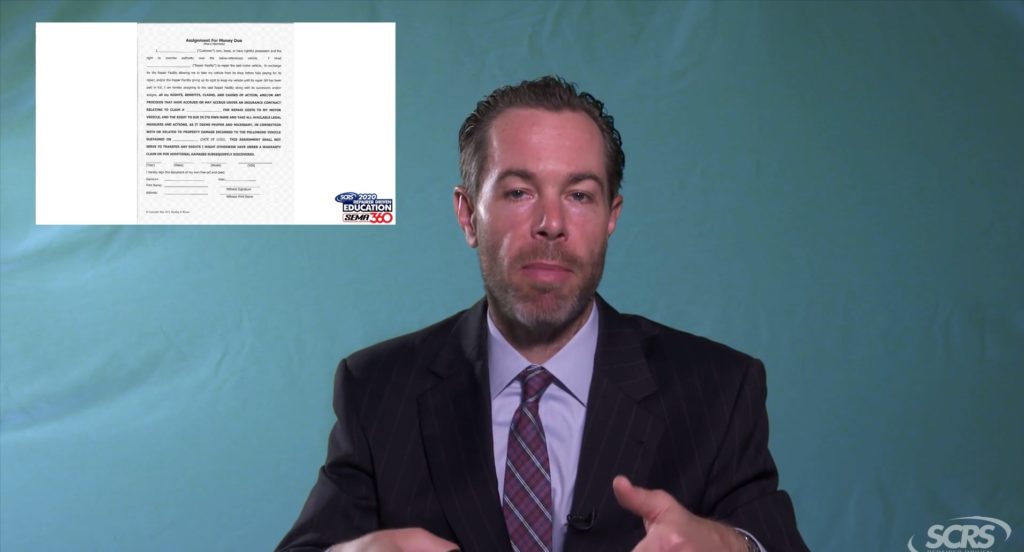 Proper AOB
As noted above, the customer is the one owed money, either under their own first-party policy or by the at-fault party which hit them (who in turn is owed by his or own insurer). Parese said a shop must have the assignment of benefits entitling them to the money due the claimant.
"You need to get in their shoes," Parese said.
Parese said he uses the same assignment of benefits for first- and third-party claims. It's a contract that offers to exchange the consideration of returning the customer's vehicle for the right to the customer's benefits.
Parese said he also brings a copy of the law on assignment of benefits to court in case there's ever a dispute that "'you can't legally assign this claim.'" However, he said that while he's filed between 50-100 actions on behalf of shops, "I've never had my assignment challenged in court."
Parese said another lawyer might "bark" occasionally at an assignment, but 95 percent of the time it's never even challenged, and he's never lost on this point.
"It's a well-known legal right," he said.
Know the customer
Parese said repairers should ensure their customer will be cooperative. Mostly, customers will feel confident in a shop which is confident and willing to go to court, he said — the perception is that a repairer doing something untoward wouldn't be trying to go to court.
However, some might customers be more difficult to deal with, and it's not worth attempting litigation in those situations, Parese said.
"You gotta pick your battles," he said.
He also said a customer couldn't file for a repair short-pay action if a lawsuit already existed over a bodily injury claim. He said a shop instead would want to send their information to that attorney and pursue the matter in that action.
Establish liability
A shop must be sure they have liability nailed down in a third-party AOB claim. "You can't win without fault," Parese said.
He said he's heard stories from other lawyers who think they're taking a case over a discrepancy in bill payment — only to find no evidence exists of who is at fault. It's an underlying predicate necessary for the case, according to Parese.
This typically can be established with a police report, or it might be admitted in the answer to a complaint, according to Parese. He said he will make the assertion that liability is undisputed in his demand letter, and if the other party doesn't challenge this, their silence can apply assent.
Labor rate survey
Parese encouraged body shops to conduct a labor rate survey and described a process involving calling 8-10 competitors and asking about their posted labor rates. It could be used in court, he said.
However, he stressed keeping the information private and not sharing it with competitors so as not to run afoul of antitrust law.
He said he often finds his clients are "somewhere in the middle," calling this "helpful information" for a judge or jury who is "inevitably" told by the insurer that a shop's rates are the highest anywhere.
"It's coming," he said.
Parese also said he likes to have examples of a shop paid its labor rate, which rebuts the idea that the rates are absurd. He said he's had clients produce dozens of examples of being paid that labor rate. "That's great evidence," he said.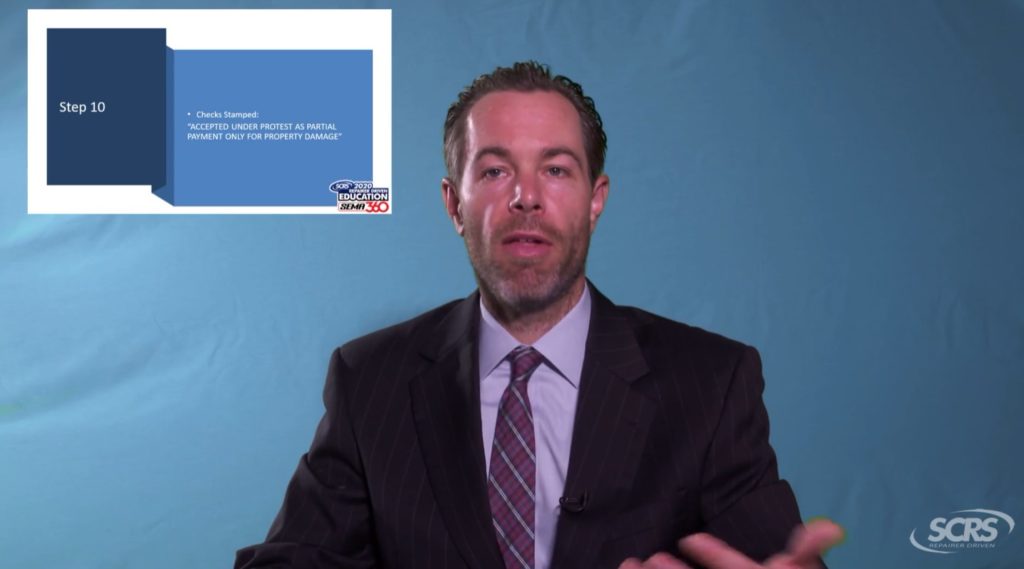 Stamp checks 'UNDER PROTEST'
Finally, Parese encouraged shops to be very clear that their cashing of insurer checks doesn't represent agreement to the insurer's estimate.
He said all of his clients have a stamp stating, "ACCEPTED UNDER PROTEST AS PARTIAL PAYMENT ONLY FOR PROPERTY DAMAGE." They stamp checks at the time of endorsement with this message "every time. All the time."
Such a stamp should certainly be applied in situations where the shop anticipates a "beef" with the carrier, Parese said.
Without this declaration on cashed checks, Parese said, an insurer could argue in court that they made an offer, the shop accepted it and received consideration. "'That's a contract.'" The shop's appearance on court could come off as reneging on the deal.
Through the stamp on the check and by sending a demand letter, the dispute about price has been documented. "You have avoided that pitfall," Parese said.
More information:
"Litigating and Winning Short Pay Claims"
Society of Collision Repair Specialists, released November 2020
Virtual Repairer Driven Education courses (replayable through Aug. 31, 2021)
Images:
Buckley Wynne & Parese partner John Parese presents "Litigating and Winning Short Pay Claims" during the Society of Collision Repair Specialists' virtual Repairer Driven Education series in fall 2020. A sample assignment of benefits form is at left. (Screenshot from SCRS video)
Buckley Wynne & Parese partner John Parese presents "Litigating and Winning Short Pay Claims" during the Society of Collision Repair Specialists' virtual Repairer Driven Education series in fall 2020. Parese encourages shops to be very clear that their cashing of insurer checks doesn't represent agreement to the insurer's estimate. (Screenshot from SCRS video)
Share This: