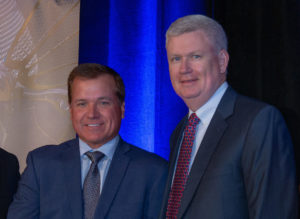 Materials Sciences Corporation Chief Technical Officer Matt Murphy last month said his company's "Quiet Aluminum" product has developed "a lot of momentum" in the electric vehicle space.
He told a Center for Automotive Research-Altair webinar March 24 the substrate this year would appear on nine components on a new electric vehicle body-in-white.
The metal involves sandwiching a "very, very thin core" between two aluminum skins Murphy said could include the 5000 and 6000 grades familiar to repairers and OEMs. MSC describes the core as an "engineered viscoelastic layer" laminated to the aluminum.
The end result is "excellent noise damping properties," Murphy said. "Outstanding." He demonstrated the reduced sound during the webinar. "Pretty impressive," he said.
The technology allows automakers to shed what Murphy called "a lot of mass" spent quieting vehicle bodies. The kind of dampening materials (pads, etc.) repairers encounter in locations like the roof, floors, doors and dash could weigh "easily a hundred pounds," Murphy said. "Easily."
Sometimes, these noise, vibration and harshness measures are likely to reach 200-300 pounds, Murphy said. By shifting the noise-cancelling job to the structure itself, automakers can cut these additional items and "save a lot of weight."
MSC says it can supply the substrate to OEMs as a coil or as blanked sheets and add coatings to it. Murphy said the substance can handle e-coat and joining.
Exotic repairers might have already encountered Quiet Aluminum on the new Ferrari SF90 Stradale platform. "NVH (noise, vibration, harshness) characteristics have also been improved by the use of a new alloy known as 'quiet aluminium' for the floor pan," Ferrari wrote in 2019.
MSC also has for years produced a similar "Quiet Steel," which has appeared on the Ford F-150 firewall dating back to the 2004 model. It's unclear if it's still on the next-generation 2021 F-150, but it was present during the pickup's inaugural aluminum 2015-20 generation.
'Smart Steel'
Murphy also gave the March 24 webinar audience an update on the company's "Smart Steel," a lightweight substrate found in locations like the current-generation Ford Escape and Lincoln Aviator's roof bows.
It features what MSC calls a "a low-density conductive polymer core," cuts density by about 35 percent, and can be spot-welded in an OEM's factory like normal steel.
He said MSC sees a market in light-duty chromed or painted trunk bumper fascias and has devoted six years of work and significant resources to the project.
"It's a nine-pound weight save," he said.
More information:
Material Sciences Corporation "Quiet Aluminum" webpage
Featured image: Material Sciences Corporation CEO Pat Murley, left, and Chief Technical Officer Matt Murphy pose in 2019 after winning the Altair Enlighten Award for their Smart Steel product. (Provided by MSC/PRNewsFoto)
Share This: