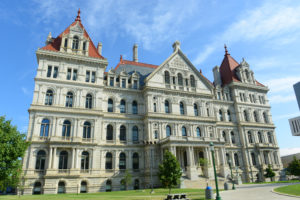 A bill amending New York's shop choice law to preserve collision repairer autonomy on part selection has returned for a fifth legislative try.
Assembly Bill 6902 would append Insurance Law 2610 to declare that first-party collision and comprehensive insurers could not "require a repair facility to use a specific vendor or process for the procurement of parts or other materials necessary for the repair of a motor vehicle."
That's it. Long Island Auto Body Repairmen's Association Executive Director Ed Kizenberger on Thursday noted the bill's simplicity.
"There's nothing hidden," Kizenberger said. "… It's so simple."
The idea of an insurer requiring direct repair program facilities to use a specific parts procurement platform has been controversial. But Kizenberger said the issue of insurers imposing in the part selection process has been an issue for shops outside of direct repair program networks.
He gave the example of a hypothetical hood costing $100. An insurer might demand a non-DRP shop buy a $75 version available from a random vendor the carrier has found. Or an insurer will refuse to guarantee any part except the specific component they selected.
"It really is a consumer bill," Kizenberger said.
Let the repairers determine where they source parts, he said. He also pointed out that as body shops, "we own it" in terms of liability for the overall repair.
"Currently, insurance companies have been directing auto repair businesses to procure their parts from an online source and will only reimburse the repair shop if they do so," an AB 6902 justification on the New York Legislature's website states. "The online source only provides the repair shop with the lowest priced replacement part, often times from out of state. These replacement parts are most often not Original Equipment Manufactured (OEM) parts and therefore are of sub-quality and not up to the most stringent safety standards. This bill simply allows auto repair shops to continue to procure replacement parts from local suppliers and to ensure that these parts are of OEM quality."
AB 6902 was sponsored by Rep. Steve Englebright, D-Setauket. It has support from 15 other Assembly sponsors, but no Senate companion has yet arisen.
The bill was introduced Monday and has been sent to the Assembly Insurance Committee.
Be heard: New York lawmaker contact information can be found here and here.
Featured image: The New York Capitol is shown. (jiawangkun/iStock)
Share This: