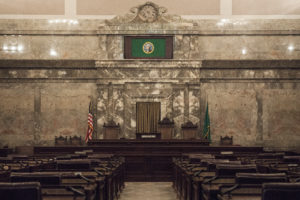 A new Washington state bill would potentially require all new light-duty vehicles as of model year 2030 to be fully electric or hydrogen powered.
For the provision in House Bill 1287 to take effect, the state must first have enacted "a road usage charge, or equivalent fee or tax based on vehicle miles traveled." This charge must be levied on at least 75 percent of the state's light duty vehicles.
At this point, "a goal is established for the state that all publicly owned and privately owned passenger and light duty vehicles of model year 2030 or later that are sold, purchased, or registered in Washington state be electric vehicles."
Passenger and light duty vehicles are defined as anything that has at least three wheels and weighs less than 10,000 pounds.
Gas cars and all other powertrains from Model Year 2029 or earlier are unaffected by the bill.
"Nothing in this section … Authorizes any state agency to restrict the purchase, sale, or registration of vehicles that are not electric vehicles," HB 1287 states.
The bill passed 25-23 in the Senate on April 10 and 54-43 in the House on Wednesday. It has not yet been received by Democratic Gov. Jay Inslee. Inslee's office said Thursday it doesn't comment on whether the governor would sign bills until he officially receives them and his staff can review it.
The nonprofit anti-gasoline organization Coltura, which celebrated the bill's passage as "groundbreaking," said Washington state was likely to enact the predicate road use charge "within the next several years."
"The road usage charge has not yet been put into effect, but it has been widely discussed and is expected to be put into place soon," Coltura CEO Matthew Metz wrote in an email Thursday. "In any case, the legislature has spoken that they want to see the end of gas car sales by 2030."
Which suggests Washington repairers — and shops beyond — could see electric vehicles ramp up quickly among the fleet.
A Senate staff summary of public testimony mentions that "Auto dealers are comfortable with the stretch goal of EV vehicle sales by 2030 to keep in stride with California's goal of 2035."
The Washington State staff summary also reports testimony to the effect that "One million EVs will need to be driving on our roads by 2030 in order to meet our statutory green house emissions goals as laid out in our 2021 State Energy Strategy."
Coltura observed that the 2030 deadline "puts Washington five years ahead of California's 2035 target" and was the first target passed by a state legislature.
Some OEMs have described plans to be completely or nearly completely electric in the 2030-35 ballpark, perhaps most notably No. 1 General Motors' goal to "eliminate tailpipe emissions from new light-duty vehicles by 2035." Jaguar, meanwhile, is actually shooting for all-electric by 2025.
"Passage of this legislation takes the guesswork and uncertainty out of the electric vehicle transition by creating a clear timeline with the data, tools, and guidelines we need to help businesses, developers, governments, and consumers plan with confidence," state Sen. Marko Liias, D-Everett, said in a statement. "Clean Cars 2030 is a critical step to meet urgent carbon reduction goals here in Washington and can serve as a model and impetus for other states to accelerate the switch to EVs."
Be heard: Gov. Inslee can be reached here.
More information:
"WASHINGTON STATE PASSES LAW ESTABLISHING 2030 TARGET FOR PHASING OUT GASOLINE VEHICLES"
Coltura, April 15, 2021
Featured image: The Washington state Senate is shown. (powerofforever/iStock)
Share This: