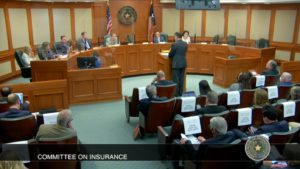 An LKQ representative last week argued that a Texas bill's proposed definition of "like kind and quality" alternative parts unfairly required matching internal automaker specs no OEM would make available to aftermarket vendors.
But Tracy Law Firm owner Todd Tracy told the Texas House Insurance Committee this was "disingenuous," depicting qualification under House Bill 1131 as a simple matter of reverse engineering by an aftermarket part provider.
For his part, bill sponsor Sponsor Rep. Travis Clardy, R-Nacogdoches, told the committee, "This bill does not require OEM parts. It requires parts that work."
He said such parts could be recycled or aftermarket. "It's about the quality of the parts," he said.
"They have to be proven parts," agreed Texas Watch Executive Director Ware Wendall, whose organization supports the bill.
House Bill 1131 requires insurers to follow OEM repair procedures but carves out an exception for "a part or product that is of like kind and quality." The bill puts the burden on either the insurer or part manufacturer to have proven this status. The relevant language states:
An insurer described by Subsection (a) may not consider a specified part or product for the repair of a motor vehicle to be of like kind and quality as an original equipment manufacturer part or product for any purpose unless the insurer or the manufacturer of the specified part or product has conclusively demonstrated that the specified part or product;
(1) meets the fit, finish, and quality criteria established for the part or product by the original equipment manufacturer of the part or product;
(2) is the same weight and metal hardness established for the part or product by the original equipment manufacturer of the part or product; and
(3) has been tested using the same crash and safety test criteria used by the original equipment manufacturer of the part or product.
"There are criteria set for auto parts that no part manufacturer could meet," LKQ central region government affairs manager Kevin Fisk told the House Insurance Committee on April 13. (Lawmakers take up HB 1131 at about the 03:20:30 mark in the video linked here.)
Automakers wouldn't give other manufacturers "specs" or standards, Fisk said. "They would never provide that information to competitors," he said.
But Tracy presented reverse-engineering as a simple challenge, implying that process would be a means of satisfying the bill's language.
"The gentleman from LKQ noted, 'We don't know what their parts are made of, because we can't replicate it,"" Tracy said. "Engineering 101 tells us that you can reverse-engineer anything."
A vehicle could be disassembled, reverse-engineered and the material known, according to Tracy. "It'll take you a weekend," Tracy said. He called LKQ's assertion it couldn't replicate the OEM "disingenuous."
Fisk has not yet returned an inquiry asking if he wished to respond to Tracy's comment.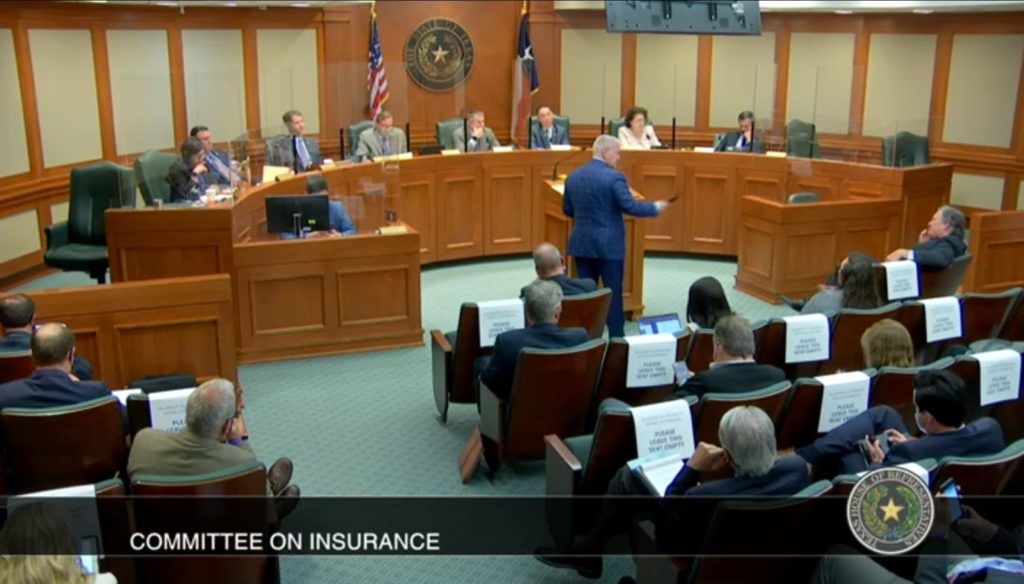 "You can reverse-engineer these parts," Auto Body Association of Texas board member Chad Kiffe (Berli's Body & Fine Auto Finishes) agreed during the hearing.
Clardy has not replied to an inquiry clarifying his vision for matching OEM components.
While automakers don't provide their own internal specs, the manufacturers whose parts LKQ distributes are able to reverse-engineer the OEMs' parts, LKQ said Wednesday.
"LKQ distributes parts that meet OEM vehicle specifications and state laws," LKQ North America sales and marketing Vice President Terry Fortner wrote in an email Wednesday. "This includes OEM and alternative replacement parts.  LKQ stands behind the quality of the parts that it sells and will indemnify any body shop that installs these parts as outlined in our Promise of Protection. Quality assurance, including the materials,  are painstakingly vetted by the manufacturer, as well as third parties,  during development of the part. We stand behind these products that are designed and manufactured to return the vehicle to pre-accident condition."
Kiffe called on any parts manufacturer who opposed the bill to "please explain why." He said the bill requested those suppliers deliver "quality replacement parts" matching "what the OEM has set forth."
American Property Casualty Insurance Association state government relations Vice President Joe Woods acknowledged that in terms of external auto body parts, "there can easily be problems with aftermarket parts."
Sometimes, body shops will say, "'We can't make it fit,'" Woods said.
But Woods argued other components should be permitted. After referencing recycled and aftermarket components, he said: "They don't have to, they don't need to, its not necessary for them to be the original manufacturer's part. A radiator is a radiator, and if they make it that fits and meets the specifications, it should be fine to use that radiator"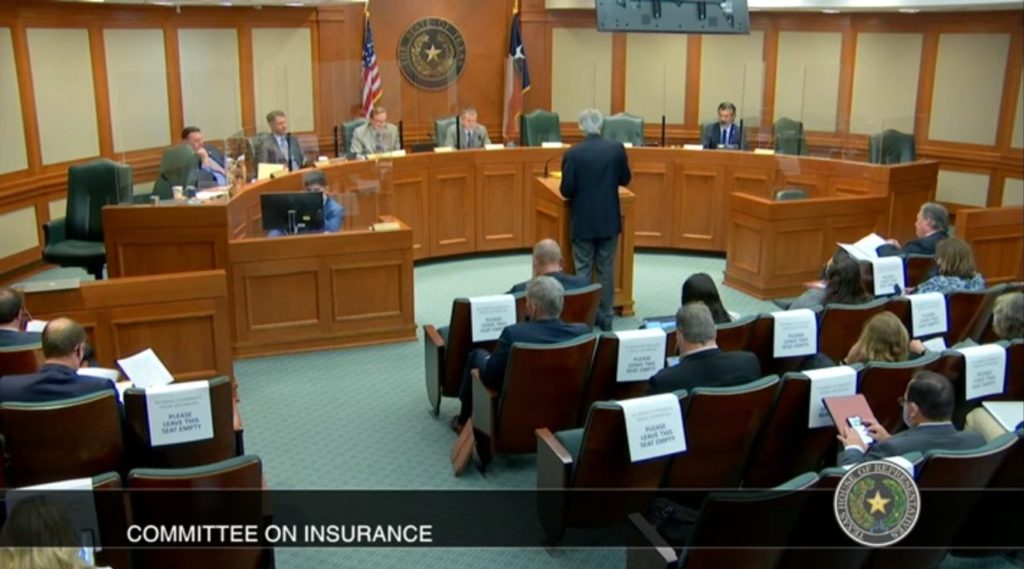 Former body shop owner Rep. Ramon Romero, D-Ford Worth, asked Texas Coalition for Affordable Insurance Solutions Executive Director Beaman Floyd if he felt a recycled part which had already been painted once before was equivalent to an OEM part.
"It can be," said Floyd, whose organization counts State Farm, Allstate, USAA, Farmers, Nationwide and Texas Farm Bureau Insurance as members. "If it's like kind and quality, if it passes various safety tests. The companies that I represent are very serious about guaranteeing the quality of alternative parts and recognize various certifications."
Romero said that sanding, priming and painting a recycled part meant a change of a "little minute thickness." It might look the same to most people, but it appears "completely different" to his eyes, he said. Could he complain to an insurer and get a redo, he asked.
Floyd said that customers had the choice of part. If an insurer provides "like kind and quality, that is not one that has been sanded or is substandard in a way that you don't see fit," a customer might have to "pay out of pocket" to get an OEM part.
Asked about a situation where a consumer didn't specify a part, so the insurer decided which one to use, and a friend ultimately notices "my job looks shoddy," Floyd said customers could generally return to an insurer and say, "'I'm not comfortable with this repair.'"
In other parts news, HB 1131 also prohibits an insurer from demanding a vehicle be fixed "with a part or product on the basis that the part or product is the least expensive part or product available." Carriers also can't demand a customer obtain these parts and products from a specific "vendor or supplier, including an out-of-state vendor or supplier, on the basis that the part or product is the least expensive part or product available."
The bill remained pending Monday before the Insurance Committee.
NAIC on 'like kind and quality'
Regardless of the bill's outcome, the Insurance Committee's discussion on April 13 and HB 1131 poses an interesting question for the industry. What's the definition of "like kind and quality?"
We asked the Texas Department of Insurance Monday if the concept was defined in any state law, regulator or TDI guidance.
"We are not aware of an insurance law that defines 'like kind and quality' or a law that explicitly states that it is an unfair claim settlement practice to replace a part with something that is not 'like kind and quality,'" Ben Gonzalez of TDI media relations wrote in an email Tuesday. "Some auto insurance policies use that language."
The National Association of Insurance Commissioners' model regulation on the topic is fairly vague — and arguably extremely dated.
Adopted in 1987, NAIC's template language for regulators states: "An insurer shall not require the use of after market parts in the repair of an automobile unless the after market part is at least equal in kind and quality to the original part in terms of fit, quality and performance. Insurers specifying the use of after market parts shall consider the cost of any modifications that may become necessary when making the repair."
Fit, quality and performance aren't defined.
The notion that some parts weren't meeting a "like kind and quality" threshold was a concern then.
"In testimony to (a New York study committee), an after market parts association representative admitted that 20-25 percent of the parts manufactured by his members were not of like kind and quality to the OEM part," NAIC summarized.
NAIC regulators in 1987 felt an insurer must guarantee the parts if the parts manufacturer didn't, though this requirement doesn't appear in the model regulation.
"It was suggested that the language of ("Like Kind and Quality" Section 5) require certification that the parts were of like kind and quality," the NAIC summarized the 1987 discussion. "An after market parts manufacturer wouldn't incur the expense of certification if insurers didn't require it. In lieu of certification, the manufacturer could guarantee the parts. To the extent the non-OEM manufacturer failed to provide or honor such guarantee, the insurer should provide or honor the guarantee.
"One regulator said he would feel more confident with an expert determining whether a part is of like kind and quality. He noted that if testing is not implemented in the draft, then the task force should at least consider a provision requiring the insurer to guarantee the after market part, as provided for in some earlier drafts. It was the decision of the subgroup that it was unnecessary since Section 5 requirements are in effect a guarantee."
As indicated above, the 1987 discussion summarized in the document suggests regulators considered but dispensed with ways to validate parts. However, it also notes the After Market Body Parts Association, the old name of the Automotive Body Parts Association, had set quality standards for members.
"A representative of the After Market Body Parts Association testified on the standards established by his organization. They have a warranty certification program, and a standards and specification manual has been promulgated by the association. Test runs on the products are extensive and ratings are established for the parts. The association standards call for all production plants to be checked every 30 days for compliance with the standards."
Executive Director Ed Salamy wrote in an email Monday the program the NAIC described was "way before my time and I have no records of it." However, he thought the NAIC might have been referring to the Certified Aftermarket Parts Association format before CAPA was formally created in 1987.
Be heard: Texas legislator contact information can be found here and here.
More information:
Texas House Insurance Committee hearing on HB 1131 (Starts about 03:20:30)
Texas Legislature, April 13, 2021
National Association of Insurance Commissioners After Market Parts Model Regulation
NAIC, June 1987
Images:
LKQ central regional legislative manager Kevin Fisk appears April 13, 2021, before the Texas House Committee on Insurance. (Screenshot from Texas Legislature video)
Tracy Law Firm owner Todd Tracy appears April 13, 2021, before the Texas House Committee on Insurance. (Screenshot from Texas Legislature video)
American Property Casualty Insurance Association state government relations Vice President Joe Woods appears April 13, 2021, before the Texas House Committee on Insurance. (Screenshot from Texas Legislature video)
Share This: