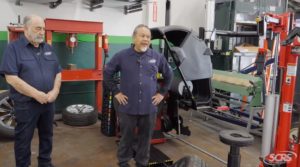 The Society of Collision Repair Specialists' "Kool Tools" list returns for 2021, undeterred by organizers Kye Yeung and Toby Chess' inability to wander the floors of a physical SEMA in search of gear last year.
Confronted with the COVID-19 pandemic, SEMA opted for a virtual "SEMA360" show last year. But Yeung, Chess and other repairers still managed to round up more than a dozen tools they felt would benefit a collision repair shop and keep the "Kool Tools" tradition alive.
"This year's event was a little different in light of the virtual nature of SEMA360," SCRS Education Committee Chairwoman Amber Alley (Barsotti's Body and Fender) said in a statement Tuesday. "Despite being a departure from the in-person gathering process, the team did a really remarkable job in sourcing some really unique and useful products and putting them through the paces in their facilities to identify some of the favorite contenders. Historically, the reviewed items were often personally purchased by Toby and Kye. They have typically always put them to use in a working collision repair environment following the show, prior to being featured in the presentation. I feel like the committee did a great job, sticking true to the roots, securing the tools, testing how the products held up and how their technicians liked the usability, before committing to including them."
SCRS this week released the list of tools along with a video introducing repairers to the gear. The organization also posted a second film discussing the history of the "Kool Tools" initiative.
Here's the 2021 Kool Tools list and some color from the first video:
Car-O-Liner: CBR2000 battery-operated rivet gun.
Wiëlander+Schill: XPAC self-piercing rivet gun. Contact Billy Northrup, Reliable Automotive Equipment.
Autel: BAS BT608 battery tester and maintainer.
SCRS board member Michael Bradshaw (K&M Collision) called it a "really neat tool" with features his shop's old battery system and others on the market didn't have.
He also noted that his shop had made a practice of checking vehicle batteries at intake, and the Autel system had helped K&M avoid situations where the battery was discovered to be insufficient later in the repair. ("It just creates a lot of chaos," he said of the alternative.)
Pro Spot: PR220 MV multi-voltage MIG welder.
Chess said "Kool Tools" had featured the welder before, but it now could deliver 200 amps. He also noted that it was possible to achieve "total penetration" on a fillet weld performed on two 4 mm coupons with 0.035 wire at 110 volts, something he hadn't seen on any other welder.
Miller: Clear-lens welding helmet and light accessory kit.
Duracell: DRMC4A 4-amp battery charger and maintainer.
Alley said the device could be had for "around 60 dollars," compared to similar technology which "cost a lot more." She said it can handle 6- and 12-volt systems, and, "exciting for us," the kind of lithium-ion batteries appearing more frequently on sports cars and race cars.
Alley said the Duracell tool has a "good purpose" and a "great price point," which she said she felt "really captures the essence of the "Kool Tools" framework. She said Barsotti's is considering buying some and observed a role for the tools in being able to take apart a door or the rear of a vehicle but "never jeopardize the battery."
TEROSON: Seam sealer tools and materials. Contact John O'Neill, Henkel.
Alley said the TEROSON seam sealer suite's "tricks" included its tips and the ability to heat the sealer to produce different consistency.
Historically, the products had been "kind of hard to find," but they're now more available, she said. "Kool Tools" judges felt it merited inclusion despite not being available at SEMA360.
"This is definitely a product we here at Barsotti's would recommend," Alley said. She said her shop felt comfortable enough after less than an hour of testing to apply it to a production vehicle, and they "feel it went really well." For anyone seeking to match factory seam sealer, the TORSON suite has "major ability to accomplish that"
Scangrip: 8000 Lumen LED detailing light with diffuser.
"It works out really well," Barsotti's lead detailing technician Rodney Reynolds said of the light, which Alley said had been upgraded this year with the diffuser.
He called the tool helpful for "hunting down the micro-scratching," his term for what others in the industry call "'swirls.'"
Barsotti's has LED lighting overhead, but "added sidelight is huge," he said.
Reynolds also said the tool also allows the lighting intensity to be adjusted by thousands of lumens, which lets detailers have a "broad range" to "hone in" for polishing.
Powermax: Battery maintainer.
Keco Tabs: Multipurpose PDR light.
CSI: CSI Q-7 Detailer multipurpose overspray, glass and plastic cleaner.
Sherwin-Williams: Collision Core Quality quality control app tool. Contact 770-294-6133.
SCRS board member Paul Sgro (Lee's Garage) said Sherwin-Williams demonstrated how a tech could view the estimate from a smartphone. Sgro also showed how photos could be demanded and taken at various steps for QC, and he said the next department receiving the vehicle could validate the repair,
Personnel such as a porter could be requested using the app, according to Sgro. One didn't need to wander over to the parts department regarding an absent part; with the press of a button, "they're coming to me," Sgro said.
Sherwin-Williams makes the tool available to shops which don't buy its paint, Sgro said.
Kent: 12-inch One Pass Waterblade flexible detailing squeegee.
Chess said the tool can remove most of the water in "one shot," saving a shop the effort of constantly wringing out a shammy. Compared to a shammy, the squeegee represented a "50 percent time savings," he said.
AdasThink: Advanced driver assistance system calibration information. Contact info@adasthink.com or 800-410-2327.
Hunter: Hunter HD Elite wheel and tire balancer.
Yeung said for years, he didn't feel buying such a machine offered the ROI. But European Motor Car Works had been spending $3,000 a month on external wheel operations, such as balancing, he said. His facility couldn't perform alignments, and it was at the mercy of whoever had been given the sublet work on the rim.
If his shop could do the work in house, it would "keep the guys busy," yield extra revenue, and "give a better product," Yeung said. He said he felt most shop owners wanted to keep work in-house to have control, and Chess agreed in-house labor was a "better thing" for this reason.
Interested in learning more about SCRS? If you're going to be in Phoenix, Ariz., this week, don't miss the organization's open board meeting from 8:30-11 a.m. Wednesday at the Pointe Hilton Tapatio Cliffs Resort.
The event is free and open to members and nonmembers alike. Attendees are asked to RSVP to info@scrs.com "so that we can set the room appropriately to accommodate for social distancing during the meeting."
All member companies can then vote in the SCRS board election immediately after the open meeting. Per SCRS bylaws, voters must be present to cast a ballot.
More information:
"SCRS Education Committee Releases New 'Kool Tools' Video"
Society of Collision Repair Specialists, April 20, 2021
"SCRS Kool Tools from 2020 SEMA360 and Beyond"
Society of Collision Repair Specialists YouTube channel, April 22, 2021
"The story behind the stories – The history of SCRS' Kool Tools"
SCRS YouTube channel, April 19, 2021
Featured image: Society of Collision Repair Specialists educators Toby Chess (Kent Automotive), left, and Kye Yeung (European Motor Car Works) stand next to a Hunter HD Elite wheel balancer which made the Society of Collision Repair Specialists Education Committee 2021 list of "Kool Tools." (Screenshot from SCRS video posted on YouTube)
Share This: