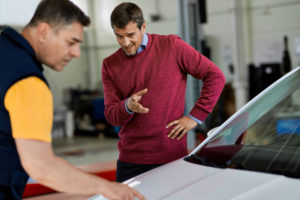 A collision repair industry analyst and post-repair inspectors this month offered auto body shops some interesting considerations about redos — an issue CCC data finds could arise for about a tenth of your customers.
CCC's recently released 2021 "Crash Course" reports that direct repair program facilities during the year ending Sept. 30, 2020, saw customers bring back 10.1 percent of vehicles to the shop on average.
Even body work costing as little as $0-$500 resulted in customers returning the vehicles 4.9 percent of the time, according to CCC. That's 1 out of every 20 vehicles fixed.
That number rises to 9.1 percent when repairs fall between $2,000.01 and $3,000 and to 10.7 percent when $3,000.01-$4,000 in bodywork had been completed. The latter price range contains what CCC found to be the average repairable vehicle claim ($3,421).
When repairs exceeded $10,000, consumers were bringing back their cars 22.2 percent of the time, or every fifth customer. These findings are fairly similar to the 2020 "Crash Course" results for the year ending Sept. 30, 2019.
"This should include any reason," CCC director and "Crash Course" author Susanna Gotsch said of returns captured in the research. She used her own experience as an example of what this might entail; out of four vehicles she's had repaired, she had to return three for reasons including ADAS dash lights and overspray.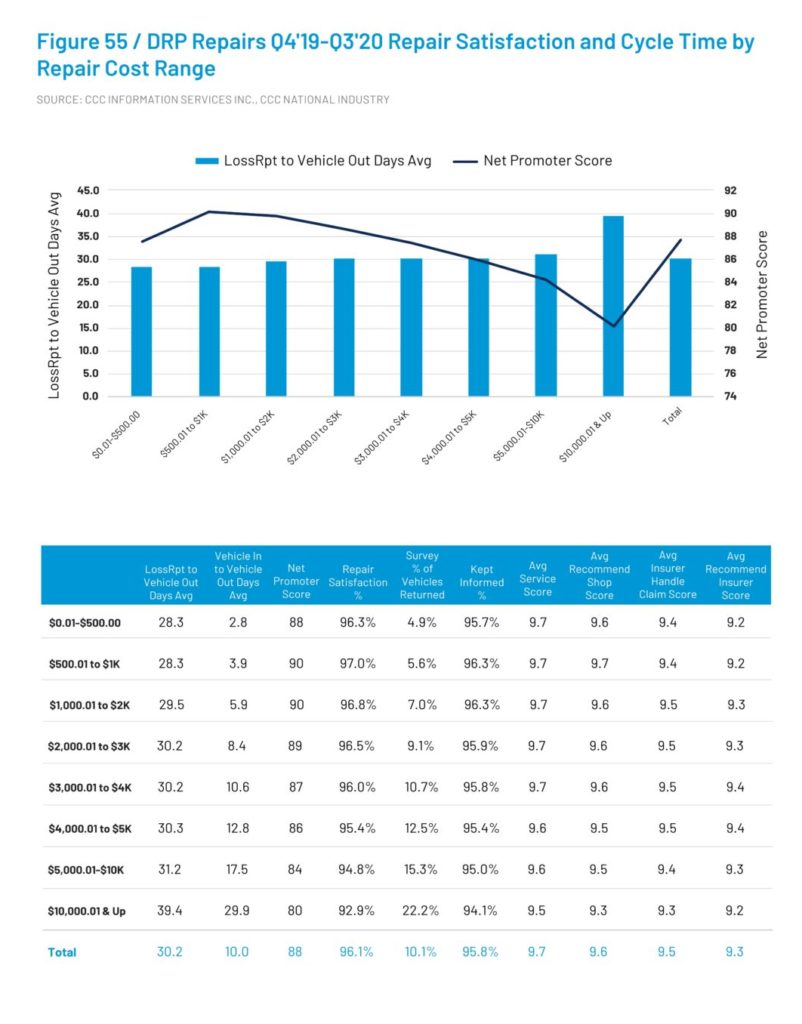 The 2021 "Crash Course" data also found that higher-dollar repairs led to a slightly lower proportion of customers reporting they felt the shop kept them informed.
"If anything, it should be going up," Gotsch observed of that percentage. If the scope of the repair or its technology produces a "pretty high likelihood" the customer will have to return the vehicle to the shop, then "setting that expectation up front I think would be important," she said.
This does seem critical, for a different analysis in CCC's 2020 "Crash Course" shows how much a shop can hurt its reputation with a redo.
CCC found that first-quarter 2019 DRP repairs of vehicles with a front collision impact posted a 98.3 percent repair satisfaction rate — so long as the work didn't result in a bring-back. If the customer had to return the vehicle, satisfaction plummeted to 68.4 percent. The average recommend shop score fell from 9.7 to 8.1.
Better quality control protocols might help the industry improve this bring-back rate. But some mistakes are going to be inevitable, even at a shop which beats the industry average. If the law of averages hold that a certain percentage of your customers are destined to return, then it might behoove you to have a plan in place ahead of time to preserve the relationship with those clients.
Gotsch proposed that in a situation where the shop informed the customer they might need to return the vehicle and then delivered an "absolutely amazing experience" upon that return, the customer's outlook on the repair would have changed.
"It seems like that would be a pretty important thing for them to focus on … to use those like an opportunity to awe the customer," Gotsch said.
She gave the example of sending food back in a restaurant. "Nobody wants to do it," Gotsch said. You're worried the staff will do something negative to your food in punishment.
But if instead, "they're kind about it, and they try to make up for it" instead of griping, "you have a whole different perspective about that kitchen." As a customer, you think, "'They don't accept anything but the best.'"
Gotsch pointed out that some bring-backs might be unavoidable, such as an outlier scenario which the shop didn't catch with a test drive.
Gotsch advised the shop "set the expectation up front." If the customer returns, take an approach like "'Thank you so much for bringing it back'" rather than groaning and declaring the shop can fit the customer in "'tomorrow.'"
"Those seem like opportunities to really focus on" for shops seeking to improve CSI and repair satisfaction, Gotsch said.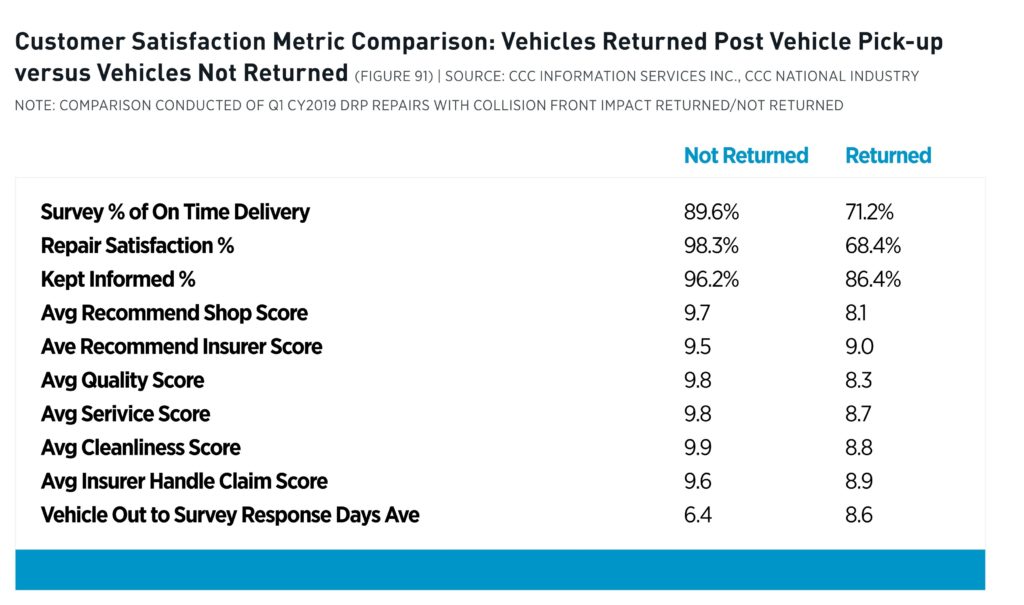 Tip of the iceberg
Post-repair inspectors on Monday offered other considerations for shops and insurers dealing with bring-backs.
If a customer brings the car back for a minor problem, watch out. There might be an even bigger shop screwup lurking beneath the surface.
Vehicle Collision Experts CEO Mark Olson during a Collision Hub "World Fair" broadcast Monday showed a Honda CR-V for which he had conducted a post-repair inspection.
The customer's original body shop replaced a bumper cover, a bumper reinforcement beam, the liftgate, and a rear body panel.
The customer's largest complaint was visible damage to the hydraulic apparatus opening the liftgate, Olson said.
He characterized the shop's response as "'That's not part of the accident,'" and "'Have a nice life.'"
Another issue involved a brown cargo net clip replaced with a black one, something easily noticeable. The shop took the stance: "'We'll buy you another clip, and that's not related.'"
"And that's what starts almost every single PRI," P&L Consultants co-owner Larry Montanez said on the show. It's something minor, such as a misaligned bumper, a door which opens and shuts differently than before or a missing piece of trim, according to Montanez.
Olson agreed, estimating that PRIs arise after "really a small thing to start with … 95 percent of the time."
"This is the ant in the kitchen," Olson said: Notice one, and you can expect others are also present.
Collision Hub CEO Kristen Felder advised shops against responding to a complaint with a declaration it was unrelated to the accident. She said many post-repair inspections begin with "'It's not part of the accident.'"
Instead, "pull the car immediately in and look at the whole thing again," Felder said. Even if the complaint is a speck of dust, "pull that sucker in and go through it."
Olson said his CR-V inspection found issues including a liftgate which failed to line up correctly, inadequate welds, the use of forbidden copper weld-through primer and frame rail issues.
The CR-V was deemed to actually need a new rear body panel, both rear frame rails, and both quarter panel outers and inners, according to a slide. It was ultimately totaled.
Olson said he had pre-teardown advised the shop to buy the vehicle after observing a frame rail's state. He said the response had been, "'Yeah, right.'"
"This is a highly educated, plaque-on-the-wall type of shop," Olson said. The facility was Honda-certified and a member of multiple direct repair programs, he said.
The Collision Hub show also offered another consideration on redos: A customer might not want to let you perform one.
Olson said the customer refused to return to the original shop because of its errors.
Felder acknowledged a shop feels it's trying to do right by a customer by offering an in-house redo, but she argued that a customer would be justified not to let a vehicle conduct a rerepair. She told MSOs or insurers who think it's realistic to ask the customer to use the same site to "stop saying that."
"If you went to a doctor and they cut off the wrong leg, would you go back to that same doctor for the next surgery?" she said.
More information:
"What Makes a BAD Collision Repair?"
Collision Hub YouTube channel, April 26, 2021
Images:
CCC suggested repairers could use redos as an opportunity to cement a relationship with a customer instead of letting the incident hurt it. (Drazen Zigic/iStock)
CCC data for the year ending Sept. 30, 2020, indicates customer returns occur on 10.1 percent of direct repair program shop repair orders. (Provided by CCC)
CCC found that first-quarter 2019 DRP repairs of vehicles with a front collision impact posted a 98.3 percent repair satisfaction rate — so long as the work didn't result in a bring-back. If the customer had to return the vehicle, satisfaction plummeted to 68.4 percent. (Provided by CCC)
Share This: